-Advertisement-
Love Failure Quotes : When a relationship comes on its end than it brings boundless emotions, sorrows and sadness, it's called a failure on love, and people with love failure relationship have to carry only memories which their loved one left. Here we gather lots of love failure quotes with images and broken relationship sayings which are touchy and emotional. If you are going through this kind of situation, then you may find these love failure quotes helpful to show your hurt heart feelings. Also, you may share these with your desired one or on your favourite social media to let him/her know how broken they left you.
-Advertisement-
Short Love Failure Quotes With Images
---
"Never develop any mysticism, about love; for love itself is a mystic thing that puts you in a mystic situation." ― Auliq Ice
---
" The heart was made to be broken." – Oscar Wilde
---
"True love is tested when betrayed." – Toba Beta
---
"The hottest love has the coldest end." – Socrates
---
"To be no part of anybody is to be nothing." – John Donne
---
"She was unstoppable, not because she did not have failures or doubts."
---
---
"It's better to be with no one than to be with the wrong one."
---
"Love is hard to find, hard to keep, and hard to forget." – Alysha Speer
---
"There is love of course. And then there's life, it's enemy." – Jean Anouilh
---
"Love is like the ocean, it's calm and reassuring, it rages in a storm."
---
"The pain you gave me today will prepare me for tomorrow's challenges."
---
---
"Only the broken-hearted know the truth about love." – Mason Cooley
---
"The higher you climb the higher you fall. The deeper you love the deeper you fall."
---
"Sometimes you have to get hurt and feel the pain to know what true happiness is."
---
"I am learning to trust the journey even when I do not understand it."
---
"For my part, I prefer my heart to be broken. It is so lovely, dawn-kaleidoscopic within the crack." – D.H. Lawrence
---
"Love until it hurts. Real love is always painful and hurts; then it is real and pure." – Mother Teresa
---
---
"Let me cry in rain, so you can't see my tears."
---
"Forgetting you, I tried but I failed, somehow your scent and your face forever in my heart are engraved."
---
"So dear I love him that with him, all deaths I could endure. Without him, live no life." – William Shakespeare
---
"It's terrible to lose someone we love, but it's worse to lose ourselves while loving them."
---
"You were the reason for my smile, never knew you would be the reason for my tears too."
---
---
"Just because I moved on doesn't mean I won't be here if you change your mind. You always have special place in my heart."
---
Emotional Love Failure Quotes & Sayings
---
"Now it hurts, to watch you leave so soon, when I don't know, if you will ever come back." – Sanober Khan
---
"Love is never lost. If not reciprocated, it will flow back and soften and purify the heart."
---
"There is a time for departure even when there's no certain place to go." – Tennessee Williams
---
"It is best to love wisely, no doubt; but to love foolishly is better than not to be able to love at all." – William Thackeray
---
"Heavy hearts, like heavy clouds in the sky, are best relieved by the letting of a little water." – Christopher Morley
---
---
"For all sad words of tongue and pen, the saddest are these, it might have been."
---
"How could an Angel break my heart? Why didn't he catch my falling star? I wish I didn't wish so hard. Maybe I wished our love apart."
---
"Relationships are like flowers ,it doesn't matter whether you are watering or not watering them,they are gonna die it's just sooner or later!"
---
"When you see your love leave, don't make her/his path slippery with your tears. Make the transition easy so that both of can start afresh."
---
"A breakup will always cause pain. There is nothing called amicable separation."
---
"I thought that by telling myself and everyone else that I hated you. That sooner or later I would come to believe it. But I now realize that by lying, it makes me want you even more."
---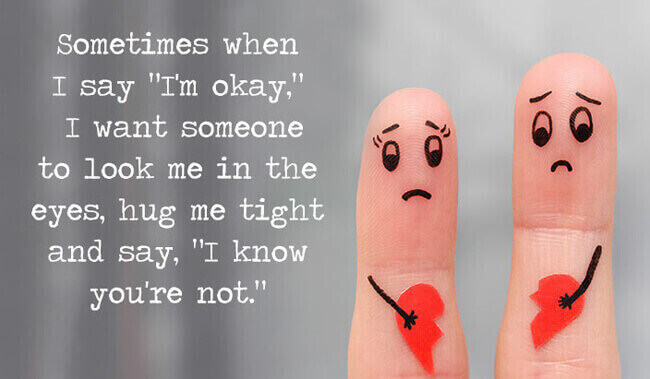 ---
"Sometimes when I say I'm okay, I want someone to look me in the eyes, hug me tight and say, I know you're not."
---
"No one can stop doing mistakes near your loved one. Because it happened due to over love attention& selfishness but the way it hurts like your death."
---
"Letting go of someone dear to you is hard, but holding on to someone who doesn't even feel the same is much harder. Giving up doesn't mean you are weak! It only means that you are strong enough to let go!"
---
"With you I have learned how to love you but unfortunately not how to stop loving you."
---
"Sometimes we dream too big without realizing that it is not feasible. May be I have wished from a person who have never understood my feelings."
---
"You find out what you are made of when you have a broken heart. If it happens early and often, all the better." – Isabel Gillies
---
---
"I know I mustn't blame anyone but it feels better to point a finger to someone else. "
---
"Loving you makes me feel complete, but seeing you love someone else makes me think I am not worth it."
---
"I would always remember the goodtime that we have spent together no matter how ugly the end was."
---
"I'd rather love a million times and have my heart broken every time, than hold a permanently empty heart forever." – H.C. Paye
---
"Loving someone who doesn't love you back is like hugging a cactus; the tighter you hold on, the more it hurts."
---
"You want to believe that there's one relationship in life that's beyond betrayal. A relationship that's beyond that kind of hurt. And there isn't." – Caleb Carr
---
---
"When someone walks away from you, it's not the end of your story. It's the end of their part in your life story. "
---
Sad Love & Broken Relationship Sayings
---
"Since you left, you left me stranded in my desire for your love. Now my love for you burns in my heart like a running wildfire, and nothing can extinguish it but your love."
---
"To fear love is to fear life, and those who fear life are already three parts dead." – Bertrand Russell
---
"Is not always easy to let go of someone, when you look back and see the distance you have travelled together."
---
"It is better to suffer wrong than to do it, and happier to be sometimes cheated than not to trust." – Samuel Johnson
---
"A broken heart is just the growing pains necessary so that you can love more completely when the real thing comes along." – J.S.B. Morse
---
---
"Heaven knows we need never be ashamed of our tears, for they are rain upon the blinding dust of earth, overlying our hard hearts."
---
"I think it's very healthy to spend time alone. You need to know how to be alone and not be defined by another person." – Oscar Wilde
---
"I've been heartbroken. I've broken hearts. That's part of life, and its part of figuring out who you are so you can find the right partner." – Heidi Klum
---
"Here is one thing that really sucks about love. In the end is either you are the one left heart broken or the other way around."
---
"Some people are going to leave, but that's not the end of your story. That's the end of their part in your story." – Faraaz Kazi
---
"One does not love a place the less for having suffered in it unless it has all been suffering, nothing but suffering." – Jane Austen
---
---
"I will go and find my ways. You go and find your way. It's over now."
---
"We perceive when love begins and when it declines by our embarrassment when alone together." – La Bruyere
---
"I'm not crying because of you; you're not worth it. I'm crying because my delusion of who you were was shattered by the truth of who you are." – Steve Maraboli
---
"Never take someone for granted. Hold every person close to your heart. because you might wake up one day and realize that you have lost a diamond whileyou were too busy collectng stones."
---
"I miss you in waves and tonight I'm drowning. You left me fending for my life and it feels like you're the only one who can bring me back to the shore alive." – Denice Envall
---
"One day you'll love me, the way I loved you. One day you'll think of me the way I thought of you. One day you'll cry for me, the way I cried for you. One day you'll want me, but I won't want you."
---
---
"I'm sorry I was not perfect but I tried my very best."
---
"Throughout my lifetime I've left pieces of my heart here and there. And now, there's almost barely enough to stay alive. But I force a smile, knowing that my ambition far exceeded my talent." – Johnny Depp
---
"Oftentimes we say goodbye to the person we love without wanting to. Though that doesn't mean that we've stopped loving them or we've stopped to care. Sometimes goodbye is a painful way to say I love you."
---
"It happens to everyone as they grow up. You find out who you are and what you want, and then you realize that people you've known forever don't see things the way you do. So you keep the wonderful memories, but find yourself moving on." – Nicholas Sparks
---
"I think many people can relate to that excruciating pain of love gone wrong. I'd rather have a broken arm than a broken heart." – Christie Brinkley
---
"Rain makes me feel less alone. All rain is, is a cloud falling apart, and pouring its shattered pieces down on top of you. It makes me feel good to know I'm not the only thing that falls apart." – Lone Alaskan Gypsy
---
"When love leaves your life you shut yourself in a cocoon thinking the world has come to an end – break free so that you see the fresh sunlight that brings hope and promise for a brighter tomorrow."
---
"If a man should importune me to give a reason why I loved him, I find it could no otherwise be expressed, than by making answer: because it was he, because it was I." – Michel de Montaigne
---
All above listed quotes about love failure with images are able to convey your emotional and touchy feelings, if you think they need more specification then please feel free to rearrange them to make fit with your own thoughts.
---
Related Posts:
42 Inspirational Family Quotes And Sayings With Images
42 Inspirational Imperfection Quotes With Images
39 Best Jealousy Quotes with Images
45 Inspirational Underestimate Quotes And Sayings