Like and share our lovely collection of cute hug quotes and sayings with images.
Cute Hug Quotes
---
"Sometimes a hug is all you need to make you feel better." — Unknown
---
"A hug is like a boomerang – you get it back right away." — Bil Keane
---
"Hug me tight. Just like you never want to let me go." — Unknown
---
"Teddy bears don't hug back, but sometimes they're all you've got." — Unknown
---
"Millions and millions of years would still not give me half enough time to describe that tiny instant of all eternity when you put your arms around me and I put my arms around you." — Jacques Prevert
---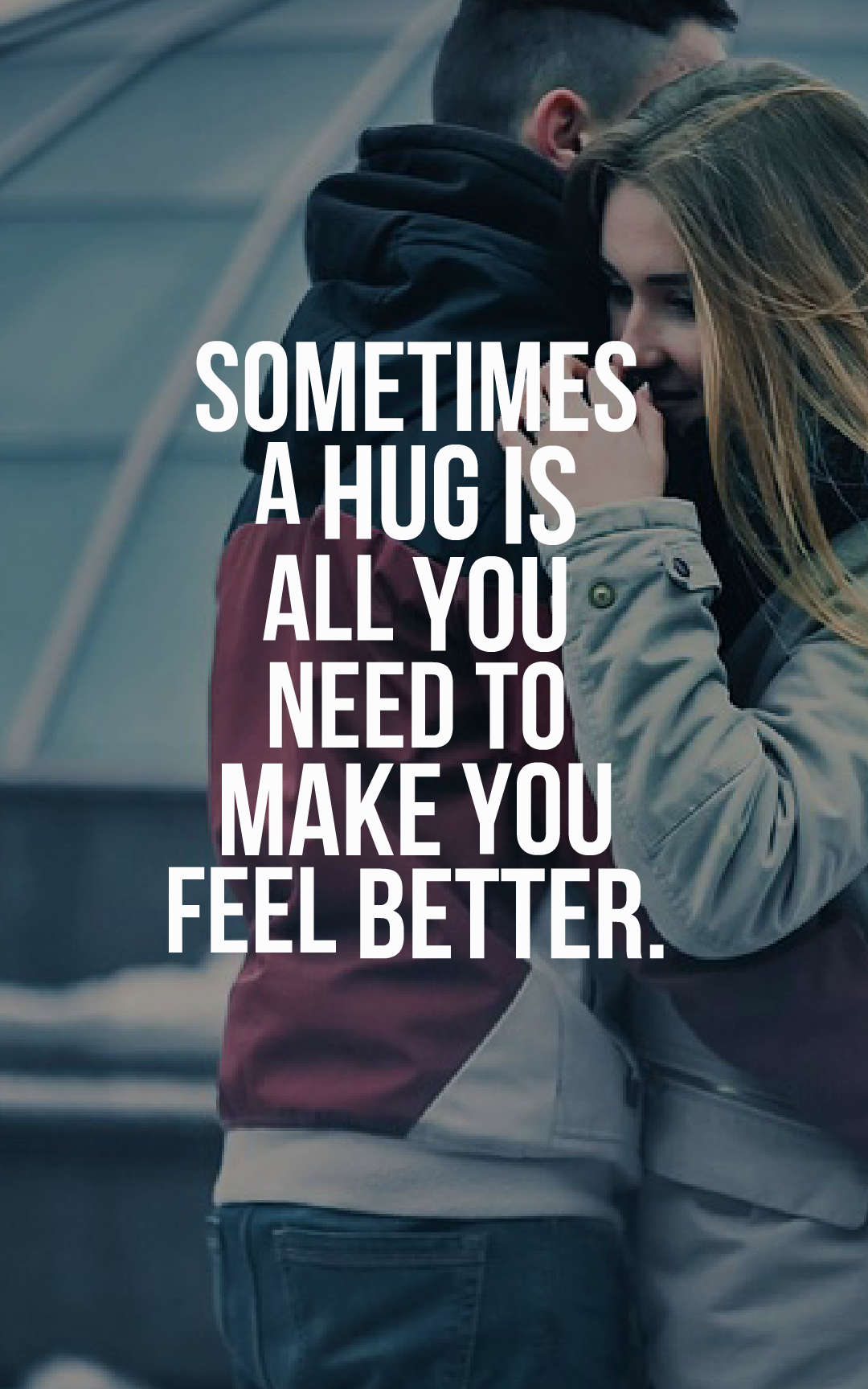 ---
"I wish you were here right now, not even to stay, just to give me a hug and tell me that it's okay." — Unknown
---
"Everybody needs a hug. It changes your metabolism." — Leo Buscaglia
---
"A hug is a wonderful thing. It's a marvelous gift to share. It's a grand way to say; 'I care.' A hug communicates support, security, affection, unity, and belonging. A hug shows compassion. A hug brings delight. A hug charms the senses. A hug touches the soul." — Bob Stoess
---
36 Romantic Holding Hands Quotes with Images
---
"One day, someone is going to hug you so tight, all your broken pieces will go right back together." — Unknown
---
"That feeling you get when you hug someone and you just don't wanna let go." — Unknown
---
"Sometimes all you can do is hug a friend tightly and wish that their pain could be transferred by touch to your own emotional hard drive." — Richelle E. Goodrich
---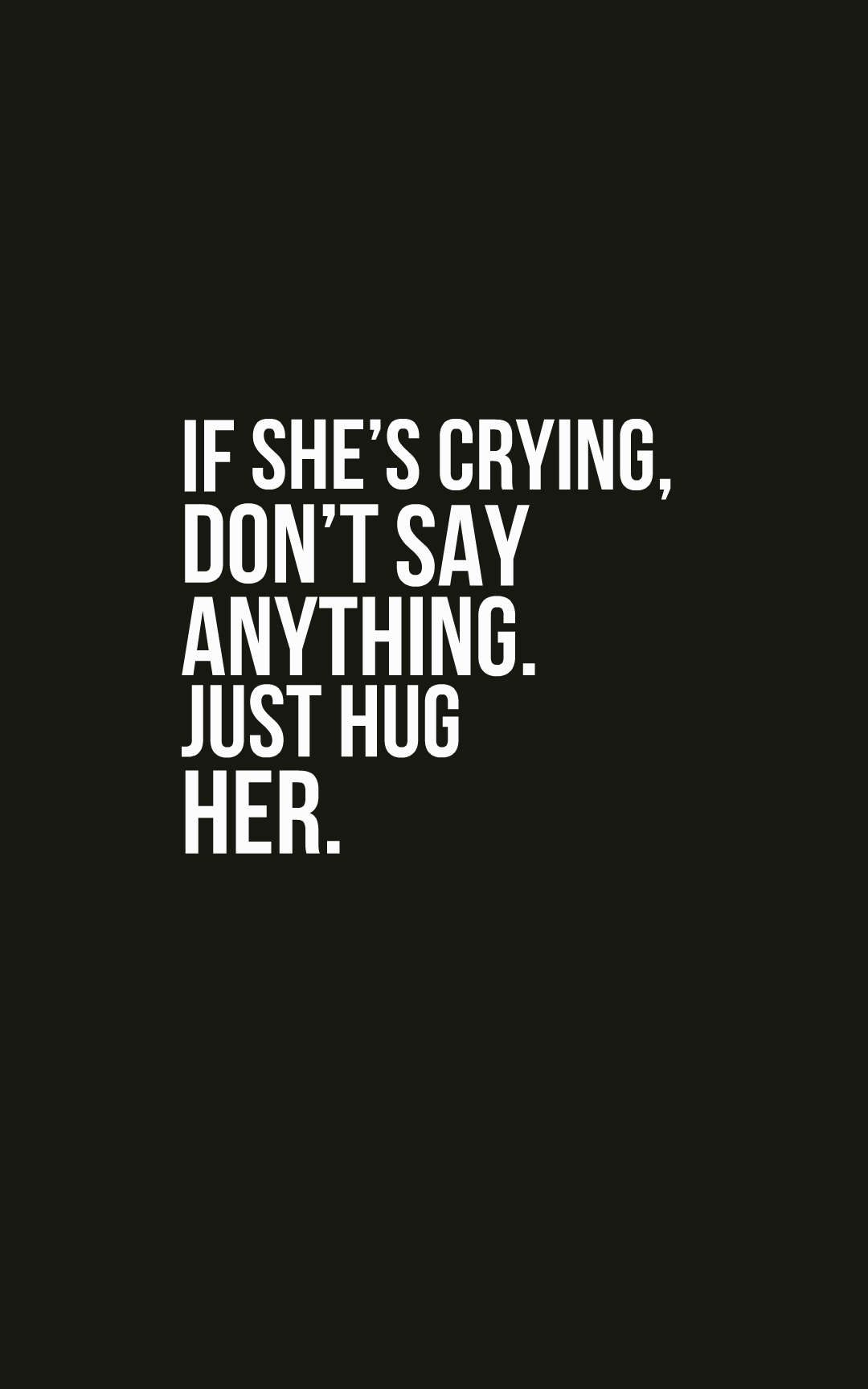 ---
"All girls want is a guy who's taller than her so she can wrap her arms around his neck when they hug and kiss." — Unknown
---
"Hug harder, laugh louder, smile bigger, love longer." — Unknown
---
45 Romantic Kiss Quotes With Images
---
"I have learned that there is more power in a good strong hug than in a thousand meaningful words." — Ann Hood
---
"A kiss without a hug is like a flower without the fragrance." — Proverb
---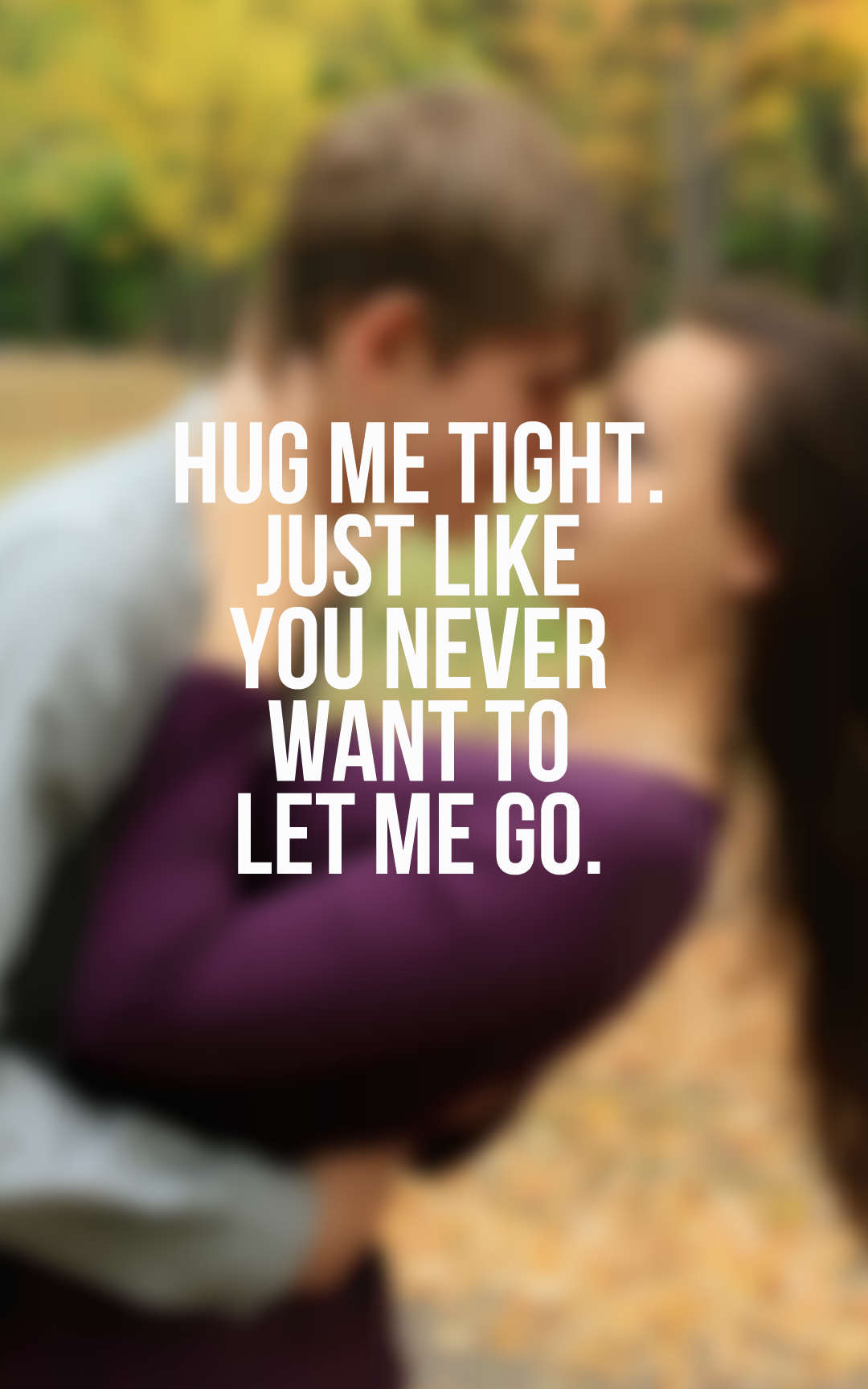 ---
"If she's crying, don't say anything. Just hug her." — Unknown
---
"Laughing together is as close as you can get to a hug without touching." — Gina Barreca
---
"I just want to hug you so much right now." — Unknown
---
"A hug is the perfect gift; one size fits all, and nobody minds if you exchange it." — Unknown
---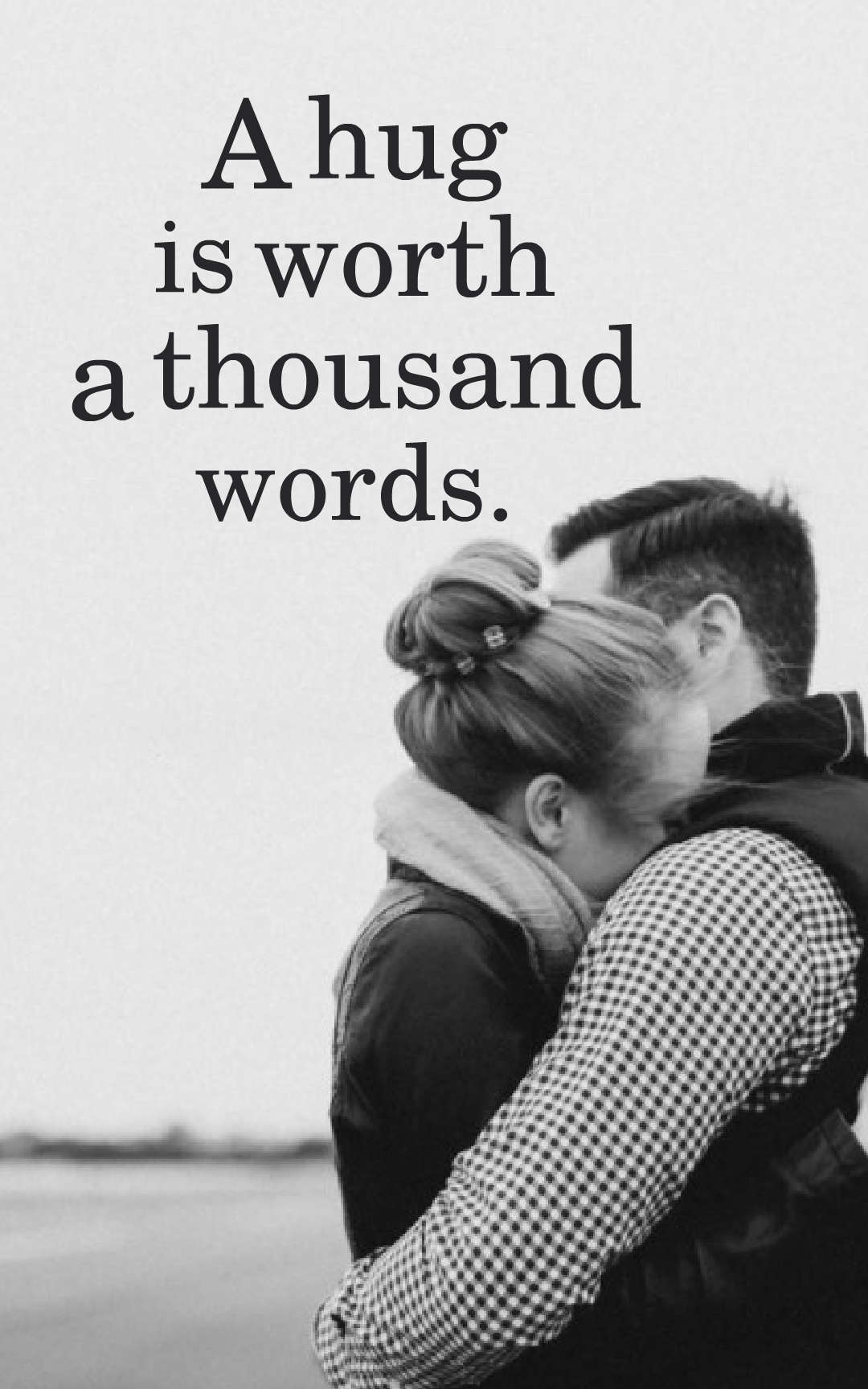 ---
"I want you. I want you here with me right now. I want to talk to you. I want to be with you. I want to hug you. I just want you." — Unknown
---
"A hug is an amazing thing. It's just the perfect way To show the love we're feeling But can't find the words to say." — Johnny Ray Ryder
---
"When I'm sad, please don't ask me what's wrong. Just hug me." — Unknown
---
"I love it when I hug someone, and just when I'm about to let go, they hug me even tighter." — Unknown
---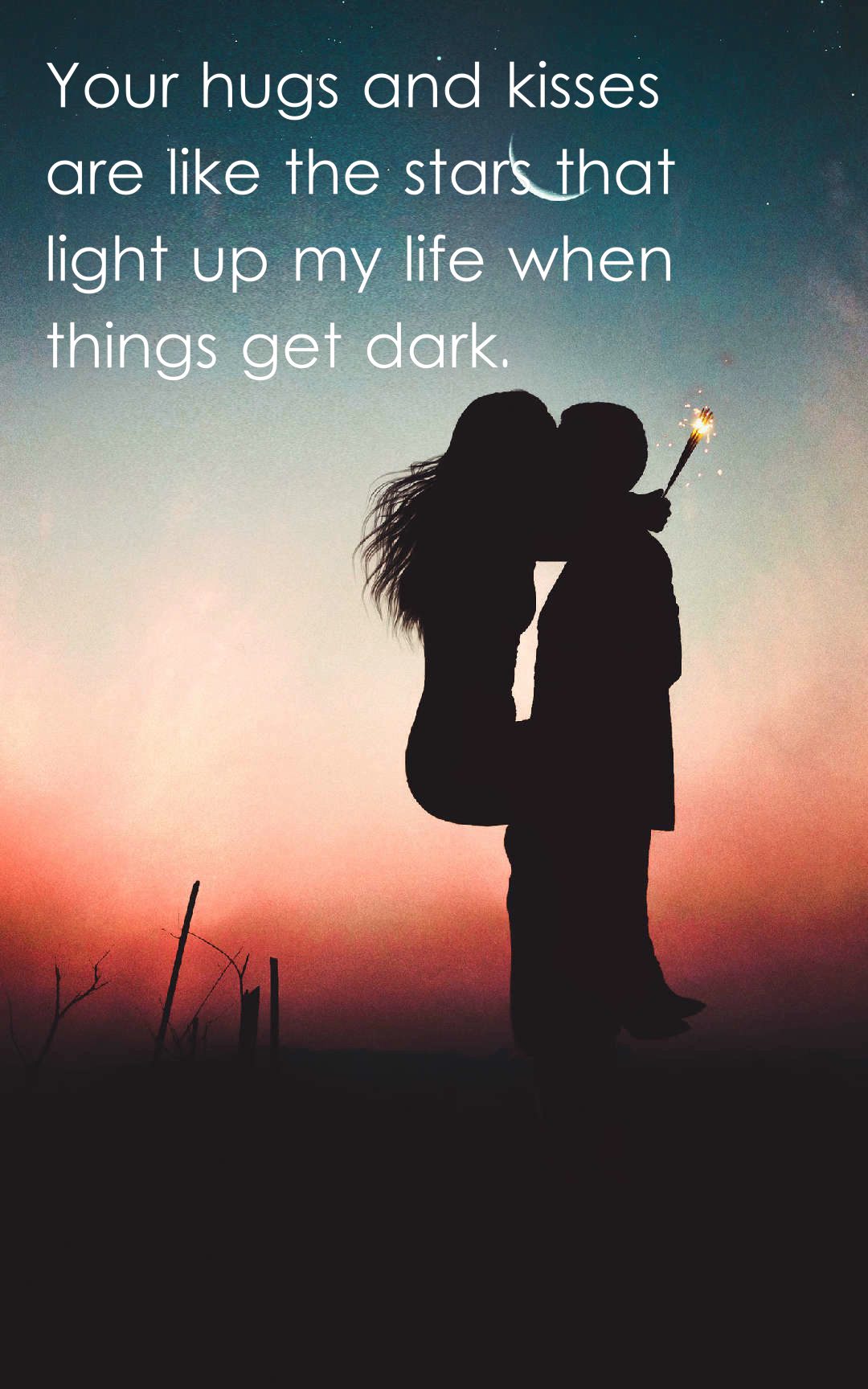 ---
"Hugs and kisses are ways to express what cannot be said." — Kacie Conroy
---
"They invented hugs to let people know you love them without saying anything." — Bil Keane
---
"I like hugs. The really long hugs, the ones where you just don't want to let go." — Unknown
---
"A hug from the right person can completely change your day." — Unknown
---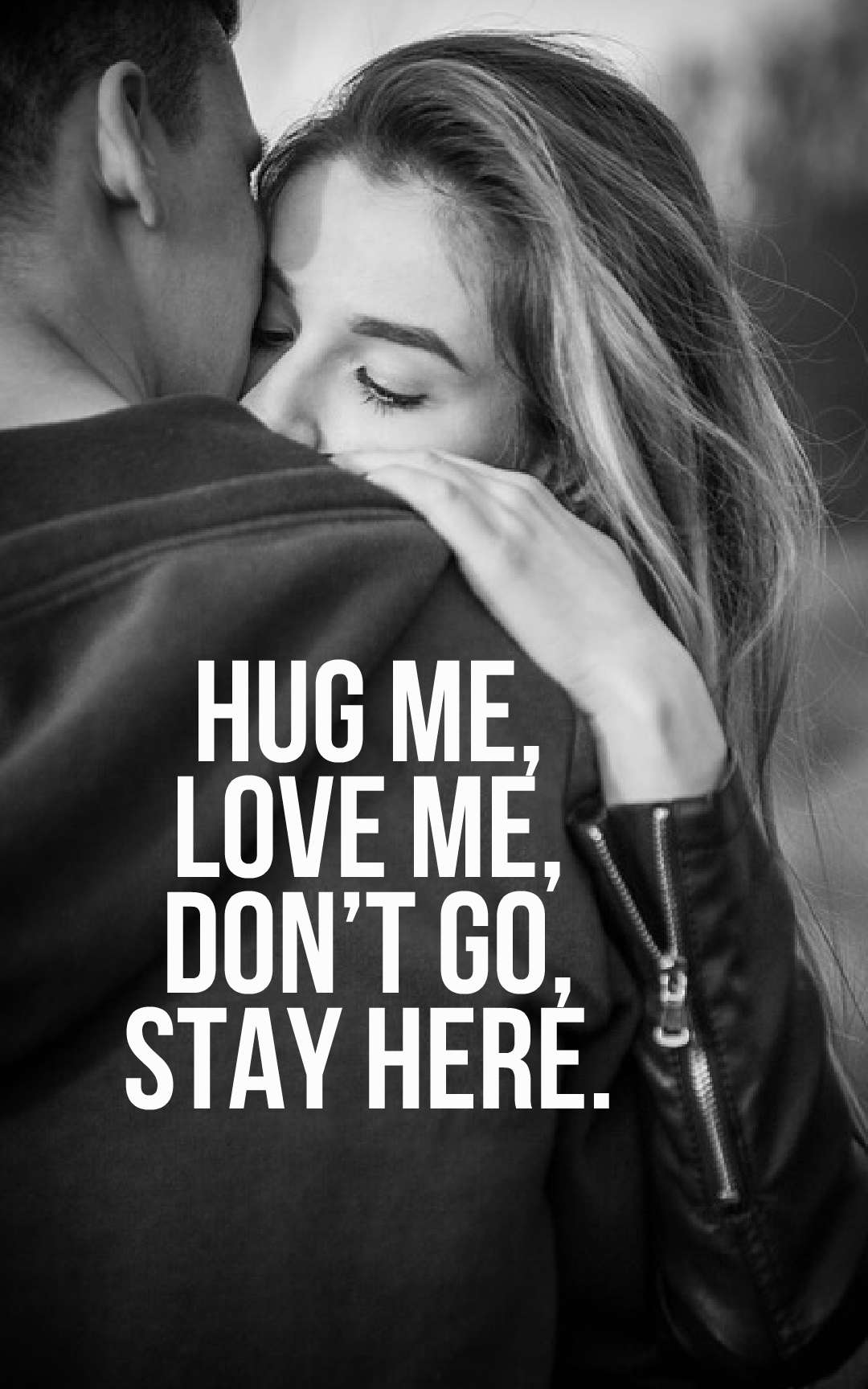 ---
"Don't ask me what is wrong? Just put your arms around me and hug me tight." — Unknown
---
"Hug me, love me, don't go, stay here." — Unknown
---
"Hugging is a silent way of saying 'you matter to me." — Unknown
---
"I want to hug you and never let go." — Unknown
---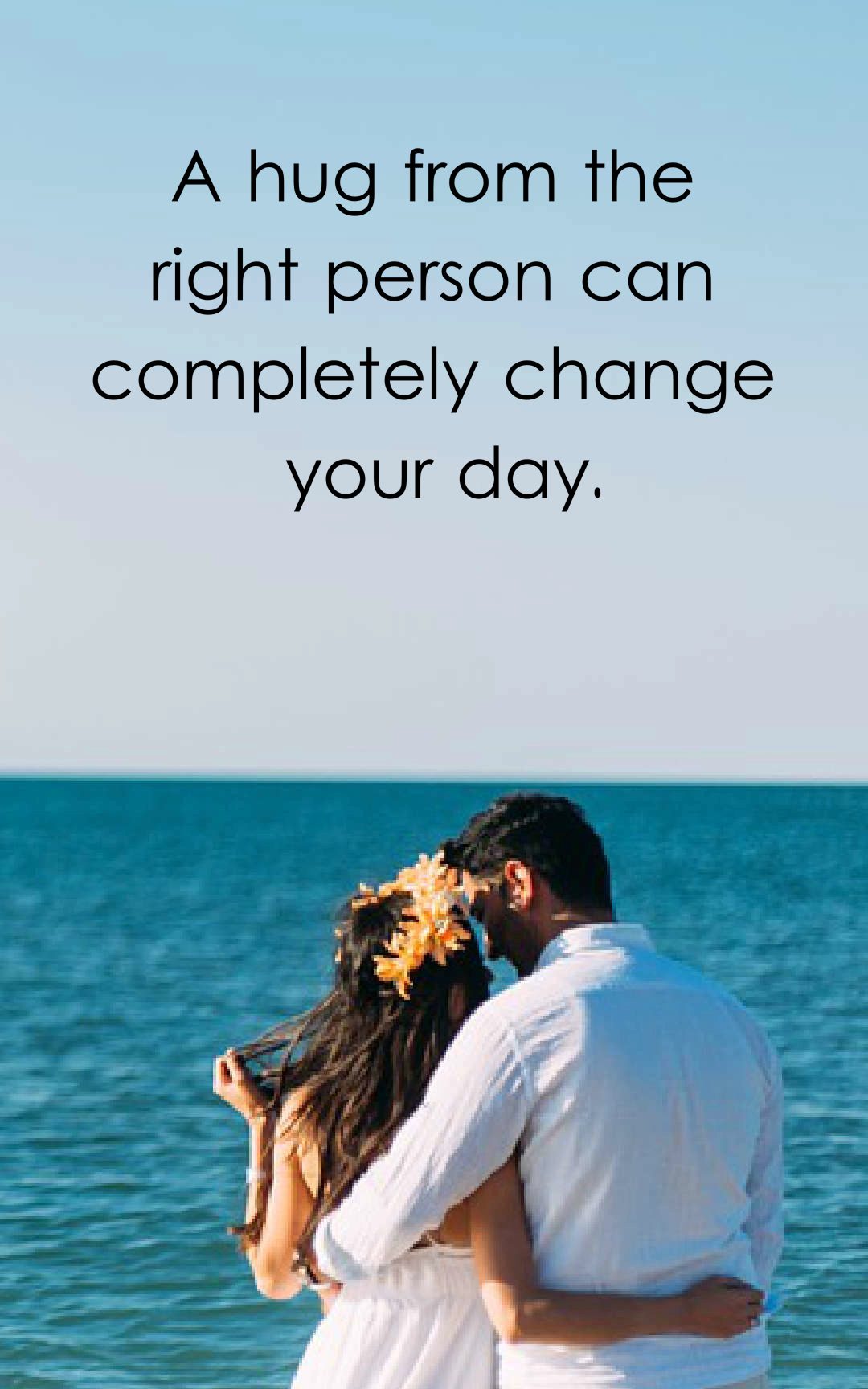 ---
"Sometimes in life we just need a hug… no words, no advice, just a hug to make you feel you matter." — Unknown
---
"Happiness starts with one word, one joke, one text, one phone call, one song, one hug, one kiss, and it stops with one mistake." — Unknown
---
"Hug me like you'll never see me again." — Unknown
---
"A hug cost nothing but it can be the Gift that matters most." — Unknown
---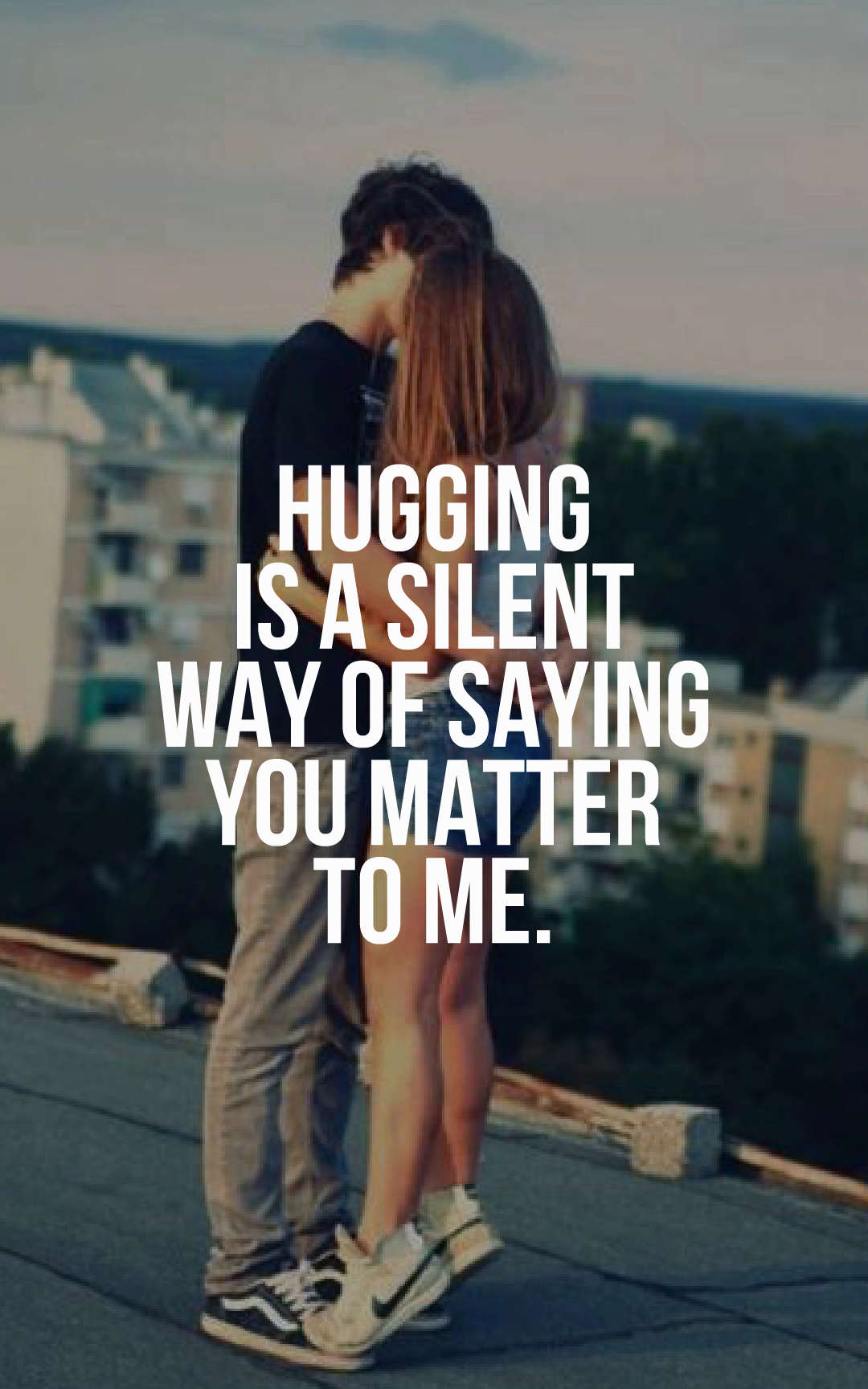 ---
"Hugging is the most beautiful form of communication that allows the other person to know beyond a doubt that they matter." — Unknown
---
"All I really want is for you to hug me really tight and tell me everything's going to be alright." — Unknown
---
"You know that moment when you hug somebody when your heart feels warm and high in your chest and tingly? When you feel just for a second like a baby in a womb… that nothing matters? That's how I want you to feel. That's what a girlfriend should do, I think." — Jake Vander-Ark
---
"The simplest things in life such as a smile, a hug, a kiss, holding hands are priceless treasures. Enjoy the simple things." — Unknown
---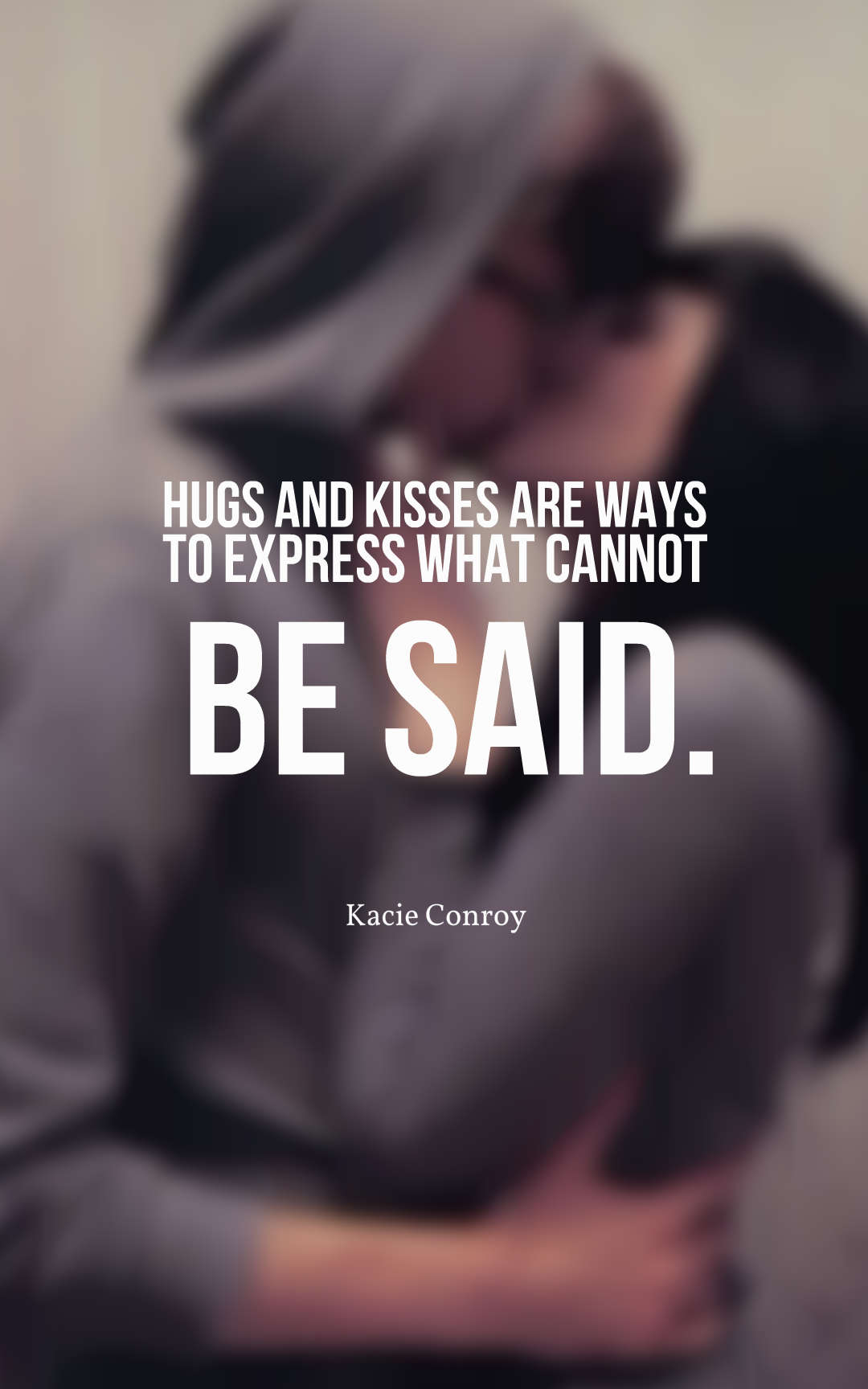 ---
"Please hug me really tight and tell me you love me. Tell me you're glad to be here with me." — Unknown
---
"Your hugs and kisses are like the stars that light up my life when things get dark." — Unknown
---
"Sometimes, when I say "I'm okay", I want someone to look me in the eyes, hug me tight and say, "I know you're not" — Unknown
---
"One of the best feelings in the world is when you hug the person you love, and they hug you tighter." — Unknown
---
"A hug is worth a thousand words." — Unknown
---
"All i need now is a hug." — Unknown
---
"We fight. We cuss. We kiss. We hug. We text. We talk. We argue. We laugh. We smile. We love. That's just us." — Unknown
---
"You can't give a hug without getting a hug." — Unknown
---
"A hug a day keeps the bad boys away." — Jim Anderson
---
"There's something in a simple hug That always warms the heart, It welcomes us back home And makes it easier to part…." — Johnny Ray Ryder, Jr.
---
"HIV does not make people dangerous to know, so you can shake their hands and give them a hug: Heaven knows they need it." — Princess Diana
---
"Girdles and wire stays should have never been invented. No man wants to hug a padded bird cage." — Marilyn Monroe
---
"I love hugging people. I still hug everybody in my meet-and-greet lines." — Taylor Swift
---
"And if you see me, smile and maybe give me a hug. That's important to me too." — Jim Valvano
---
"Where I live if someone gives you a hug it's from the heart." — Steve Irwin
---
"Again, I find it difficult to be taken care of and rarely acknowledge it, and every act he does registers, but I also just need to verbally acknowledge him and hug him" — Patricia Heaton
---
"Everyone knows that by far the happiest and universally enjoyable age of man is the first. What is there about babies which makes us hug and kiss and fondle them, so that even an enemy would give them help at that age?" — Desiderius Erasmus
---
"Like it or not, I've come to appreciate soccer. Any kid can play, which fits with the inclusive agenda of progressive schools. Although the corollary to 'any kid can play' is that every kid must play because there is an iron grip to the warm hug of progressive inclusionism." — P. J. O'Rourke
---
"I have no problem if someone wants to hug me – if I know him!" — Jurgen Klopp
---
"You can't get AIDS from a hug or a handshake or a meal with a friend." — Magic Johnson
---
"I think Christians and Muslims should hug each other." — Chuck Norris
---
"I have this exercise that I propose to everybody: Hug a tree and complain for a minimum 15 minutes. Be yourself, and do something that you really feel deeply." — Marina Abramovic
---
"My kids don't watch my movies. What I want to do is go home and hug my kids, talk to them and engage with them." — Kevin Bacon
---
"I get nostalgic for British negativity. There is an inherent hope and positive drive to New Yorkers. When you go back to Britain, everybody is just running everything down. It's like whatever the opposite of a hug is." — John Oliver
---
"Hug the shore; let others try the deep." — Virgil
---
"If beautiful movies can influence you to go out and hug your children, then we have to be honest and say that other movies can inspire you to do bad things." — Nick Cave
---
"If you hug to yourself any resentment against anybody else, you destroy the bridge by which God would come to you." — Peter Marshall
---
"Eating something fresh out of the oven is like a hug you can taste." — Regina Brett
---
"You realise that there's nothing more endearing than people who are desperately trying to be liked or trying to be the hero, you know? Who also probably just need a hug or want to impress their dad?" — Taika Waititi
---
"I've seen my name on marquees and bowed to standing ovations. I've also been called a fraud, a mental case, a heretic. People all over the country wait in line to hug me or curse me." — Glennon Doyle Melton
---
"The first thing I do each morning is get out of bed and give my dog, Audrey, a hug. She's a Jack Russell. I think having an animal is a wonderful thing, particularly dogs. They are great levelers, there's no nonsense with them, and they just want simple affection." — Donatella Versace
---
"The word philosophy sounds high-minded, but it simply means the love of wisdom. If you love something, you don't just read about it; you hug it, you mess with it, you play with it, you argue with it." — Hugh Jackman
---
"Clowning is a trick to get love close. I can hug 99 percent of people in the first second of contact if I'm in my clown character. The clown assumes your humanity. It assumes that, whatever trauma you've had, you can still love yourself." — Patch Adams
---
"Children are not unforgiving. You can punish them and they will hug you in a few minutes." — T. D. Jakes
---
Hopefully, you will enjoy this romantic and cute collection of hugging quotes and sayings. please don't forget to share these quotes.