-Advertisement-
Following are the beautiful collection of inspirational Sunflower quotes and sayings with images.
-Advertisement-
Sunflower Quotes
---
"Advice from a sunflower: be bright, sunny, and positive. Spread seeds of happiness. Rise, shine, and hold your head high." — Unknown
---
"Never look directly at the sun. Instead, look at the sunflower." — Vera Nazarian
---
"I want to be like a sunflower; so that even on the darkest days I will stand tall and find the sunlight." — Unknown
---
"She believed a great happiness awaited her somewhere, and for this reason, she remained calm as the days flew by." — Gyula Krúdy
---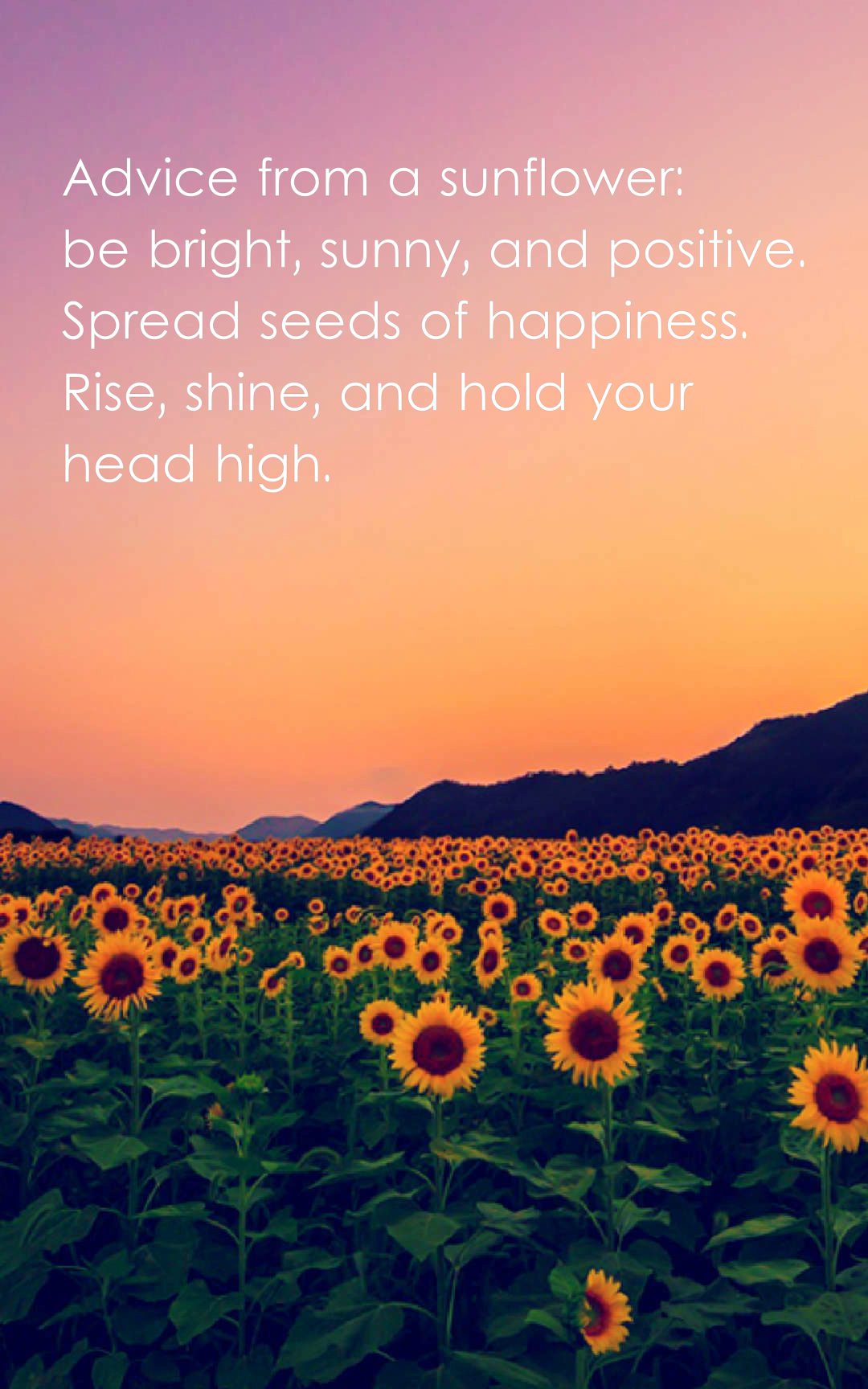 -Advertisement-
---
"Always look at the brighter side of life, just like the sunflower which looks upon the sun, not the dark clouds." — Unknown
---
"Many flowers open to the sun, but only one follows him constantly. Heart, be thou the sunflower, not only open to receive God's blessing, but constant in looking to Him." — Jean Paul
---
"Keep your face to the sunshine and you cannot see the shadow. It's what sunflowers do." — Helen Keller
---
"A sunflower field is like a sky with a thousand suns." — Corina Abdulahm-Negura
---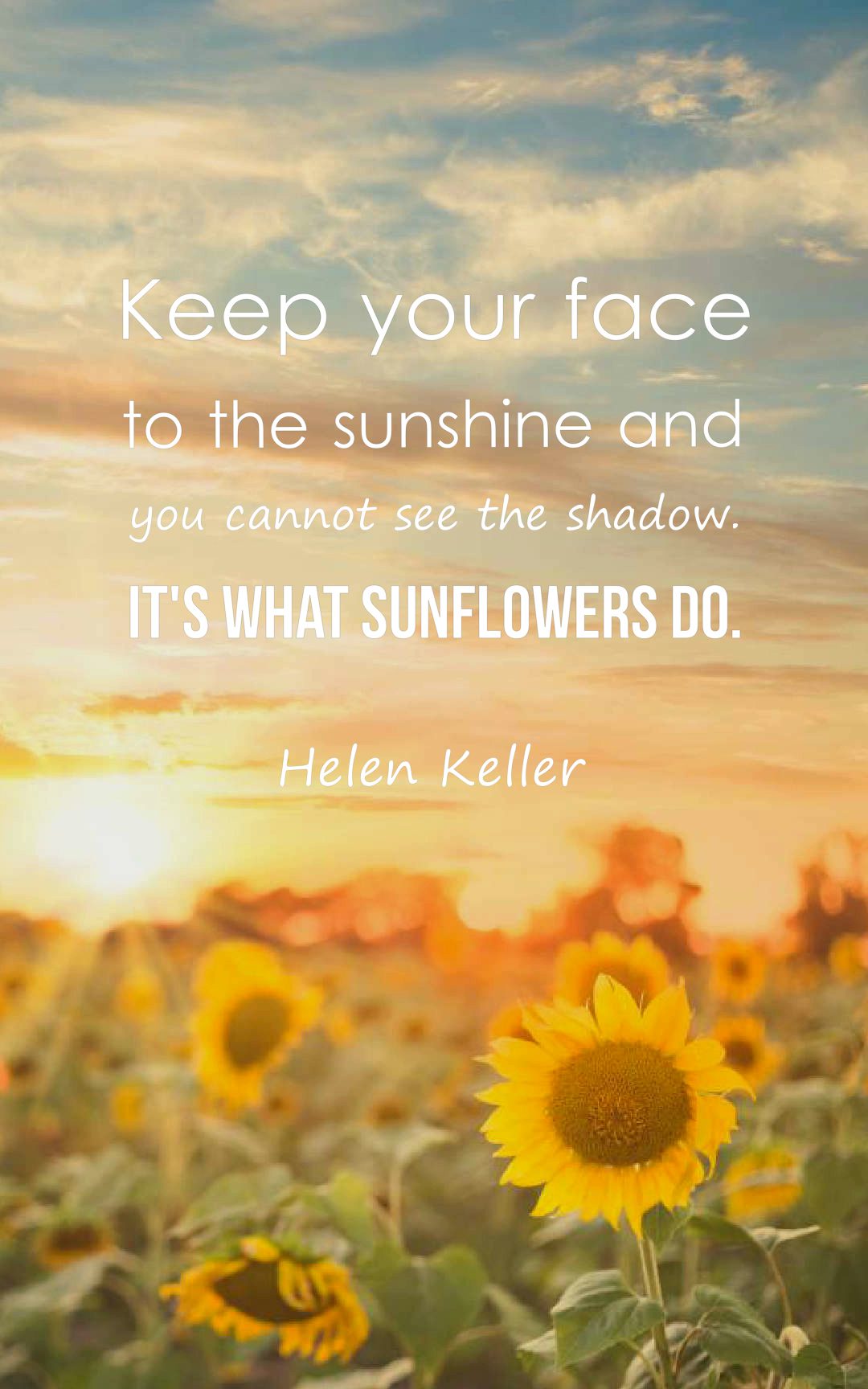 ---
"She's a sunflower, strong and bold and true to herself. Not as lovely as a rose, but also not as fragile." — Unknown
---
"And the yellow sunflower by the brook, in autumn beauty stood." — William Cullen Bryant
---
"The sunflower is a favorite emblem of constancy." — Thomas Bulfinch
---
"A rose can never be a sunflower, and a sunflower can never be a rose. All flowers are beautiful in their own way, and that's like women too." — Miranda Kerr
---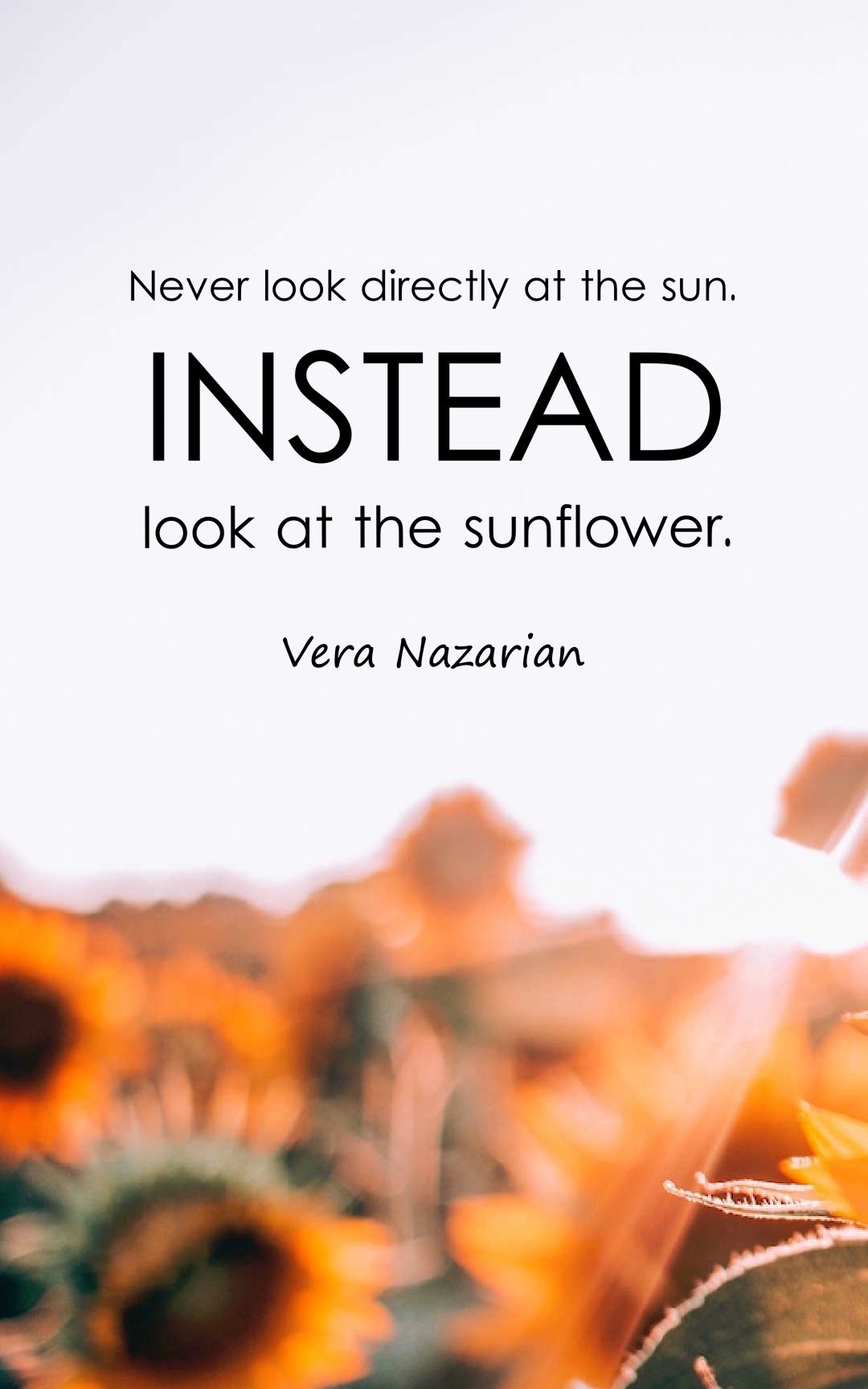 ---
"Every friend is to the other a sun, and a sunflower also. He attracts and follows." — Jean Paul
---
"The road to freedom is bordered with sunflowers." — Martin Firrell
---
"Be a Sunflower. Stand strong and follow the SUN." — Unknown
---
"The sunflower is mine, in a way." — Vincent van Gogh
---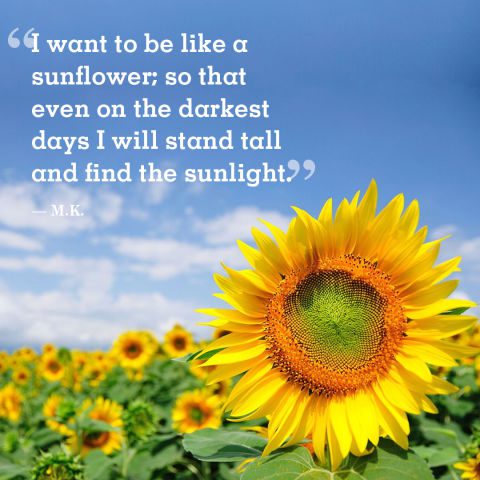 ---
"True friends are like bright sunflowers that never fade away, even over distance and time." — Marie Williams Johnstone
---
"Wherever life plants you, bloom with grace" — Unknown
---
"Be like a flower and turn your face to the sun." — Kahlil Gibran
---
"And here the sunflower of the spring Burns bright in morning's beam." — Ebenezer Elliott
---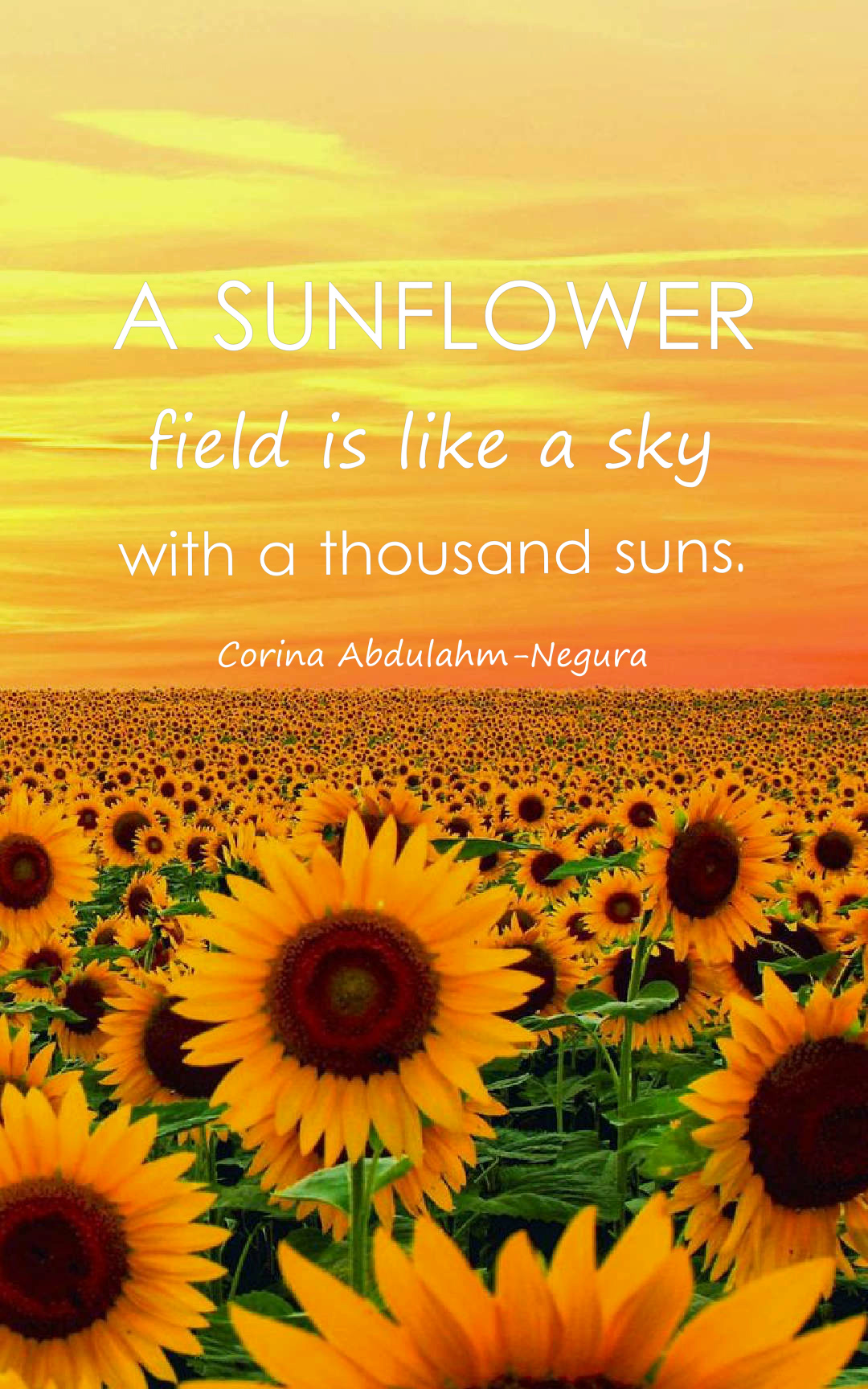 ---
"We're all golden sunflowers inside." — Allen Ginsberg
---
"If I were a flower… I would be a sunflower. To always follow the sun, turn my back to darkness, stand proud, tall and straight even with my head full of seeds." — Unknown
---
"Fame is the scentless sunflower, with gaudy crown of gold; But friendship is the breathing rose, with sweets in every fold." — Oliver Wendell Holmes
---
"I can't feel bad about being who I am, just like the girl next to me can't feel bad about being who she is. Because a rose can never be a sunflower, and a sunflower can never be a rose." — Miranda Kerr
---
"I want to encourage women to embrace their own uniqueness. Because just like a rose is beautiful, so is a sunflower, so is a peony. I mean, all flowers are beautiful in their own way, and that's like women too." — Miranda Kerr
---
"Jesus was not this wimpy little guy who walked around munching sunflower seeds and saying nice things to people. The real Jesus of the Bible said, 'Render unto Caesar the things that are Caesar's.' That is: Obey the government." — Robert Jeffress
---
"For lunch, it's usually a salad with sunflower seeds, cucumbers, celery, and a lot of vegetables." — JaVale McGee
---
"I've been doing this since I was a kid. I'm always going to play the game with a smile on my face, blowing bubbles, sunflower seeds, whatever it is. That's just who I am." — Manny Machado
---
"The thing I miss about Russia the most is what is called 'black bread.' It's rye bread, and everyone eats it. I slice mine up and put sunflower oil and salt on it… the best thing ever. It was like a little treat for me when I was a kid." — Olesya Rulin
---
"I thought maybe I could become like the next Van Gogh. I bought a sunflower and painted it, and it looked like the work of a 6-year-old." — Takeshi Kitano
---
"Pick up a sunflower and count the florets running into its centre, or count the spiral scales of a pine cone or a pineapple, running from its bottom up its sides to the top, and you will find an extraordinary truth: recurring numbers, ratios and proportions." — Charles Jencks
---
"I kick off my metabolism with a glass of O.J. and a pretty big smoothie. I put in chia seeds, flax seeds, raw organic honey, fresh spinach, hemp seeds, avocado, matcha, spirulina, raw almond butter, almond milk, berries, sunflower seeds, and pumpkin seeds." — Andreja Pejic
---
"I looked at but was not allowed to touch Ai Weiwei's 'Sunflower Seeds' at the Tate. The film of making them was really moving." — Kate Fleetwood
---
"Yellow is my favorite summer color – it makes me feel like a sunflower." — Bria Vinaite
---
Hopefully you will enjoy this beautiful and inspiring collection of sunflower quotes and sayings. please don't forget to share these quotes.
---
YOU MAY ALSO LIKE:
sunflower love quotes | cute sunflower quotes | sunflowers quotes | sunflower love quotes for her | short sunflower quotes | sunflower quotes for him | sunflower quotes images | sunflower quotes for her | sunflower quotes about life | Beautiful sunflower quotes |