International Kissing Day is annually celebrated on Friday, 13 April.  National Kissing Day will take place, encouraging you to appreciate the importance of a good kiss. Like and share our beautiful collection of Romantic Kiss Quotes with images.
Romantic Kiss Quotes
"Happiness is like a kiss. You must share it to enjoy it." — Bernard Meltzer
"One day you will kiss a man you can't breathe without, and find that breath is of little consequence." — Karen Marie Moning
"A kiss is a secret told to the mouth instead of the ear; kisses are the messengers of love and tenderness." — Ingrid Bergman
"Never close your lips to those whom you have already opened your heart." — Charles Dickens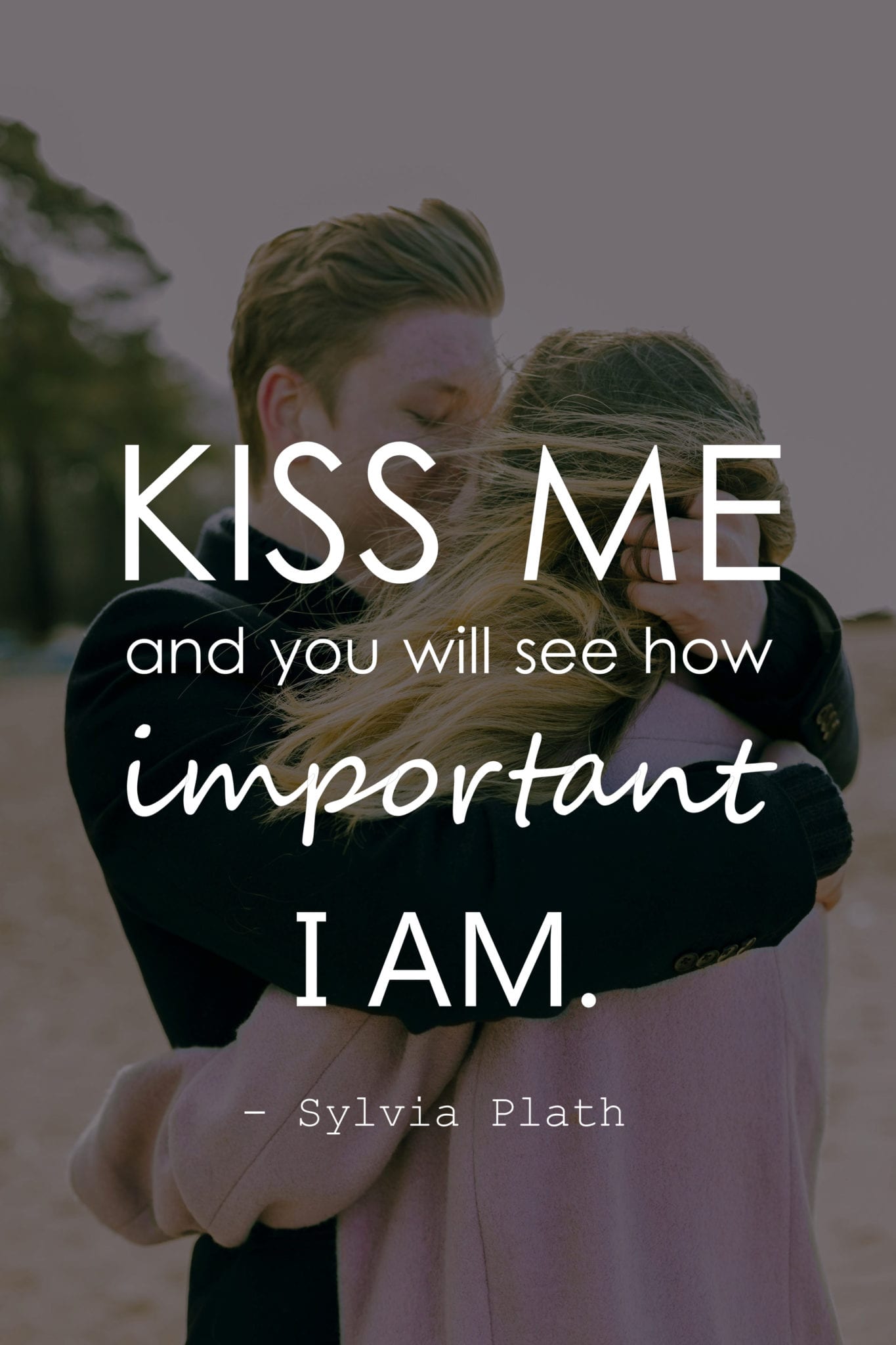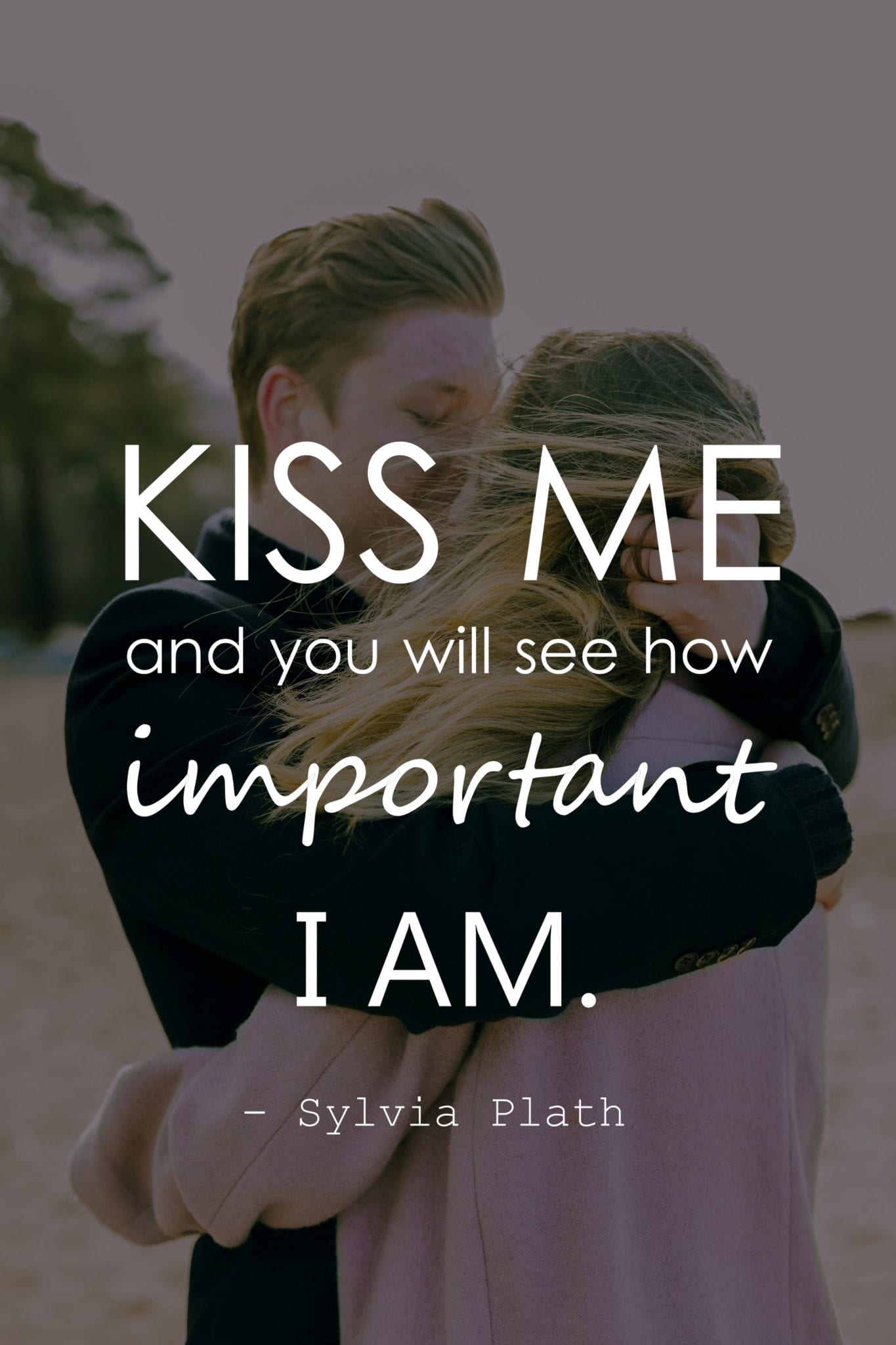 "He took her into his arms again, using all his strength to be gentle, and let his lips touch hers so lightly he could hardly feel it." — Morgan Llywelyn
"The sunlight claps the earth, and the moonbeams kiss the sea: what are all these kissings worth, if thou kiss not me?" — Percy Bysshe Shelley
"A kiss is a lovely trick designed by nature to stop speech when words become superfluous." — Ingrid Bergman
"Make me immortal with a kiss." — Christopher Marlowe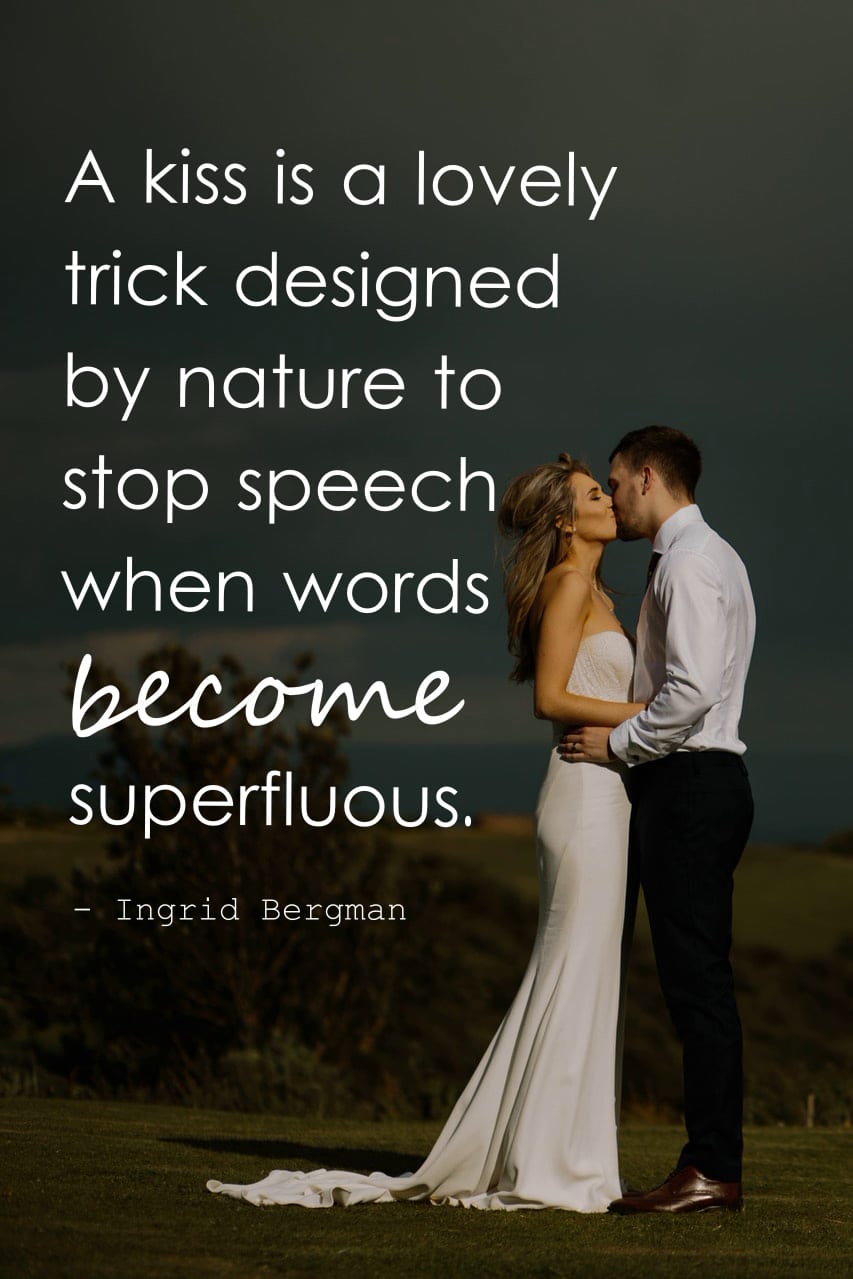 "I kiss her. I kiss her and kiss her. I try not to bite her lip. She tastes like vodkahoney." — Lidia Yuknavitch
"I have found men who didn't know how to kiss. I've always found time to teach them." — Mae West
"Alcohol is like love. The first kiss is magic, the second is intimate, the third is routine. After that you take the girl's clothes off." — Raymond Chandler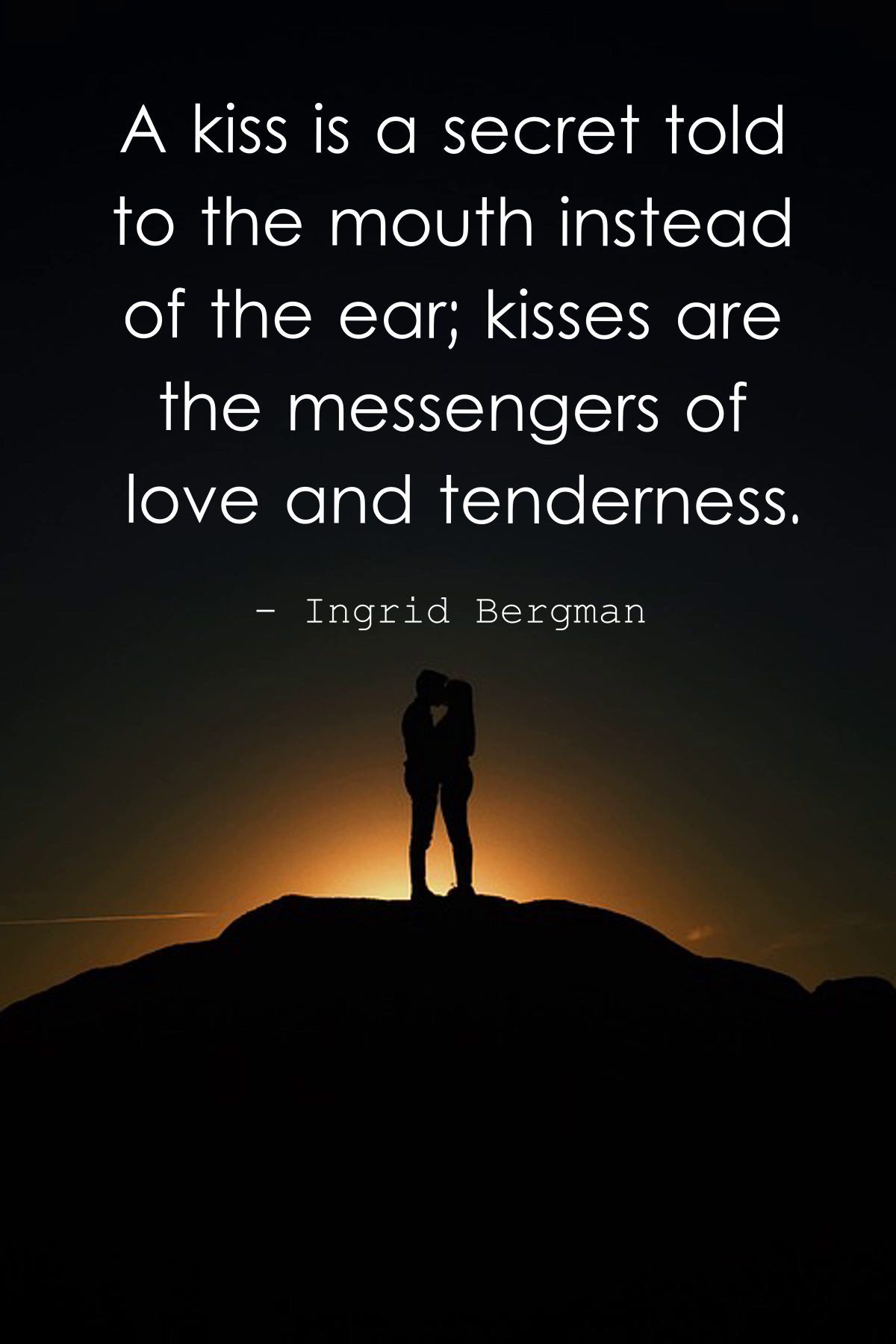 "I didn't want to kiss you goodbye — that was the trouble — I wanted to kiss you good night — and there's a lot of difference." — Ernest Hemingway
"It was the kiss of a man who had waited years for the moment, and feared that it would never come again." — Jana Oliver
"Kiss me and you will see how important I am." — Sylvia Plath
"And even as I'm kissing him and kissing him and kissing him, I wish I were kissing him, wanting more, more, more, more, like I can't get enough, never will be able to get enough." — Jandy Nelson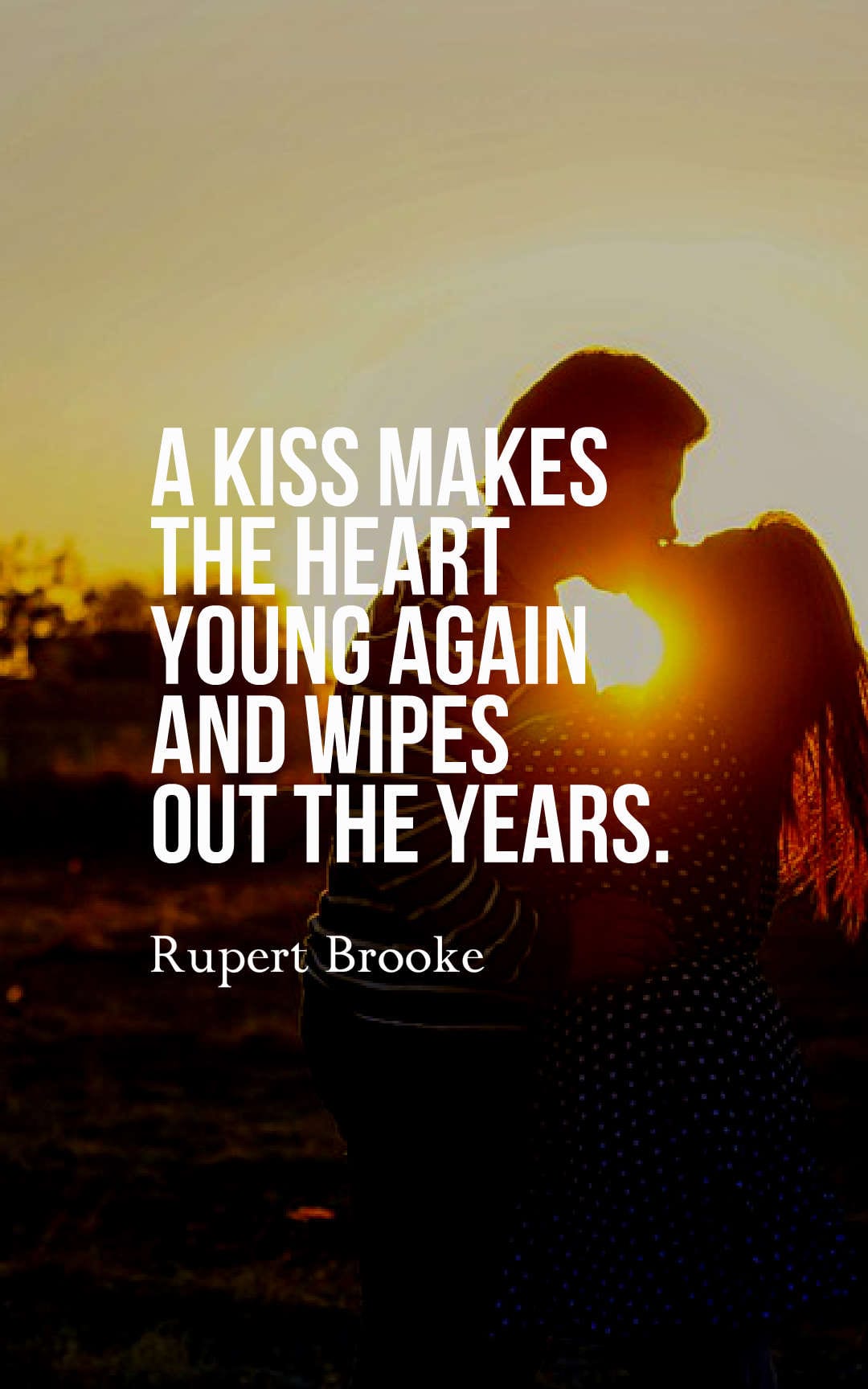 "A first kiss is the demarcation line: the same information that a moment ago felt private, all of a sudden seems unfair to withhold. And with that exchange came more." — Francesca M
"Close your eyes and I'll kiss you, Tomorrow I'll miss you." — Paul McCartney
"The sound of a kiss is not so loud as that of a cannon, but its echo lasts a great deal longer." — Oliver Wendell Holmes, Sr.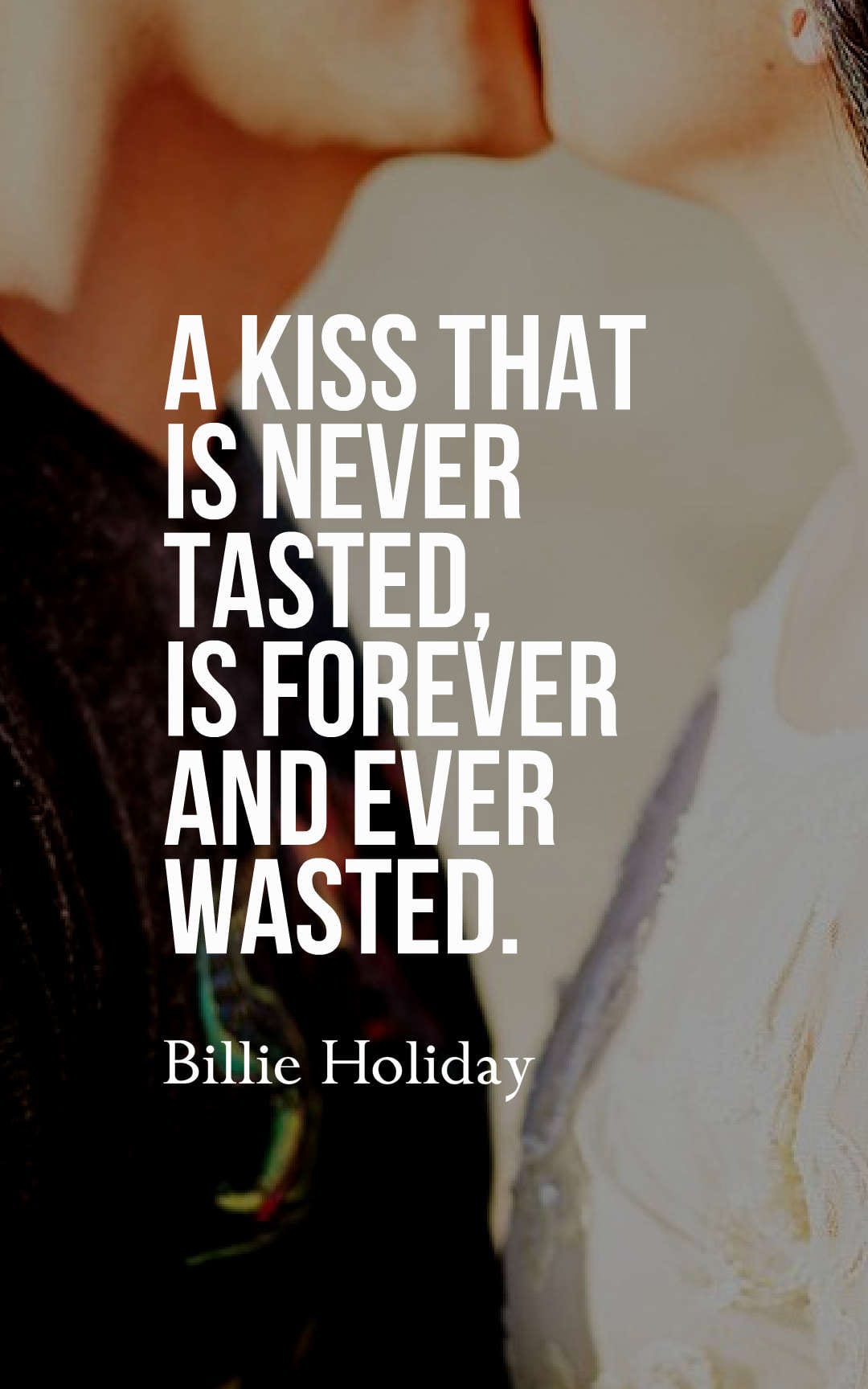 "A kiss on the beach when there is a full moon is the closest thing to heaven." — H. Jackson Brown Jr.
"The moment I leaned in and kissed him, I felt the world crack open at my feet." — Anonymous
"A man's kiss is his signature." — Mae West
"Our only kiss was like an accident- a beautiful gasoline rainbow." — Alice Sebold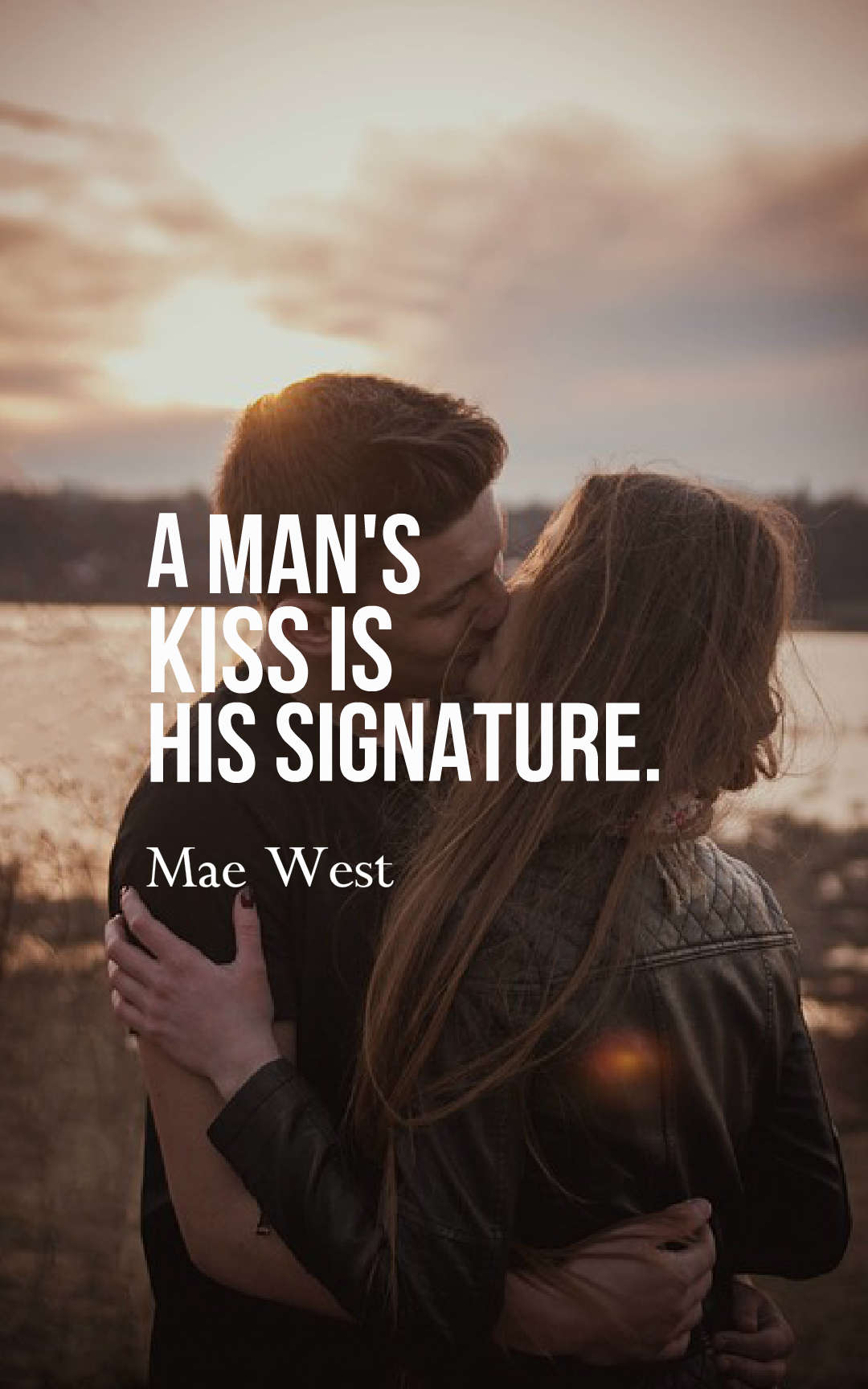 "Hollywood is a place where they'll pay you a thousand dollars for a kiss and fifty cents for your soul." — Marilyn Monroe
"Kissing you deeply could make me wholly forget my very own being." — Anonymous
"This is the part where I kiss you." — Cynthia Hand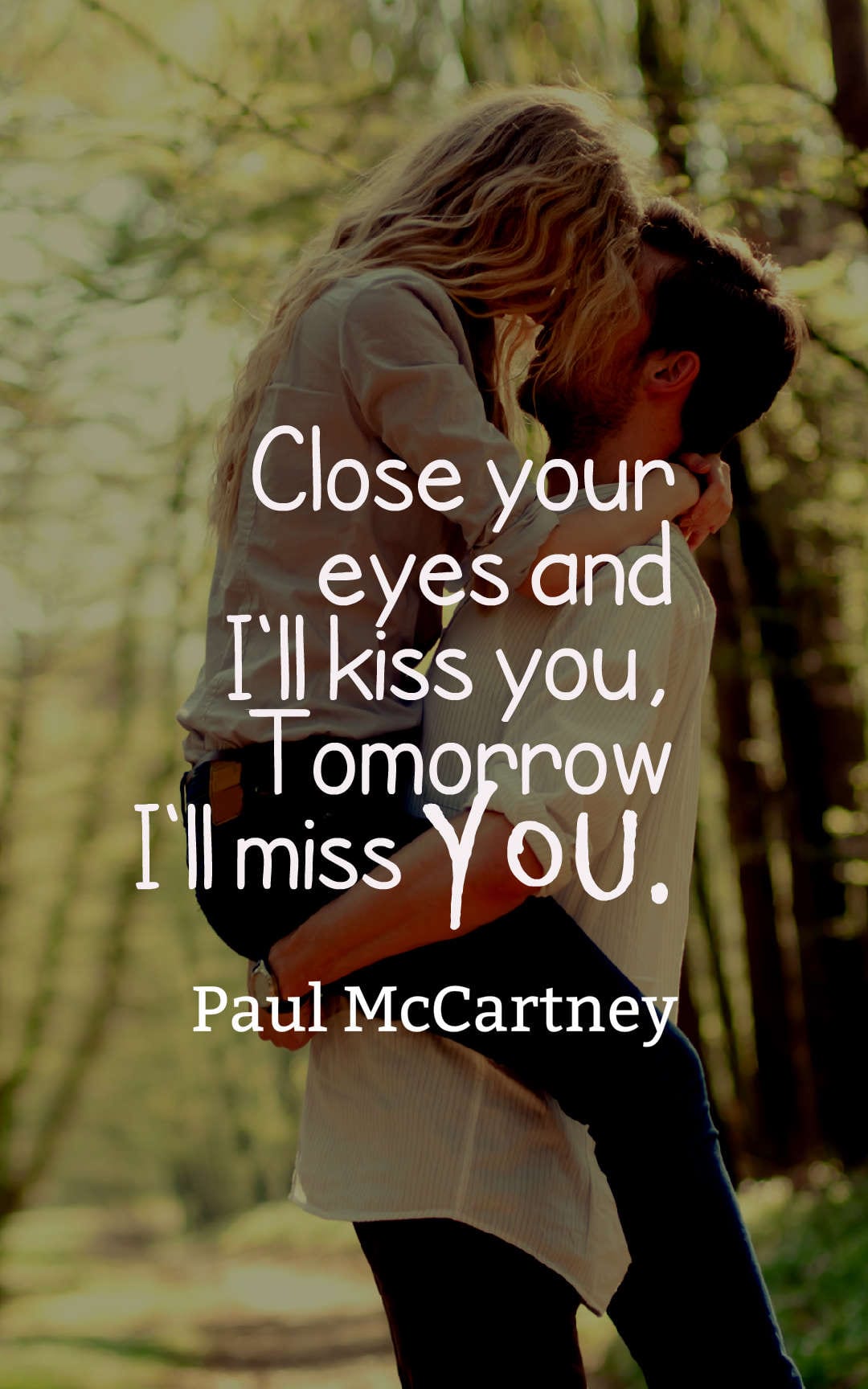 "We are all mortal until the first kiss and the second glass of wine." — Eduardo Galeano
"He kisses me like he's giving me every kiss he wishes he could have given me the past, and every kiss he'll wish he could give me in the future. All at once." — Colleen Hoover
"Kissing a Girl on the forehead is one of the sweetest things in the world." — Anonymous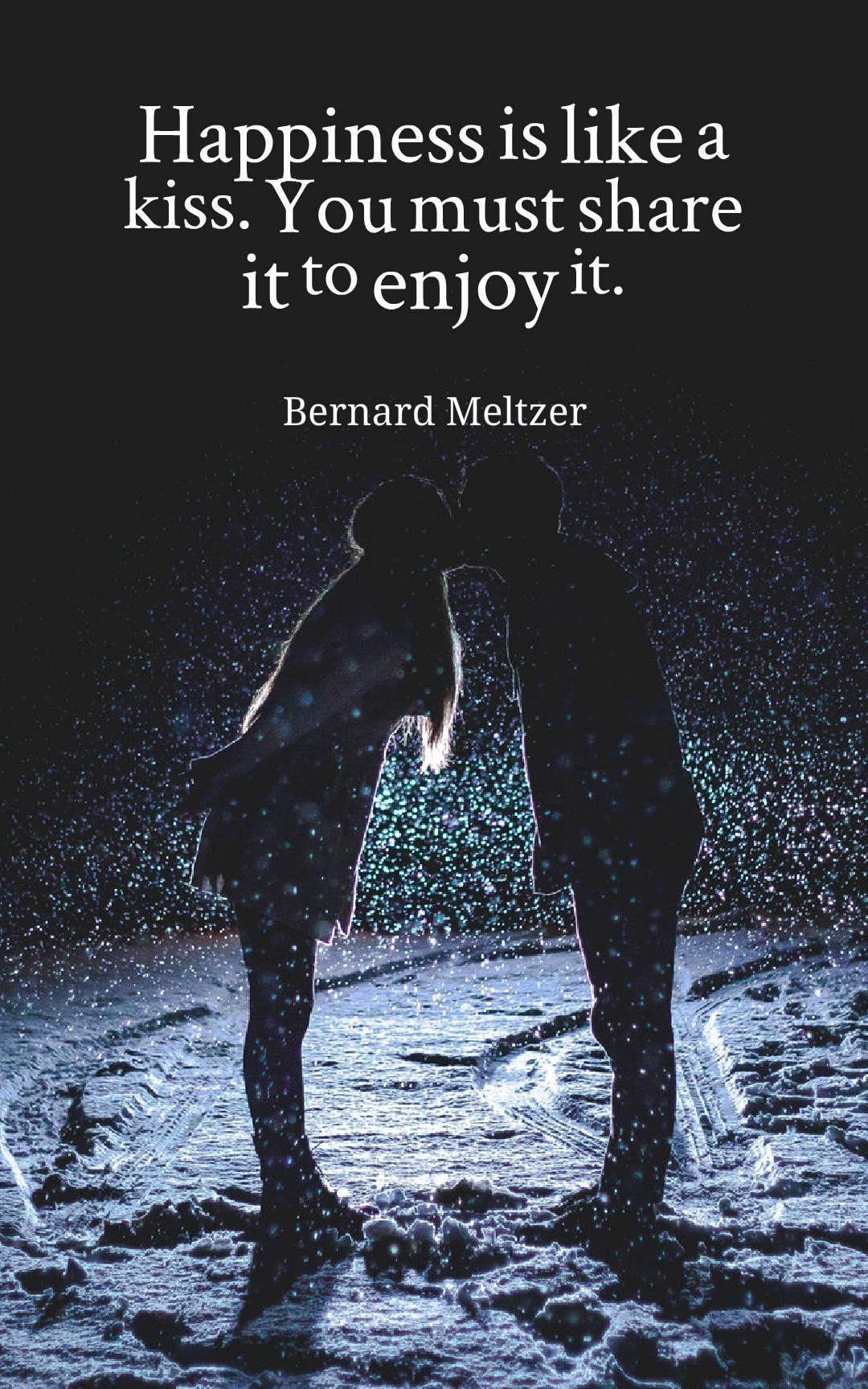 "There's nothing like the first kiss once you've been pronounced husband and wife. It's such a wonderful moment!" — Sara Ramirez
"I was born when you kissed me. I died when you left me. I lived a few weeks while you loved me." — Dorothy B. Hughes
"A kiss that is never tasted, is forever and ever wasted." — Billie Holiday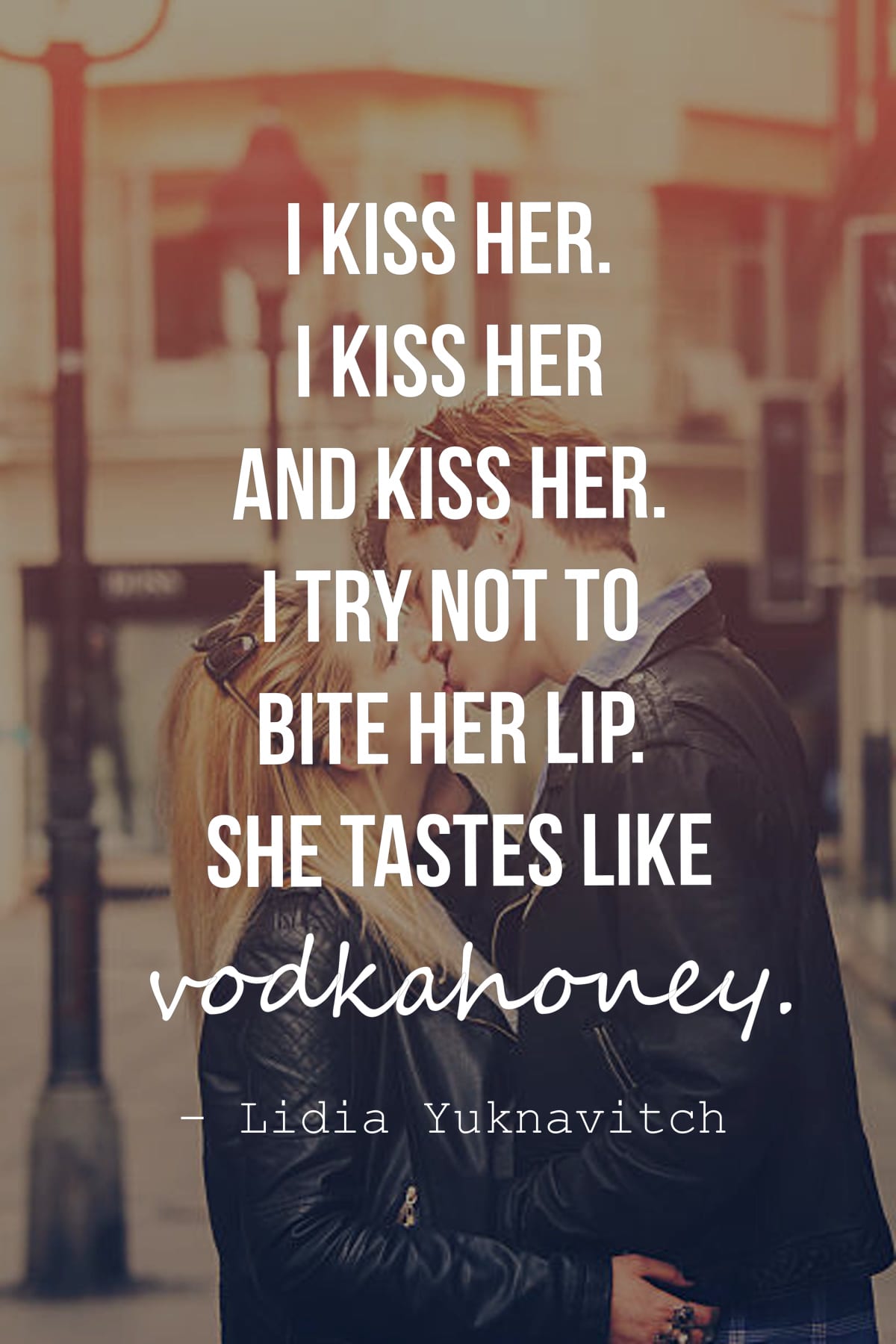 "Even if I lost my memory, I swear I'll never forget our first kiss." — Anonymous
"I'm going to kiss you now, and I don't know if I'll ever stop." — Jamie McGuire
"The happiness of life is made up of minute fractions – the little, soon forgotten charities of a kiss or a smile, a kind look or heartfelt compliment." — Samuel Taylor Coleridge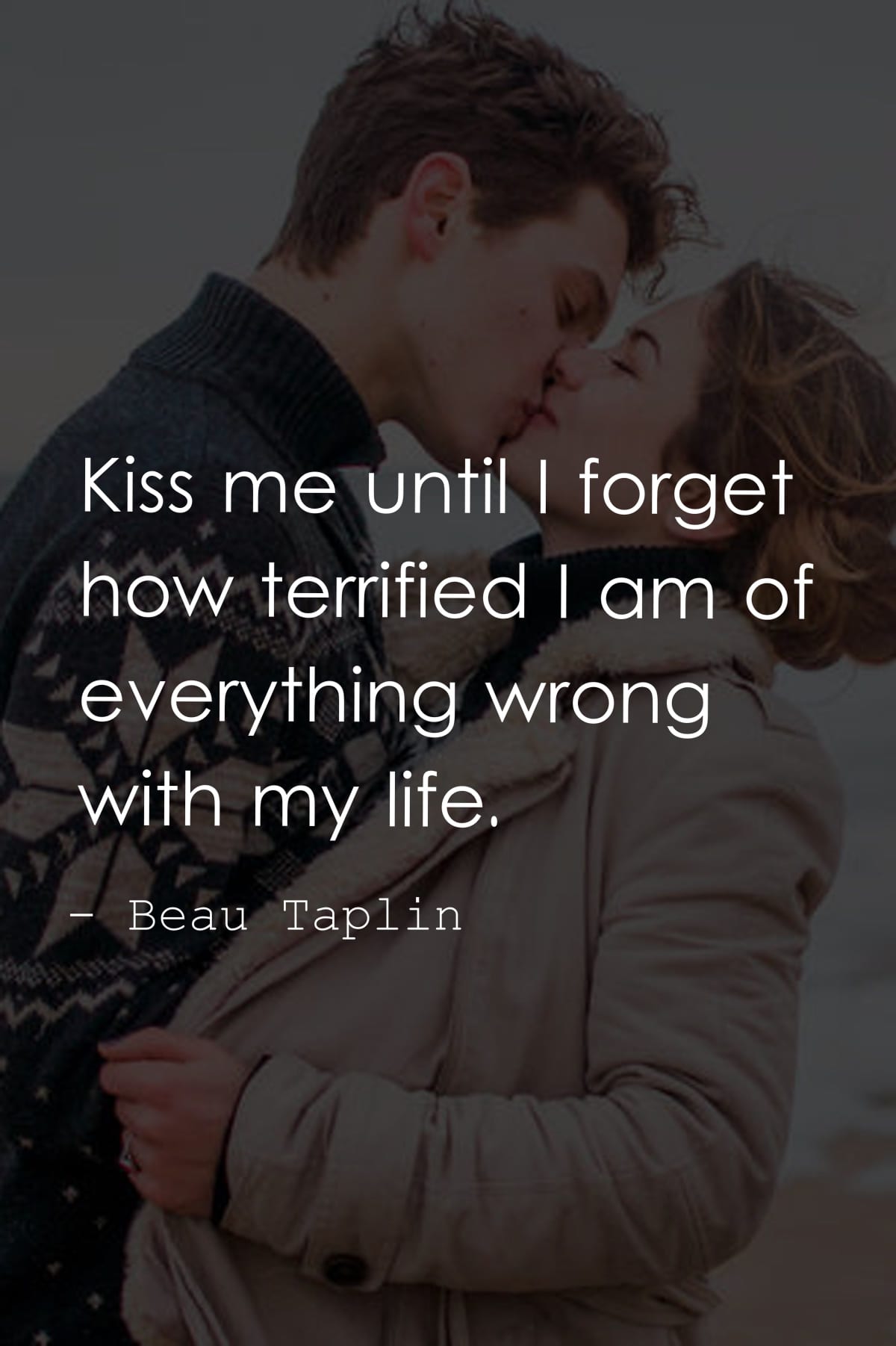 "Kiss me until I forget how terrified I am of everything wrong with my life." — Beau Taplin
"Without you, I'm nothing. With you, I'm something. Together, we're everything." — Anonymous
"Now a soft kiss – Aye, by that kiss, I vow an endless bliss." — John Keats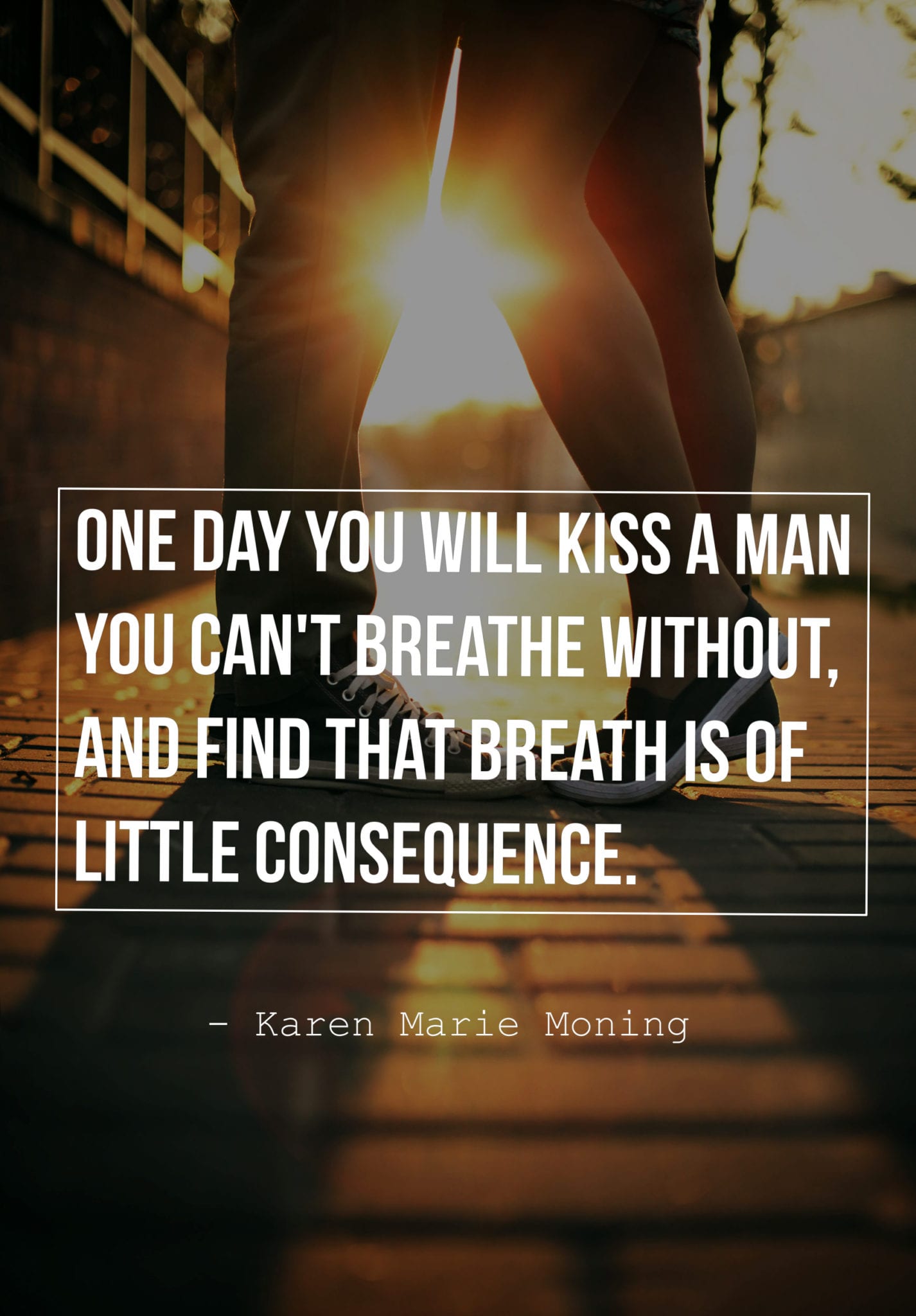 "You should be kissed and by someone who knows how." — Margaret Mitchell
"It is the passion that is in a kiss that gives to it its sweetness; it is the affection in a kiss that sanctifies it." — Christian Nestell Bovee
"And yes, when he kisses you, the rest of the world disappears and your brain shuts off and all you can feel are his lips and nothing else matters." — Jess Rothenberg
"A kiss makes the heart young again and wipes out the years." — Rupert Brooke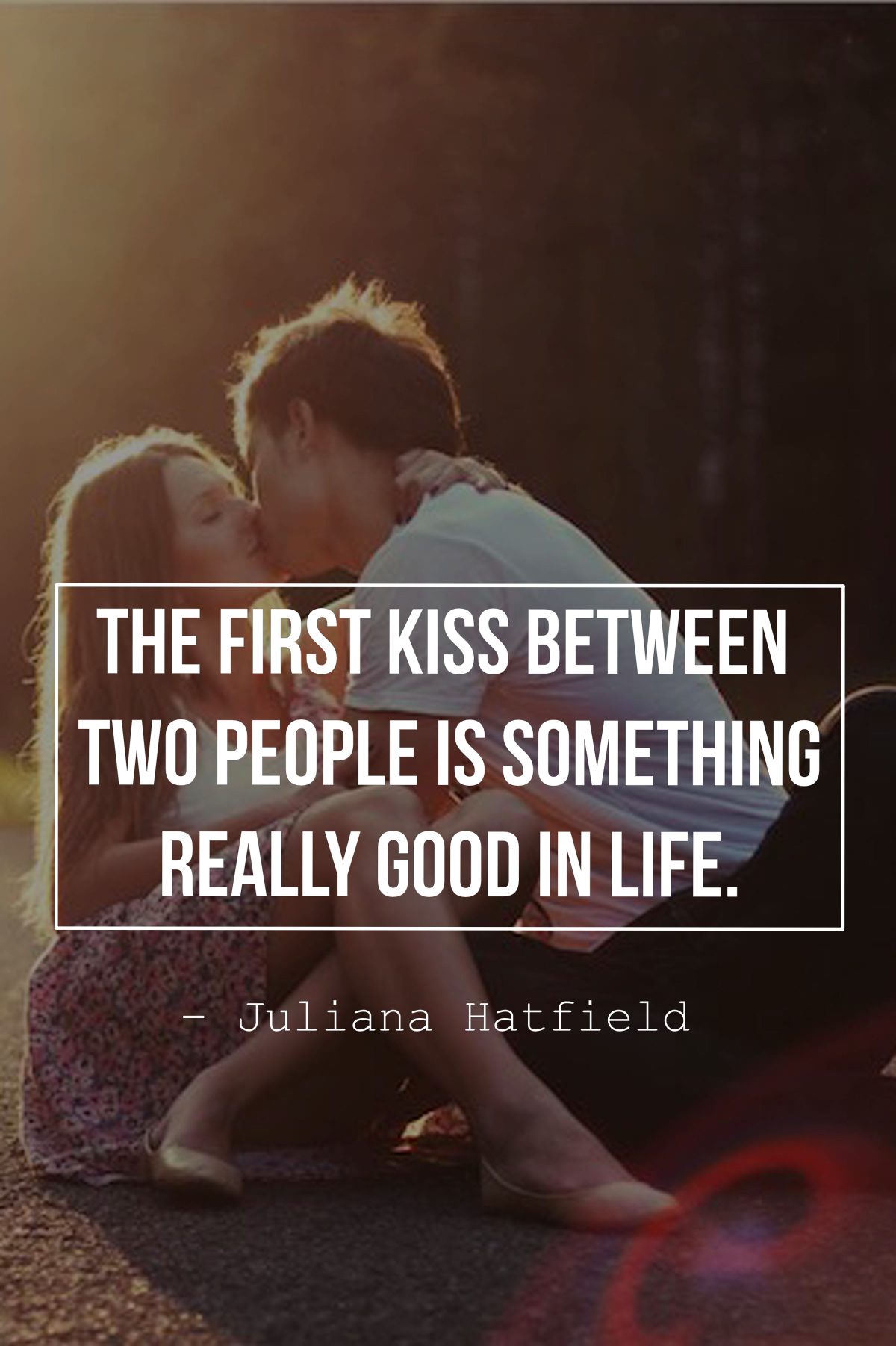 "Kiss thy lips and you will see what thou create." — Santosh Kalwar
"The best part about a first kiss is right before the first kiss." — Brett Davern
"Of course one kiss changes things. If it's done right, a kiss changes everything." — Tessa Dare
"The first kiss between two people is something really good in life." — Juliana Hatfield
"I believe in pink. I believe that laughing is the best calorie burner. I believe in kissing, kissing a lot. I believe in being strong when everything seems to be going wrong. I believe that happy girls are the prettiest girls. I believe that tomorrow is another day and I believe in miracles." — Audrey Hepburn
"All the president is, is a glorified public relations man who spends his time flattering, kissing, and kicking people to get them to do what they are supposed to do anyway." — Harry S Truman
"Kissing someone is pretty intimate, actually very intimate, and your heart always kind of skips a beat before you do that." — Keanu Reeves
"What of soul was left, I wonder, when the kissing had to stop?" — Robert Browning
"Any man who can drive safely while kissing a pretty girl is simply not giving the kiss the attention it deserves." — Albert Einstein
"Teach not thy lip such scorn, for it was made For kissing, lady, not for such contempt." — William Shakespeare
"There are two things that are more difficult than making an after-dinner speech: climbing a wall which is leaning toward you and kissing a girl who is leaning away from you." — Winston Churchill
"Jack was out kissing babies while I was out passing bills. Someone had to tend the store." — Lyndon B. Johnson
"Some men like a dull life – they like the routine of eating breakfast, going to work, coming home, petting the dog, watching TV, kissing the kids, and going to bed. Stay clear of it – it's often catching." — Hedy Lamarr
"I don't like being told what to do and kissing you-know-what to get up the corporate ladder." — Robert Kiyosaki
"If you kiss on the first date and it's not right, then there will be no second date. Sometimes it's better to hold out and not kiss for a long time. I am a strong believer in kissing being very intimate, and the minute you kiss, the floodgates open for everything else." — Jennifer Lopez
"One of the skills I had to learn and become proficient in is kissing a man. I had never kissed a man. Will Smith did it in his movies, so did Jake Gyllenhaal, and I figured it was my time. So it was me and Steve Carell – fantastic." — Dwayne Johnson
"I always get carried away when I'm kissing. I just go nuts! Walking away after it is the strangest moment for me. It's embarrassing – not knowing what to say to each other." — Robert Pattinson
"My folks were raised pure prohibitionist. They were very good people, with high moral standards – but very repressed. There was no hugging and kissing in my home." — Hugh Hefner
"Kissing is not just kissing. It is a major escalation or de-escalation point in a powerful process of mate choice." — Helen Fisher
"I remember in 'Law of Desire,' where I played a homosexual, that people were more upset that I kissed a man on the mouth than I killed a man. It's interesting to see how people can pardon you for murdering a man, but they can't pardon you for kissing one." — Antonio Banderas
"You know what the lowest rated episode we ever had was? Where Captain Kirk kissed Uhuru – a white man kissing an African-American woman. All the stations in the American South – in Georgia, Alabama, Mississippi, Louisiana – refused to air it. And so our ratings plummeted." — George Takei
"While I am aware of no counsel on whether kissing should be reserved only for post-mission dating or courtship, I am aware of plenty of counsel concerning honesty in our actions and treating others with respect and kindness. Casual attitudes about expressions of affection such as kissing can cause much grief and heartache." — John Bytheway
"A kiss with anyone, on or off camera, can be intimidating. I've been kissing for nearly two decades now, and I'm always convinced I'm not doing it right. Chemistry is so important in a great kiss. You can act your way through anything, but it's hard with a kiss." — Rachel McAdams
Hopefully you will enjoy these intense and cute collection of Romantic Kissing quotes and sayings. please don't forget to share these quotes.