-Advertisement-
Like and share our beautiful collection of inspirational Coffee quotes and sayings with images.
-Advertisement-
Inspirational Coffee Quotes
---
"I can't imagine a day without coffee. I can't imagine!" — Howard Schultz
---
"What do you want?" "Just coffee. Black – like my soul." — Cassandra Clare
---
"To an old man a cup of coffee is like the door post of an old house — it sustains and strengthens him." — Old Bourbon Proverb
---
"I have measured out my life with coffee spoons." — T.S. Eliot
---
"Coffee is a way of stealing time that should by rights belong to your older self." — Terry Pratchett
---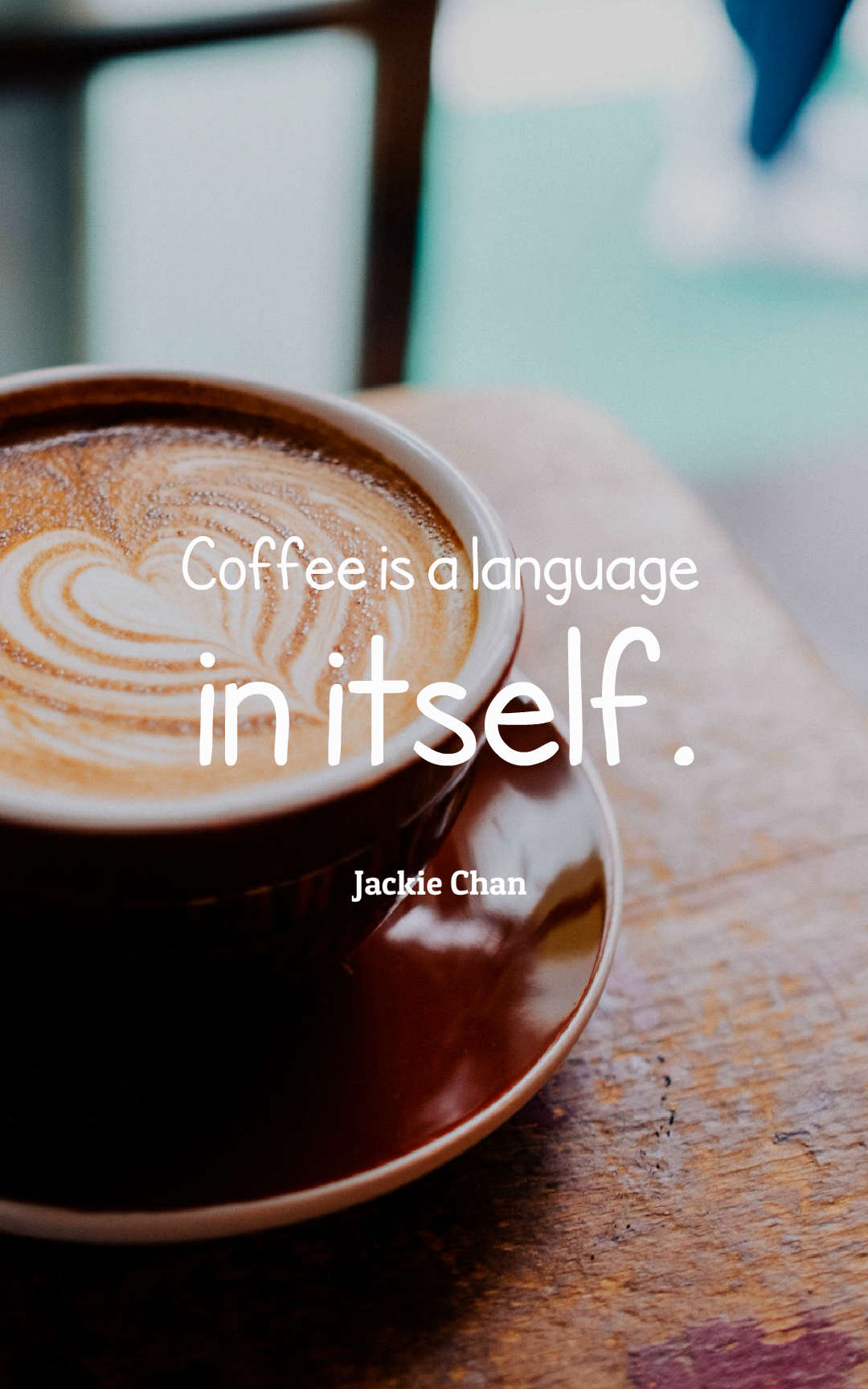 -Advertisement-
---
"My coffee machine is the most beautiful person in the world to me." — Unknown
---
"Never trust anyone who doesn't drink coffee." — AJ Lee
---
"What goes best with a cup of coffee? Another cup." — Henry Rollins
---
"Even bad coffee is better than no coffee at all." — David Lynch
---
"Sometimes I stay up so late that I have my morning coffee before I go to bed." — Unknown
---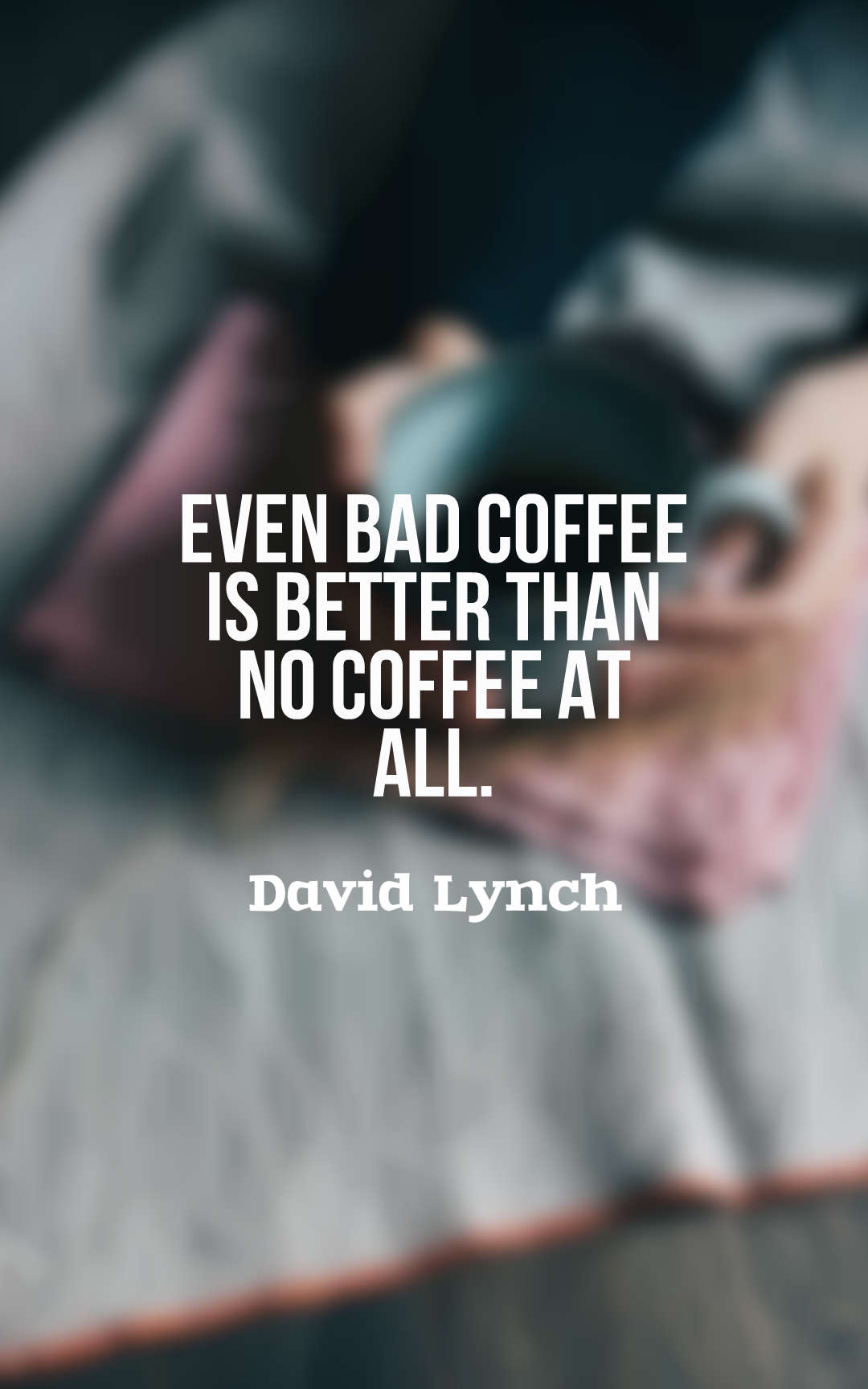 ---
"Coffee is the silent victim in our house. It gets mugged every day." — Unknown
---
"Adventure in life is good; consistency in coffee even better." — Justina Chen
---
"Everyone should believe in something. I believe I will have another coffee." — Unknown
---
"Coffee is a language in itself." — Jackie Chan
---
"It doesn't matter where you're from – or how you feel… There's always peace in a strong cup of coffee." — Gabriel Bá
---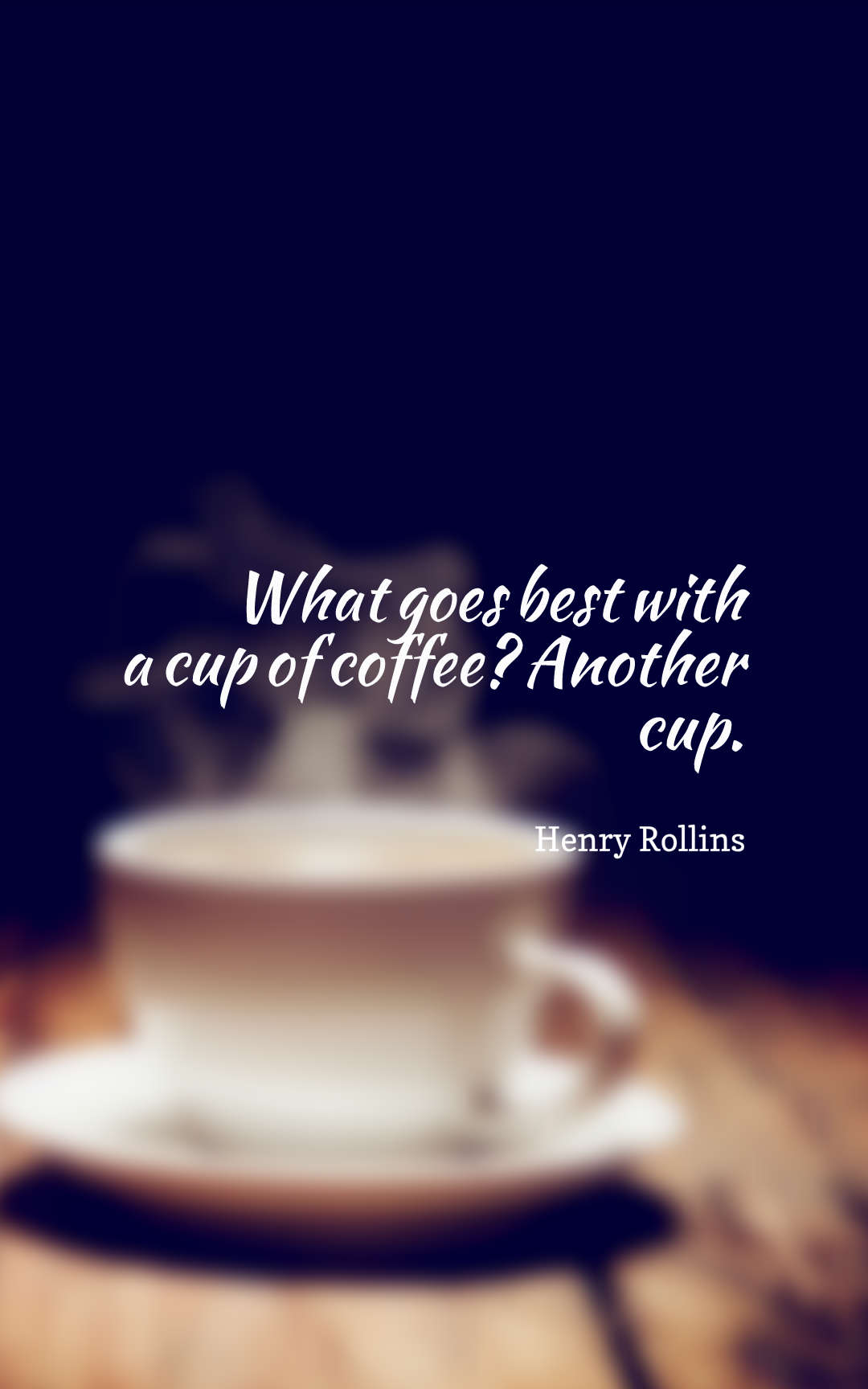 ---
"Coffee should be black as Hell, strong as death, and sweet as love." — Unknown
---
"Coffee is my duct tape It fixes everything." — Unknown
---
"I like my coffee with cream and my literature with optimism." — Abigail Reynolds
---
"My perfect morning is spent drinking coffee, eating porridge and reading the paper at a local cafe." — Anton du Beke
---
"Coffee, unless it is very good and made by somebody else, is pretty intolerable at any time." — Iris Murdoch
---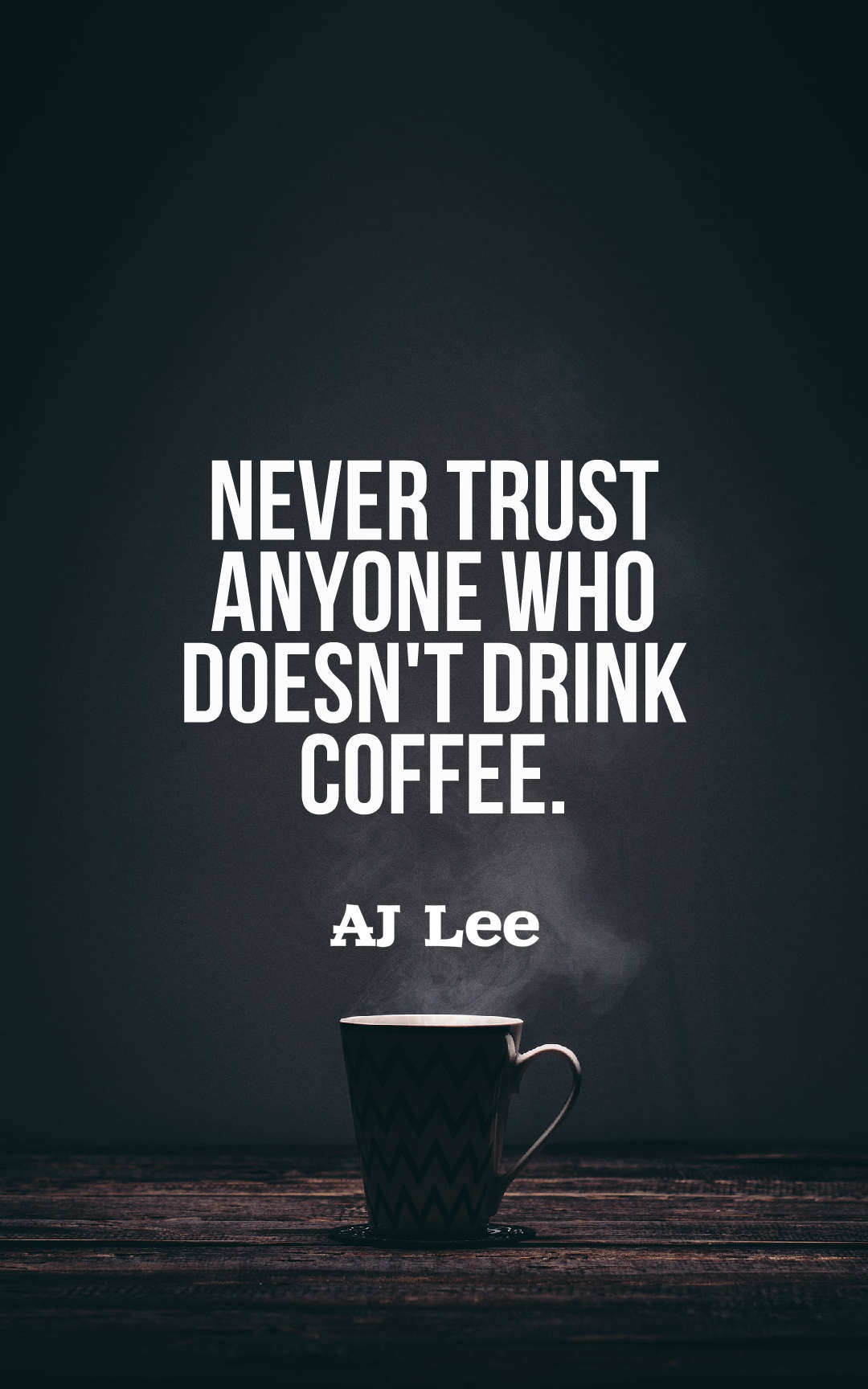 ---
"I like coffee because it gives me the illusion that I might be awake." — Lewis Black
---
"Hot coffee and cold winter mornings are two of the best soul mates who ever did find each other." — Terri Guillemets
---
"Coffee can improve energy levels and make you smarter." — Unknown
---
"A little coffee. A little sunlight. Your troubles will get smaller." — Richard Webber
---
"Come on, don't you ever stop and smell the coffee?" — Justina Chen
---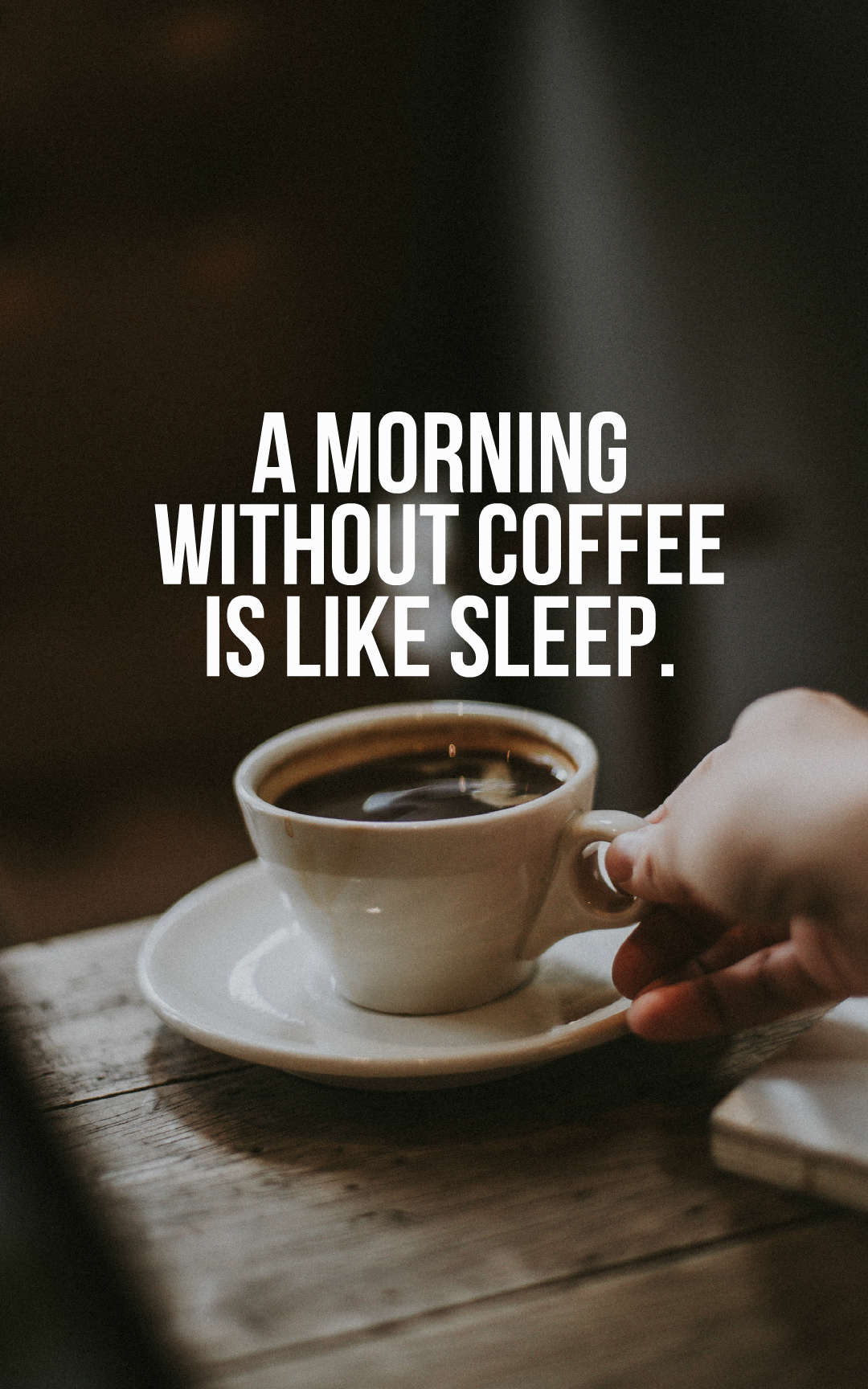 ---
"A great cup of coffee in the morning, makes the tiger in me behave like a real gentleman." — Anthony T.Hincks
---
"Coffee doesn't ask silly questions. Coffee understands." — Unknown
---
"Never underestimate the power of a good cup of coffee." — Ursula Vernon
---
"I don't know how people live without coffee, I really don't." — Martha Quinn
---
"Coffee and books are a simple recipe for happiness." — Nourhan Mamdouh
---
"Smell the roses. Smell the coffee. Whatever it is that makes you happy." — Rita Moreno
---
"Coffee: the favorite drink of the civilized world." — Thomas Jefferson
---
110 Inspirational good morning quotes with images
---
"No matter how hard life is, coffee will help a little." — Unknown
---
"The powers of a man's mind are directly proportioned to the quantity of coffee he drinks." — James Mackintosh
---
"Once you wake up and smell the coffee, it's hard to go back to sleep." — Fran Drescher
---
"A morning without coffee is like sleep." — Unknown
---
"I'll take a little coffee with my cream and sugar." — Unknown
---
"There's nothing sweeter than a cup of bitter coffee." — Rian Aditia
---
"Coffee makes me go crazy." — Taylor Schilling
---
"Coffee and love are best when they are hot." — German Proverb
---
"Coffee has always been a significant part of my life. For me, it's a chance to start my day and gather my thoughts – it's fuel for my creative process." — Connor Franta
---
"No one can understand the truth until he drinks of coffee frothy goodness." — Sheik Abd-al-Kabir
---
Hopefully you will enjoy this inspiring collection of coffee quotes and sayings. please don't forget to share these quotes.