Following are the collection of inspiring struggle quotes and sayings.
Life Struggle Quotes And Sayings
---
"One day, in retrospect, the years of struggle will strike you as the most beautiful." — Sigmund Freud
---
"The struggle you are in today is developing the strength you need for tomorrow" — Unknown
---
"Those who do not move, do not notice their chains." — Rosa Luxemburg
---
"No matter how much it hurts now, someday you will look back and realize your struggles changed your life for the better." — Unknown
---
"The most beautiful people we have known are those who have known defeat, known suffering, known struggle, known loss, and have found their way out of those depths." — Elisabeth Kubler-Ross
---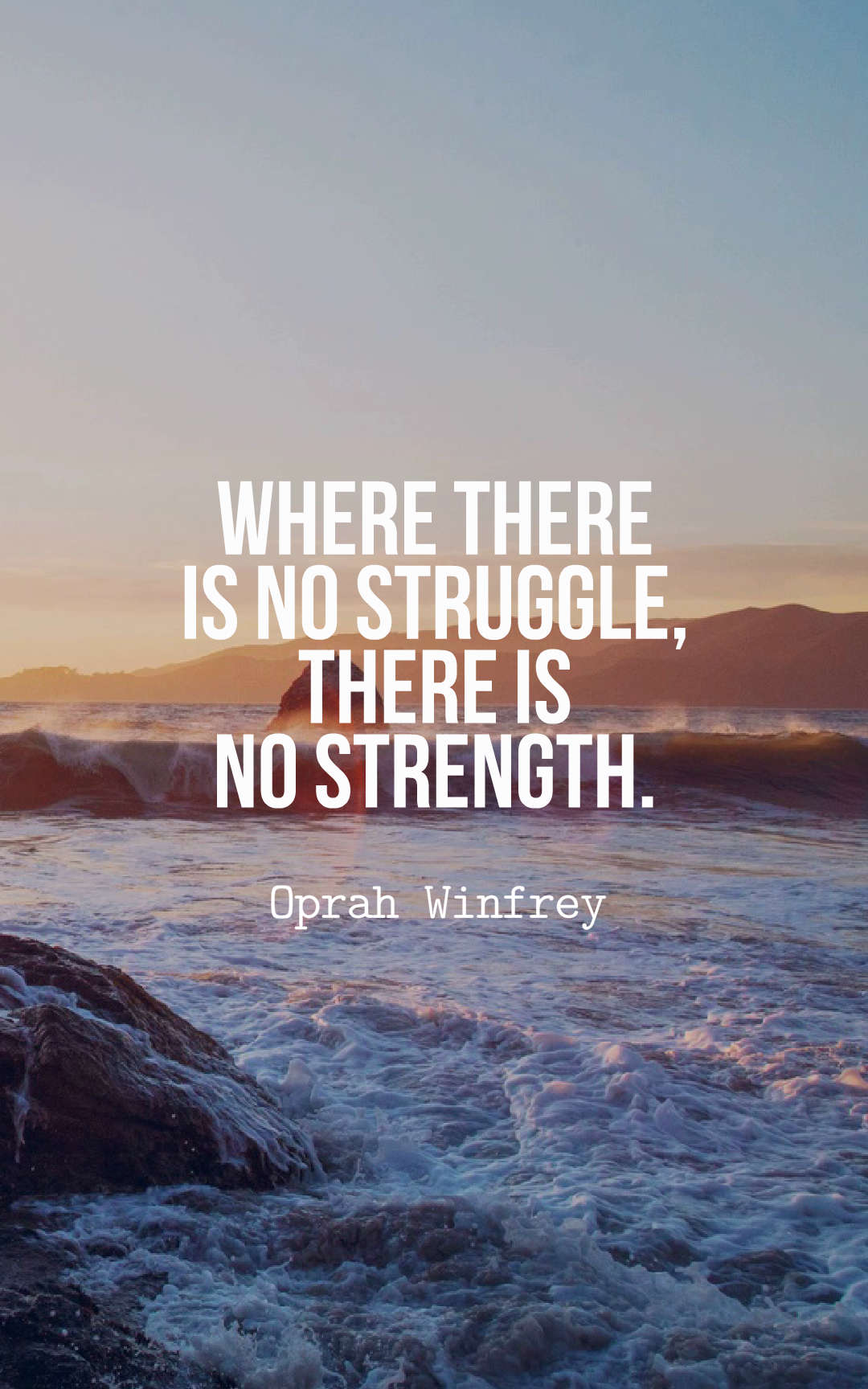 ---
"When you struggle with a problem, that's when you understand it." — Elon Musk
---
"If we're not willing to take a risk and struggle, then we don't deserve to achieve our dreams." — Unknown
---
"There is scarcely any passion without struggle." — Albert Camus
---
"Yesterday is gone. Tomorrow has not yet come. We have only today. Let us begin." — Mother Teresa
---
"The women that inspire me to be honest are the women that struggle." — Cardi B
---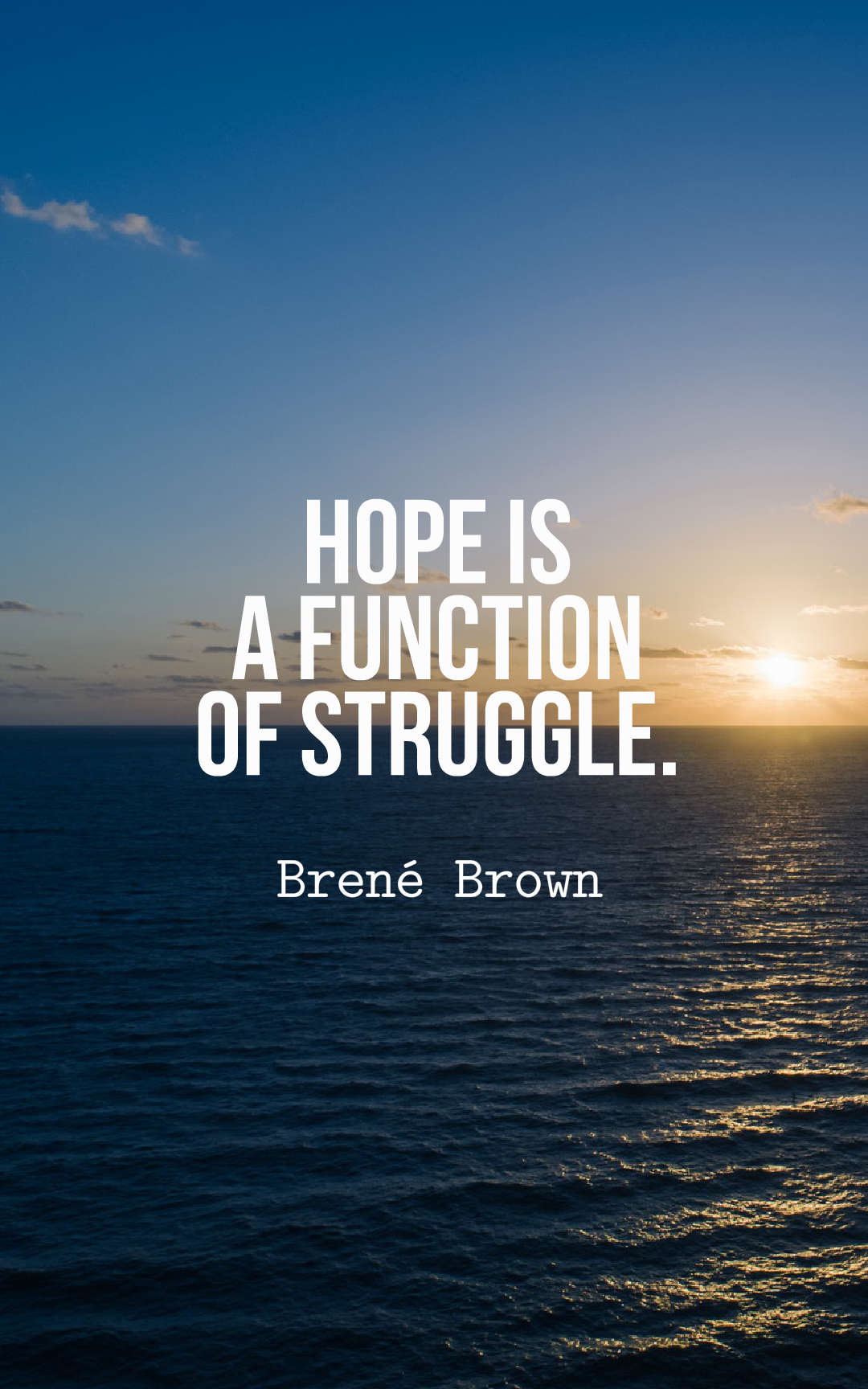 ---
"You can be successful and still struggle. You can struggle and still be successful." — Unknown
---
"Struggle is nature's way of strengthening it." — John Locke
---
"You stay safe, You love. You survive. You laugh and cry and struggle and sometimes you fail and sometimes you succeed. You Push." — Carrie Ryan
---
50 Inspirational Strength Quotes With Images
---
"You have to understand that people have to pay a price for peace. If you dare to struggle, you dare to win."  — Fred Hampton
---
"Hope is a function of struggle." — Brené Brown
---
"To everyone going through anything struggle or pain right now, keep your head up, and keep smiling. God heals all." — Unknown
---
"having nothing to struggle against they have nothing to struggle for." — Charles Bukowski
---
"Always remember that striving and struggle precede success, even in the dictionary." — Sarah Ban Breathnach
---
"Everyone you meet is fighting a battle you know nothing about. Be kind. Always." — Brad Meltzer
---
"Strength and growth come only through continuous effort and struggle." — Napoleon Hill
---
"All it takes is a second and your whole life can get turned upside down." — Jodi Picoult
---
"The harder the struggle, the more glorious the triumph. Self-realization demands very great struggle." — Swami Sivananda
---
"We knew that you don't get to be world champions without a struggle." — Eric Cantona
---
"As beauty lies in eyes of beholder, struggling lies in reaching further." — Santosh Kalwar
---
"Impermanence is a principle of harmony. When we don't struggle against it, we are in harmony with reality." — Pema Chödrön
---
"If there is no struggle, there is no progress." — Frederick Douglass
---
"There is no life without struggle." — Santosh Kalwar
---
"Just because you are struggling does NOT mean you are failing. Every great success requires some kind of struggle to get there." — Unknown
---
"If you're absent during my struggle, don't expect to be present during my success." — Will Smith
---
"Don't think of your struggle as an inconvenience instead think of it as a way to grow." — Avina Celeste
---
"Without struggle, no progress and no result. Every breaking of habit produces a change in the machine." — George Gurdjieff
---
"Success is sweet: the sweeter if long delayed and attained through manifold struggles and defeats." — A. Branson Alcott
---
"There may be a struggle in the beginning to find the motivation to continue day after day but if you remember why you started in the first place, you will always have a reason to continue." — Avina Celeste
---
"It's through our struggles that we learn to grow, in strength, spirit and wisdom." — Susan McCann
---
"There is nobility in the struggle, you don't have to win." — Sharon Pollock
---
"I love the struggle, after all we're going to need something to talk about at the top." — Unknown
---
"The greatest struggle you will overcome is the struggle against yourself." — Avina Celeste
---
75 Inspirational Strong Women Quotes And Sayings
---
"I struggle to make it to the end of the pool so when I get half way I swim back." — Unknown
---
"And in which we say that life is eternal but continue to struggle to survive." — Neale Donald Walsch
---
"If you worry yourself to death over the struggle, you will never experience the good life." — Kelly L. Miller
---
"I'm thankful for my struggle because without it I wouldn't have stumbled across my strength." — Alex Elle
---
"Believe me, the reward is not so great without the struggle." — Wilma Rudolph
---
"There is a purpose in life's struggles. Without them, we stay the same." — Unknown
---
"Sometimes we fall because we don't struggle to prevent ourselves from falling" — D WordSmith
---
"In our daily lives, moving from struggle to grace requires practice and commitment." — Arianna Huffington
---
"Embrace the struggle and let it make you stronger. It won't last forever." — Tony Gaskins
---
"Without life's struggles, we cannot grow into the person that we are meant to become." — Unknown
---
"We were learning to struggle. And we were learning how powerful we are when we speak." — Malala Yousafzai
---
"Remember we all have struggles, but it's how we choose to deal with them that makes the real difference." — Susan McCann
---
"Our periods of struggle are the avenue to realizing our full potential and happiness." — Unknown
---
"Within you is the power to rise above in any situation or struggle, and transform into the brightest, strongest version of you ever." — Unknown
---
"Struggle is a never-ending process. Freedom is never really won, you earn it and win it in every generation." — Coretta Scott King
---
"Our biggest struggles always form our greatest strength." — Unknown
---
"Work and struggle and never accept an evil that you can change." — Andre Gide
---
"Opportunity follows struggle. It follows effort. It follows hard work. It doesn't come before." — Unknown
---
"The struggle ends when gratitude begins." — Neale Donald Walsch
---
"When everything feels like an uphill struggle, just think of the view from the top." — Unknown
---
"The struggle of man against power is the struggle of memory against forgetting." — Milan Kundera
---
"The old world is dying, and the new world struggles to be born: now is the time of monsters." — Antonio Gramsci
---
"She didn't struggle and so she didn't grow." — Paulo Coelho
---
Hopefully you will enjoy this inspiring collection of struggle quotes and sayings. please don't forget to share these quotes.