-Advertisement-
"Life" a challenge and we all are involved to complete it successfully and want to achieve dazzling goals at the end challenges are healthy they bring thrill in life challenges make yourself confident and a type of person that can face everything without any fear and to make you more confident we have an amazing collection of challenges quotes.
-Advertisement-
Challenges are a sort of path converters which can turn a person from timid and shy to a fearless and an expressive one.
Challenges encourage you that you can do anything even impossible then read these inspiring challenges quotes and contort yourself to the way toward fearlessness and confidence and try to touch the fireflies of you success. so following are some inspirational hand picked challenges quotes and sayings with images.
Challenges Quotes
"Our ability to handle life's challenges is a measure of our strength of character." — Les Brown
---
"life is all about facing new challenges."
---
"Believe in yourself, take on your challenges, dig deep within yourself to conquer fears. Never let anyone bring you down. You got to keep going." — Chantal Sutherland
---
When life puts you in tough situations, don't say "why me", say "try me"
---
"The brick walls are there for a reason. The brick walls are not there to keep us out. The brick walls are there to give us a chance to show how badly we want something. Because the brick walls are there to stop the people who don't want it badly enough. They're there to stop the other people." — Randy Pausch
---
"Challenges will come to you, but as you trust in God, they will strengthen your faith."
---
"Together we can face any challenges as deep as the ocean and as high as the sky." — Sonia Gandhi
---
"Life is full of challenges, but these challenges are only given to you because God knows your faith is strong enough to get through them."
---
"Life is either a daring adventure or nothing at all." — Helen Keller
---
"When we least expect it, life sets us a challenge to test our courage and willingness to change." — Paulo Coelho
---
"If you have a positive attitude and constantly strive to give your best effort, eventually you will overcome your immediate problems and find you are ready for greater challenges." — Pat Riley
---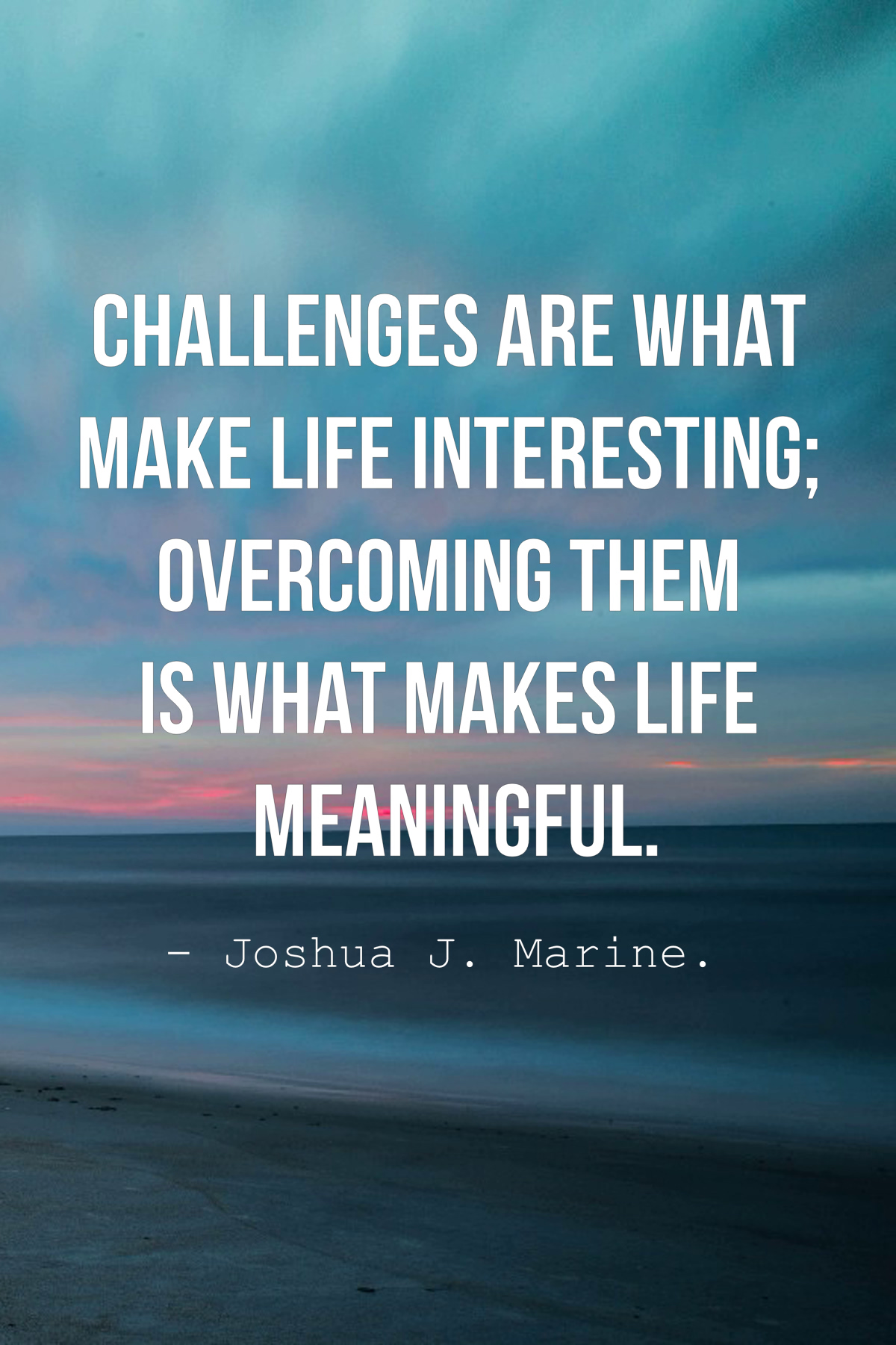 -Advertisement-
---
"If it doesn't challenge you, it doesn't change you." — Fred DeVito
---
"The biggest challenge after success is shutting up about it." — Criss Jami
---
"Look at a day when you are supremely satisfied at the end. It's not a day when you lounge around doing nothing; it's a day you've had everything to do and you've done it." — Margaret Thatcher
---
"Everything negative – pressure, challenges – is all an opportunity for me to rise." — Kobe Bryant
---
"We don't grow when things are easy, we grow when we face challenges." — Joyce Meyer
---
"Happiness is not the absence of problems; it's the ability to deal with them." — Steve Maraboli
---
"The Bigger the Challenge The Bigger the Opportunity."
---
"You should never view your challenges as a disadvantage. Instead, it's important for you to understand that your experience facing and overcoming adversity is actually one of your biggest advantages." — Michelle Obama
---
"Be the kind of person who dares to face life's challenges and overcome them rather than dodging them." — Roy T. Bennett
---
"Don't limit your challenges; challenge your limits." — Jerry Dunn
---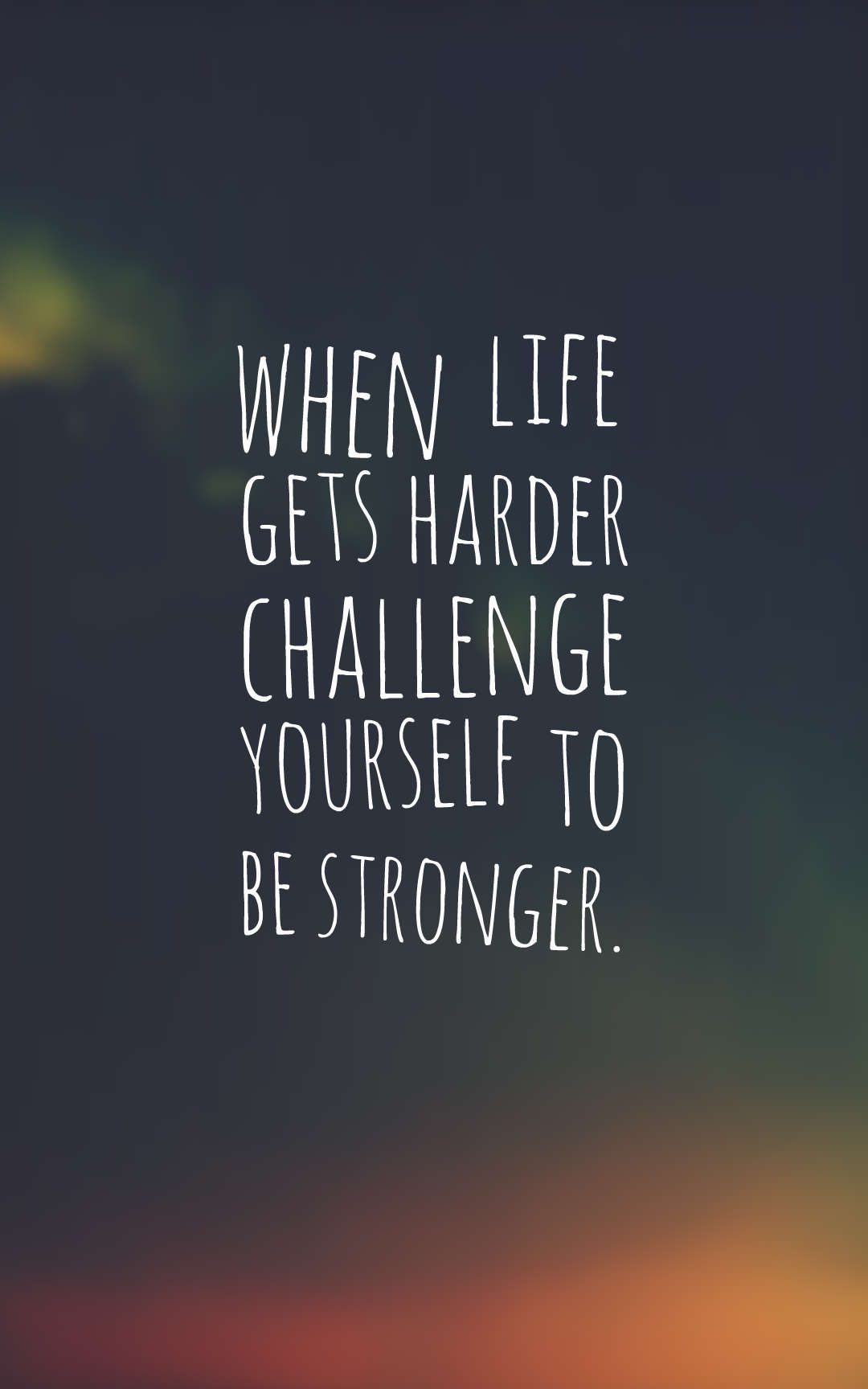 ---
"Challenges Are What Makes Life Interesting and Overcoming Them Is What Makes Life Meaningful." — Joshua J. Marine
---
"Being challenged in life is inevitable, being defeated is optional." — Roger Crawford
---
"It's lack of faith that makes people afraid of meeting challenges, and I believed in myself." — Muhammad Ali
---
"Don't run away from your challenges run over them."
---
"Your calm mind is the ultimate weapon against your challenges. So relax." — Bryant McGill
---
"The key to life is accepting challenges. Once someone stops doing this, he's dead." — Bette Davis
---
"I feel like life is really short, and it's important to enjoy yourself and embrace whatever comes your way, whether it's a challenging day or a great day, just welcome it with open arms. No matter who you are, you can't escape challenges; they are part of life." — Miranda Kerr
---
"Challenges make you discover things about yourself that you never really knew." — Cicely Tyson
---
"A Comfort Zone Is the Most Dangerous Area Anyone Can Stay In. It Is a Place of No Growth and No Challenges." — Brian Cagneey
---
"A challenge only becomes an obstacle when you bow to it." — Ray A. Davis
---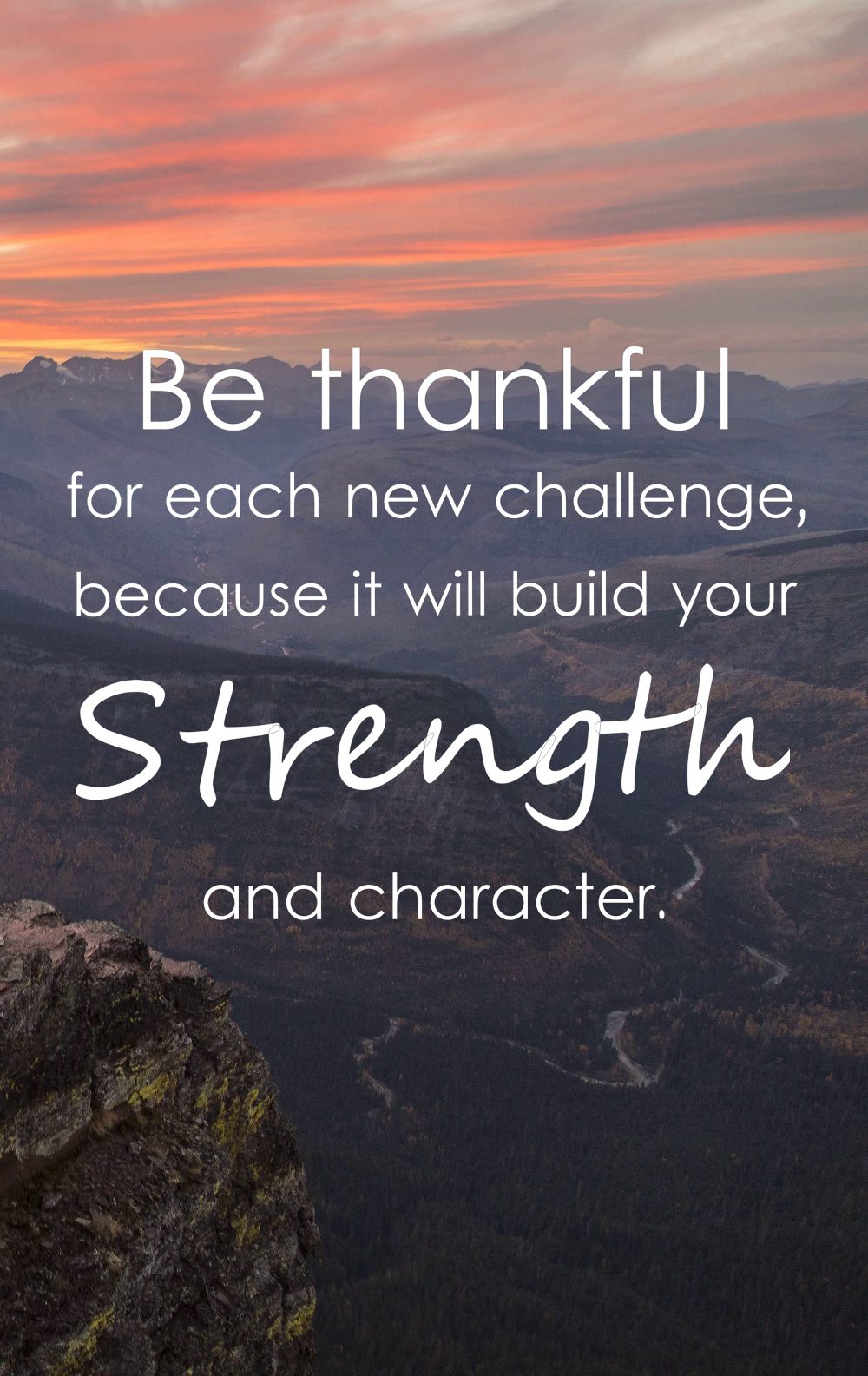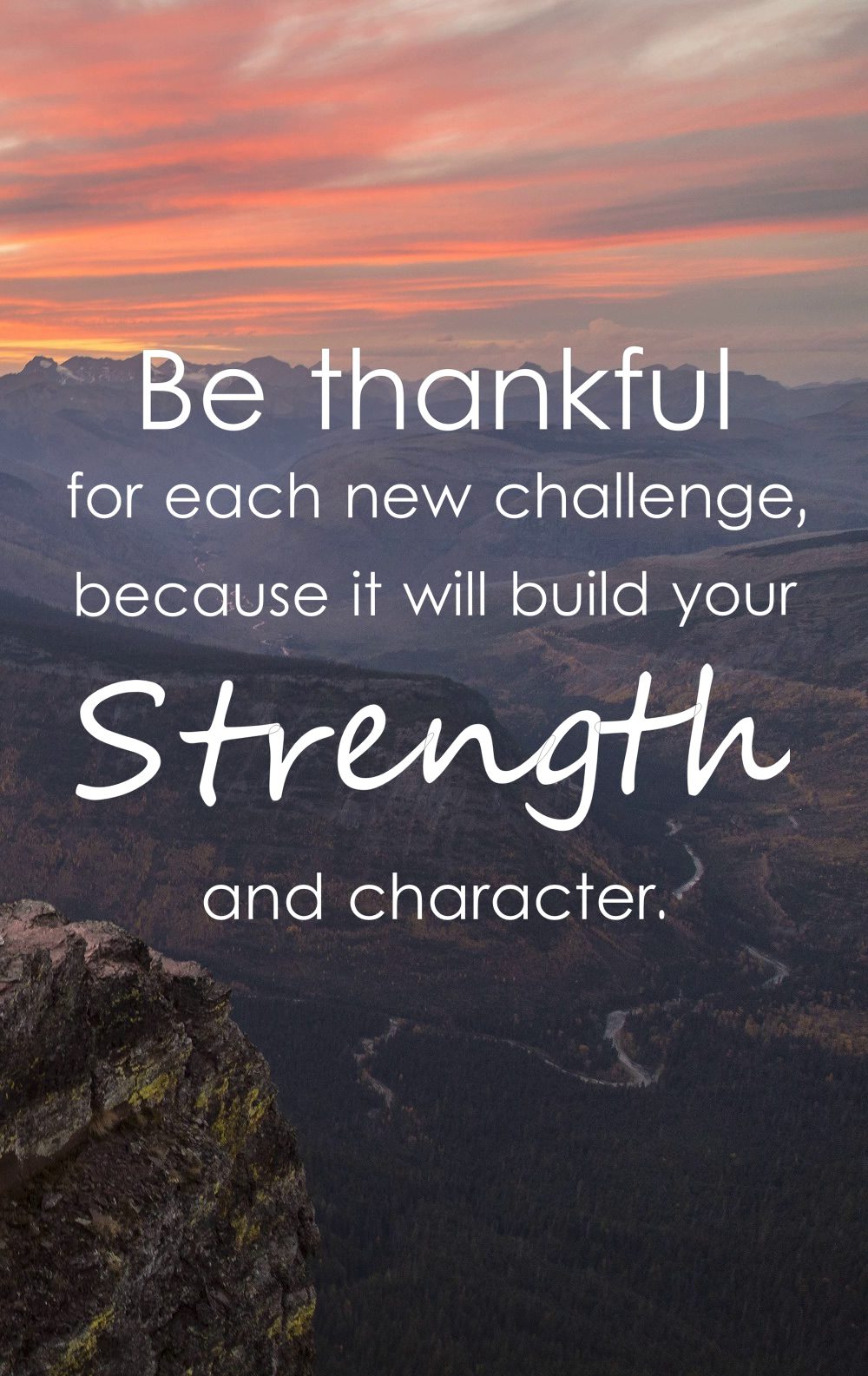 ---
"We need diversity of thought in the world to face the new challenges." — Tim Berners-Lee
---
"Running away from any problem only increases the distance from the solution, The easiest way to escape from the problem is to solve it."
---
"Challenges makes you more responsible. Always remember that life without struggle is a life without success. Don't give up and learn not to quit."
---
"Life throws challenges and every challenge comes with rainbows and lights to conquer it." — Amit Ray
---
"I enjoy competition. I enjoy challenges. If a challenge is in front of me and it appeals to me, I will go ahead and conquer it." — Conor McGregor
---
"Be thankful for each new challenge, because it will build your strength and character."
---
"We are not defined by our challenges but lifted up by them."
---
"There are no negatives in life, only challenges to overcome that will make you stronger." — Eric R. Bates
---
"Success is due to our stretching to the challenges of life. Failure comes when we shrink from them." — John C. Maxwell
---
"Accept the challenges so that you can feel the exhilaration of victory." — George S. Patton
---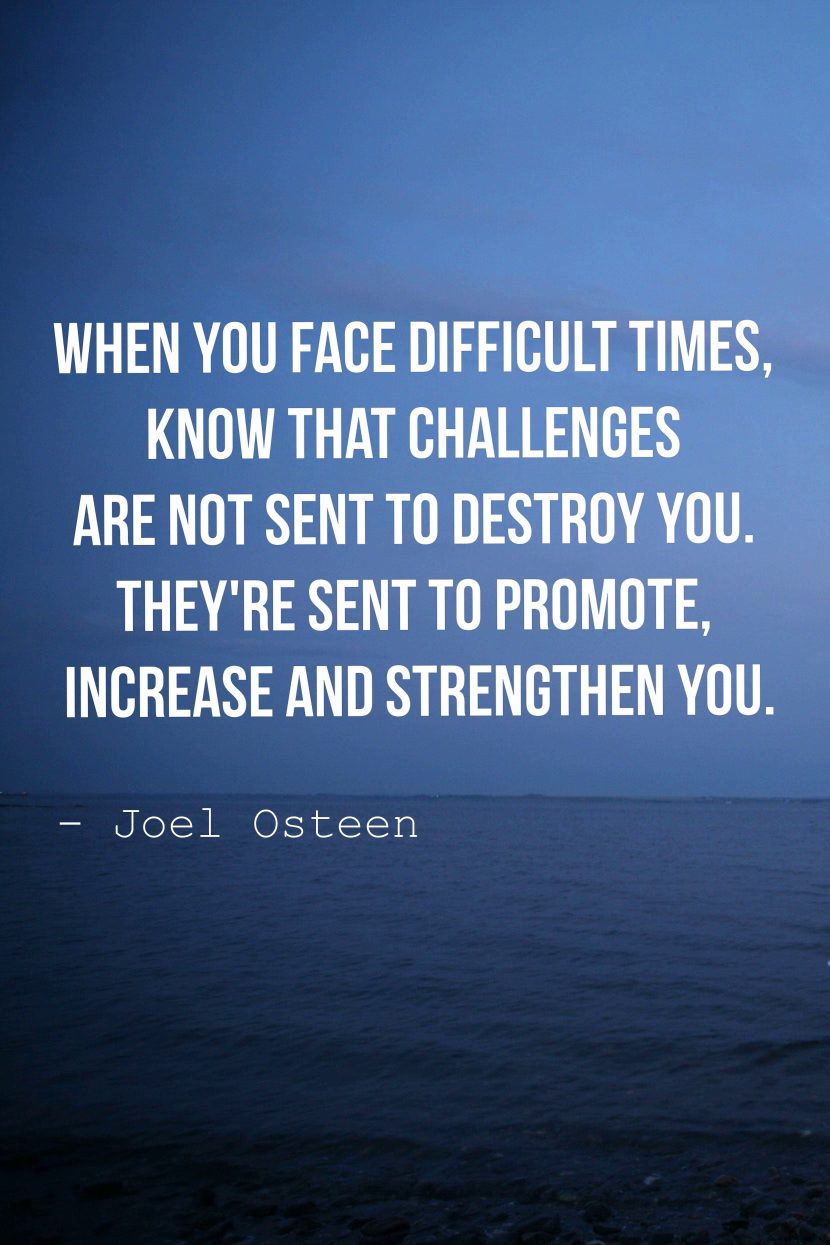 ---
"Every change is a challenge to become who we really are." — Marianne Williamson
---
"Changes are inevitable and not always controllable. What can be controlled is how you manage, react to and work through the change process." — Kelly A. Morgan
---
"Life's challenges aren't here to break you. Life's challenges are here to mold, refine and make you into all you were intended to become." — Billy Cox
---
"If you don't challenge yourself, you will never realize what you can become."
---
"I do believe that when we face challenges in life that are beyond own power, it's an opportunity to build on our faith, inner strength, and courage. I've learned that how we face challenges plays a big role in the outcome of them." — Sasha Azevedo
---
"Stop being afraid of what could go wrong and think of what could go right." — Yoana Dianika
---
"Don't take every challenge as a problem, take every problem as a challenge."
---
"We must allow ourselves to be adorned by lessons derived through hardships and challenges."
---
"Be willing to allow your challenges to become your motivation."
---
"Life's challenges are not supposed to paralyze you, they're supposed to help you discover who you are." — Bernice Johnson Reagon
---
"We proved that we are still a people capable of doing big things and tackling our biggest challenges." — Barack Obama
---
"The caricature of science is that we hold tight to the theories we have, and shun challenges to them. That's just not true. In fact, we hold our highest rewards for those scientists who can prove others wrong. And by the way, they are famous in their own lifetimes. We don't wait until they're dead." — Neil deGrasse Tyson
---
"Building a wall won't solve our border security challenges." — Pete Buttigieg
---
"Life comes with many challenges. The ones that should not scare us are the ones we can take on and take control of." — Angelina Jolie
---
"While on top of Everest, I looked across the valley towards the great peak Makalu and mentally worked out a route about how it could be climbed. It showed me that even though I was standing on top of the world, it wasn't the end of everything. I was still looking beyond to other interesting challenges." — Edmund Hillary
---
"A child who has overcome challenges with proper emotional support will emerge stronger." — Kate Middleton
---
"Everyone has challenges and lessons to learn – we wouldn't be who we are without them." — Sean Combs
---
"I'm competitive, and I love to create challenges for myself. Maybe that's not always a good thing. It can make life complicated." — Donald Trump
---
"We need to recognize that the situation in Ferguson speaks to broader challenges that we still face as a nation. The fact is, in too many parts of this country, a deep distrust exists between law enforcement and communities of color. Some of this is the result of the legacy of racial discrimination in this country." — Barack Obama
---
"First, how do we give everyone a fair shot at opportunity and security in this new economy? Second, how do we make technology work for us, and not against us – especially when it comes to solving urgent challenges like climate change? Third, how do we keep America safe and lead the world without becoming its policeman?" — Barack Obama
---
"Through every victory and every setback, I've insisted that change is never easy and never quick; that we wouldn't meet all of our challenges in one term, or one presidency, or even in one lifetime." — Barack Obama
---
"I want to be perceived as a guy who played his best in all facets, not just scoring. A guy who loved challenges." — Michael Jordan
---
"For any young democracy, the most difficult but important step is burying the legacy of tyranny and establishing an economy and a government and institutions that abide by the rule of law. Every country faces challenges to the rule of law, including my own." — Joe Biden
---
"We were all born with a certain degree of power. The key to success is discovering this innate power and using it daily to deal with whatever challenges come our way." — Les Brown
---
"Just as we develop our physical muscles through overcoming opposition – such as lifting weights – we develop our character muscles by overcoming challenges and adversity." — Stephen Covey
---
"The challenges of change are always hard. It is important that we begin to unpack those challenges that confront this nation and realize that we each have a role that requires us to change and become more responsible for shaping our own future." — Hillary Clinton
---
"No nation can meet the world's challenges alone." — Hillary Clinton
---
"I know we can find a bipartisan response to pressing challenges – like repairing, modernizing and adding to the infrastructure on which we all rely. I know it because I've seen it happen in my own state of Minnesota." — Amy Klobuchar
---
"If we want to make workplaces more open, we need to acknowledge logistical challenges… by being more open, it might create a path for other women." — Jacinda Ardern
---
Hopefully you will enjoy these motivating and inspiring collection of challenges quotes and sayings. please don't forget to share these quotes.
Further Reading.