-Advertisement-
World Smile Day is celebrated on the first Friday of October annually.
-Advertisement-
Following are the cute, inspiring smile quotes and sad smile quotes with beautiful images.
"Do an act of kindness. Help one person SMILE"
Smile Quotes
"Today, give a stranger one of your smiles. It might be the only sunshine he sees all day." » P.S. I Love You
"People seldom notice old clothes if you wear a big smile." » Lee Mildon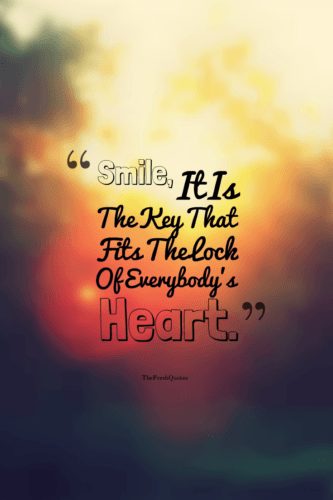 -Advertisement-
"Smile, it's the key that fits the lock on everyone's hearts."
"Every time you smile at someone, it is an action of love, a gift to that person, a beautiful thing." » Mother Teresa Quoteswords.com
"I get home and my son is smiling or he comes running to me. It has just made me grow as an individual and grow as a man." » LeBron James
"Hey, I've got nothing to do today but smile." » Paul Simon
"Before you put on a frown, make absolutely sure there are no smiles available." » Jim Beggs
"You've got to take the good with the bad, smile with the sad, love what you've got."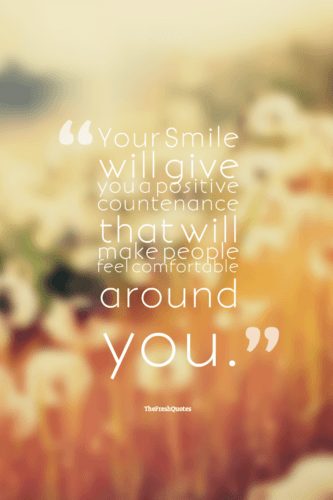 "Your smile will give you a positive countenance that will make people feel comfortable around you." » Les Brown
"If you smile when no one else is around, you really mean it." » Andy Rooney
"When I look out at the people and they look at me and they're smiling, then I know that I'm loved. That is the time when I have no worries, no problems." » Etta James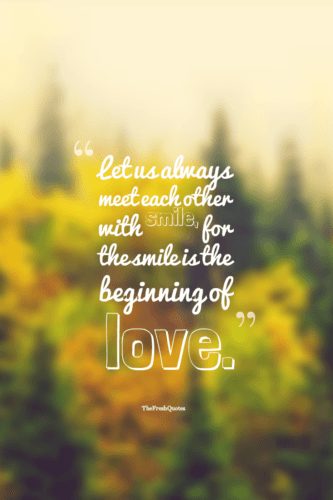 "Let us always meet each other with the smile, for the smile is the beginning of love." » Mother Teresa
"I add a smile to everything I wear and that has worked great for me." » David White
"Never regret something that once made you smile." » Chinese Proverb
"Sometimes your joy is the source of your smile, but sometimes your smile can be the source of your joy." » Thich Nhat Hanh
"If I can see the pain in your eyes then share with me your tears. If I can see the joy in your eyes then share with me your smile." » Santosh Kalwar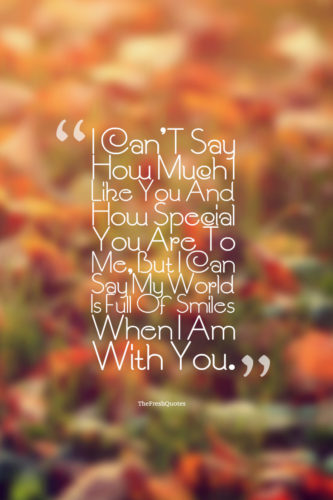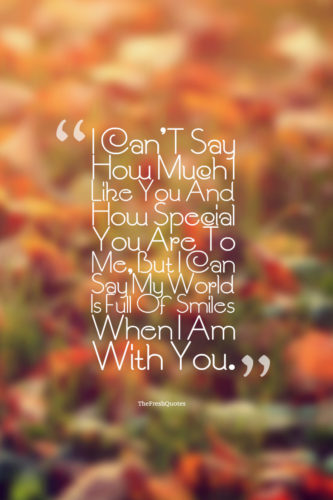 "I can't say how much  I like you and how special you are to me, but I can say my world is full of smiles when I'm with you."
"You'll find that life is still worthwhile if you just smile." » Charlie Chaplin
"Here's wishing you the smiles o' life and not a single grumble." » Irish Blessing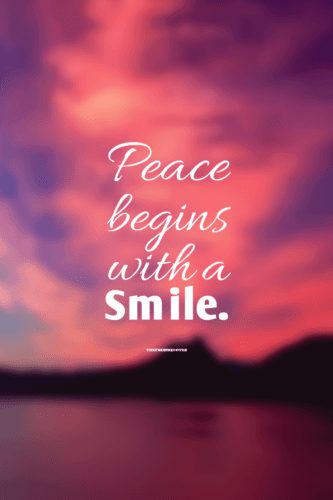 "Peace begins with a smile."
"You haven't lost your smile at all, it's right under your nose. You just forgot it was there."
"It takes a lot of energy to be negative. You have to work at it. But smiling is painless. I'd rather spend my energy smiling." » Eric Davis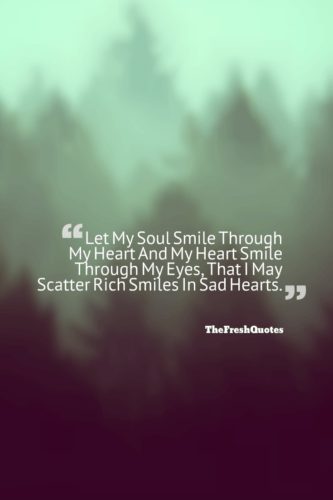 "Let my soul smile through my heart and my heart smile through my eyes, that I may scatter rich smiles in sad hearts." » Paramahansa Yogananda
"There is no weapon in the feminine armoury to which men are so vulnerable as they are to a smile." » Dorothy Dix
"A smile costs nothing but gives much. It enriches those who receive without making poorer those who give. It takes but a moment, but the memory of it sometimes lasts forever." Ndtv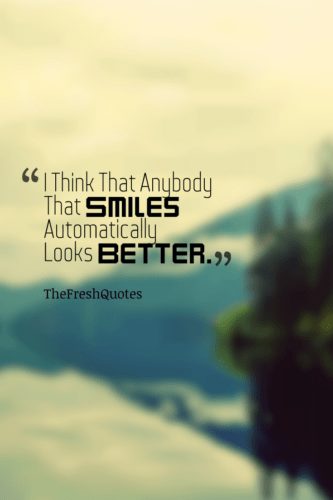 "I think that anybody that smiles automatically looks better." » Diane Lane
"Smile. Have you ever noticed how easily puppies make human friends? Yet all they do is wag their tails and fall over." » Walter Anderso
"We can always smile, but that doesn't mean that our hearts are not shedding tears."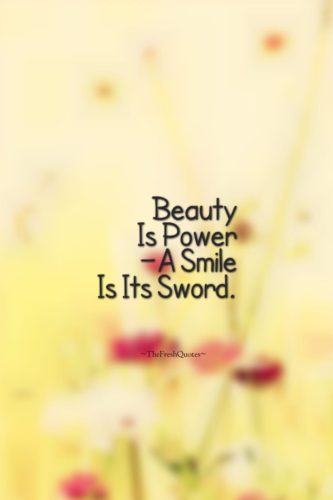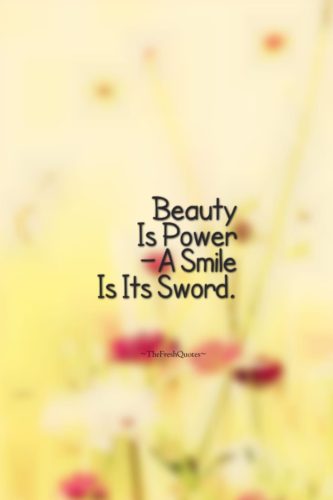 "Beauty is Power – A Smile is a Sword."
"Because of your smile, you make life more beautiful." » Thich Nhat Hanh
"Rules to be happy in life: 1) Never hate, 2) Don't worry, 3) Live simple 4) Expect a little, 5) Give a lot, 6) always smile, 7) And keep in touch with GOD.
"A smile is a curve that sets everything straight." » Phyllis Diller
"I love those who can smile in trouble, who can gather strength from distress, and grow brave by reflection." » Leonardo da Vinci
"When someone is in a bad mood, look them in the eyes and tell them to smile. They will always smile and cheer up a bit.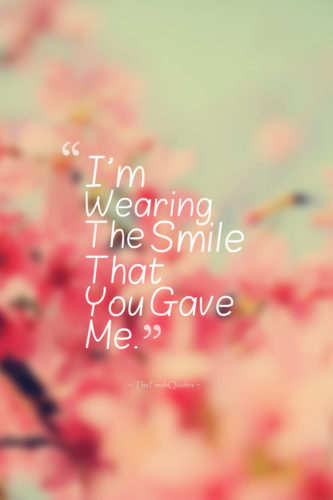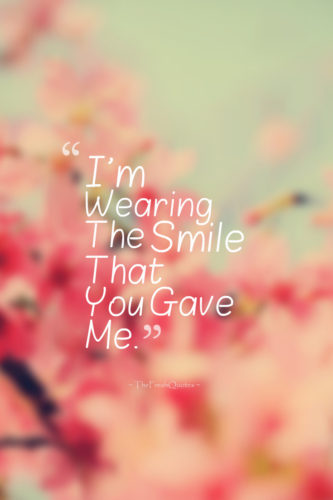 " I'm wearing a smile that you gave me."
"A smile is the happiness you'll find right under your nose." » Tom Wilson
"Remember even though the outside world might be raining, if you keep on smiling the sun will soon show its face and smile back at you." » Anna Lee
"Wrinkles should merely indicate where smiles have been." » Mark Twain
"Too often we underestimate the power of a touch, a smile, a kind word, a listening ear, an honest compliment, or the smallest act of caring, all of which have the potential to turn a life around." » Leo F. Buscaglia
"I love those random memories that make me smile."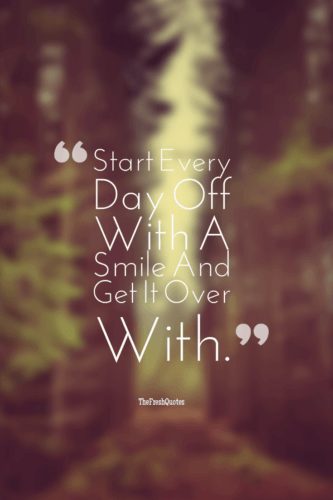 "Start every day with a smile and get it over with." » W.C. Fields
"I was smiling yesterday, I am smiling today and I will smile tomorrow. Simply because life is too short to cry for anything." » Santosh Kalwar
"Stay strong, make them wonder how you're still smiling."
"We shall never know all the good that a simple smile can do." » Mother Teresa
"You're never fully dressed without a smile." » Martin Charnin
"You make me smile as no one did before."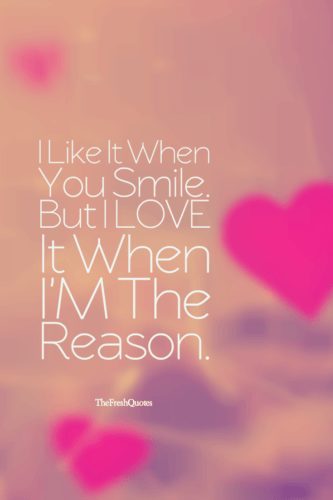 " I like it when you smile, but I love it when I'm the reason."
"Your wrinkles either show that you're nasty, cranky, and senile, or that you're always smiling." » Carlos Santana
"We don't always smile in every season, but when we do, the majority of times, its because God is the reason."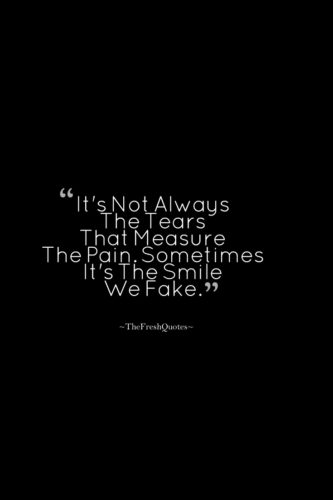 "It's not always the tears that measure the pain. Sometimes it's the smile we fake.
"Always smile, as a smile is the only thing from which you can please someone."
"Smile and gratitude will make you stronger."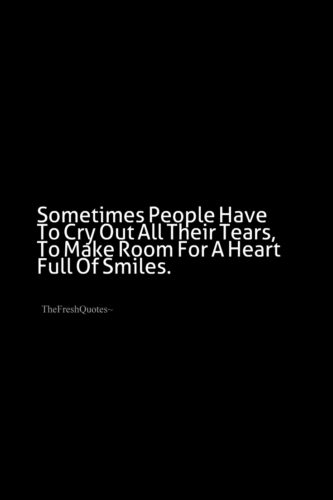 "Sometimes people have to cry out their tears to make room for a heart full of smiles."
"Remember that there is no happiness in having or in getting, but only in giving. Reach out. Share. Smile. Hug." » Og Mandino
"Silence & smile are two powerful tools" » BBC
"Nothing is more beautiful than a smile that has struggled through tears." » Demi Lovato
"There's always a reason to smile."
"You are somebody's reason to smile." » Chinese Proverb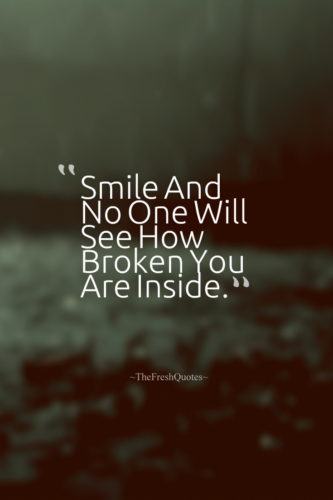 " Smile and no one will know how broken you are inside."
"The world always looks brighter from behind a smile."
"A smile confuses an approaching frown."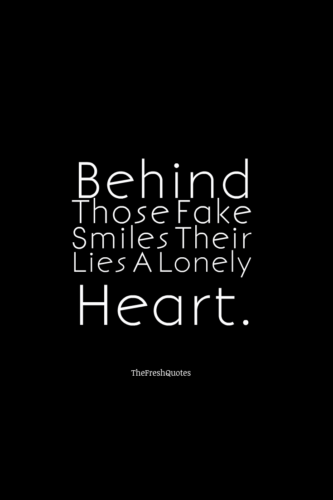 "Behind those fake smiles there lies a lonely heart."
"A warm smile is the universal language of kindness." » William Arthur Ward
"When a new day begins, dare to smile gratefully." » Steve Maraboli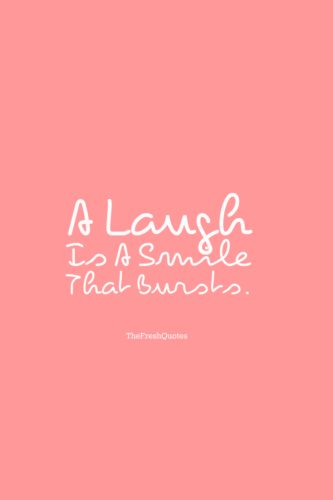 "A laugh is a smile that bursts." » Mary H. Waldrip
"A smile is an inexpensive way to change your looks." » Charles Gordy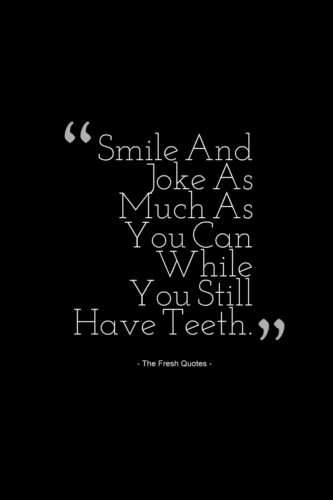 "Smile and joke while you still have teeth."
"Every smile makes you a day younger." » Chinese Proverb
"If you see a friend without a smile; give him one of yours." » Proverb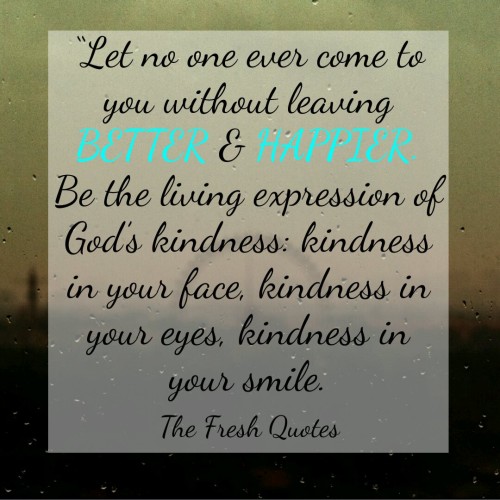 "Let no one ever come to you without leaving better and happier. Be the living expression of God's kindness: kindness in your face, kindness in your eyes, kindness in your smile."
"Wear a smile and have friends; wear a scowl and have wrinkles." » George Eliot
"Always remember to be happy because you never know who's falling in love with your smile."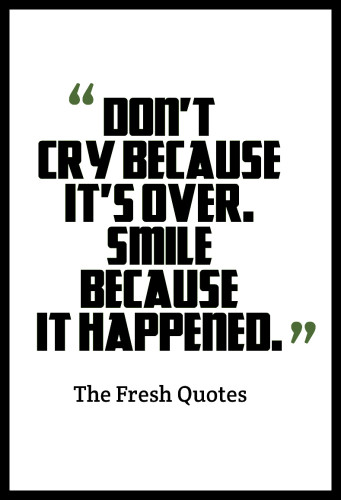 "Don't cry because it's over, smile because it happened." » Dr Seuss

"Smiling is definitely one of the best beauty remedies. If you have a good sense of humour and a good approach to life, that's beautiful." » Rashida Jones
"After every storm, the sun will smile; for every problem, there is a solution, and the soul's indefeasible duty is to be of good cheer." » William R. Alger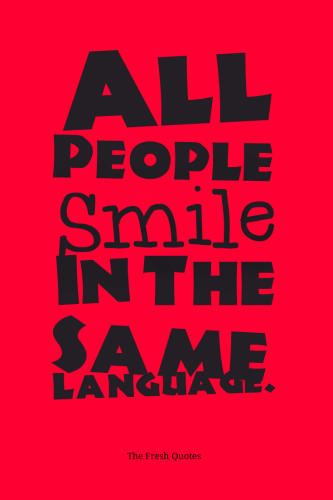 "All people smile in the same language." » Proverb
"Smile, even if it's a sad smile because sadder than a sad smile is a sadness of not knowing how to smile."
"A smile appeared on her face as if she'd taken it directly from her handbag and pinned it there." » Loma Chandler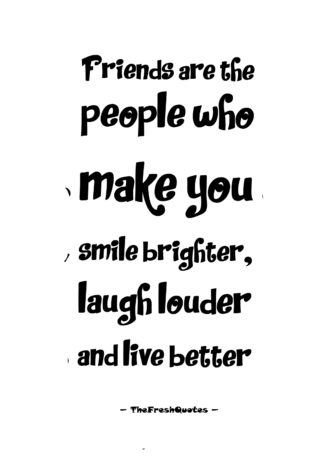 "Friends are the people who make you smile brighter, laugh louder and live better."
"If you have only one smile in you, give it to the people you love." » Maya Angelou
"One who smiles rather than rages is always the stronger."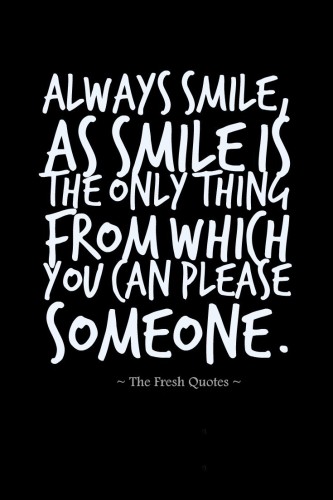 "Always Smile, As Smile Is The Only Thing From Which You Can Please Someone."
"Use your smile to change the world; don't let the world change your smile." » Chinese Proverb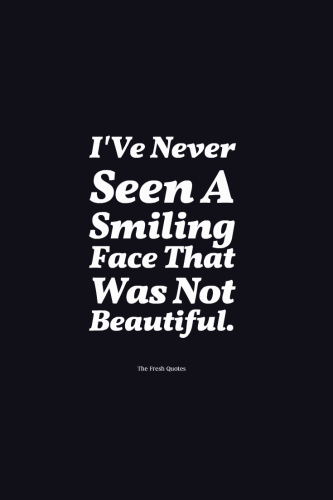 "I've never seen a smiling face that was not beautiful." » Newyorker
"Life is something you should always smile about, you decide everything you do in it, just live it out to your limit, because we don't live forever.
"I love it when in the middle of our kiss I can feel you smiling."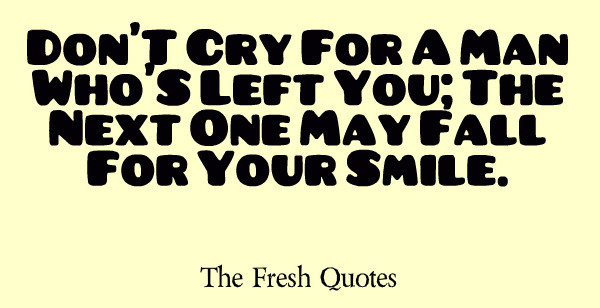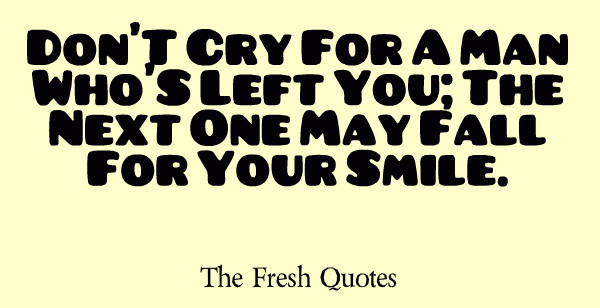 "Don't cry for a man who's left you; the next one may fall for your smile." » Mae West
"Be who you are, always smile, and stay happy. You never know who is watching."