-Advertisement-
Self-worth is not an ordinary matter self-worth is the thing that enables us to exist in this world it's a spirit which holds us in the competition of world self-worth gives us a sight and sense of recognizing our potential, importance in the crowd of people this is the sense of knowing yourself.
-Advertisement-
Following are the inspirational Self Worth quotes and sayings.
Inspirational Self Worth Quotes
---
"You, yourself, as much as anybody in the entire universe, deserve your love and affection." — Buddha
---
"Life is too short to waste any amount of time on wondering what other people think about you. In the first place, if they had better things going on in their lives, they wouldn't have the time to sit around and talk about you. What's important to me is not others' opinions of me, but what's important to me is my opinion of myself." — C. JoyBell C.
---
"Trust yourself, you know more than you think you do." — Benjamin Spock
---
"Never measure your self-worth by what other people think you should have become." — Unknown
---
"You can be the most beautiful person in the world and everybody sees light and rainbows when they look at you, but if you yourself don't know it, all of that doesn't even matter. Every second that you spend on doubting your worth, every moment that you use to criticize yourself; is a second of your life wasted, is a moment of your life thrown away. It's not like you have forever, so don't waste any of your seconds, don't throw even one of your moments away." ― C. JoyBell C.
---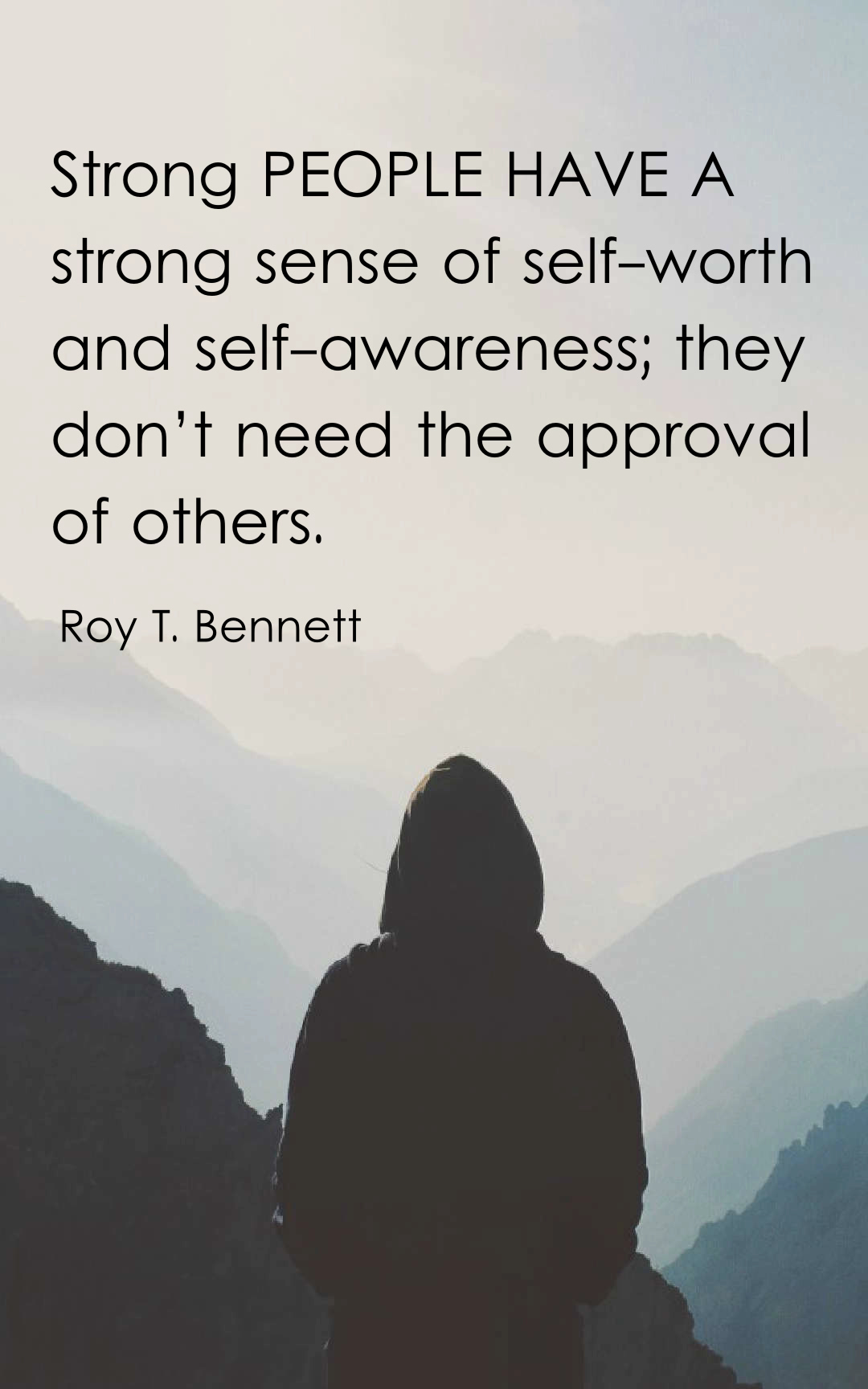 -Advertisement-
---
"Know your worth. Know the difference between what you're getting and what you deserve." — Unknown
---
"A man cannot be comfortable without his own approval." — Mark Twain
---
"Strong people have a strong sense of self-worth and self-awareness; they don't need the approval of others." — Roy T. Bennett
---
"Your crown has been bought and paid for. Put it on your head and wear it." — Dr. Maya Angelou
---
"The best day of your life is the one on which you decide your life is your own. No apologies or excuses. No one to lean on, rely on, or blame. The gift is yours – it is an amazing journey – and you alone are responsible for the quality of it. This is the day your life really begins." — Bob Moawad
---
"Never allow yourself to be defined by someone else's opinion." — Unknown
---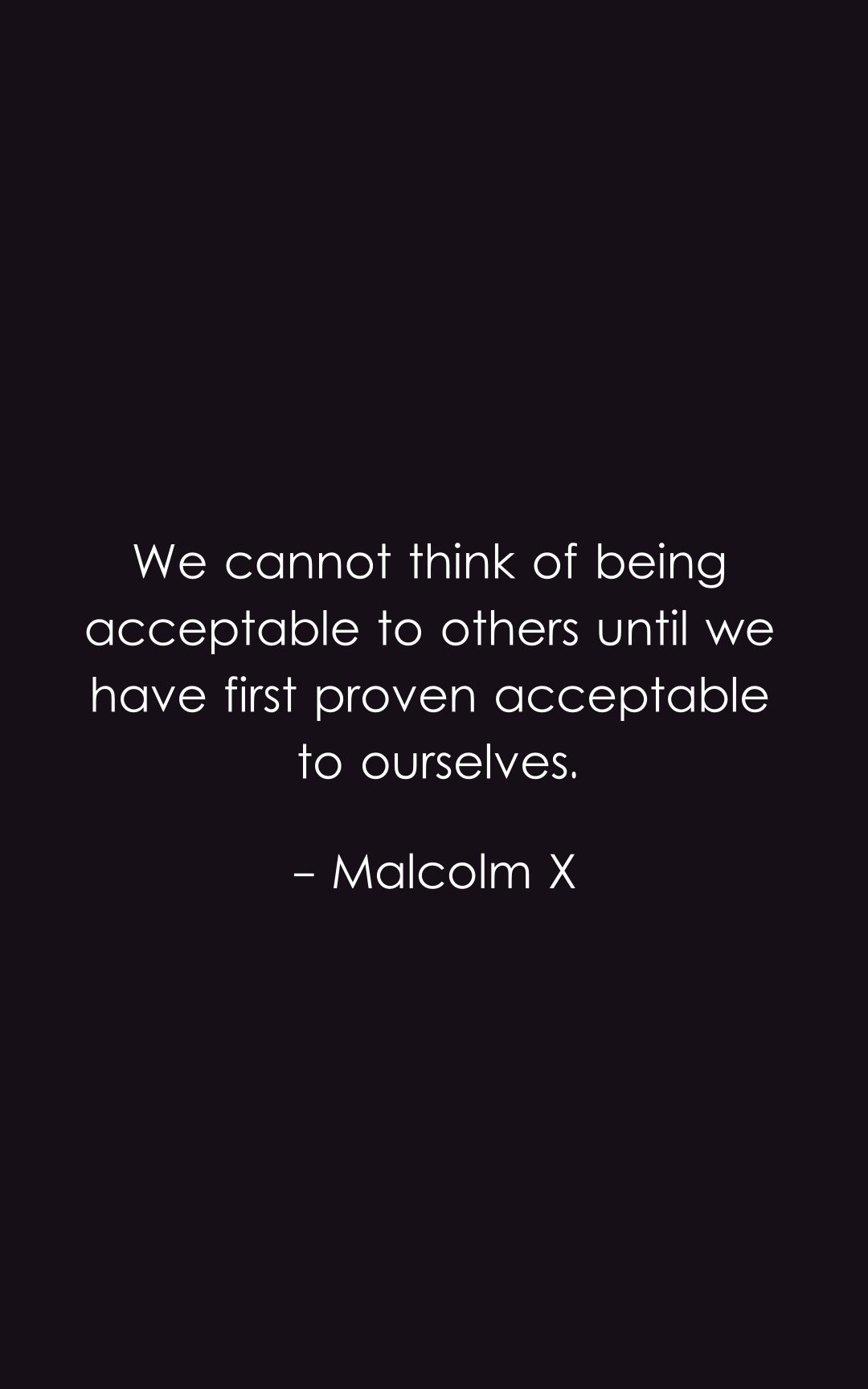 ---
"Never forget that once upon a time, in an unguarded moment, you recognized yourself as a friend." — Elizabeth Gilbert
---
"People learn how to treat you based on what you accept from them." — Unknown
---
"Love yourself first and everything else falls into line. You really have to love yourself to get anything done in this world." — Lucille Ball
---
"We cannot think of being acceptable to others until we have first proven acceptable to ourselves." — Malcolm X
---
"To be beautiful means to be yourself. You don't need to be accepted by others. You need to accept yourself." — Thich Nhat Hanh
---
"Self-worth comes from one thing – thinking that you are worthy." — Wayne Dyer
---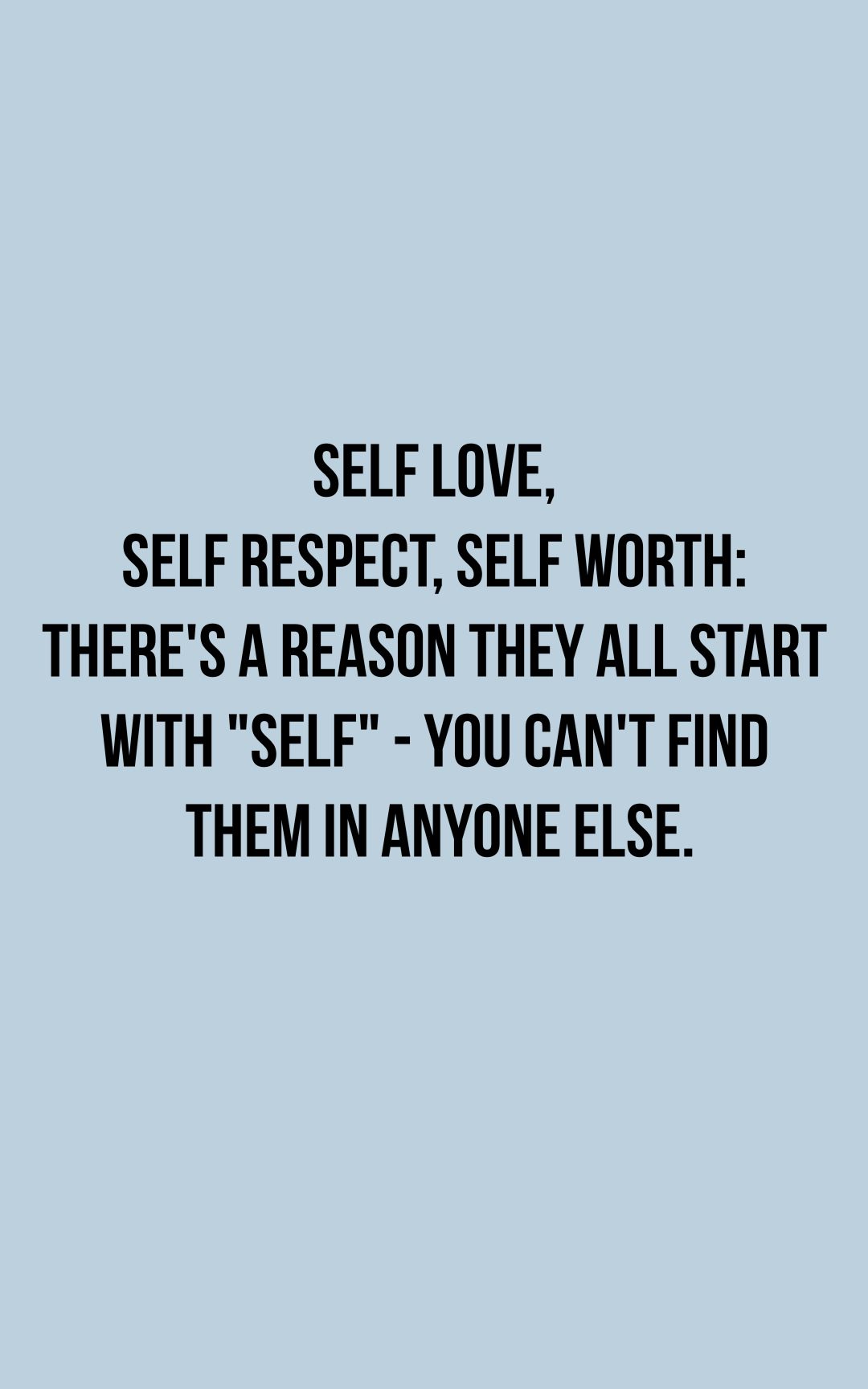 ---
"One of the greatest regrets in life is being what others would want you to be, rather than being yourself." — Shannon L. Alder
---
"Remember always that you not only have the right to be an individual, you have an obligation to be one." — Eleanor Roosevelt
---
"Sometimes the hardest part of the journey is believing you're worthy of the trip." — Glenn Beck
---
"I've learned that fear limits you and your vision. It serves as blinders to what may be just a few steps down the road for you. The journey is valuable, but believing in your talents, your abilities, and your self-worth can empower you to walk down an even brighter path. Transforming fear into freedom – how great is that?" — Soledad O'Brien
---
"There is nothing so rewarding as to make people realize that they are worthwhile in this world." ― Bob Anderson
---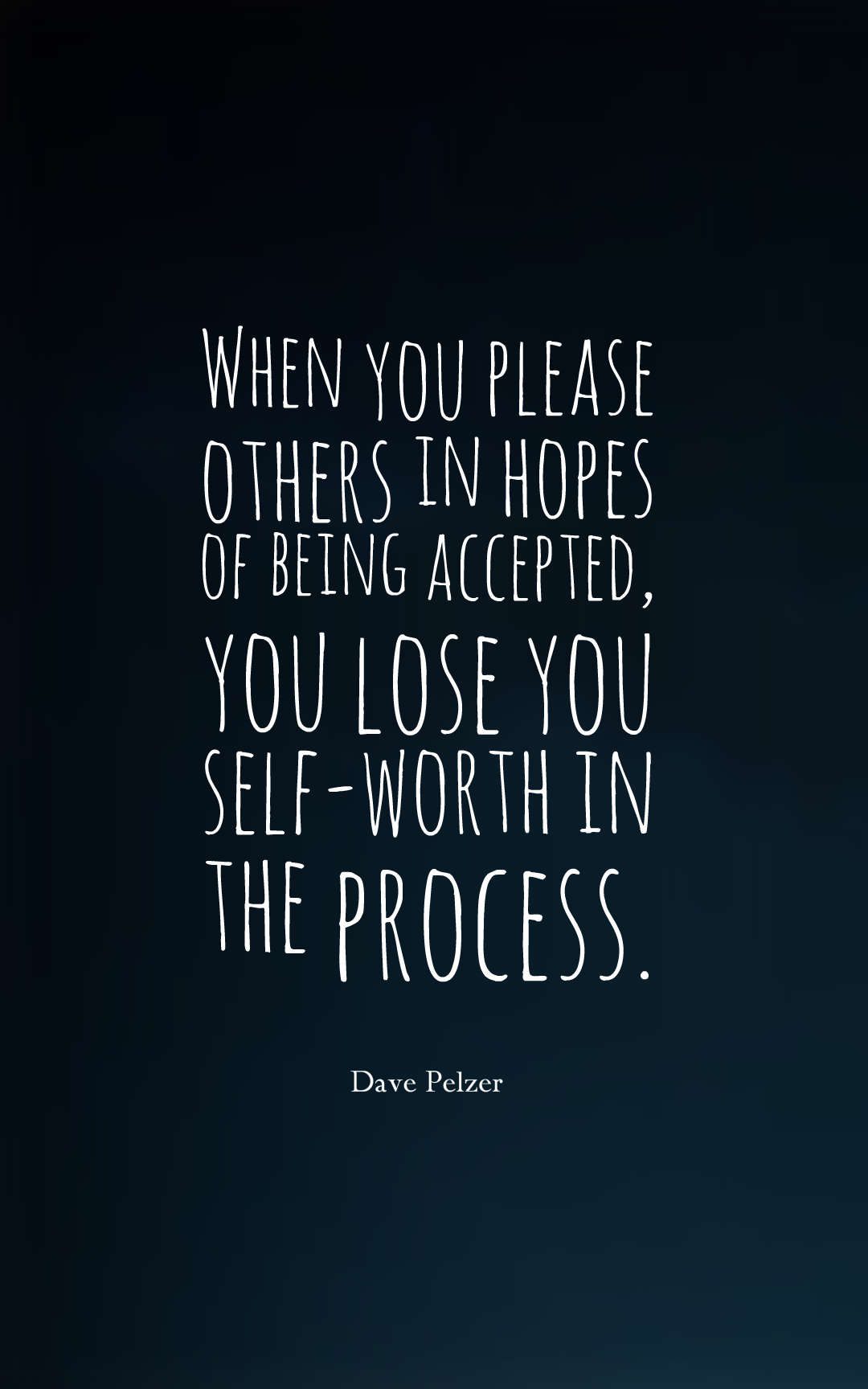 ---
"Why should we worry about what others think of us, do we have more confidence in their opinions than we do our own?" — Brigham Young
---
"If you wish to achieve worthwhile things in your personal and career life, you must become a worthwhile person in your own self-development." — Brian Tracy
---
"When you please others in hopes of being accepted, you lose you self-worth in the process." — Dave Pelzer
---
"Your value doesn't decrease based on someone's inability to see your worth." — Unknown
---
"Self love, self respect, self worth: There's a reason they all start with "self" – you can't find them in anyone else." — Unknown
---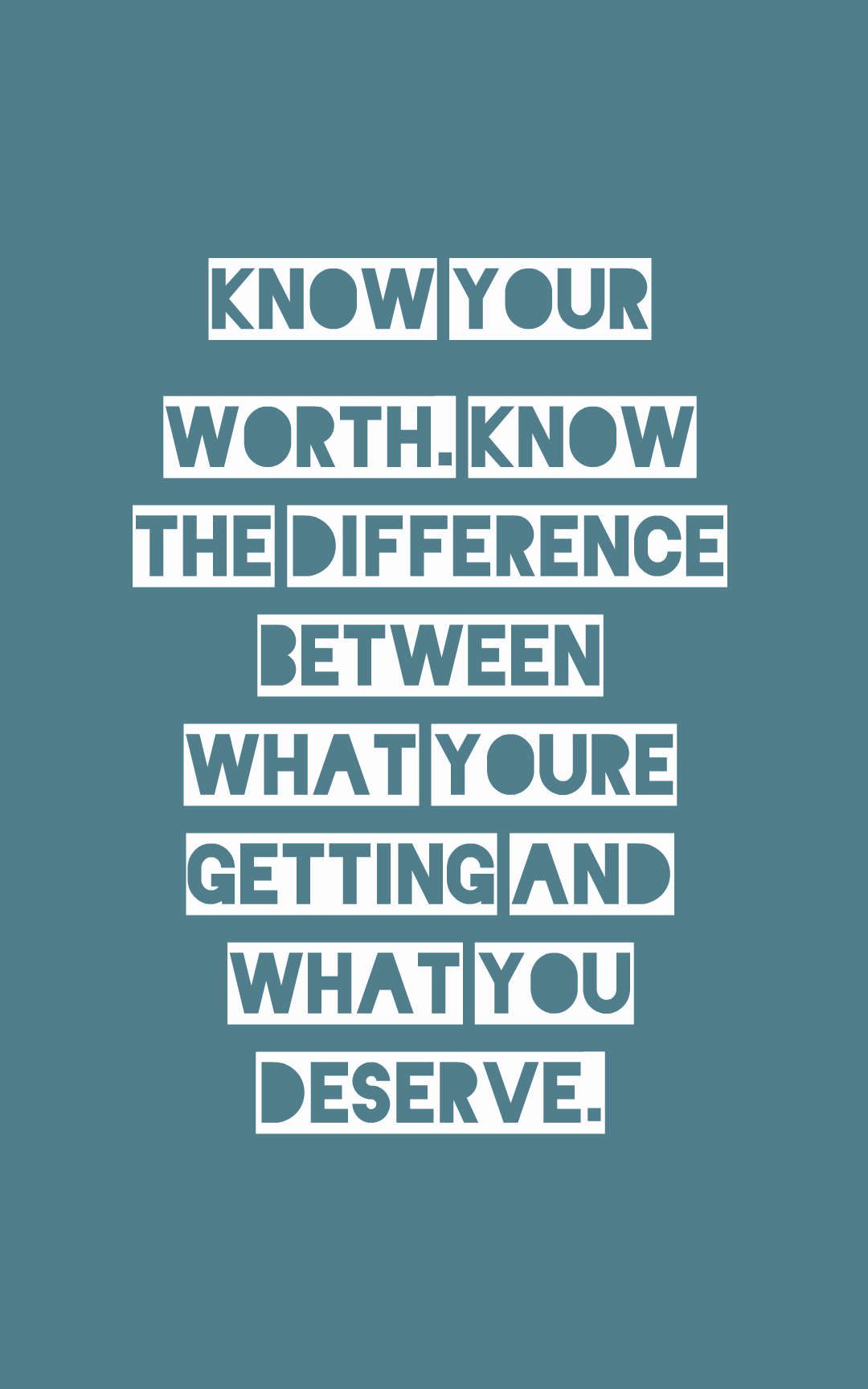 ---
"Don't rely on someone else for your happiness and self-worth. Only you can be responsible for that. If you can't love and respect yourself – no one else will be able to make that happen. Accept who you are – completely; the good and the bad – and make changes as YOU see fit – not because you think someone else wants you to be different." — Stacey Charter
---
"Make sure you don't start seeing yourself through the eyes of those who don't value you. Know your worth even if they don't." — Unknown
---
"To double your net worth, double your self-worth. Because you will never exceed the height of your self-image." — Robin Sharma
---
"The best way to avoid falling prey to the opinions of others is to realize that other people's opinions are just that – opinions. Regardless of how great or terrible they think you are, that's only their opinion. Your true self-worth comes from within." — Travis Bradberry
---
"If you find yourself constantly trying to prove your worth to someone, you have already forgotten your value." — Unknown
---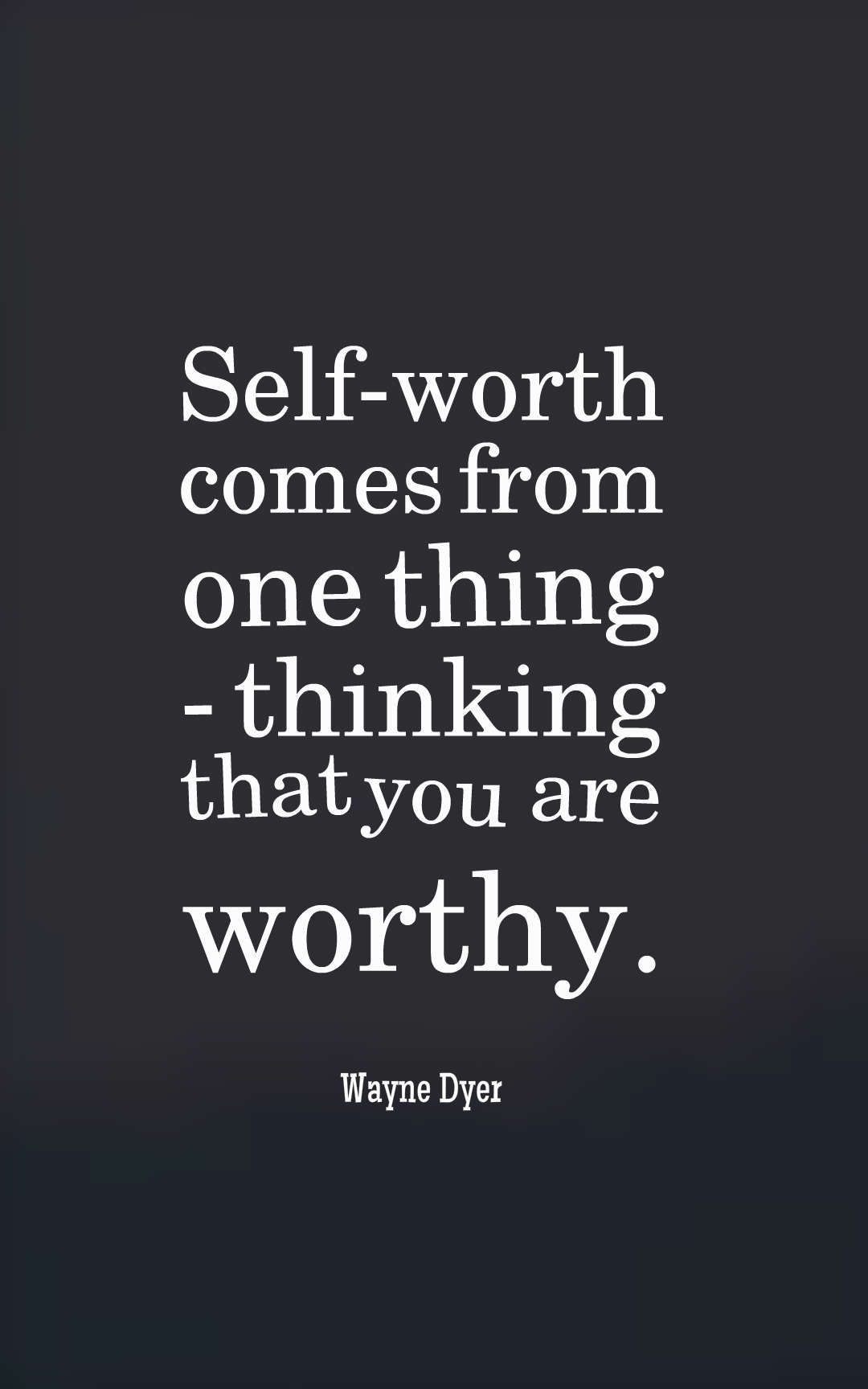 ---
"If you want to improve your self-worth, stop giving other people the calculator." — Tim Fargo
---
"Don't ask yourself what the world needs, ask yourself what makes you come alive. And then go and do that. Because what the world needs is people who have come alive." — Howard Washington Thurman
---
"Listen to the right people and ignore the wrong ones. People that doubt you, hate you and judge you are never worth your time or attention." — Unknown
---
"Expose yourself to your deepest fear; after that, fear has no power, and the fear of freedom shrinks and vanishes. You are free." — Jim Morrison
---
"When your self-worth goes up, your net worth goes up with it." — Mark Victor Hansen
---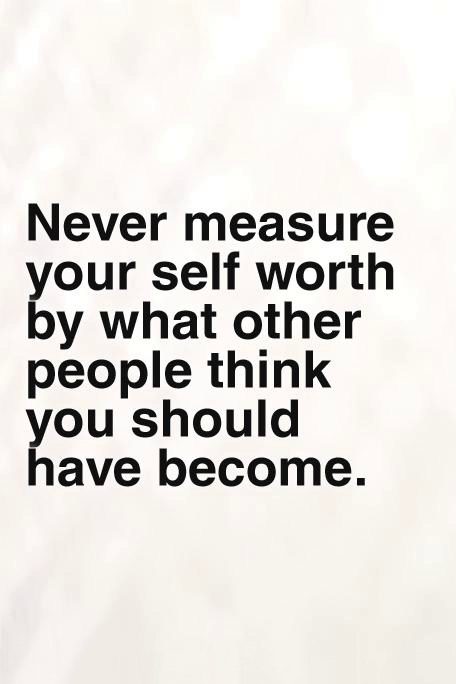 ---
"Sometimes all you have to do is forget what you feel and remember what you deserve." — Unknown
---
"i'm too busy working on being better than i was yesterday." — Unknown
---
"Never bend your head. Always hold it high. Look the world straight in the face." — Helen Keller
---
"You are only going to be as good as the people you surround yourself with, so be brave enough to let go those who keep weighing you down." — Ziad K. Abdelnour
---
"No one can make you happy. No one can help you grow in life more than you can. I can love you to death, but I can only go so far. I can inspire and encourage you as much as I can, but when you play an active role to find that self-security and that self-worth, it makes the difference." — Musiq Soulchild
---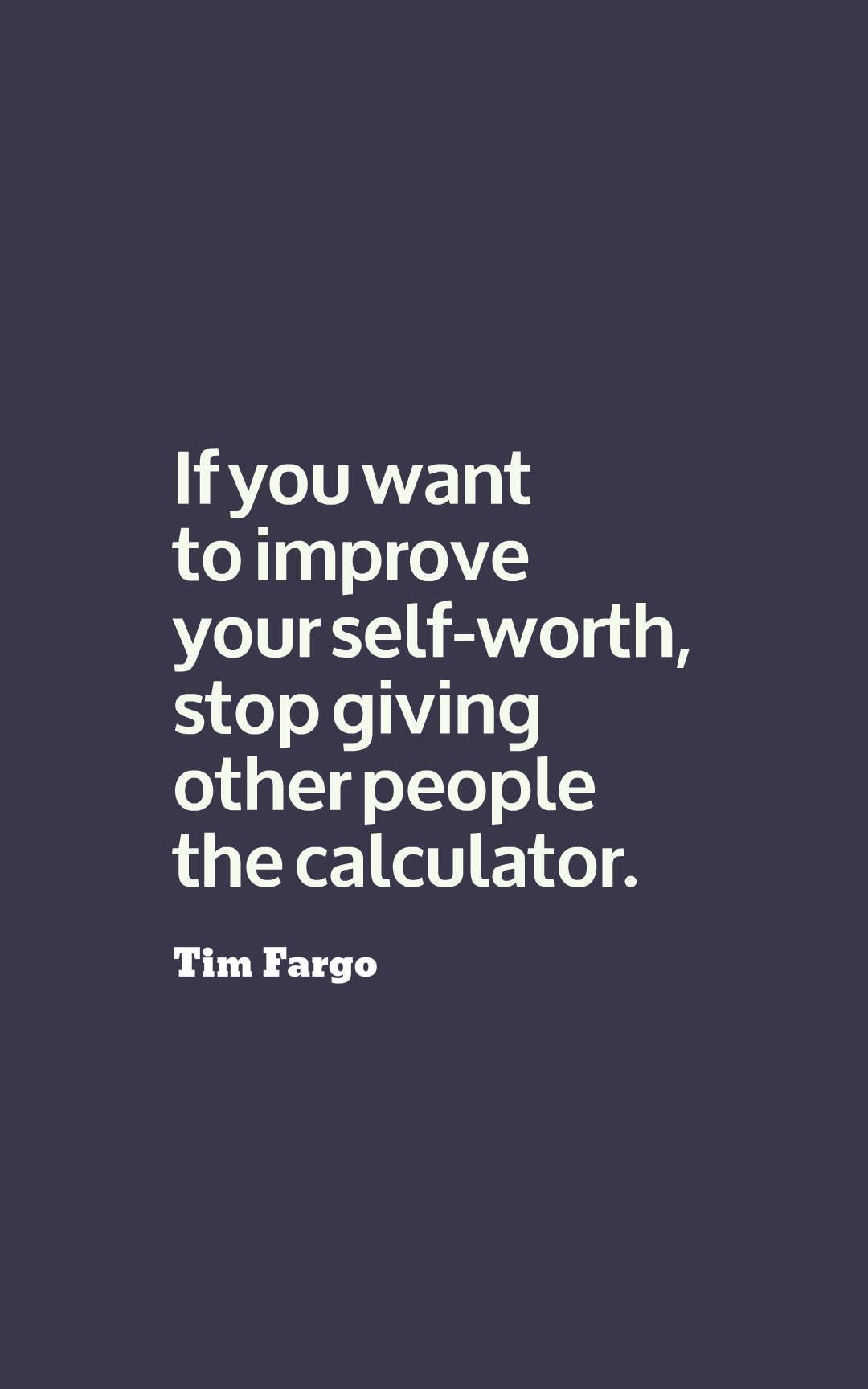 ---
"Love yourself. Enough to take the actions required for your happiness. Enough to cut yourself loose from the drama-filled past. Enough to set a high standard for relationships. Enough to feed your mind and body in a healthy manner. Enough to forgive yourself. Enough to move on." — Steve Maraboli
---
"You have been criticizing yourself for years, and it hasn't worked. Try approving of yourself and see what happens." — Louise L. Hay
---
"When you know your worth, no one can make you feel worthless." — Unknown
---
"Only when you are aware of the uniqueness of everyone's individual body will you begin to have a sense of your own self-worth." — Ma Jian
---
"You are very powerful, provided you know how powerful you are." — Yogi Bhajan
---
"Encouraging young people to believe in themselves and find their own voice whether it's through writing, drama or art is so important in giving young people a sense of self-worth." — Michael Morpurgo
---
"Believe in yourself! Have faith in your abilities! Without a humble but reasonable confidence in your own powers you cannot be successful or happy." — Norman Vincent Peale
---
"Your self-worth has nothing to do with your craft or calling, and everything to do with how you treat yourself." — Kris Carr
---
Hopefully you will enjoy these inspiring and motivating collection of Self Worth Quotes and sayings. please don't forget to share these quotes.
Read: Self Respect Quotes