Following are the beautiful collection of inspirational Rainbow quotes and sayings with images.
Inspirational Rainbow Quotes
"And when it rains on your parade, look up rather than down. Without the rain, there would be no rainbow." – Gilbert K. Chesterton
---
"The greater your storm, the brighter your rainbow." — Unknown
---
"A rainbow is the product of physics working for your appreciation of beauty." — Kyle Hill
---
"Life's all about rainbows glitter and unicorns." — Unknown
---
"Have faith in your dreams and someday your rainbow will come smiling through." — Cinderella
---
"Before you see the rainbow, you see the rain. If you want to reach your goals, you have to be able to put up with the pain." — Unknown
---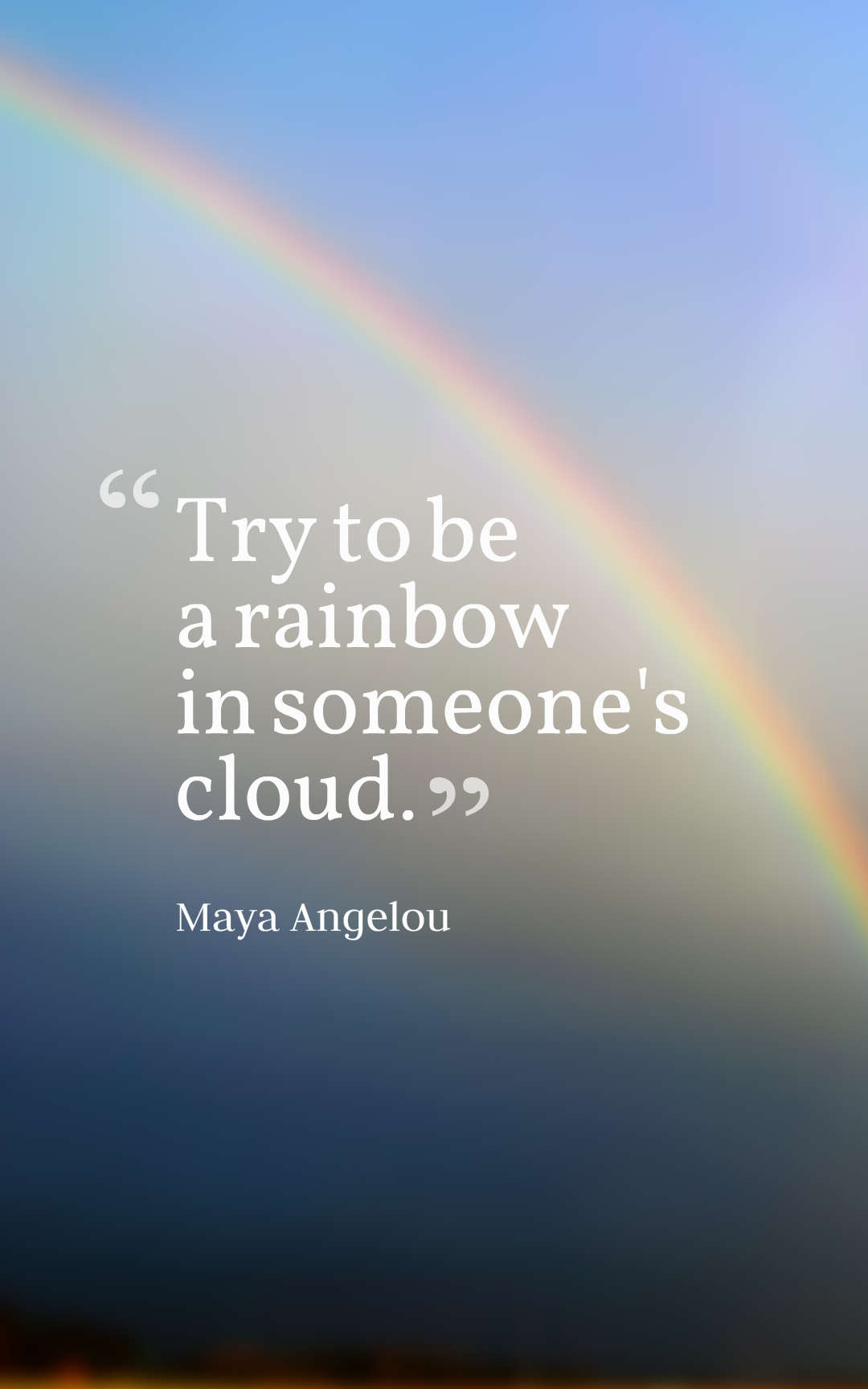 ---
"I kind of view everybody like a rainbow. Everybody on the planet has all the colors of the rainbow inside." — Alexia Fast
---
"Rainbows introduce us to reflections of different beautiful possibilities so we never forget that pain and grief are not the final options in life." —Aberjhani
---
"Thank you for always being my rainbow after the storm." — Unknown
---
"The way I see it, if you want the rainbow, you gotta put up with the rain." — Dolly Parton
---
"The soul would have no rainbow… had the eyes no tears." — John Vance Cheney
---
"It takes sunshine and rain to make a rainbow. There would be no rainbows without sunshine and rain." — Roy T. Bennett
---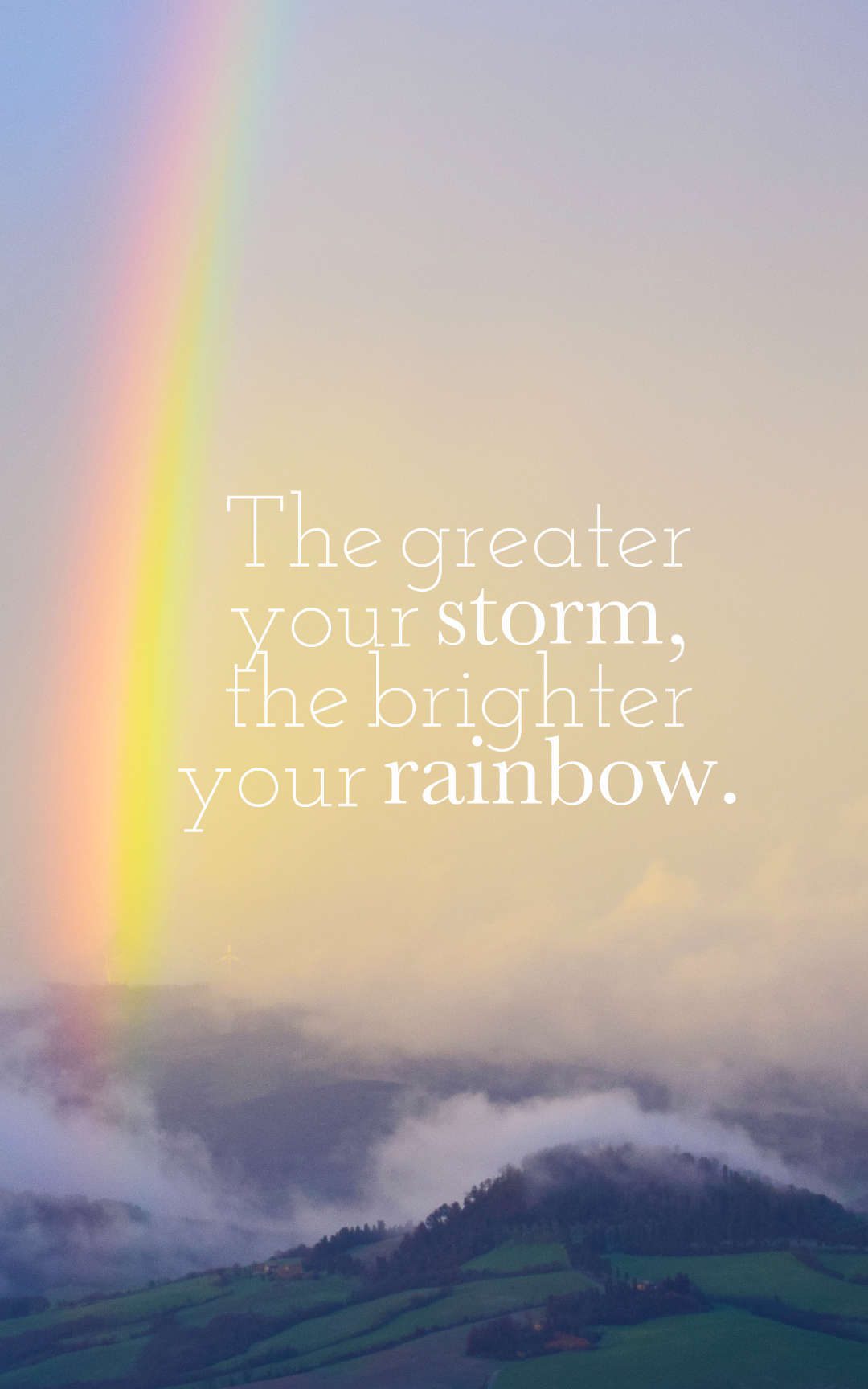 ---
"When God puts tears in your eyes, it's because He wants to put a rainbow in your heart." — Unknown
---
"Everybody wants happiness, and nobody wants pain, but you can't have a rainbow, without a little rain." — Zion Lee
---
"Life is like a rainbow, you need both the sun and the rain to make its colors appear." — Unknown
---
"Just like the rainbow after the rain, a good thing will always happen after you experience pain." — Unknown
---
"Only those who have the habit of going the second mile ever find the end of the rainbow." — Napoleon Hill
---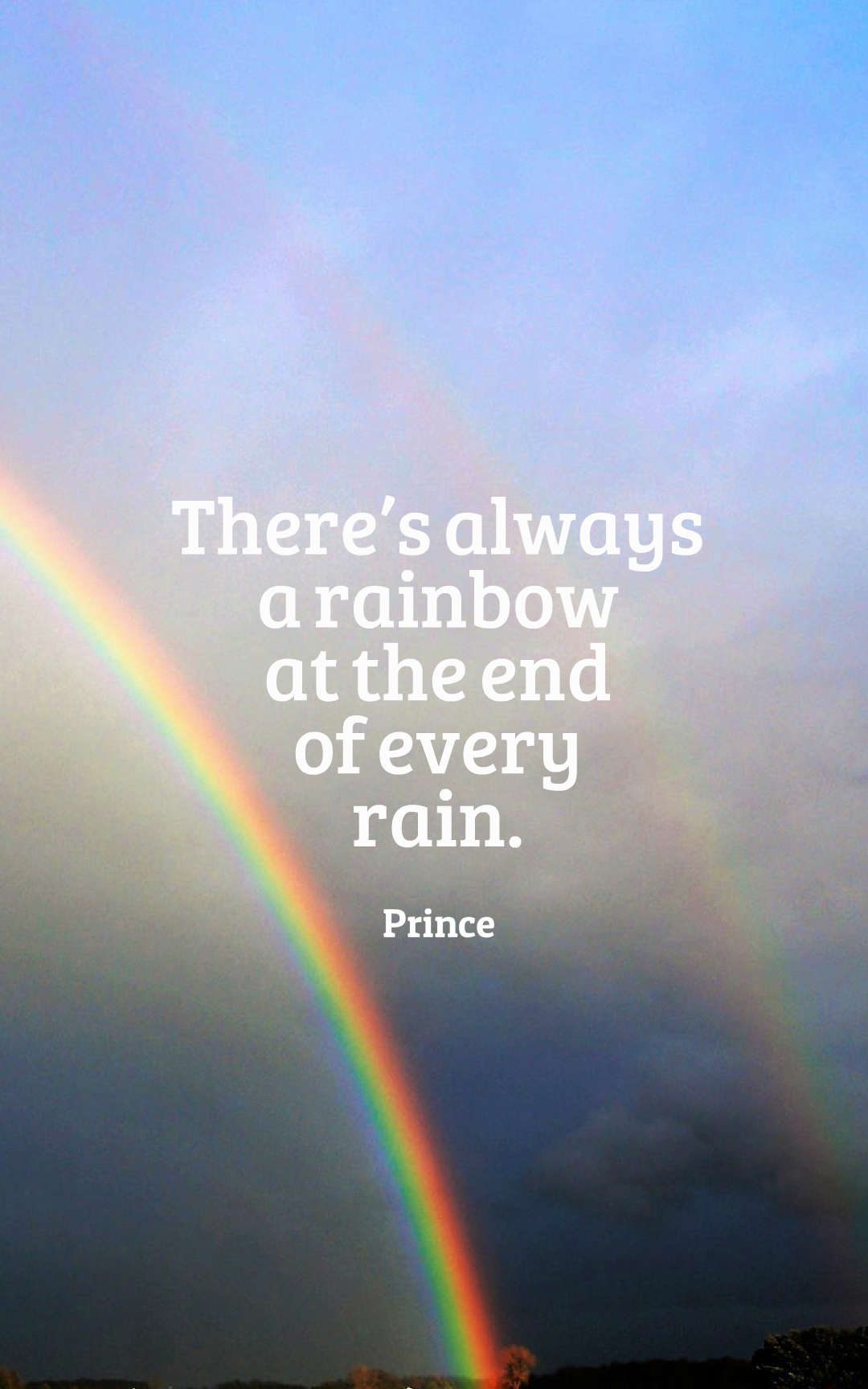 ---
"Life throws challenges and every challenge comes with rainbows and lights to conquer it." ― Amit Ray
---
"When it rains look for rainbows, when it's dark look for stars" ― Oscar Wilde
---
"Try to be a rainbow in someone's cloud." — Maya Angelou
---
"There's always a rainbow at the end of every rain." — Prince
---
"Stay strong, life is hard but believe that there's always a rainbow after every storm." — Unknown
---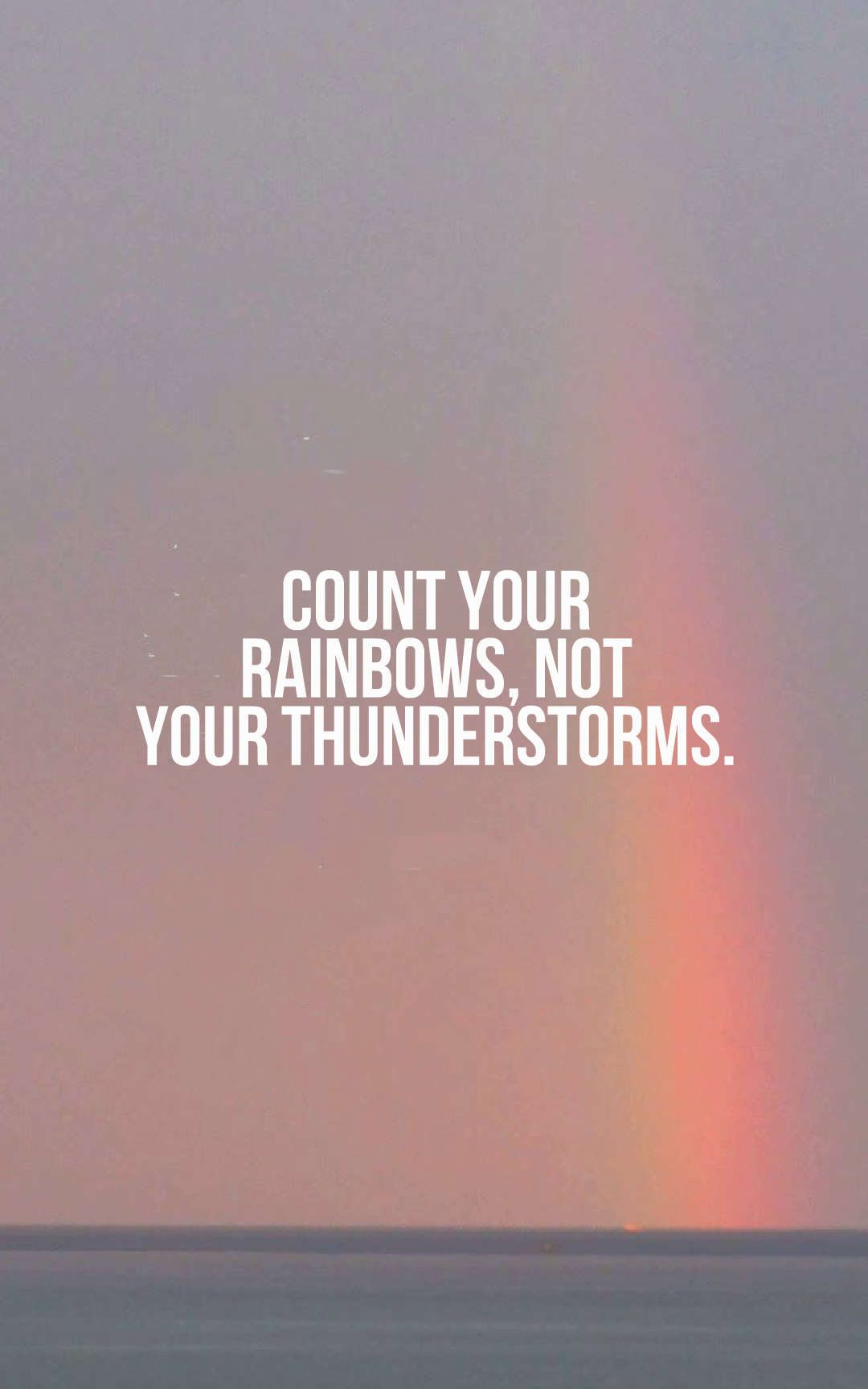 ---
"If you want the rainbow, you have to deal with the rain." — John Green
---
"Paint a rainbow of love in your heart for peace and unity." — Unknown
---
"It's when a rainbow smiles that sadness is banished from the land." ― Anthony T.Hincks
---
"There may be a storm now but expect the rainbow later. There is hope." — Unknown
---
"Happiness doesn't always come in pink. Learn to appreciate the rainbow." ― Richelle E. Goodrich
---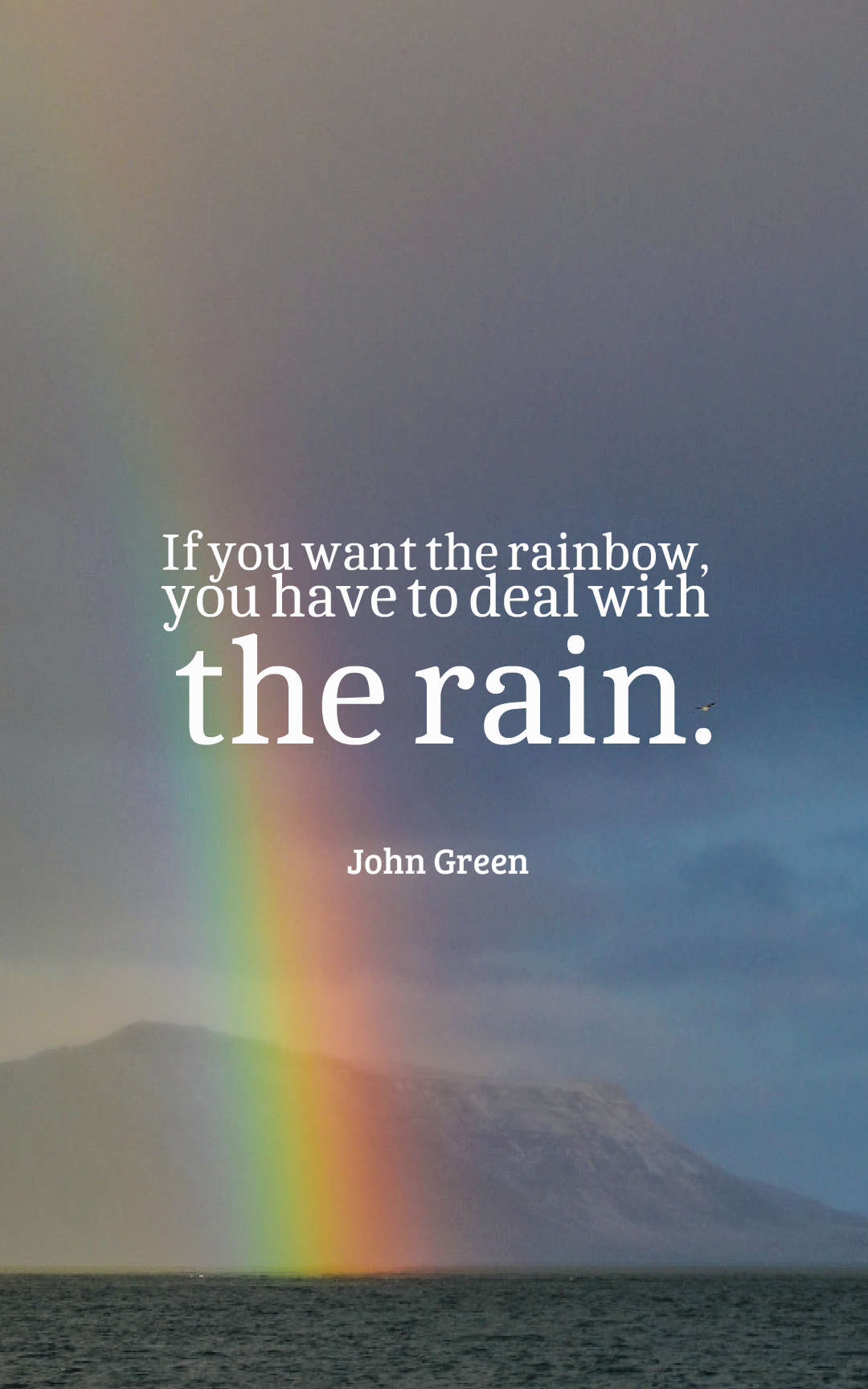 ---
"Count your rainbows, not your thunderstorms." — Unknown
---
"The work will wait while you show the child the rainbow, but the rainbow won't wait while you do the work." — Erik Erikson
---
"It takes both the sun and the rain to make a beautiful rainbow." ― Cinderella
---
"Storm? Shine your light and make a rainbow." ― Richie Norton
---
"Look up to the sky You'll never find rainbows If you're looking down." — Charlie Chaplin
---
Hopefully you will enjoy this inspiring and beautiful collection of rainbow quotes and sayings. please don't forget to share these quotes.
---
"It was the rainbow gave thee birth, and left thee all her lovely hues." ― W. H. Davies
---
Don't seek to be happy; let everyone else chase after that rainbow. Seek to be kind, and you'll find the rainbow follows you. ― Richelle E. Goodrich
---
"Be thou the rainbow in the storms of life. The evening beam that smiles the clouds away, and tints tomorrow with prophetic ray." ― Lord Byron
---
"It's a good thing that when God created the rainbow he didn't consult a decorator or he would still be picking colors." ― Sam Levenson
---
"The rainbow is a part of nature, and you have to be in the right place to see it. It's beautiful, all of the colors, even the colors you can't see. That really fit us as a people because we are all of the colors. Our sexuality is all of the colors. We are all the genders, races, and ages." ― Gilbert Baker
---
"The thing to do, it seems to me, is to prepare yourself so you can be a rainbow in somebody else's cloud. Somebody who may not look like you. May not call God the same name you call God – if they call God at all. I may not dance your dances or speak your language. But be a blessing to somebody. That's what I think." ― Maya Angelou
---
"I wanted to write a book that talked about the emotions of children, which is the rainbow. We all have moods. We talk about being blue when we're sad, and being yellow when we're cowards, and when we're mad, we're red." ― Dolly Parton
---
"Sunset is still my favorite color, and rainbow is second." ― Mattie Stepanek
---
"One can make no better investment than the cultivation of a taste for the beautiful, for it will bring rainbow hues and enduring joys to the whole life. It will not only greatly increase one's capacity for happiness, but also one's efficiency." ― Orison Swett Marden
---
"I've always taken 'The Wizard of Oz' very seriously, you know. I believe in the idea of the rainbow. And I've spent my entire life trying to get over it." ― Judy Garland
---
"We live in a rainbow of chaos." ― Paul Cezanne
---
"I don't always have to sing a song. There is something besides 'The Man That Got Away' or 'Over the Rainbow' or 'The Trolley Song.' There's a woman. There are three children. There's me! There's a lot of life going here." ― Judy Garland
---
"Leroy bet me I couldn't find a pot of gold at the end, and I told him that was a stupid bet because the rainbow was enough." ― Rita Mae Brown
---
"Because I was suspicious of the traditional Christian church, I tended to tar them all with the same brush. That was a mistake, because there are righteous people working in a whole rainbow of belief systems – from Hasidic Jews to right-wing Bible Belters to charismatic Catholics." ― Bono
---
"I wrote my own anthem: it's called 'Mariah's Theme.' It's on the 'Rainbow' album from '99. Back in the day." ― Mariah Carey
---
"Let no one who loves be unhappy, even love unreturned has its rainbow." ― James M. Barrie
---
"And as he spoke of understanding, I looked up and saw the rainbow leap with flames of many colors over me." ― Black Elk
---
"I think it's huge that I'm wearing my natural hair texture on ABC in prime time. As Dr. Rainbow Johnson on 'Black-ish,' I think my hair is part of the reality of this woman's life. She has four children and is an anesthesiologist and a wife. She doesn't have a lot of time to fuss with beauty, so her look is pretty simple." ― Tracee Ellis Ross
---
"I think people want to live in a city that is welcoming and inclusive. I don't think people want to feel that they can only go into a place with a rainbow flag in front." ― Ayanna Pressley
---
"We have a memory cut in pieces. And I write trying to recover our real memory, the memory of humankind, what I call the human rainbow, which is much more colorful and beautiful than the other one, the other rainbow." ― Eduardo Galeano
---
"Always have a black bow, a white bow, a rainbow bow – those bows will match literally just about everything!" ― JoJo Siwa
---
"If I traveled to the end of the rainbow as Dame Fortune did intend, Murphy would be there to tell me the pot's at the other end." ― Ed Koch
---
"Growing up as a young black girl in Potomac, Maryland was easy. I had a Rainbow Coalition of friends of all ethnicities, and we would carelessly skip around our elementary school like the powerless version of Captain Planet's Planeteers." ― Issa Rae
---
"For Tim Burton's birthday I gave him a rainbow beetle. He loved it!" ― Eva Green
---
"Before we had airplanes and astronauts, we really thought that there was an actual place beyond the clouds, somewhere over the rainbow. There was an actual place, and we could go above the clouds and find it there." ― Barbara Walters
---
"In our world, I rank music somewhere between hair ribbons and rainbows in terms of usefulness." ― Suzanne Collins
---
"When I set a glass prism on a windowsill and allow the sun to flood through it, a spectrum of colors dances on the floor. What we call "white" is a rainbow of colored rays packed into a small space. The prism sets them free. Love is the white light of emotion." ― Diane Ackerman
---
"Formal education teaches how to stand, but to see the rainbow you must come out and walk many steps on your own." ― Amit Ray
---
"Gender is not sane. It's not sane to call a rainbow black and white." ― Kate Bornstein
---
"Sometimes it's important to work for that pot of gold. But other times it's essential to take time off and to make sure that your most important decision in the day simply consists of choosing which color to slide down on the rainbow." ― Douglas Pagels
---
"You know, you hear about these movements for women, and for children, and for people who are any race but white, and you think that it's about time that men got a movement. Think about it. Guys can't play the piano, or dance, or sing. We can't cry, or be too happy, or show any emotion for that matter. The only thing we have left to us is anger, and even that we have to bottle up. Boys should be able to express what they feel and not have to endure people laughing at them, forcing them to wonder if they're gay or not, just because they like to paint." ― Alex Sanchez
rainbow quotes | rainbow sayings | rainbow after the rain quote | motivational rainbow quotes | storm and rainbow quotes | sayings about rainbows | inspirational rainbow quotes | positive rainbow quotes | quotes about rainbow | rain and rainbow quotes |