-Advertisement-
Like and share our beautiful collection of beautiful weekend quotes and sayings with images.
-Advertisement-
Happy Weekend Quotes
---
"I want a weekend full of cuddles, kisses and laughter."
---
Sorry, I can't go out today there's a sofa stuck to me.
---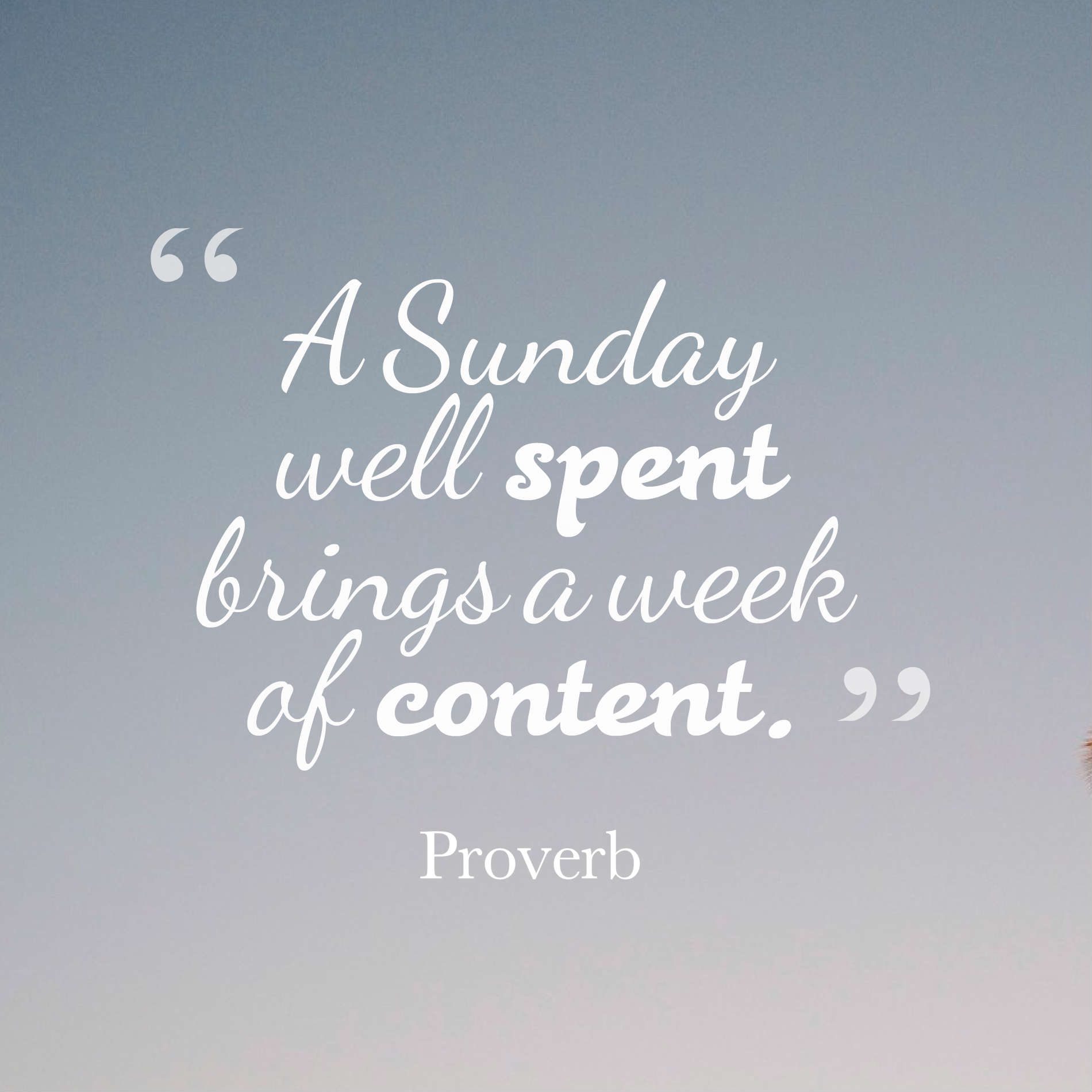 -Advertisement-
---
A Sunday well spent brings a week of content.
---
cheers to the freakin weekend.
---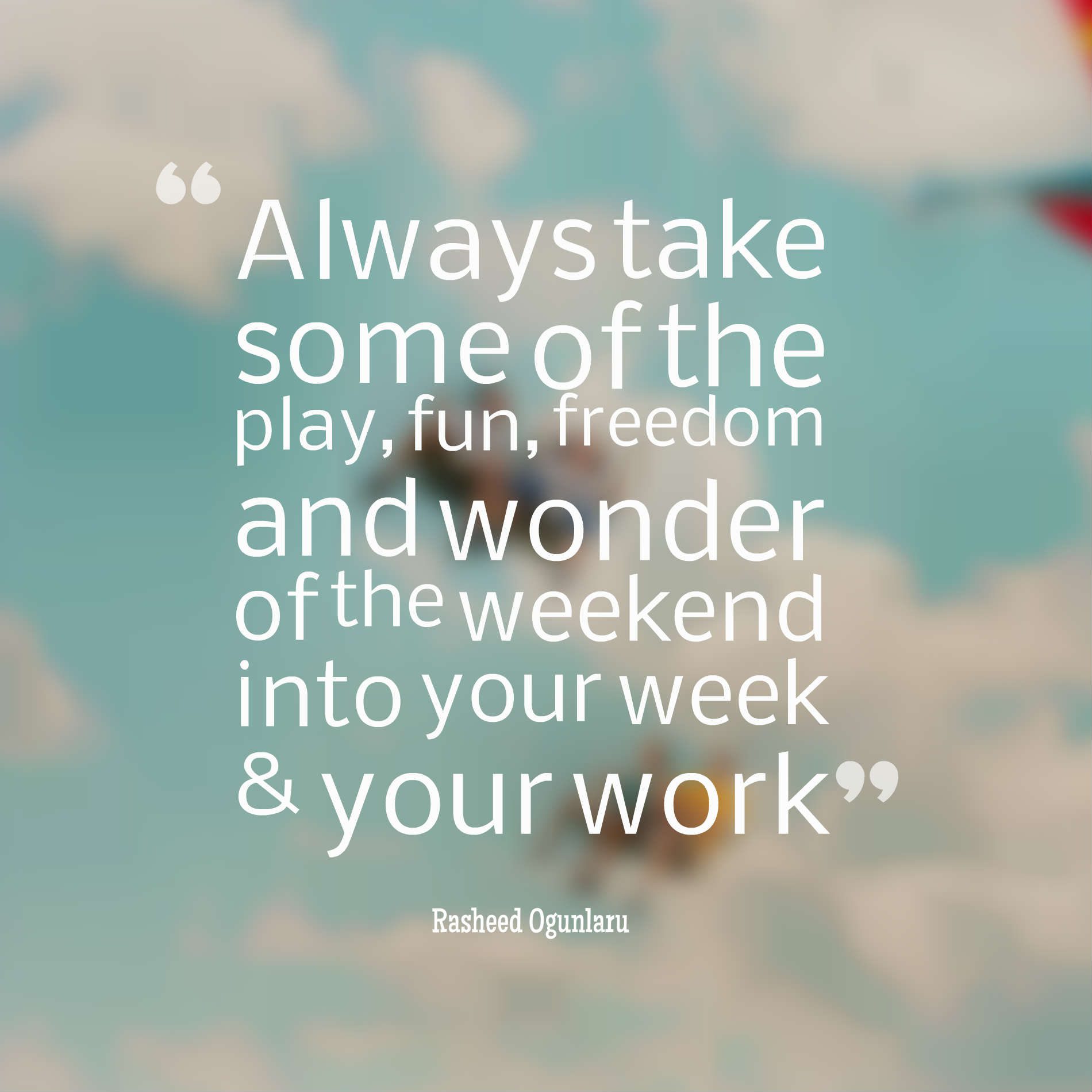 ---
Always take some of the play, fun, freedom and wonder of the weekend into your week & your work.
---
first i drink the coffee then i do the things.
---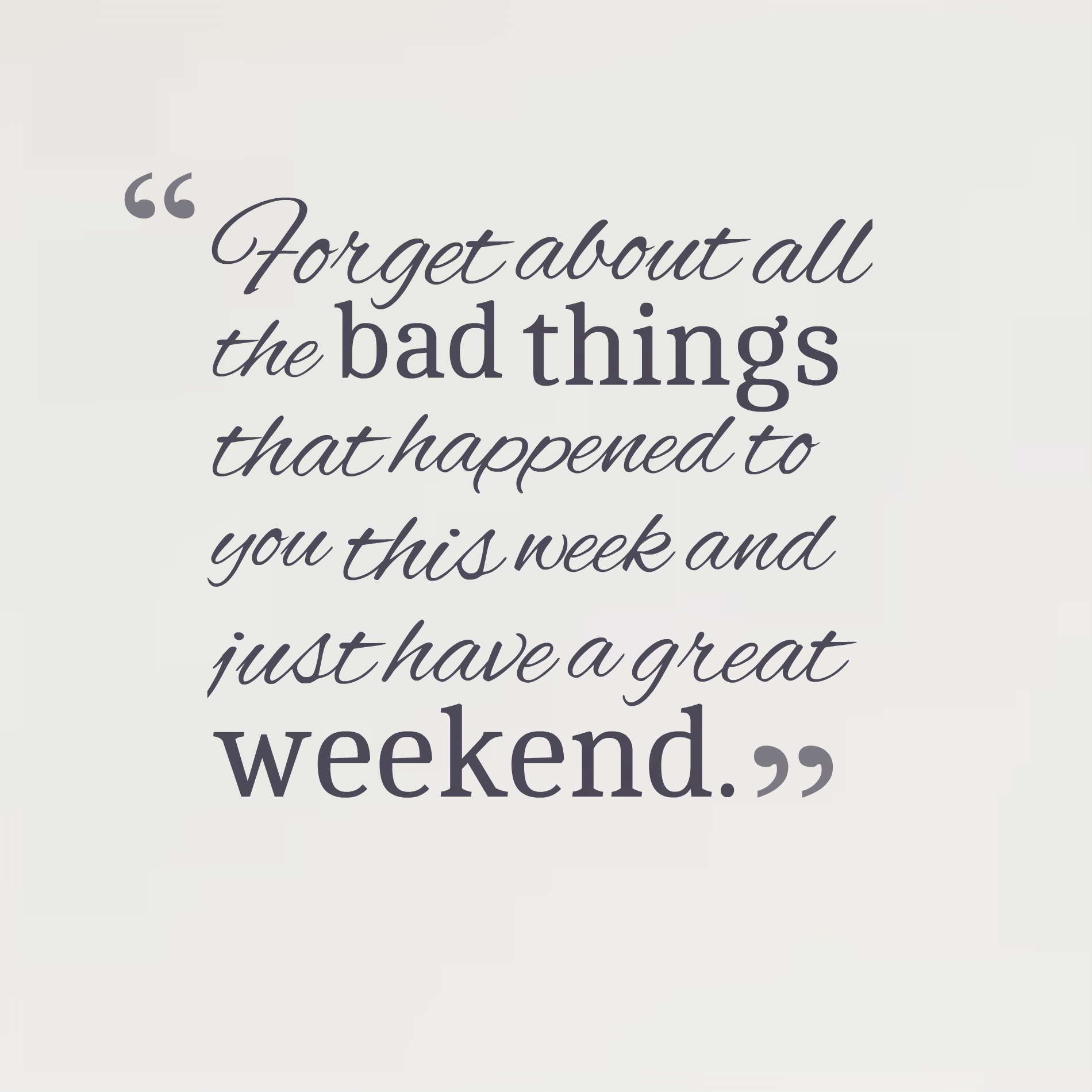 ---
Forget about all the bad things that happened to you this week and just have a great weekend.
---
better days are coming they're called saturday and sunday.
---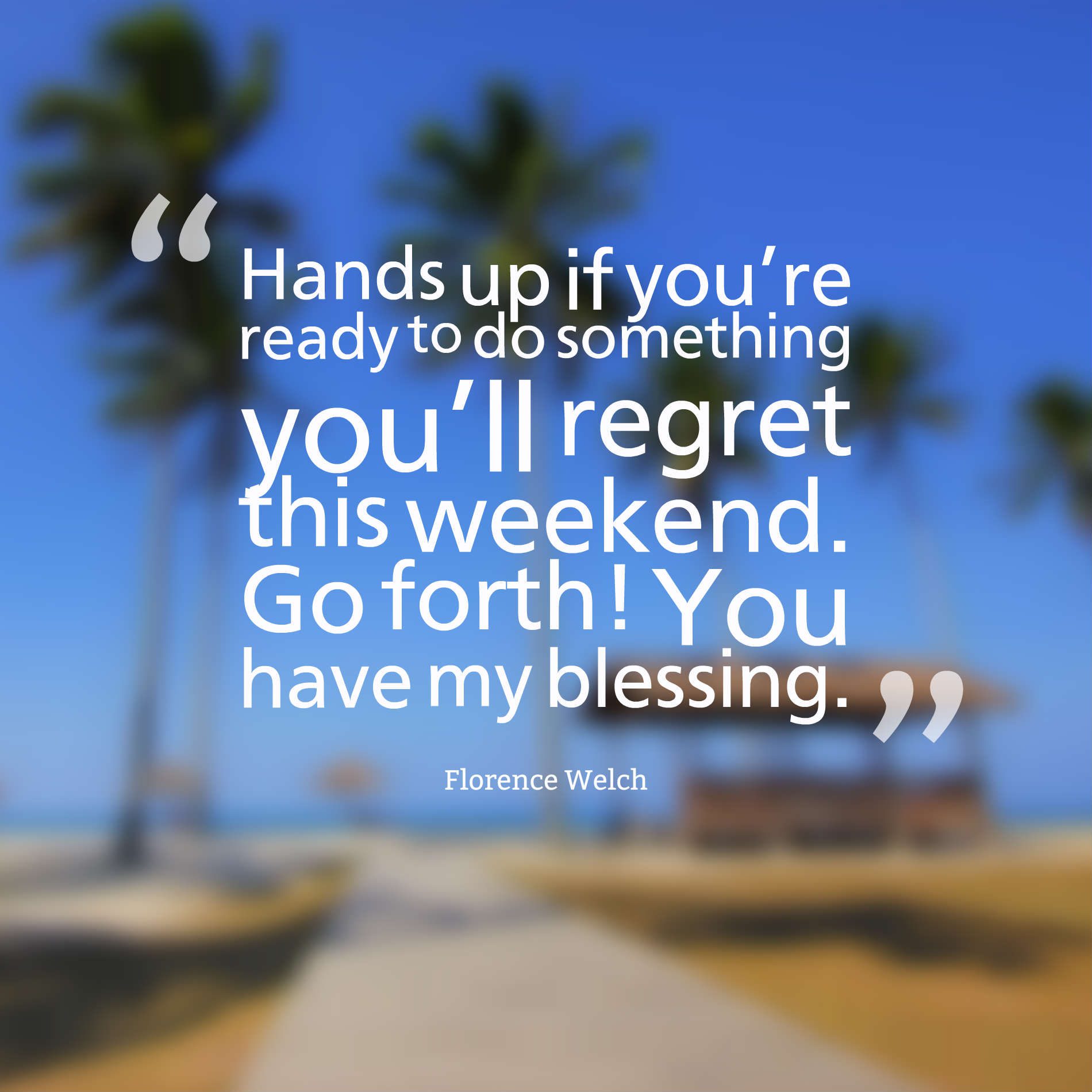 ---
Hands up if you're ready to do something you'll regret this weekend. Go forth! You have my blessing.
---
My main goal every day is to be happy. No matter what trials I face, no matter how old I get. Happiness is the key to all things great.
---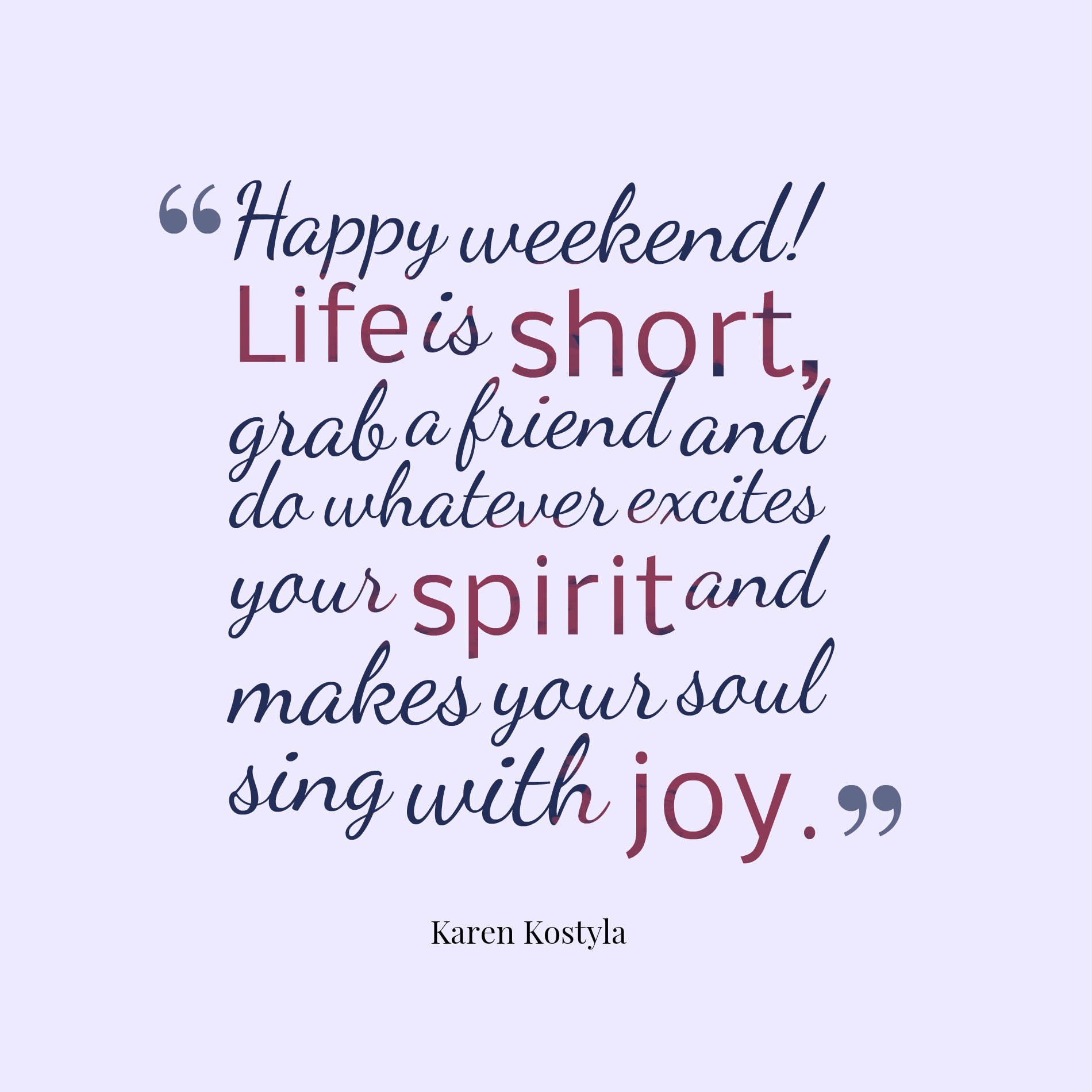 ---
Happy weekend! life is short, grab a friend and do whatever excites your spirit and makes your soul sing with joy.
---
"The biggest adventure you can take is to live the life of your dreams." – Oprah Winfrey
---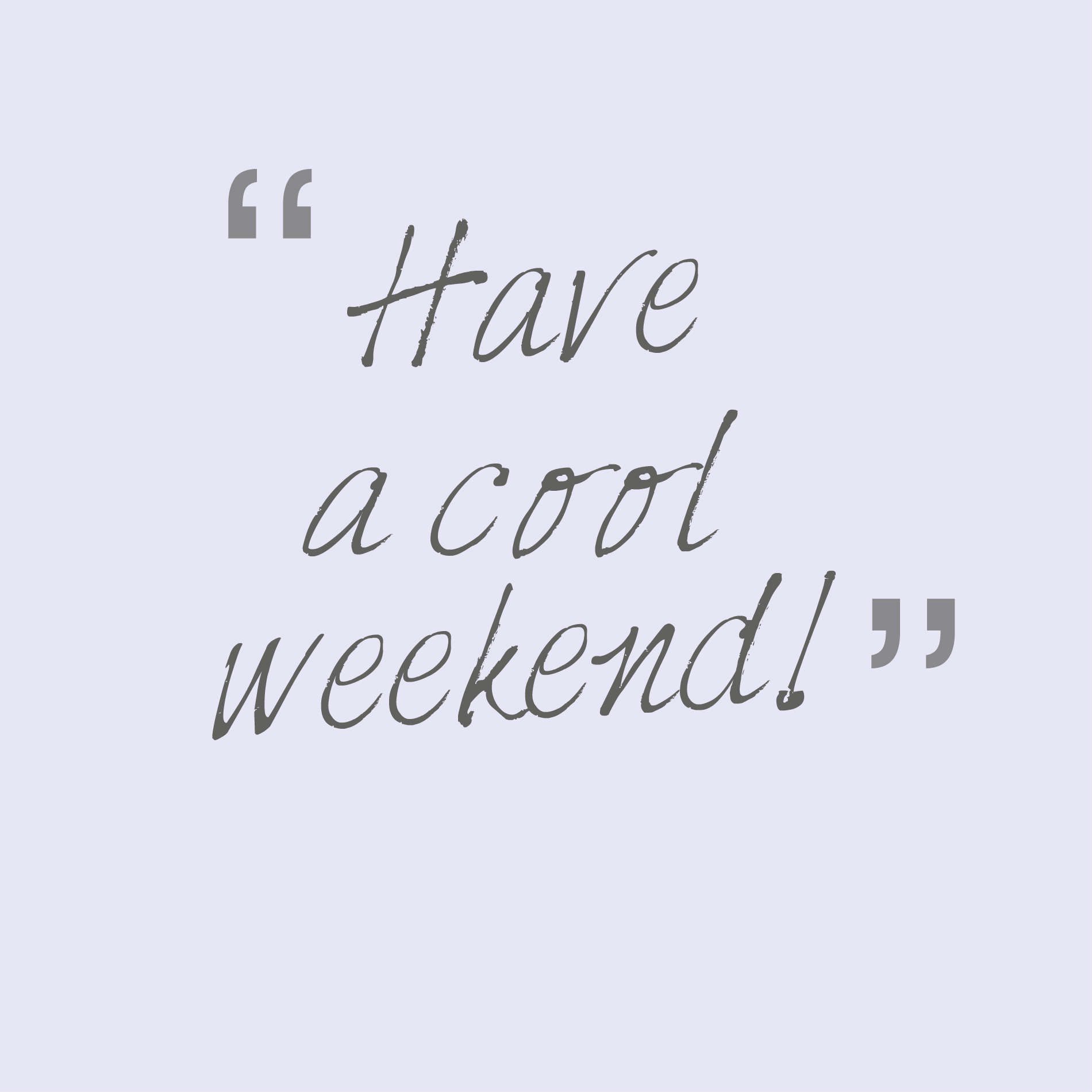 ---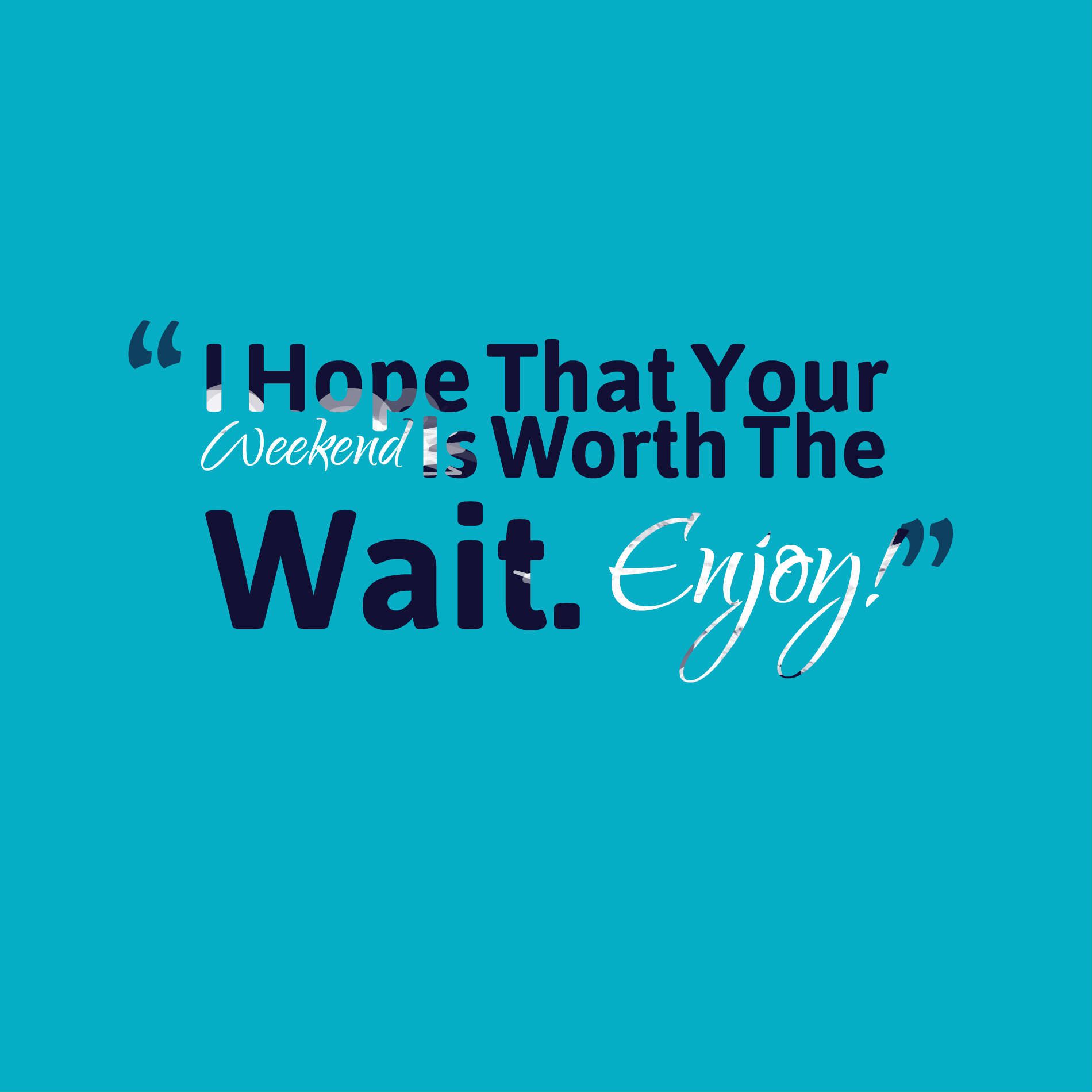 ---
I Hope That Your Weekend Is Worth The Wait. Enjoy!
---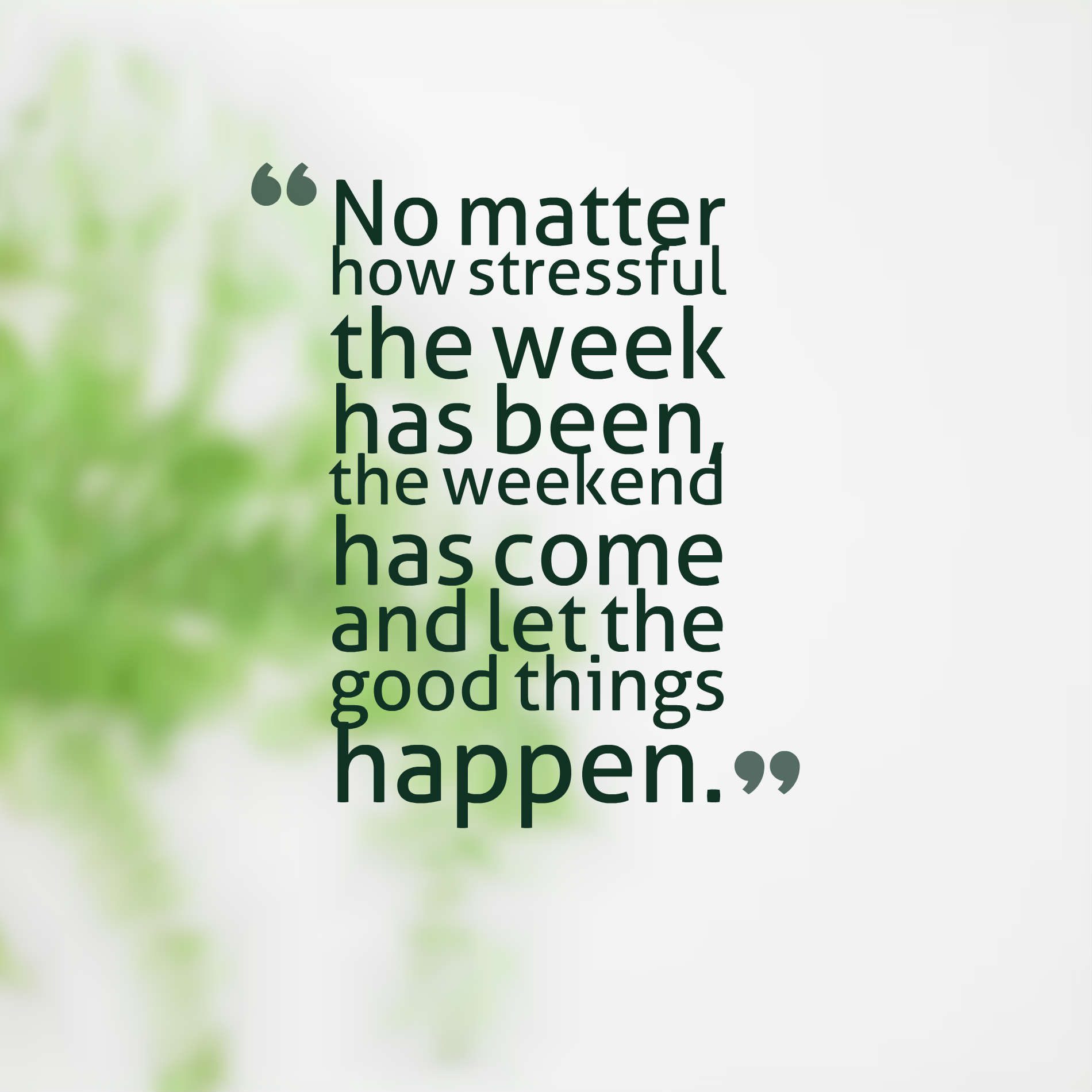 ---
No matter how stressful the week has been, the weekend has come and let the good things happen.
---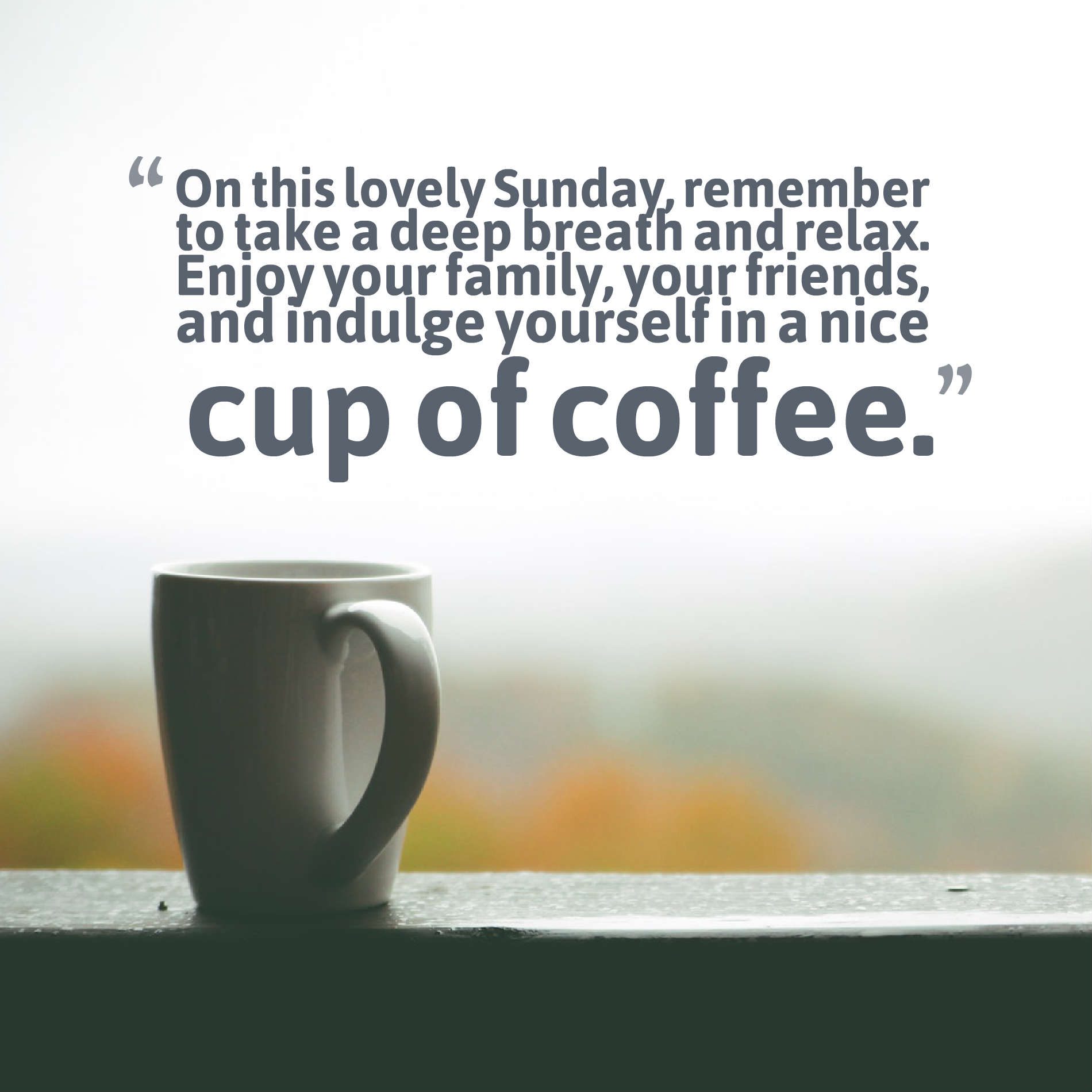 ---
On this lovely Sunday, remember to take a deep breath and relax. Enjoy your family, your friends, and indulge yourself in a nice cup of coffee.
---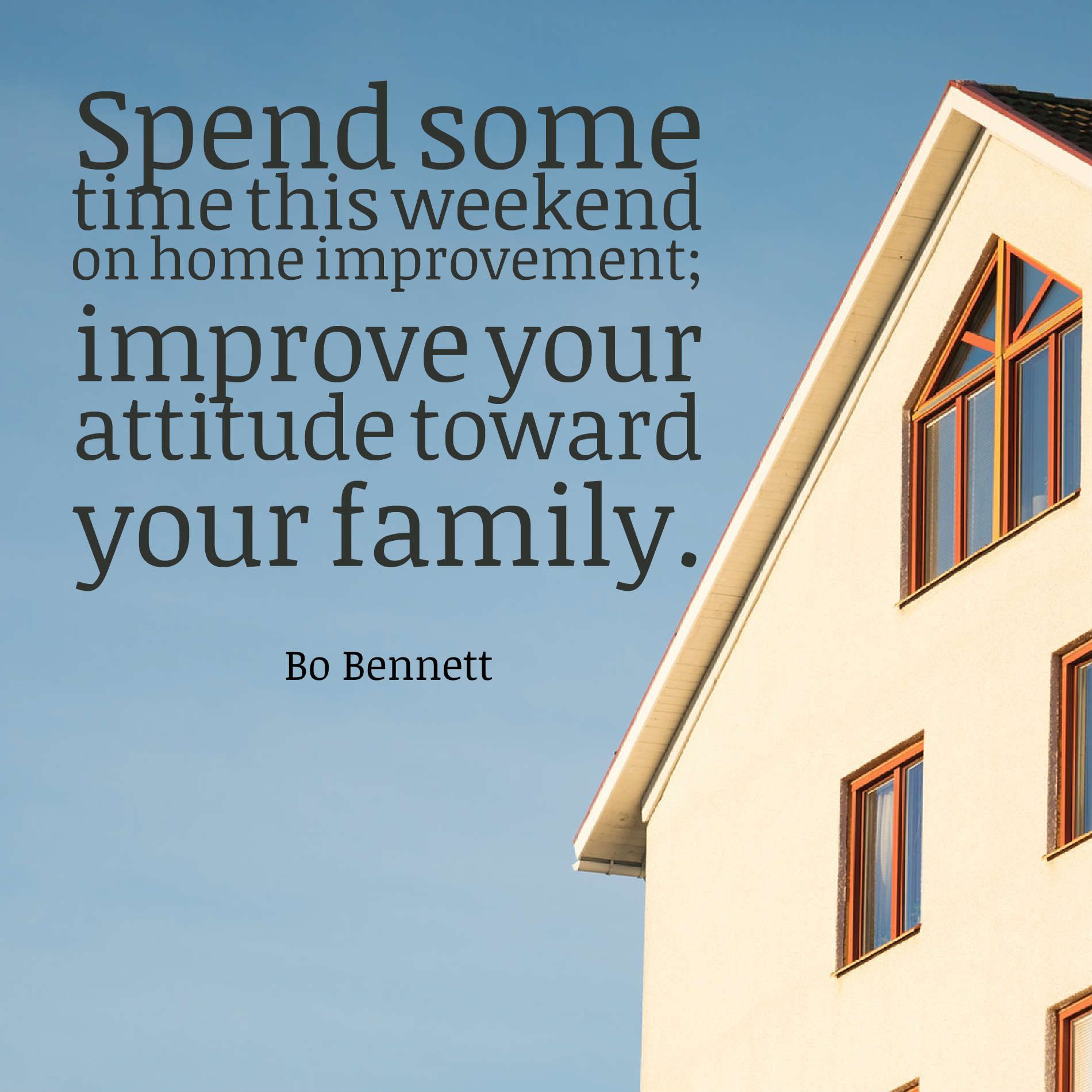 ---
Spend some time this weekend on home improvement improve your attitude toward your family.
---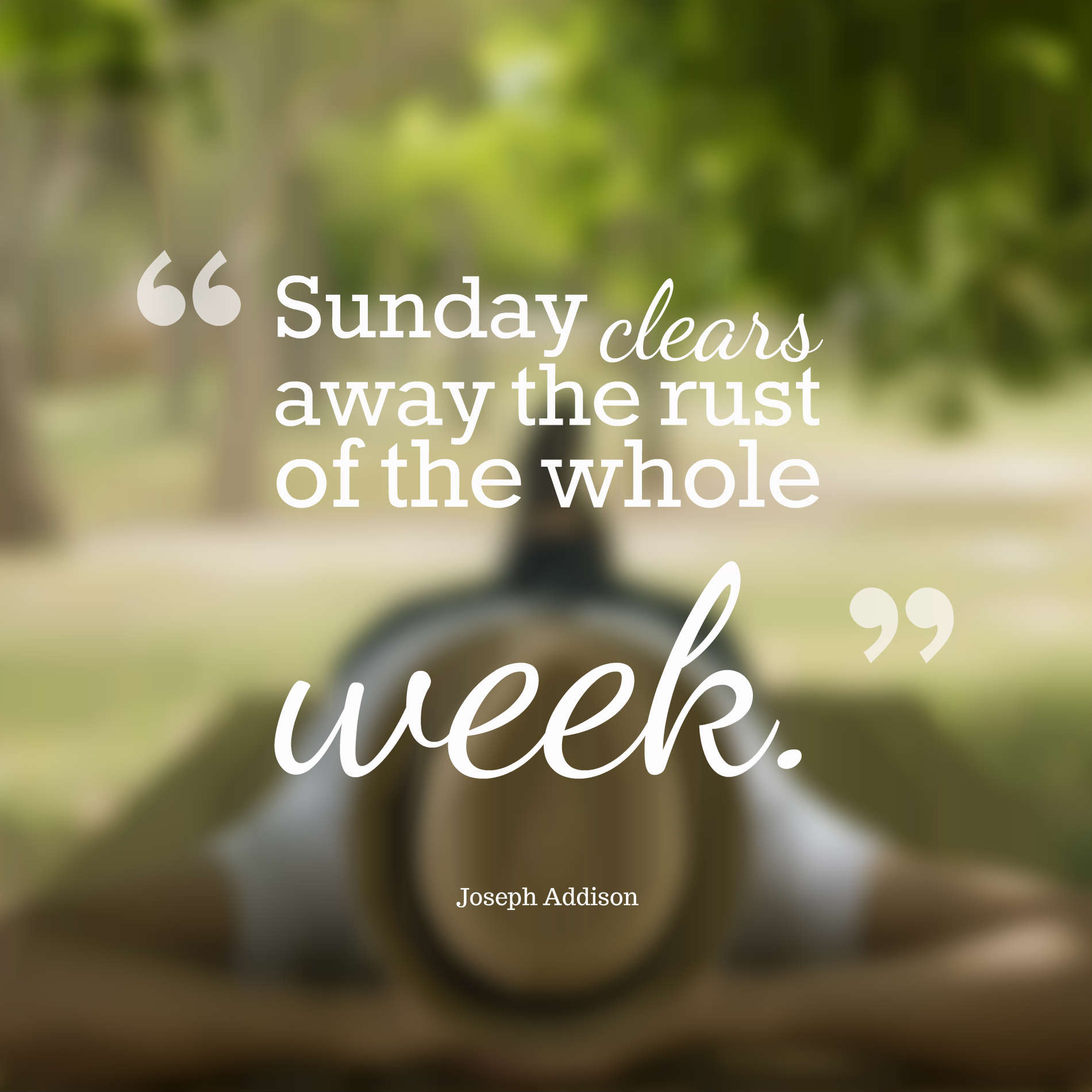 ---
Sunday clears away the rust of the whole week.
---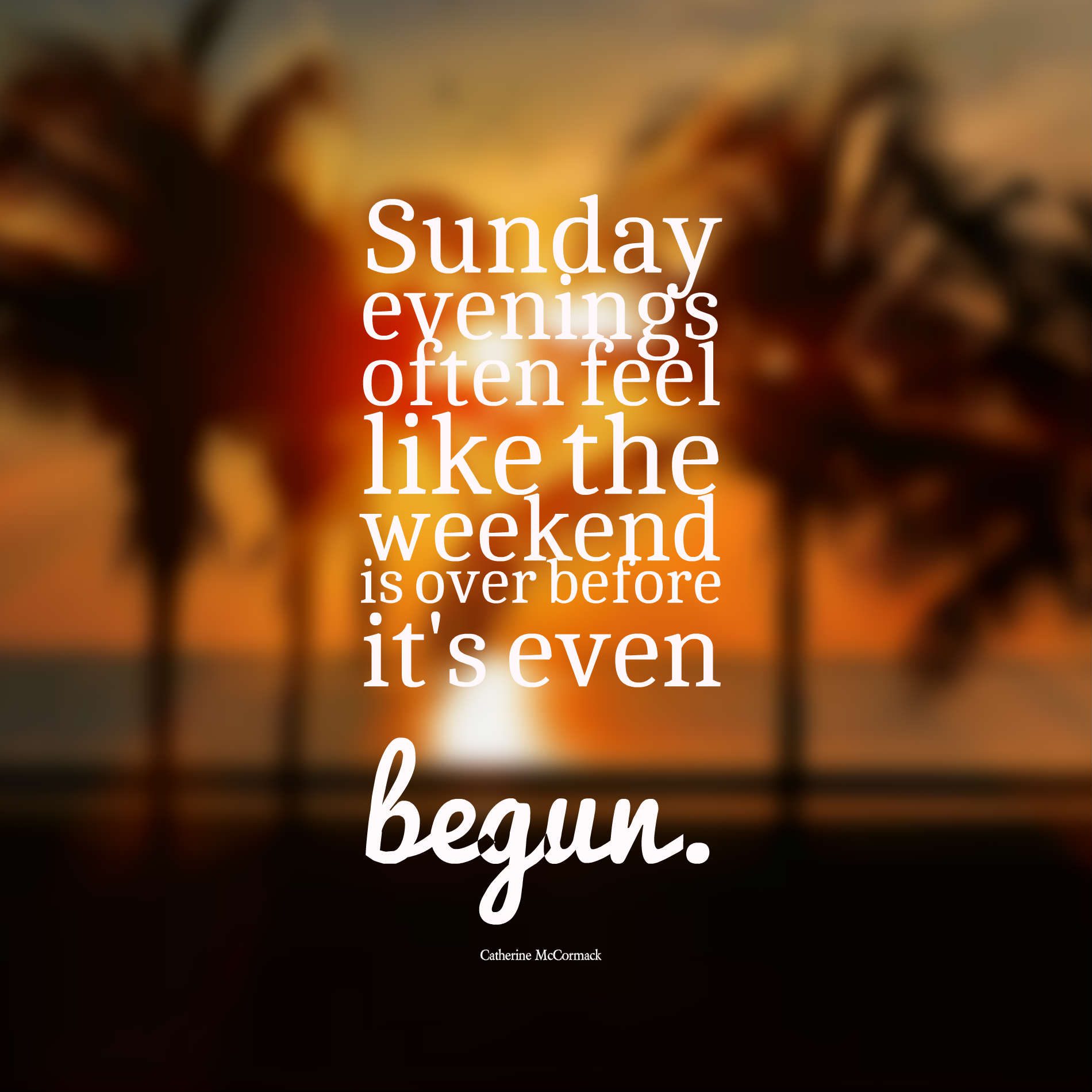 ---
Sunday evenings often feel like the weekend is over before it's even begun.
---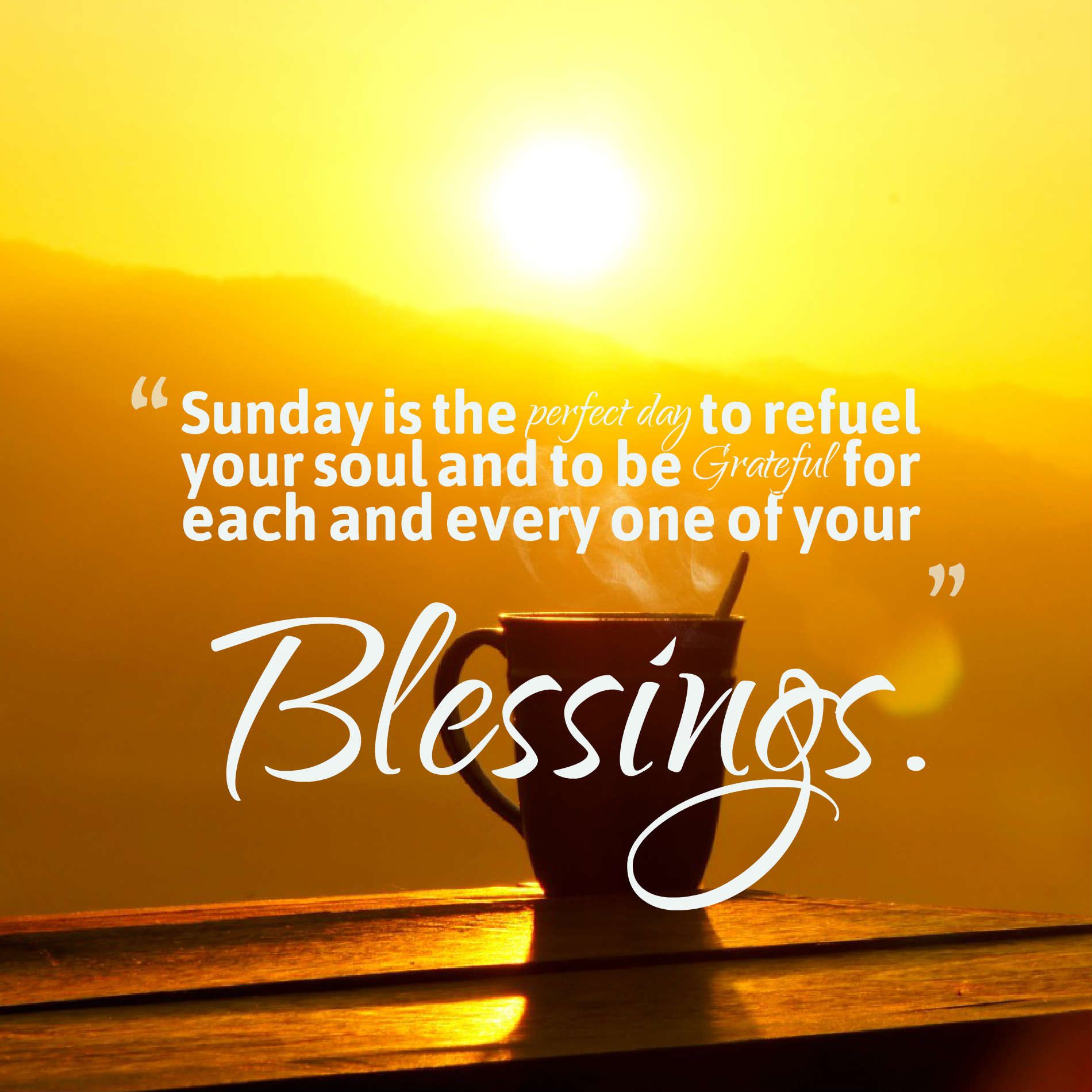 ---
Sunday is the perfect day to refuel your soul and to be Grateful for each and every one of your Blessings.
---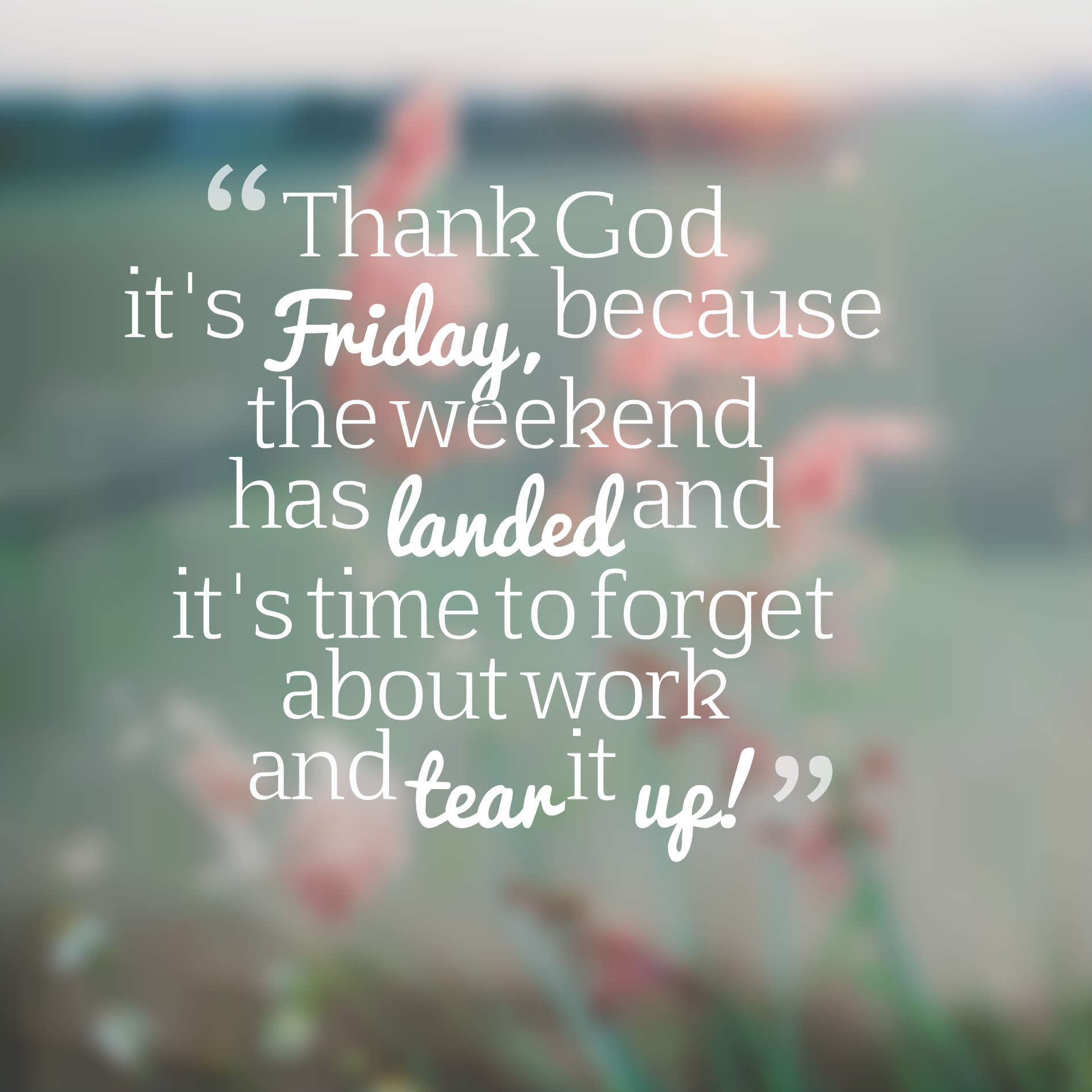 ---
Thank God it's Friday, because the weekend has landed and it's time to forget about work and tear it up!
---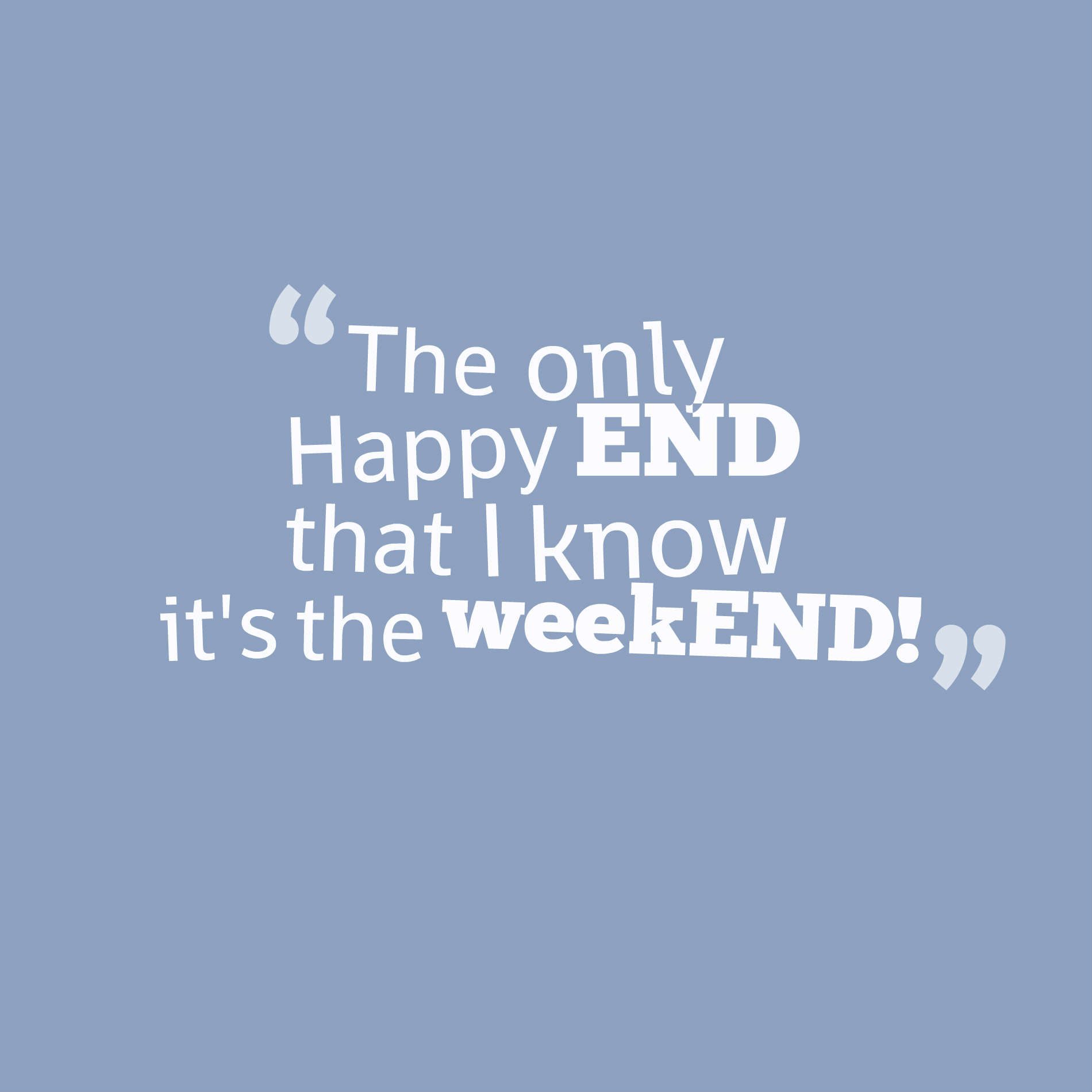 ---
The only Happy END that I know it's the weekEND!
---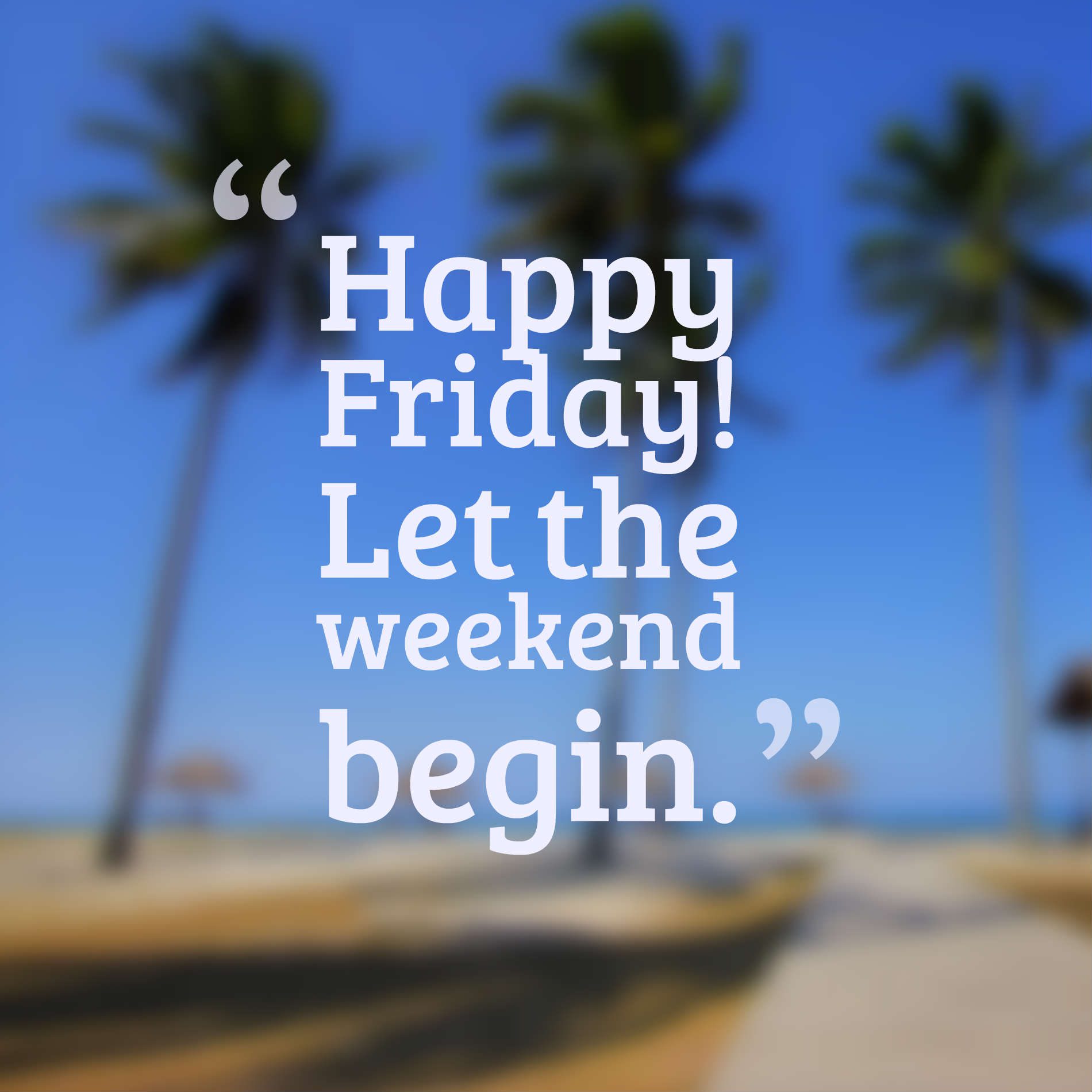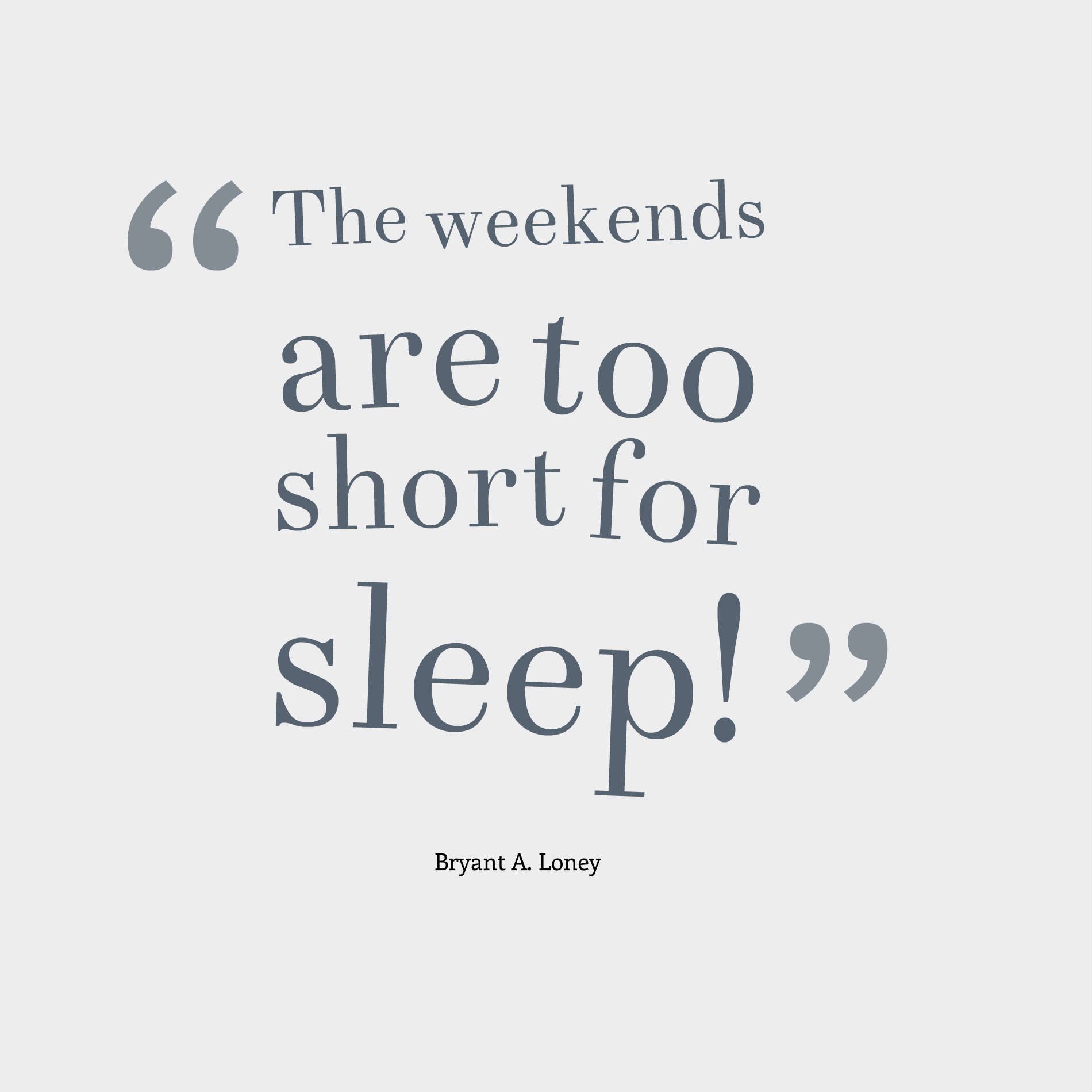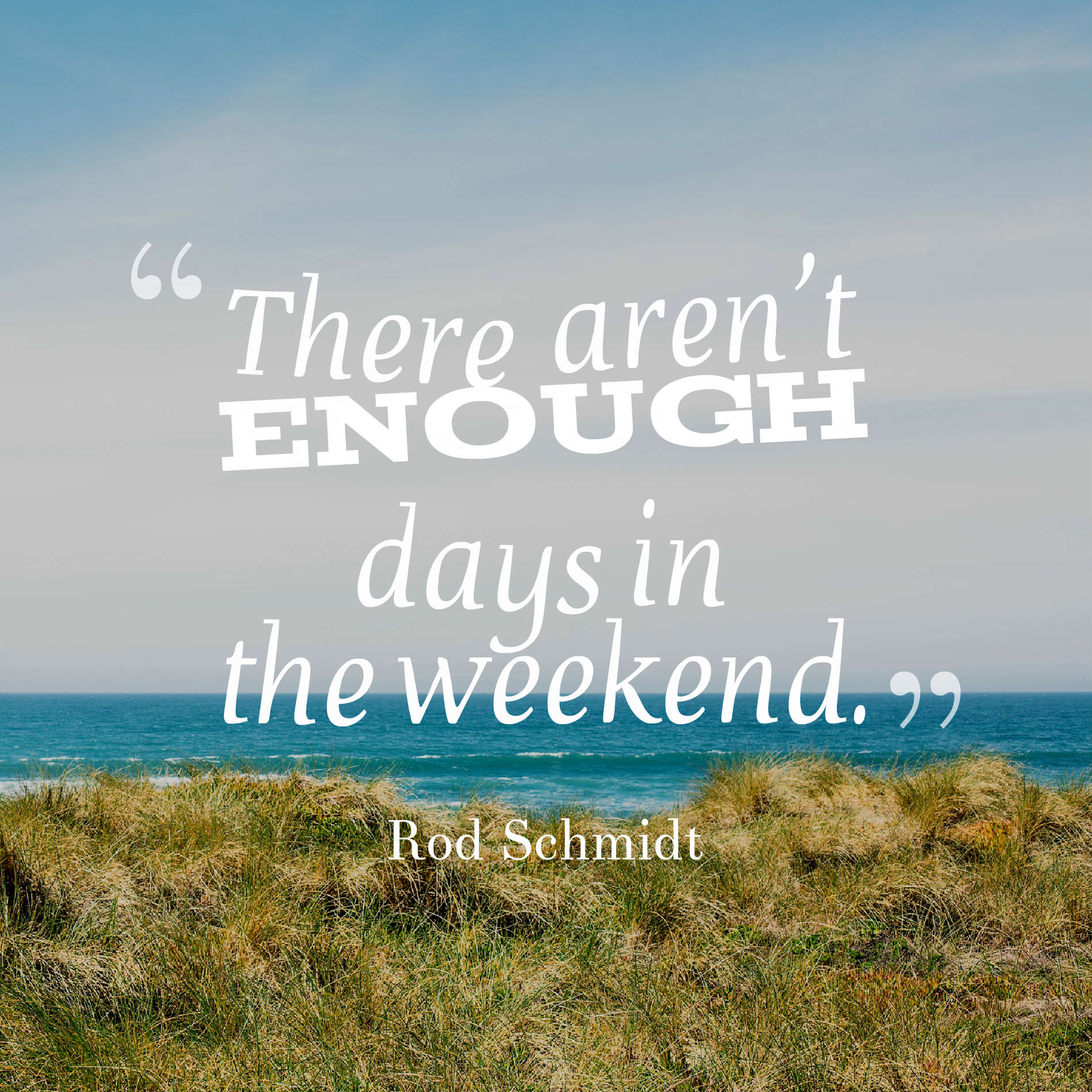 ---
There aren't enough days in the weekend.
---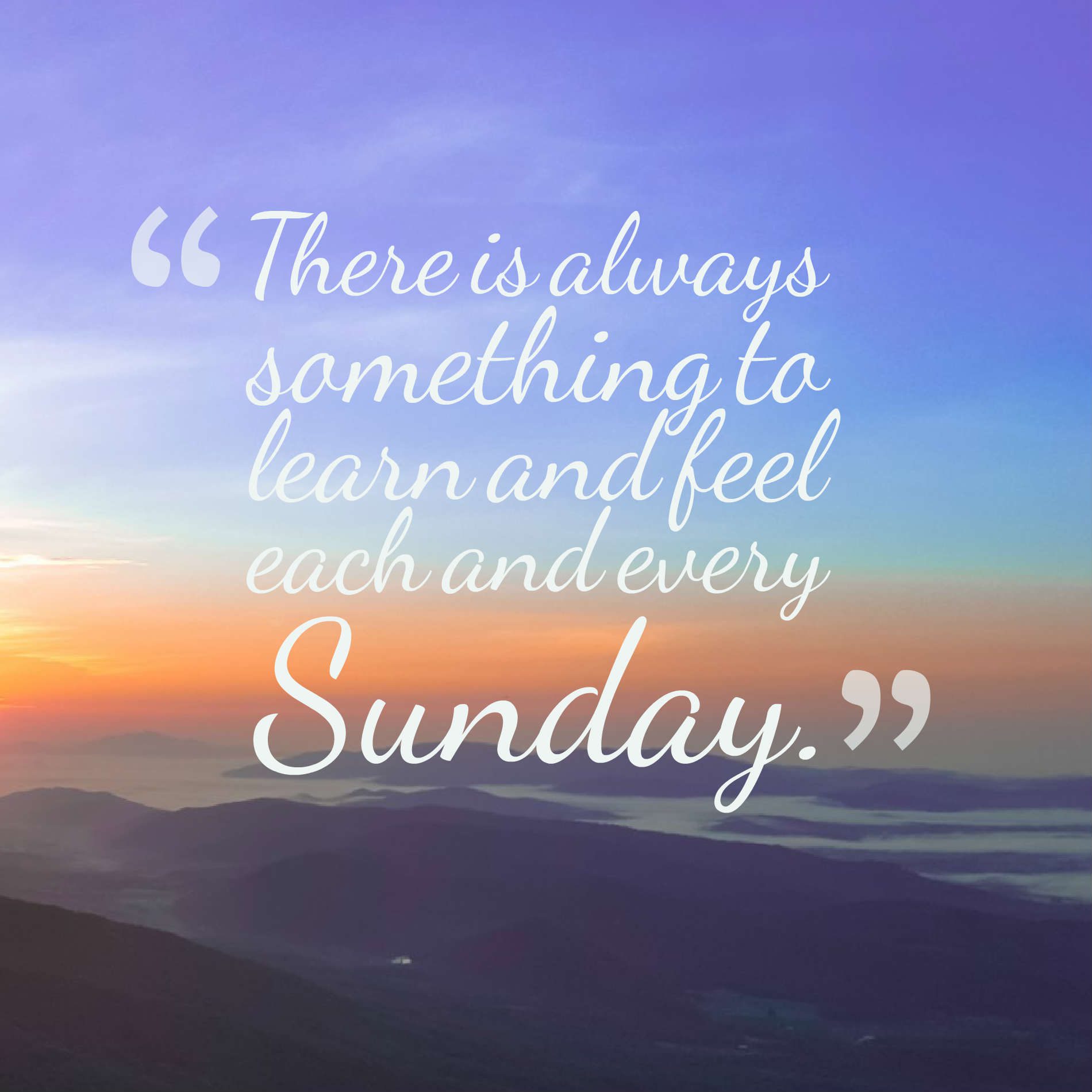 ---
There is always something to learn and feel each and every Sunday.
---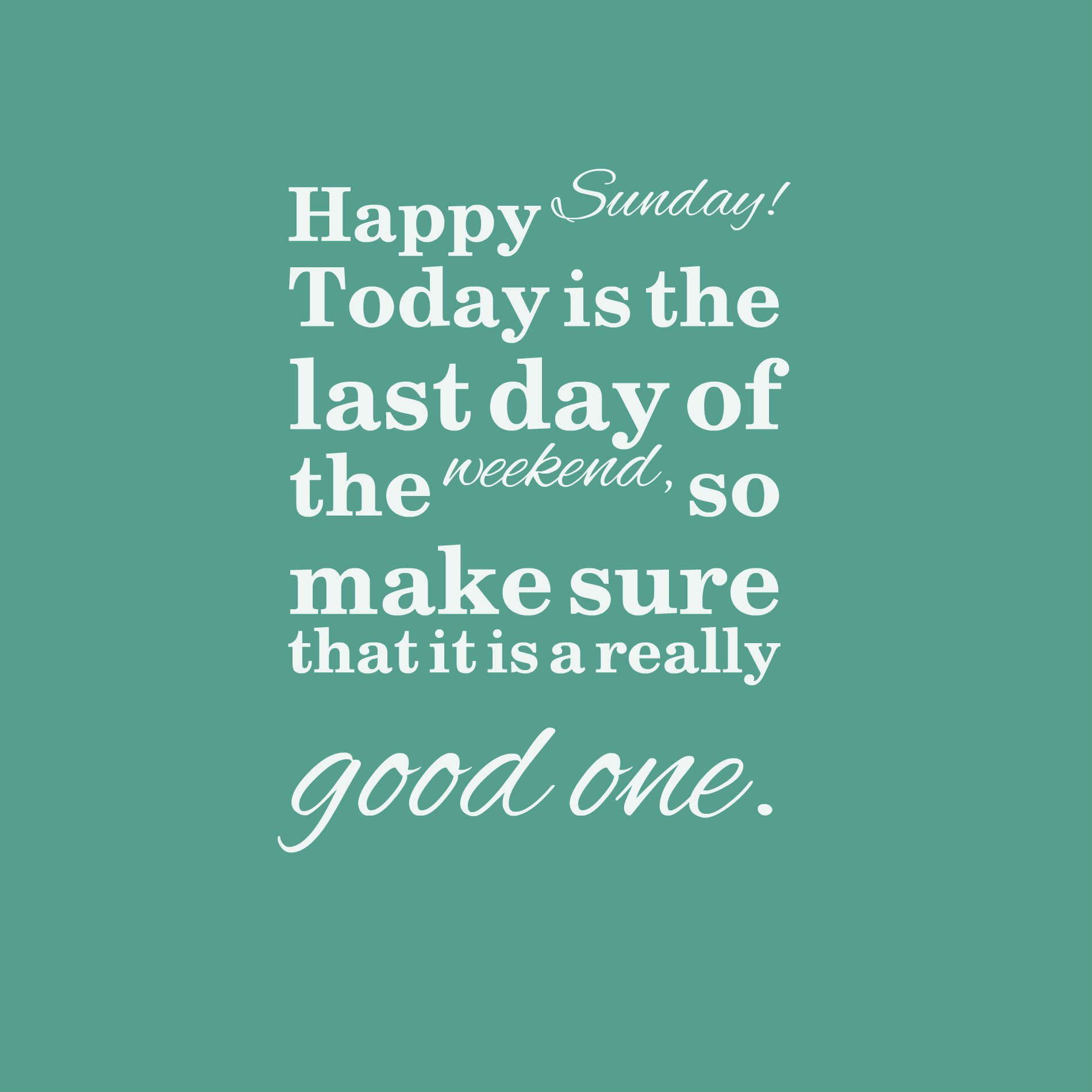 ---
Today is the last day of the weekend, so make sure that it is a really good one.
---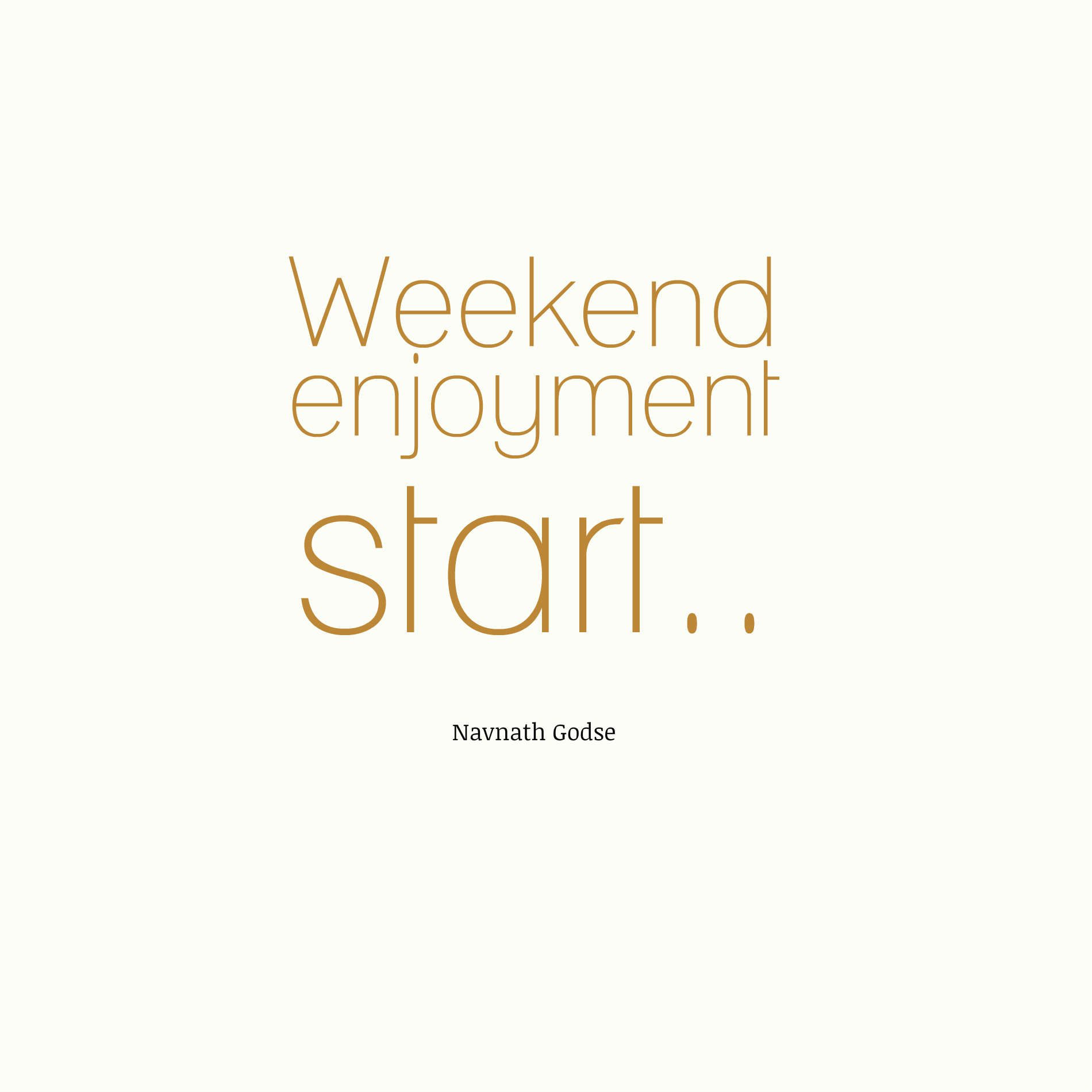 ---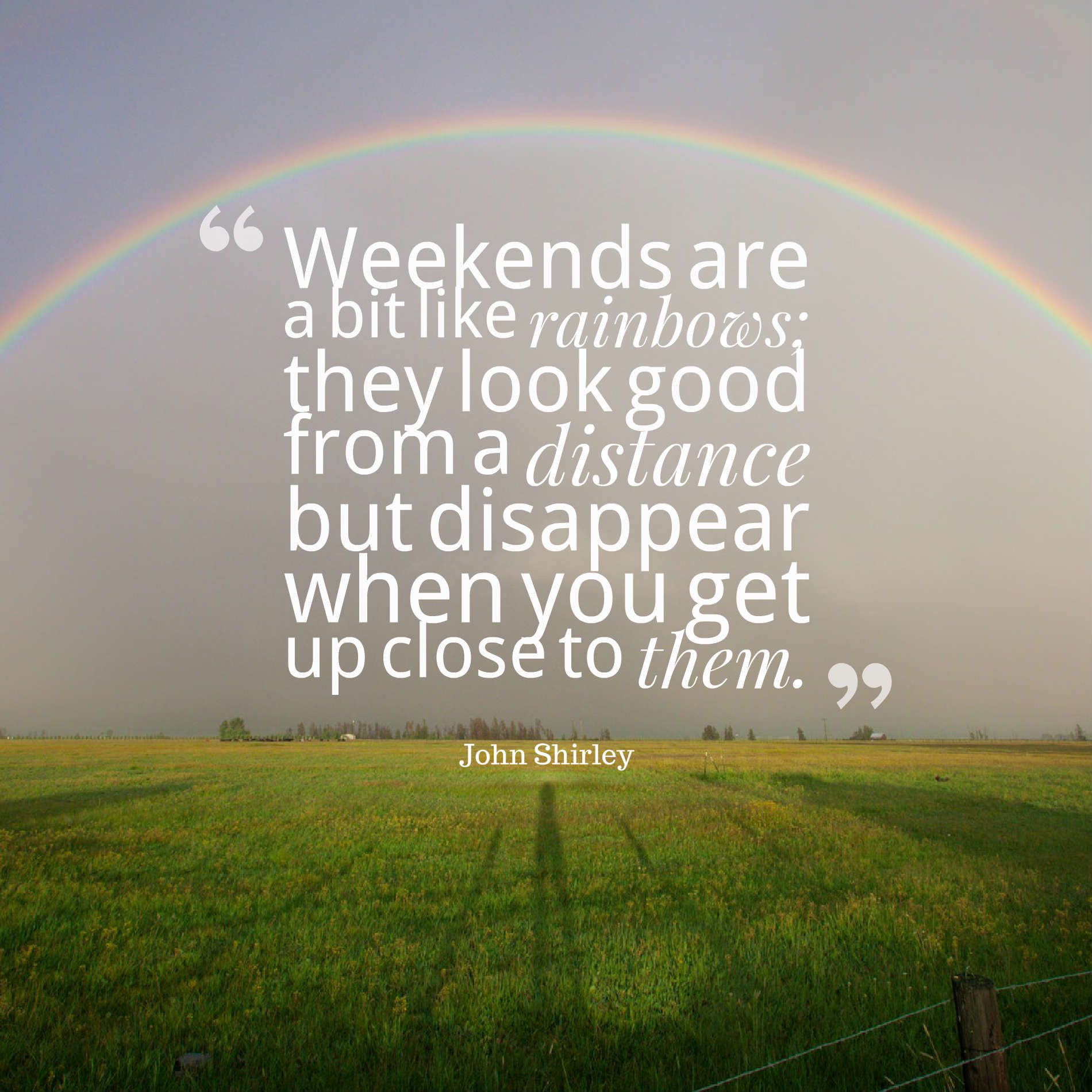 ---
Weekends are a bit like rainbows they look good from a distance but disappear when you get up close to them.
---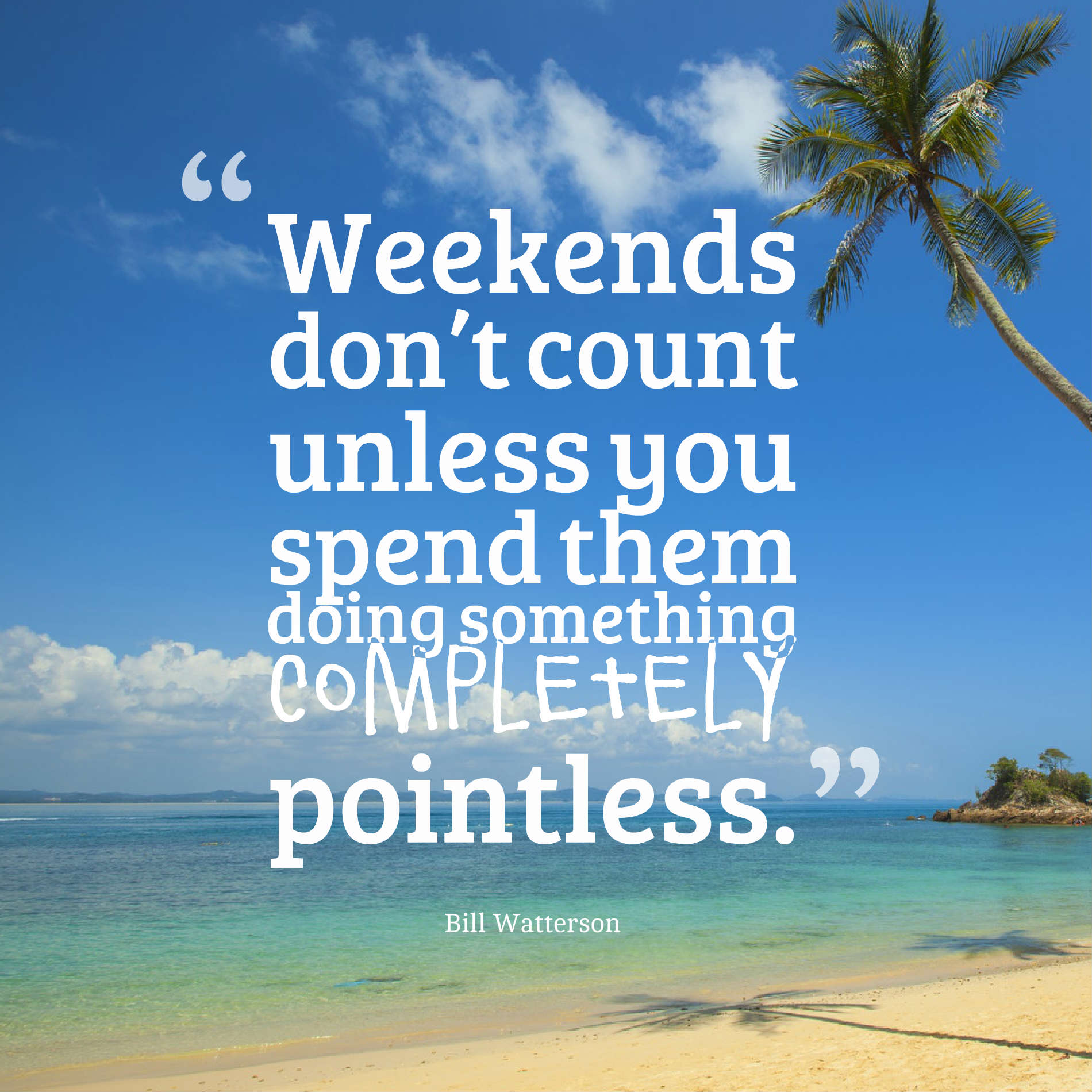 ---
Weekends don't count unless you spend them doing something completely pointless.
---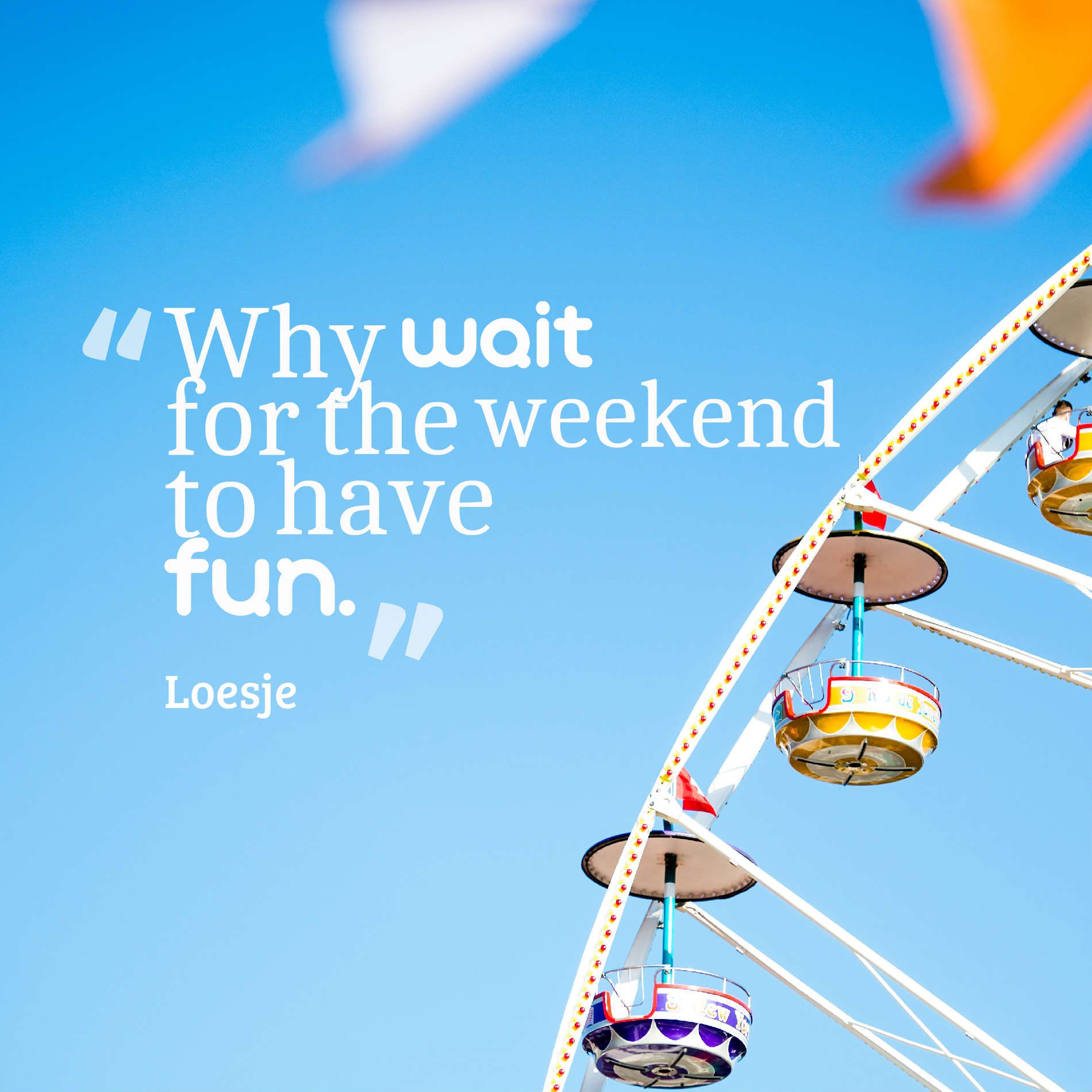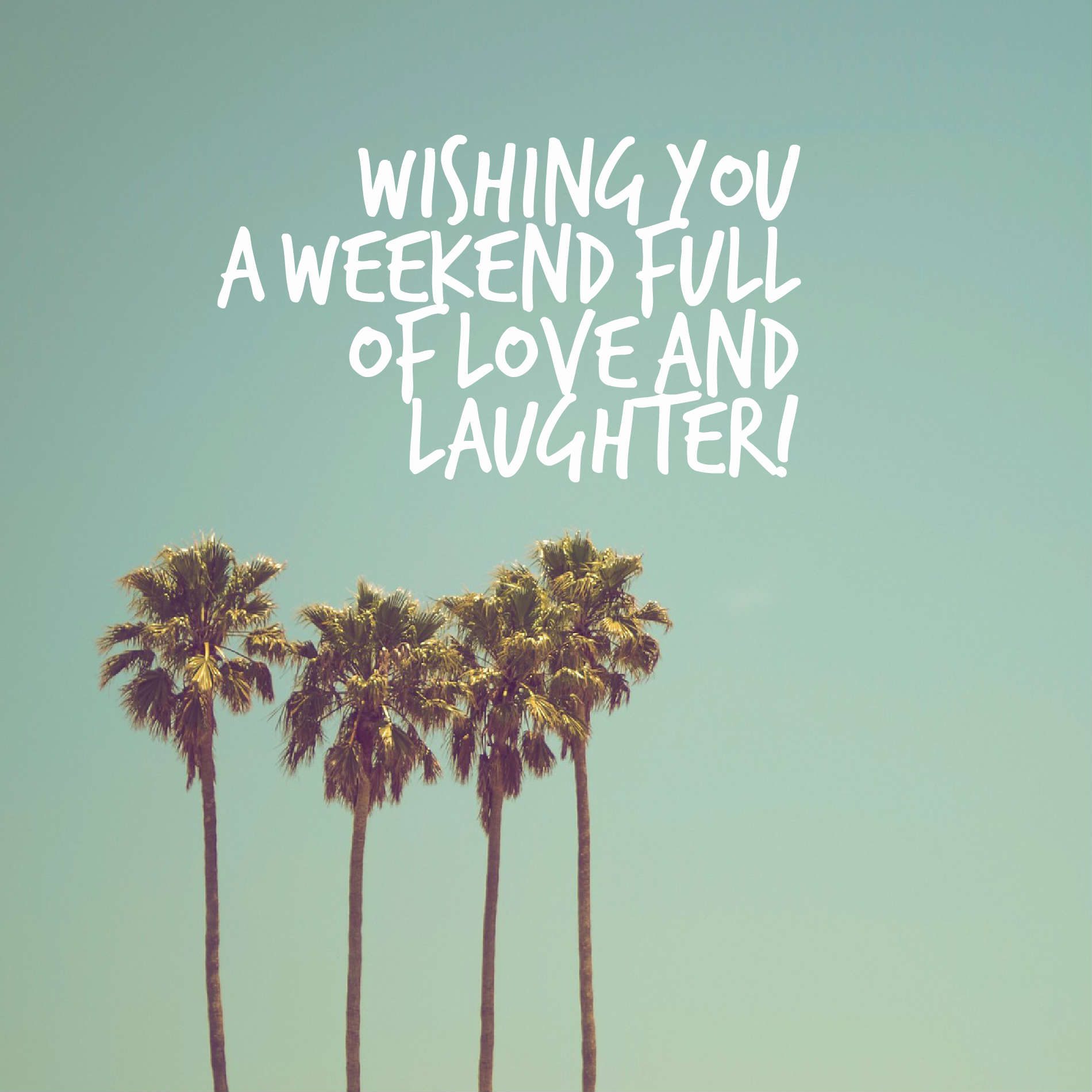 ---
Wishing you a weekend full of love and laughter!
---
---
You know what I want to do Wake up one weekend and not have to go anywhere and do nothing.
---
"I've had two cancer bouts in my years on the Court, and the first one, Justice O'Connor told me, 'Now, you do the chemotherapy on Friday because you'll get over it during the weekend and you can be back in court on Monday.'" – Ruth Bader Ginsburg
---
"Marathon running, like golf, is a game for players, not winners. That is why Callaway sells golf clubs and Nike sells running shoes. But running is unique in that the world's best racers are on the same course, at the same time, as amateurs, who have as much chance of winning as your average weekend warrior would scoring a touchdown in the NFL." – Hunter S. Thompson
---
"I didn't grow up in a house – we moved a lot, and we always lived in apartments. But we looked a lot; we went to open houses almost every weekend. I think that's why I always wanted a house." – Ellen DeGeneres
---
"If I can give you one strong piece of advice, when you go away for that romantic weekend, whatever you do, do not accept or take the upgrade to the honeymoon suite." – Gordon Ramsay
---
"I might wear a $10,000 outfit on a weekend, no cap." – Gunna
---
"I never turn on the news over the weekend, short of a nuclear detonation somewhere. I just don't. I don't learn anything from it anymore." – Rush Limbaugh
---
"I don't think I'm a workaholic. Every weekend, I invite my colleagues and friends to my home to play cards. And people, my neighbors, are always surprised because I live on the second floor apartment, and there are usually 40 pairs of shoes in front of my gate, and people play cards inside and play chess. We have a lot of fun." – Jack Ma
---
"I have never in my life found myself in a situation where I've stopped work and said, 'Thank God it's Friday.' But weekends are special even if your schedule is all over the place. Something tells you the weekend has arrived and you can indulge yourself a bit." – Helen Mirren
---
"Armed Forces Day on May 21, and the Memorial Day weekend that follows, is a time to honor, remember and recognize those who serve and have served our country, as well as those who have died in service. As we reflect, let's not forget the many sacrifices made at home as well in support of our men and women in uniform." – Chuck Norris
---
"People are salaried for the work they do, not the specific hours they sit at their desks. When you ding salaried employees for showing up five minutes late even though they routinely stay late and put in time on the weekend, you send the message that policies take precedence over performance." – Travis Bradberry
---
"Soundgarden signing to a major, then Mother Love Bone, and seeing the same happen to Alice in Chains. We were all suddenly making music and recording at the same time, and we had money to do it. It wasn't like a $2,000 recording that you do over a weekend. It's like, 'Wow, maybe this will be our job.'" – Chris Cornell
---
"'SNL' has changed my career because it gave it a platform to be seen. And I really feel like the Weekend Update desk is where I am given the opportunity to shine on that show." – Pete Davidson
---
"I get one hour, really 25 minutes in a sermon on a weekend, to combat all the hours of the week that people are told you are what you have through billboards, commercials, and sitcoms, and so forth." – Max Lucado
---
Hopefully, you will enjoy this amazing and inspiring collection of beautiful weekend quotes & sayings. please don't forget to share these quotes.
Read: Happy Monday Quotes