Responsibilities are not just duties that we have to perform these are responsibilities which gives us the spirit of living life for others and for ts sake of our own self.
Responsibilities develop the sense of caring others because we are desperately want to fulfill those responsibilities that are on our shoulders responsibilities develop trust and true image of our personalities because if we will responsible people will, in Turn, develop a sense of trust on ourselves so be responsible.
Following are the inspirational responsibility quotes and sayings with images.
Famous Responsibility Quotes
---
"Accept responsibility for your life. Know that it is you who will get you where you want to go, no one else." — Les Brown
---
"There is something special about you, a talent or skill that is unique to you, and you have a responsibility to your life to bring it out." — Unknown
---
"Take responsibility of your own happiness, never put it in other people's hands." — Roy T. Bennett
---
"Do not make any excuses; take full responsibility for the direction of your life." — Stephen Covey
---
"Leadership – leadership is about taking responsibility, not making excuses." — Mitt Romney
---
"Happiness will come to you when it comes from you. Success will be yours when you choose to take responsibility for making it so." — Ralph Marston
---
"Optimism is a strategy for making a better future. Because unless you believe that the future can be better, you are unlikely to step up and take responsibility for making it so." — Noam Chomsky
---
"Follow the three R's: – Respect for self. – Respect for others. – Responsibility for all your actions." — Dalai Lama XIV
---
"Worry less. Smile more. Listen carefully. Take responsibility. Accept what you can't change. Embrace the lessons. Love your life. Today." — Unknown
---
"You should take some responsibility for the way you present yourself. But you should not be hung up on your looks, whether you are ugly or handsome, because it isn't an achievement." — Christopher Reeve
---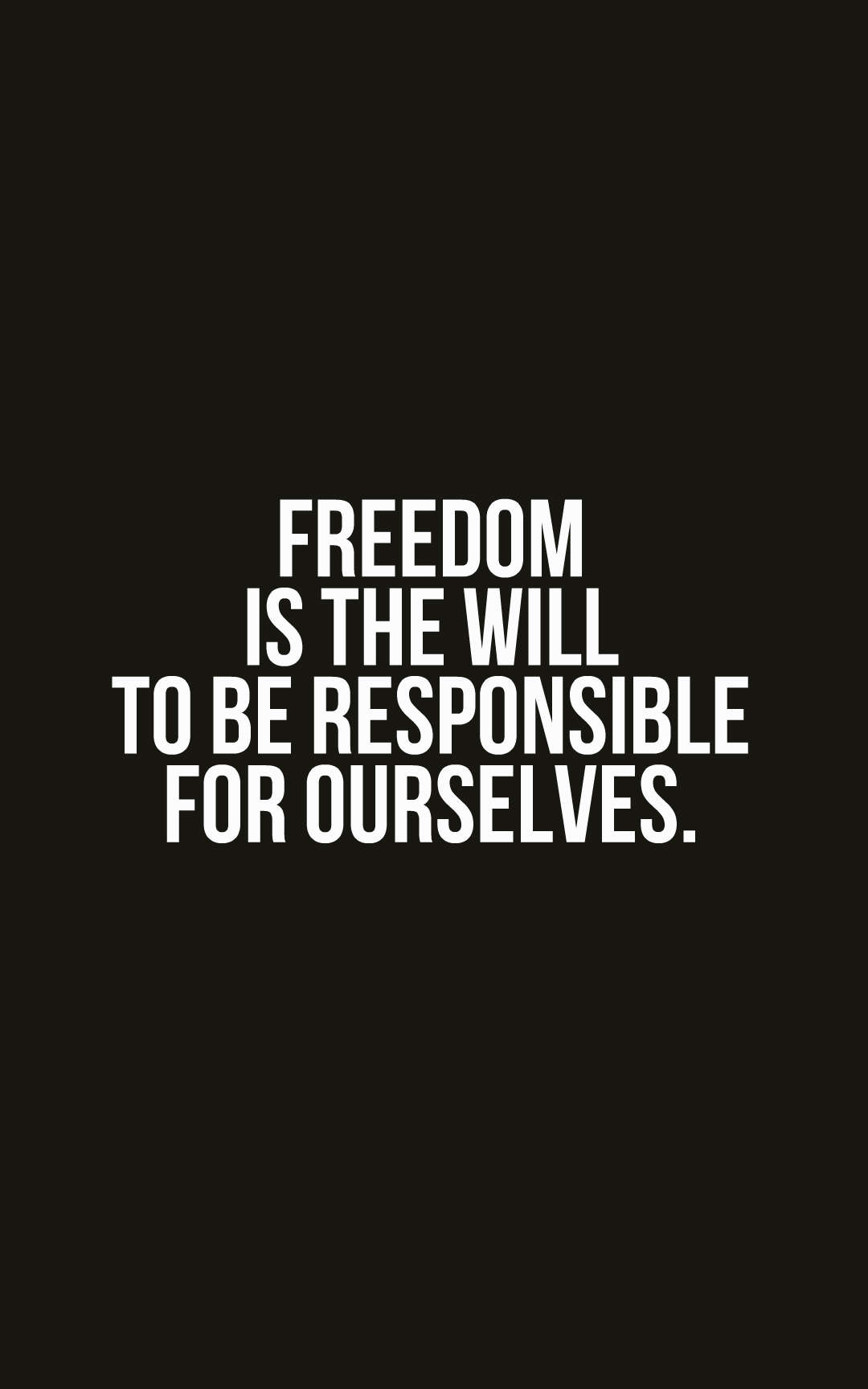 ---
"Success is your duty, obligation and responsibility." — Grant Cardone
---
"There are two primary choices in life: to accept conditions as they exist, or accept the responsibility for changing them." — Denis Waitley
---
"Responsibility is the price of freedom." — Elbert Hubbard
---
"The most important thing is to have a sense of responsibility, commitment, and concern for each of our fellow human beings." — Dalai Lama XIV
---
"Responsibility to yourself means refusing to let others do your thinking, talking, and naming for you; it means learning to respect and use your own brains and instincts; hence, grappling with hard work." ― Adrienne Rich
---
"Responsibility, that's what gives life meaning" — Jordan B. Peterson
---
"My choice; my responsibility; win or lose, only I hold the keys to my destiny." — Elain Maxwell
---
"The price of greatness is responsibility." — Winston Churchill
---
"Excuses are a time thief. Have a goal, accept responsibility, and take action!" — Steve Maraboli
---
"Freedom is the ability to make a choice, and responsibility is required once you make that choice." — Seth Godin
---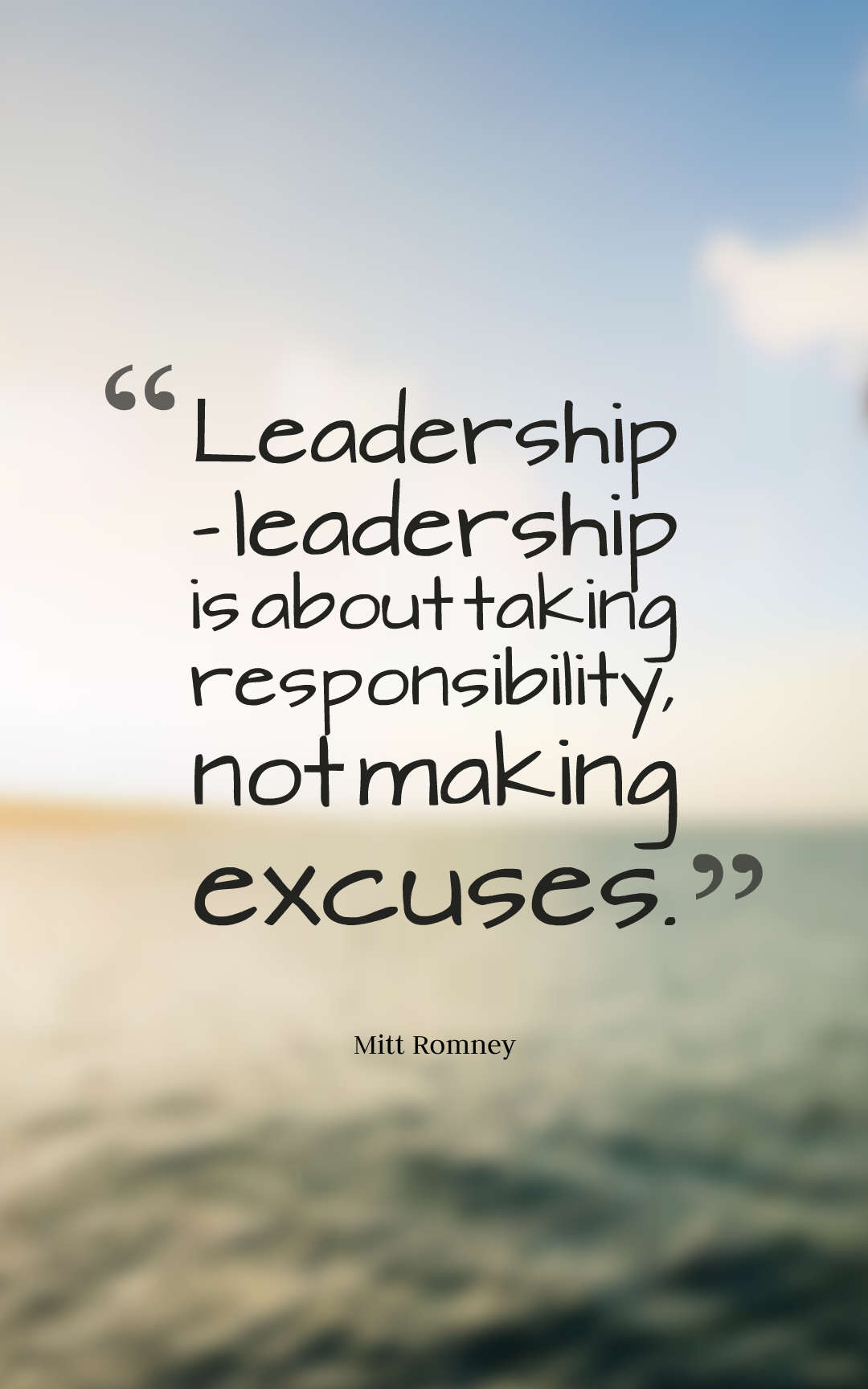 ---
"Only you can control your future." — Dr. Seuss
---
"You are always responsible for how you act, no matter how you feel." — Robert Tew
---
"Eventually we all have to accept full and total responsibility for our actions, everything we have done, and have not done. " ― Hubert Selby Jr.
---
"The choices we make are ultimately our responsibility." — Eleanor Roosevelt
---
"Rank does not confer privilege or give power. It imposes responsibility." — Peter Drucker
---
"Most people do not really want freedom, because freedom involves responsibility, and most people are frightened of responsibility." — Sigmund Freud
---
"Accept responsibility for your actions. Be accountable for your results. Take ownership for your mistakes." — Unknown
---
"An intellectual is someone whose mind watches itself." — Albert Camus
---
"Whatever else there may be in our nature, responsibility toward truth is one of its attributes." — Arthur Stanley Eddington
---
"Responsibility finds a way. Irresponsibility makes excuses!" — Gene Bedley
---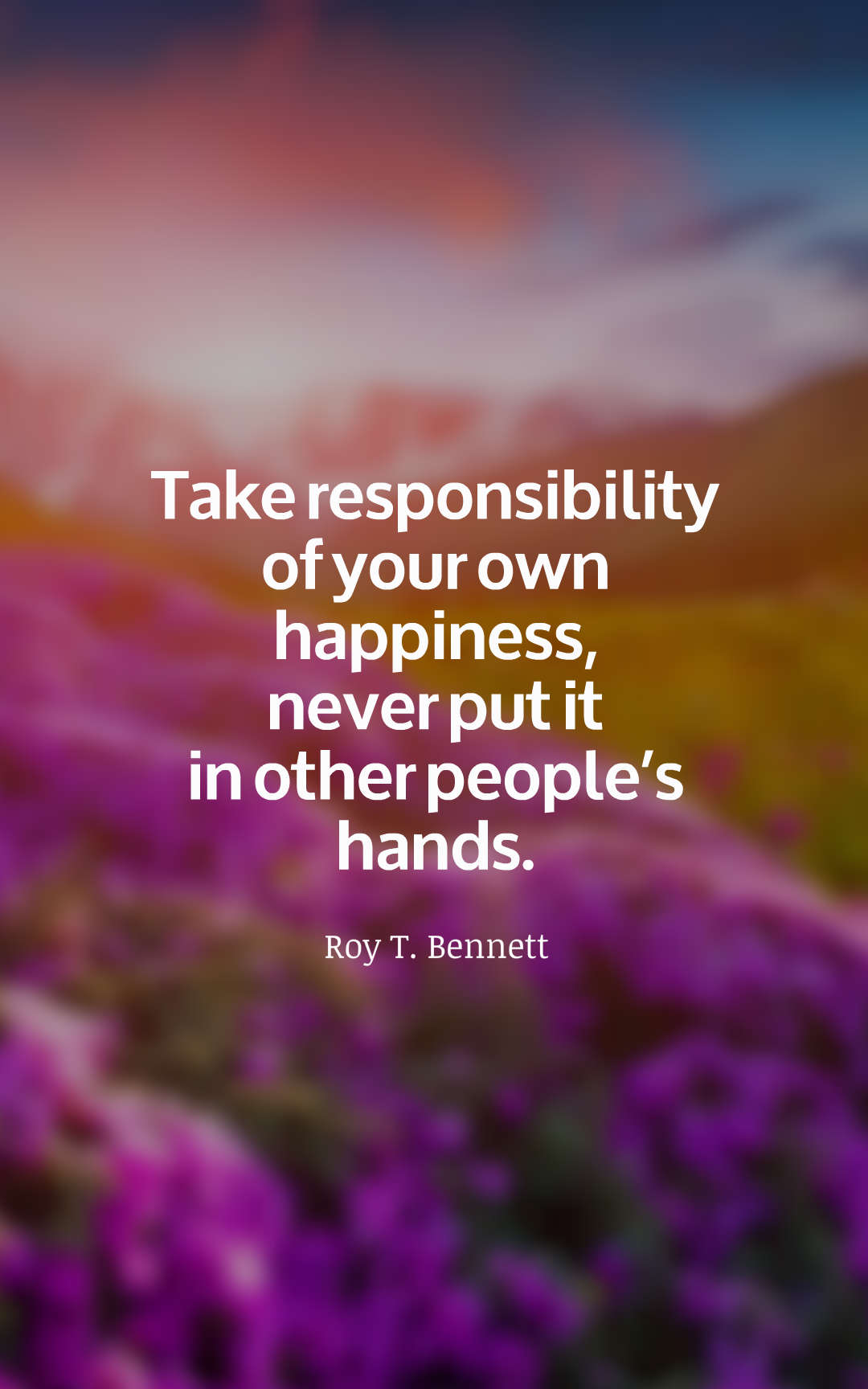 ---
"The past is past, and the future is yet to come. That means the future is in your hands – the future entirely depends on the present. That realization gives you a great responsibility." — Dalai Lama XIV
---
"Being responsible sometimes means pissing people off." — Colin Powell
---
"Good leaders take responsibility but don't want to take the credit. Bad leaders take the credit but don't want to take responsibility." — Unknown
---
"With great power comes great responsibility." ― Stan Lee
---
"You must take personal responsibility. You cannot change the circumstances, the seasons, or the wind, but you can change yourself. That is something you have charge of." — Jim Rohn
---
"Take responsibility for yourself.., because no one's going to take responsibility for you." — Tyra Banks
---
"And a step backward, after making a wrong turn, is a step in the right direction." — Kurt Vonnegut
---
"How to overcome the suffering of life is to be a better person! That's how you do it and that's hard because it takes responsibility." — Jordan Peterson
---
"The degree of responsibility you take for your life determines how much change you can create in it." — Celestine Chua
---
"The function of freedom is to free someone else." — Toni Morrison
---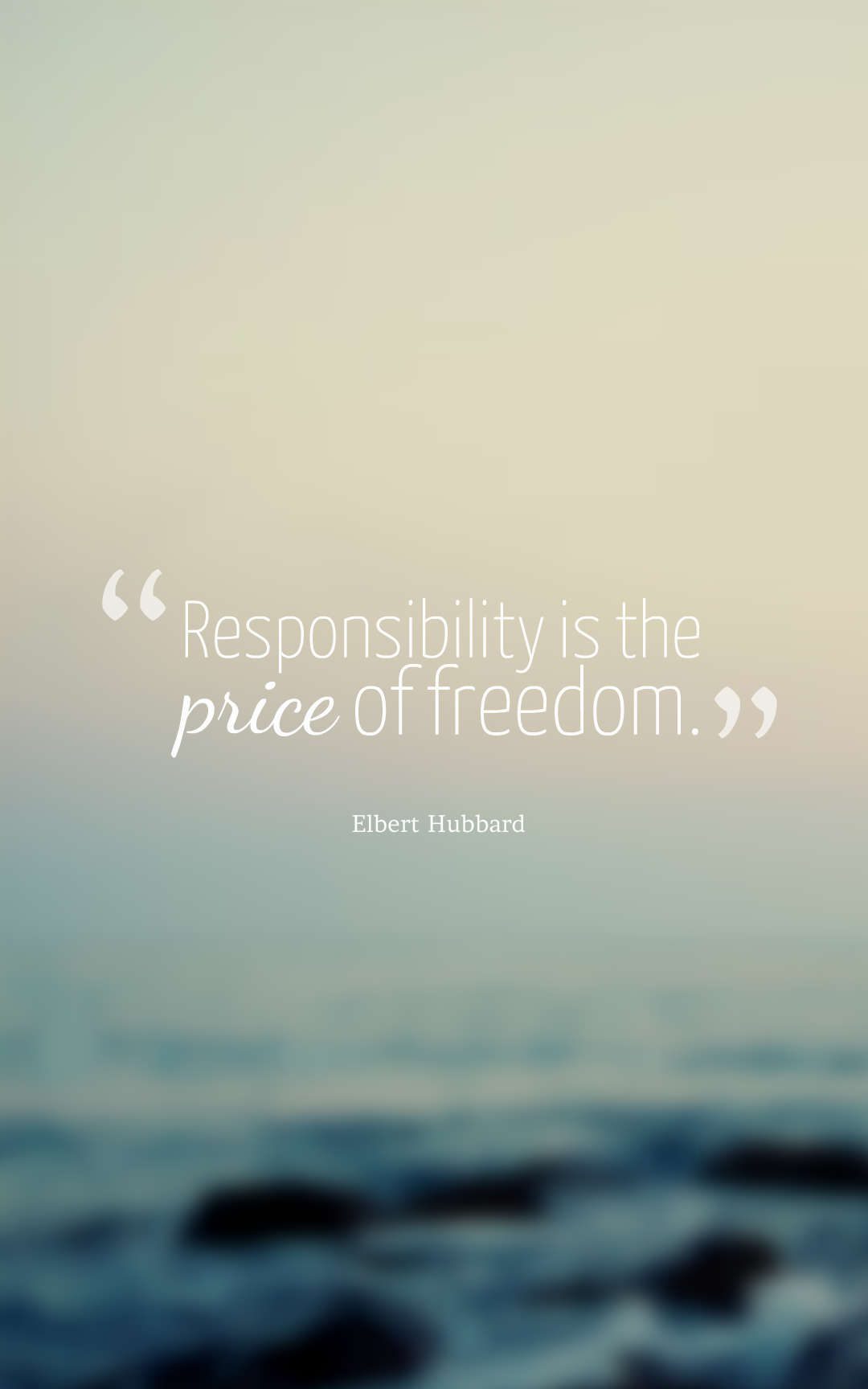 ---
"You are the only one who can use your ability. It is an awesome responsibility." — Zig Ziglar
---
"We have a responsibility to help those around us and help others in need." — Virginia Williams
---
"Let us not seek the Republican answer or the Democratic answer, but the right answer. Let us not seek to fix the blame for the past. Let us accept our own responsibility for the future." — John F. Kennedy
---
"The secret of happiness is to see all the marvels of the world, and never to forget the drops of oil on the spoon." — Paulo Coelho
---
"People on the success curve live a life of responsibility. They take full responsibility for who they are, where they are, and everything that happens to them." — Jeff Olson
---
"Leadership is about vision and responsibility, not power." — Seth Berkley
---
"It may be a human nature to always keep moving forward but I believe we have a responsibility with one another." — Unknown
---
"Freedom is the will to be responsible for ourselves." — Friedrich Nietzsche
---
"Taking Responsibility is not an admission of guilt. Taking Responsibility is a recognition of the power that you seize when you STOP blaming people." — Will Smith
---
"If you take responsibility for yourself you will develop a hunger to accomplish your dreams." — Les Brown
---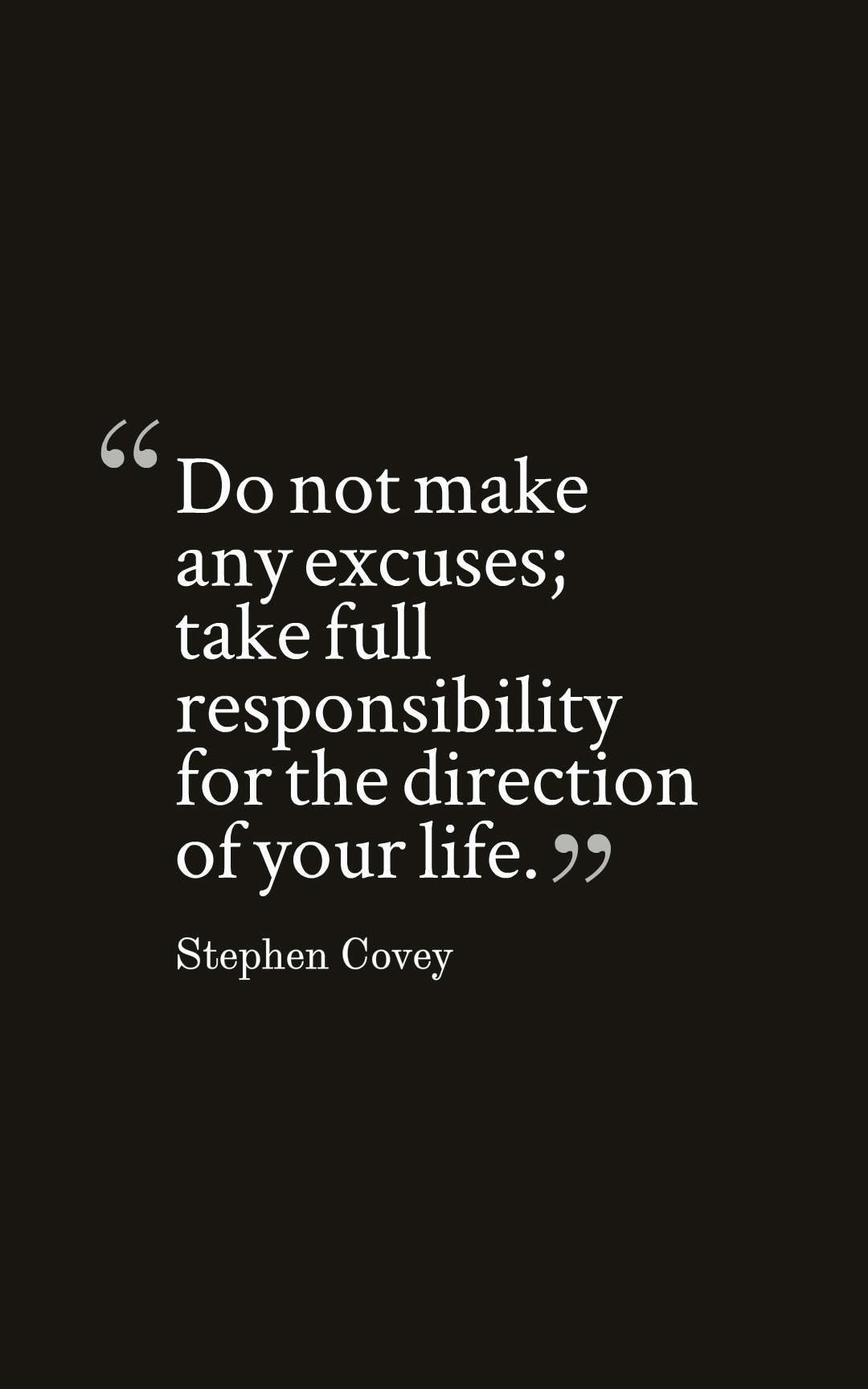 ---
"We have to do the best we are capable of. This is our sacred human responsibility." — Albert Einstein
---
"Your life begins to change the day you take responsibility for it." — Steve Maraboli
---
"There's only one person responsible for where you are today and where you will be tomorrow." — Unknown
---
"The greatest day in your life and mine is when we take total responsibility for our attitudes. That's the day we truly grow up." — John C. Maxwell
---
"Life will bring you pain all by itself. Your responsibility is to create joy." — Milton H. Erickson
---
"The best way to avoid responsibility is to say, 'I've got responsibilities." — Richard Bach
---
"Worry less. Smile more. Accept criticism. Take responsibility. Be quiet and listen. Love life. Embrace change. Feel good anyway." — Unknown
---
"Whatever happens, take responsibility." — Tony Robbins
---
"The successful take responsibility for their life." — Unknown
---
"It is a painful thing to look at your own trouble and know that you yourself and no one else has made it." — Sophocles
---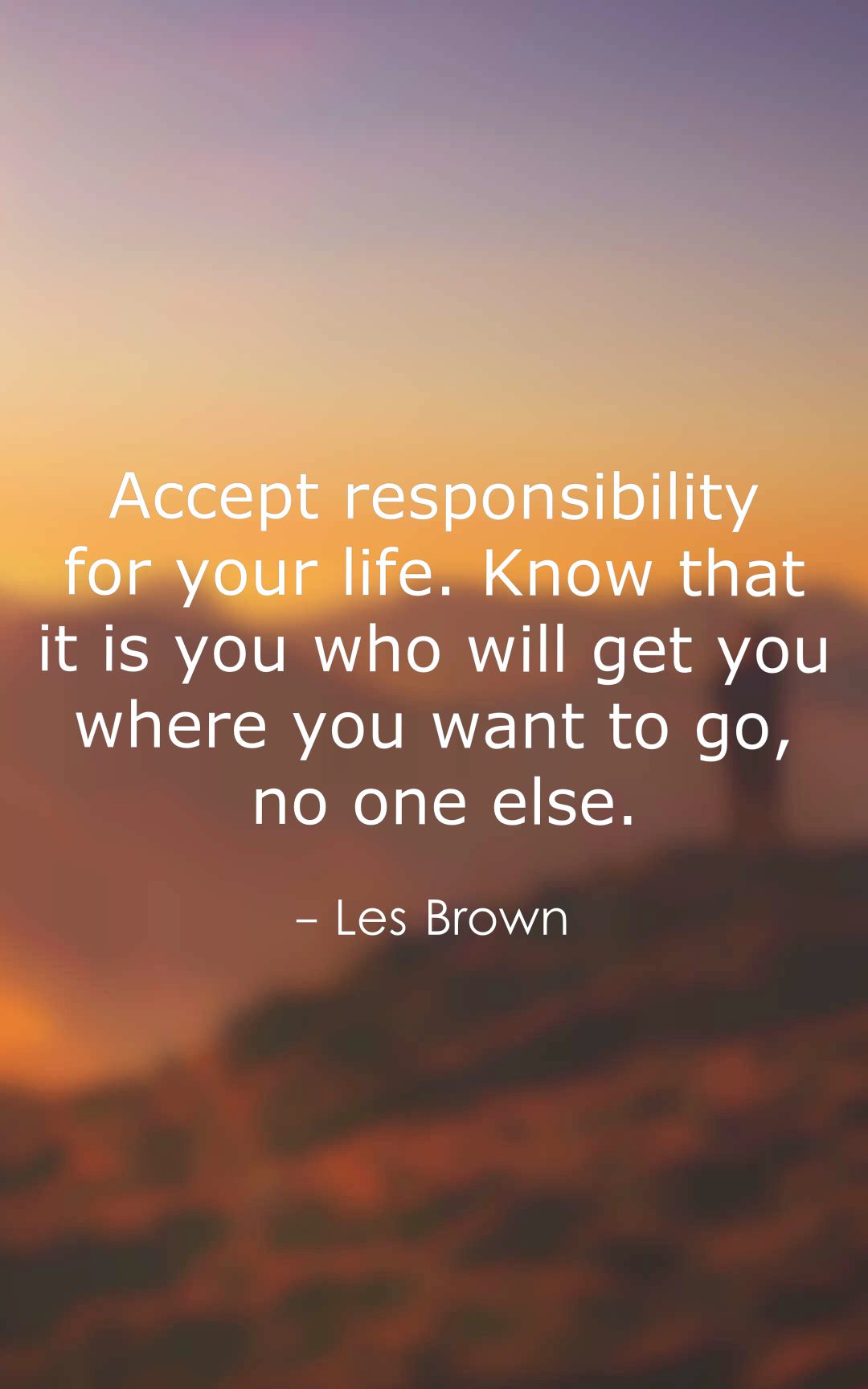 ---
"Success on any major scale requires you to accept responsibility… In the final analysis, the one quality that all successful people have is the ability to take on responsibility." — Michael Korda
---
"Anyone can change the world and everyone should try." — Chantal Wiebe
---
"Men who reject the responsibility of thought and reason can only exist as parasites on the thinking of others." — Ayn Rand
---
"I must do something' always solves more problems than Something must be done." — Unknown
---
"Nothing will ever change while you point the finger of blame. Out of responsibility comes possibility." — Lisa Villa Prosen
---
"A real man is one who rejects passivity, accepts responsibility, leads courageously, and expects the greater reward, God's reward." — Dr. Robert Lewis
---
"Winners take responsibility. Losers blame others." — Brit Hume
---
"Man is condemned to be free; because once thrown into the world, he is responsible for everything he does. It is up to you to give life a meaning." — Jean-Paul Sartre
---
"Every person who has changed the world has taken responsibility for something that mattered not just to them, but to mankind." — Mike Stutman
---
"The day you take complete responsibility for yourself, the day you stop making any excuses, that's the day you start to the top." — O. J. Simpson
---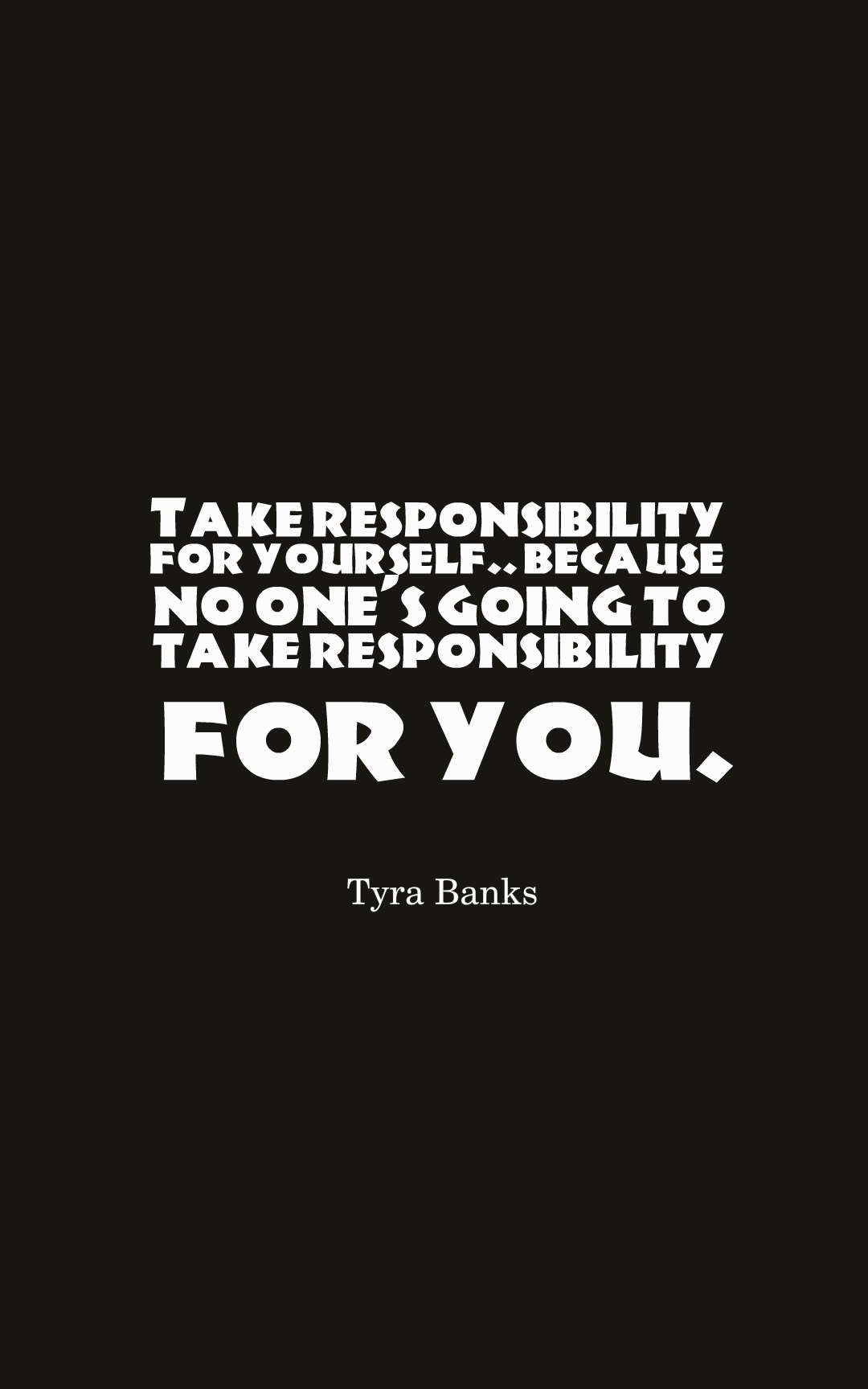 ---
"The moment you take responsibility for everything in your life is the moment you can change anything in your life." — Hal Elrod
---
"Parents can only give good advice or put them on the right paths, but the final forming of a person's character lies in their own hands." — Anne Frank
---
"Personal responsibility is the willingness to completely accept choices that we have made throughout our life." — Asa Don Brown
---
"I think it's the responsibility of every human being… to use our intelligence as clearly and coherently as we possibly can." — John Trudell
---
"Who we become is the result of our disciplined actions." — Brendon Burchard
---
"If you want children to keep their feet on the ground, put some responsibility on their shoulders." — Abigail Van Buren
---
"It is only when you take responsibility for your life that you discover how powerful you truly are." — Allanah Hunt
---
"When you start to accept responsibility for the results you get in life, you also take back the power to change your future outcome." — Kevin Ngo
---
"If you are looking to blame someone for the problems in your life, you don't have to look any further than in the mirror." — Unknown
---
"Those who enjoy responsibility usually get it; those who merely like exercising authority usually lose it." — Malcolm Forbes
---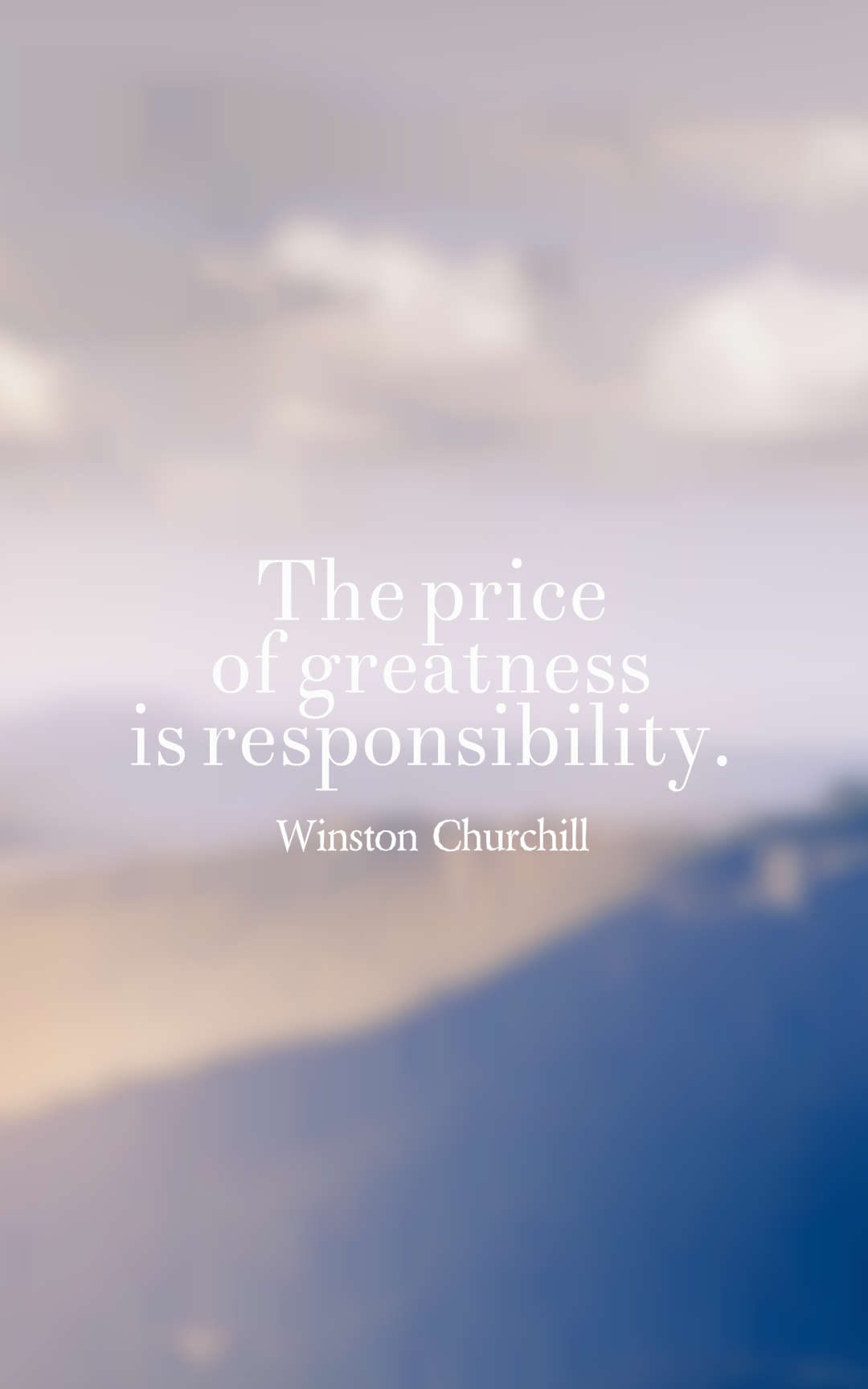 ---
"Work on yourself first, take responsibility for your own progress." — I Ching
---
"Stay away from people who can't take responsibility for their actions and who make you feel bad for being angry at them when they do you wrong." — Unknown
---
"Be active! Take on responsibility! Work for the things you believe in. If you do not, you are surrendering your fate to others." — A. P. J. Abdul Kalam
---
"You might well remember that nothing can bring you success but yourself." — Napoleon Hill
---
"Taking responsibility, provokes opportunity." — Unknown
---
"I hope that you will learn to take responsibility for your decisions. Don't take counsel of your fears." — Thomas S. Monson
---
"If you realize your responsibility you will realize your destiny." — Tasneem Hameed
---
"You must accept responsibility for your actions, but not the credit for your achievements." — Denis Waitley
---
"I can't always control my thoughts but I can choose how I respond to them." — David Cushieri
---
"You don't have to ask permission to take responsibility." — Ed Catmull
---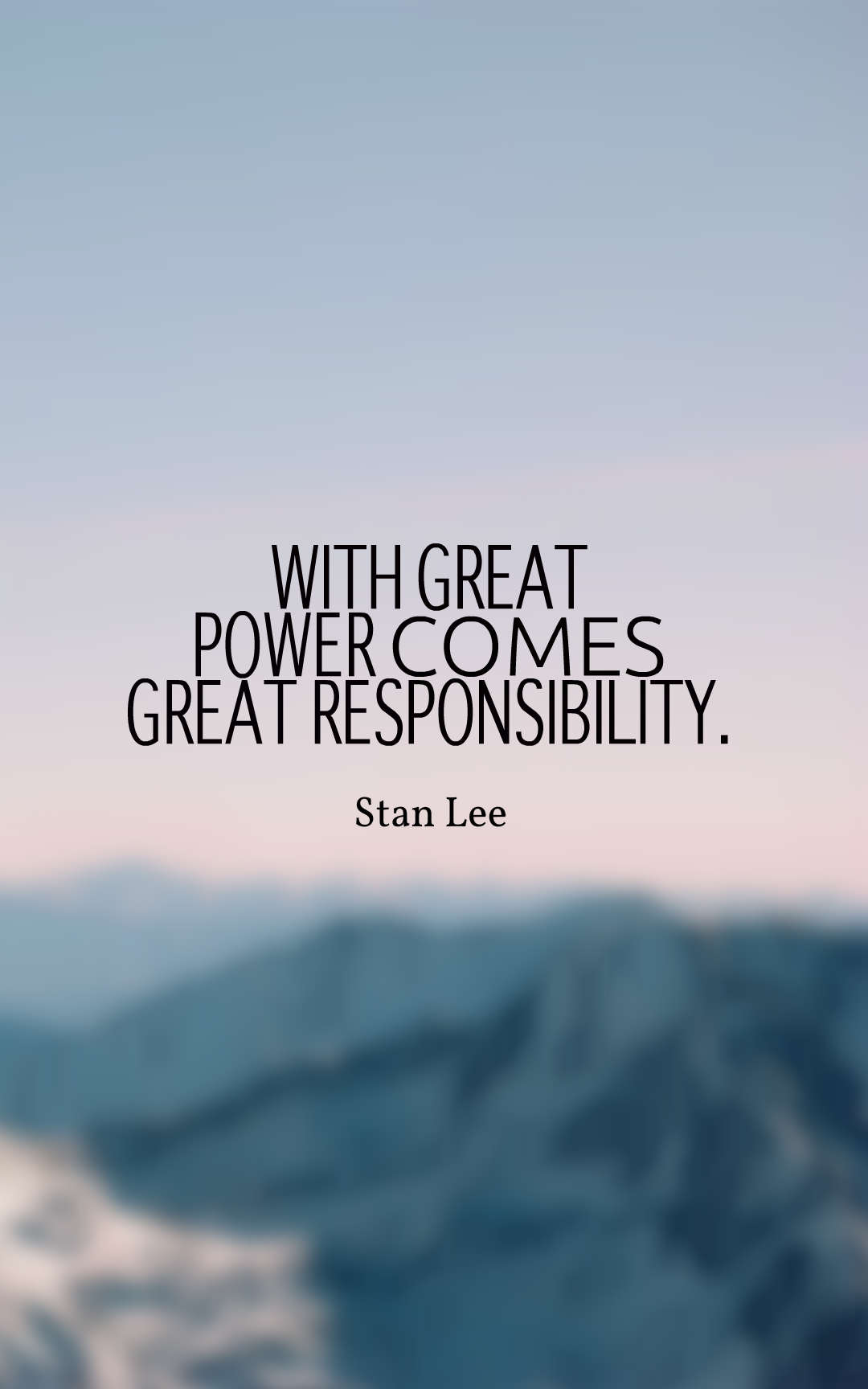 ---
"Your Attention Please: No one is coming to save you. This life is 100% your responsibility." — Unknown
---
"All business depends upon men fulfilling their responsibilities." — Mahatma Gandhi
---
"You're free to do whatever you want, but you should always take responsibility for the consequences of your choices in life." — Unknown
---
"I should try to pass along the good that has happened to me. That's my responsibility as being part of this planet." — Jameson Currier
---
"Responsibility is accepting that you are the cause & the solution of the matter." — Unknown
---
"Be more aware of responsibility than you are of your rights." — Unknown
---
"Dreams don't work unless you do" — John C. Maxwell
---
"When you blame others you give up your power to change. Take responsibility for your future!" — Chris Voss
---
"I feel the responsibility of the occasion. Responsibility is proportionate to opportunity." — Woodrow Wilson
---
"Always take responsibility for your past. It is your only collateral in life. Unless you despise yourself now, you cannot despise yourself then. Everything you did is a part of the process that brought you here. All your past is as alive and real as your so-called 'present.'" — Janet Morris
---
Hopefully you will enjoy these famous and inspiring collection of Responsibility quotes and sayings. please don't forget to share these quotes.
Read: 75 Inspirational Freedom Quotes With Images