J. Cole, is an American hip hop recording artist and record producer. Following are the best collection of J cole quotes and sayings.
J Cole Quotes
---
"I'm here to spread a message of hope. Follow your heart. Don't follow what you've been told you're supposed to do." — J. Cole
---
"I keep my head high, I got my wings to carry me. I don't know freedom, I want my dreams to rescue me." — J. Cole
---
"Anything I do, I want to do it well." — J. Cole
---
"Never give up until you've given out all your very best. It's better to fail trying, than wondering what could have happened if you tried." — J. Cole
---
"I put a lot of pressure on myself. I think something's not good enough, and I won't stop until Ifeel like I've made it. I'm never satisfied." — J. Cole
---
"It's beauty in the struggle, ugliness in the success." — J. Cole
---
"College isn't in everyone's hearts. I am living proof, though, that school doesn't mess up your plans. It gives you more experiences to write about." — J. Cole
---
"To appreciate the sun, you gotta know what rain is." — J. Cole
---
"I've always been an underdog. I feel like I beat the odds." — J. Cole
---
"They say anything's possible. You gotta dream like you've never seen obstacles." — J. Cole
---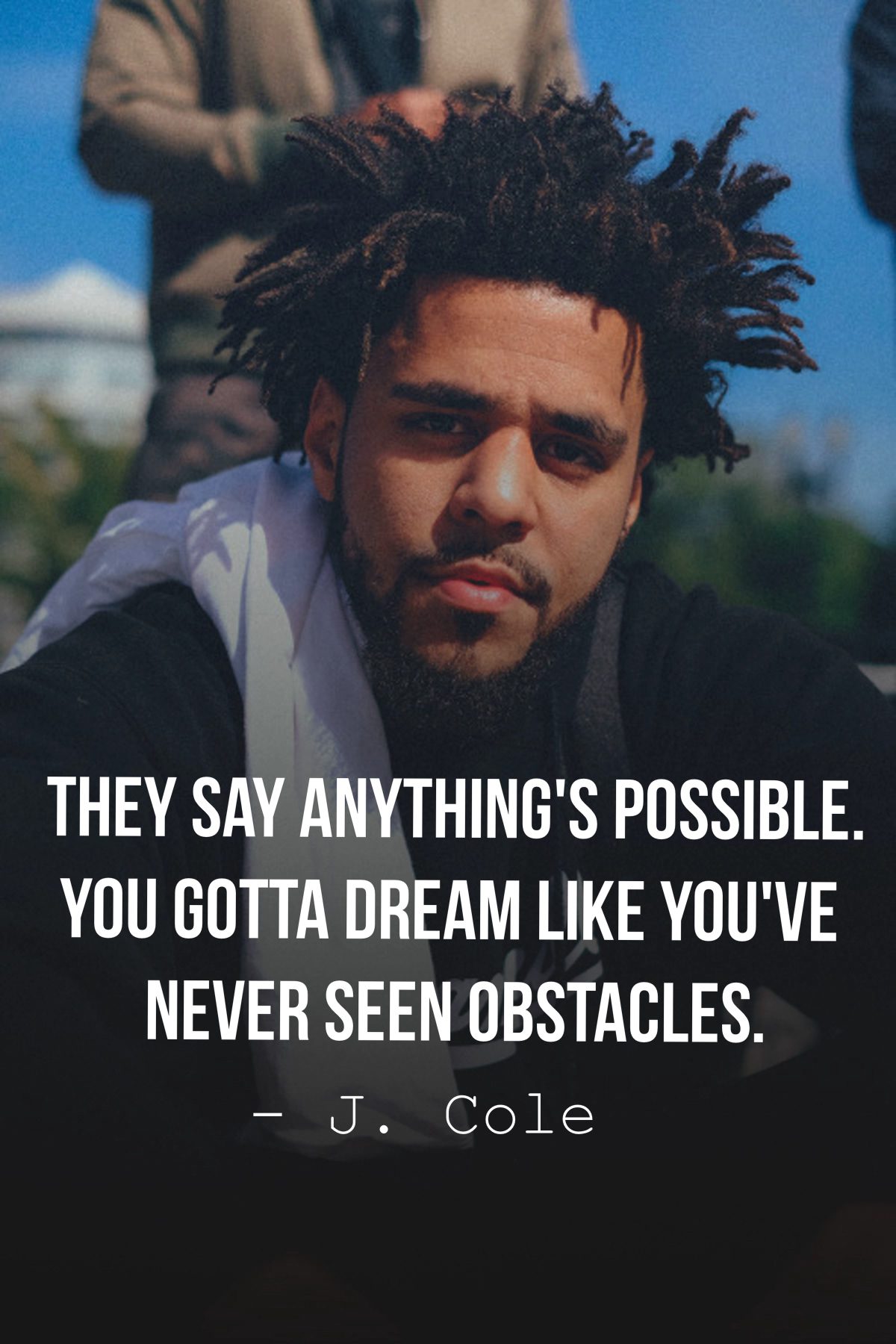 ---
"I pay attention to lyrics and I know what rap fans care about. I try to write for the average listener and I'm conscious of the mainstream without selling out." — J. Cole
---
"If you ain't aim too high, then you aimed too low." — J.Cole
---
"I feel like this: Whatever is in your path and in your heart, you need to do." — J. Cole
---
"Sometimes our dreams come true, but sometimes our fears do too" — J. Cole
---
"I had a lot of resistance, and not just to fame. I was always conscious of not changing." — J. Cole
---
"One thing you should know about me is I never play to lose, always aim high, and rarely obey the rules." — J. Cole
---
"My parents were divorced by the time I was even conscious – like, I don't remember them ever being together." — J. Cole
---
"People congratulate me. I just tell them God is good." — J. Cole
---
"I have a little bit of that gamer spirit in me. I just don't have the time to be a gamer. But in another life, I would be one." — J. Cole
---
"You have to hurt in order to know. Fall in order to grow. Lose in order to gain. Because most of life's lessons are learned in pain." — J. Cole
---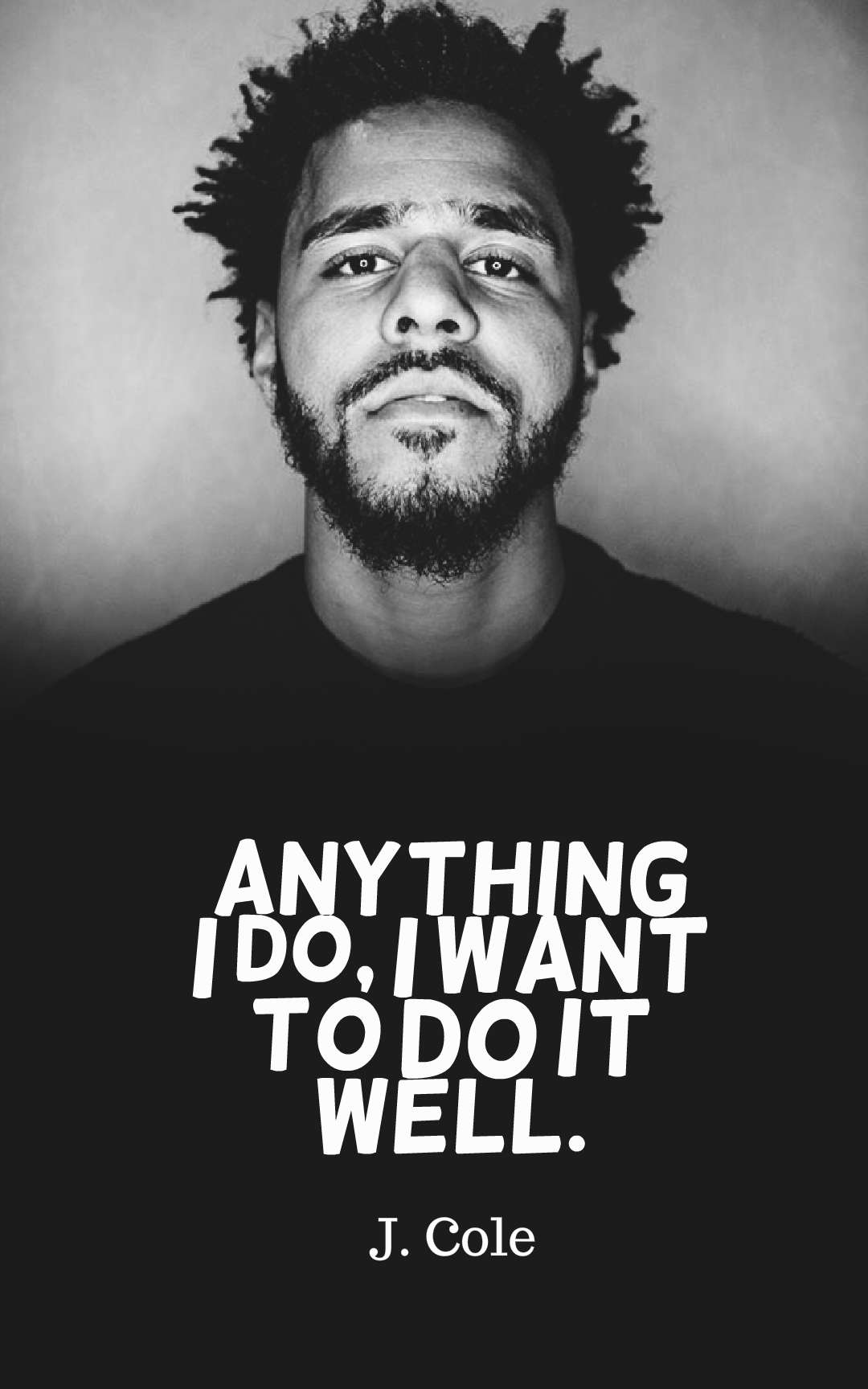 ---
"You can't reverse fame. You can lose all the money, but you'll never lose people knowing you." — J. Cole
---
"If they don't know your dreams, then they can't shoot em down" — J. Cole
---
"I think if I did something in the pop world right now, it would be for Rihanna. I'd love to do something production wise for her." — J. Cole
---
"In this life ain't no happy endings. Only pure beginnings followed by years of sinning and fake repentance." — J. Cole
---
"If I was to go to sleep before midnight, I would feel weird about myself, like I wasted a day. My most productive hours are between midnight and five." — J. Cole
---
"Tupac was just so passionate about what he believes in and not afraid to say anything." — J. Cole
---
"I do put a lot of God in my music, but not because I'm super religious. There are a lot of demons in my music, too. I acknowledge both." — J. Cole
---
"Nothing lasts forever, but at least we've got these memories." — J. Cole
---
"I want people to follow their dreams, yes… but I'm not interested in telling young black kids how to be rappers… I want to show them that there's so many other paths you can take, besides a rapper or basketball player." — J. Cole
---
"I seen a baby cry seconds later he laughs… the beauty of life, the pain never lasts." — J. Cole
---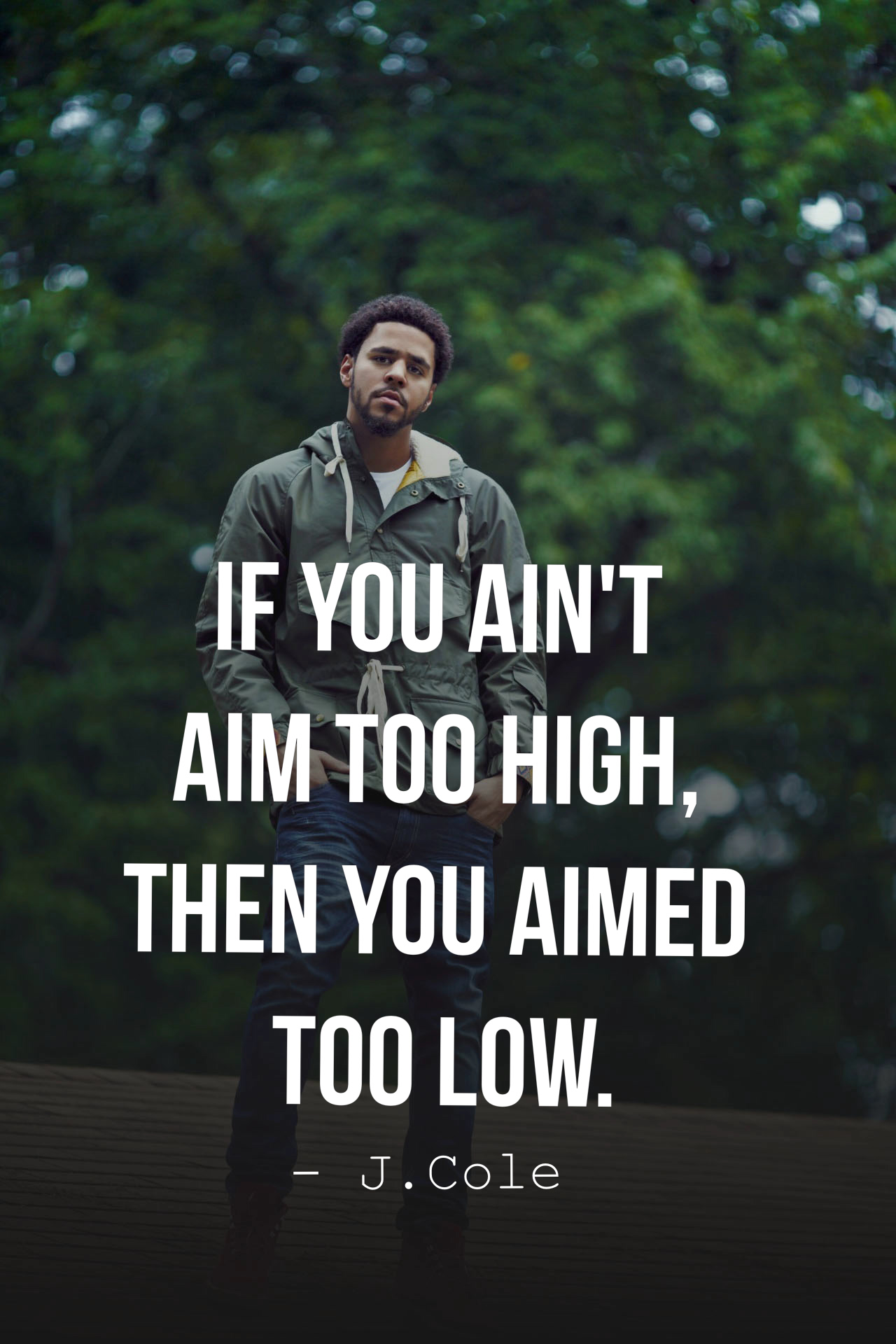 ---
"My fans love me for me, my beats, my rhymes." — J. Cole
---
"If I lost your respect…I'm just hope you don't look at me as something you regret." — J. Cole
---
"The thing about being an artist today is you get to develop right in front of people's eyes before you even put out an album." — J. Cole
---
"Hard to move on when you always regret one." — J. Cole
---
"Usually I start with a beat, I start making a beat, and my producer side is making the beat. And on a good day, my rapper side will jump in and start the writing process – maybe come up with a hook or start a verse. Sometimes it just happens like that. A song like 'Lights Please' happens like that." — J. Cole
---
"Take a chance, because you never know how perfect something can turn out." — J Cole
---
"Sometimes I try a Mai Tai. It's so fruity. It's a little embarrassing, but I like it." — J. Cole
---
"No such thing as a life that's better than yours, no such thing–no such thing." — J Cole
---
"In hip-hop, there's not a lot of love. There's not a lot of love being spread. It's always like 'I'm stuntin' on you raps, or I'm better than you raps.' It's not a lot of 'Yo man, I idolize you raps.'" — J. Cole
---
"If you place your importance on appreciation and love, that's enough." — J Cole
---
Hopefully you will enjoy these inspiring collection of J Cole quotes. please don't forget to share these quotes.
Related Authors