Bicycle is not just a medium through which we can travel but a vehicle through which we can suppress element of superiority in ourselves besides other vehicles bicycles bring a deep insight and make ourselves able to analyze our society from a point that we are commonly fail to observe because during cycling we can feel that emotions that a common man feels Bicycle was used from that age when the concept of other vehicles was not so common and it is also quite useful for the management and maintenance of health.
following are the most inspiring cycling and bicycle quotes and sayings with images…
Inspirational Bicycle Quotes
---
"Learn to ride a bicycle. You will not regret it if you live." — Mark Twain
---
"Riding bicycle means you are physically strong…!!!" — M.Rehan Behleem
---
"It is not a race, it's a journey. Enjoy the moment." — Dieter F. Uchtdorf
---
"Cycling can be lonely, but in a good way. It gives you a moment to breathe and think, and get away from what you're working on." — David Byrne
---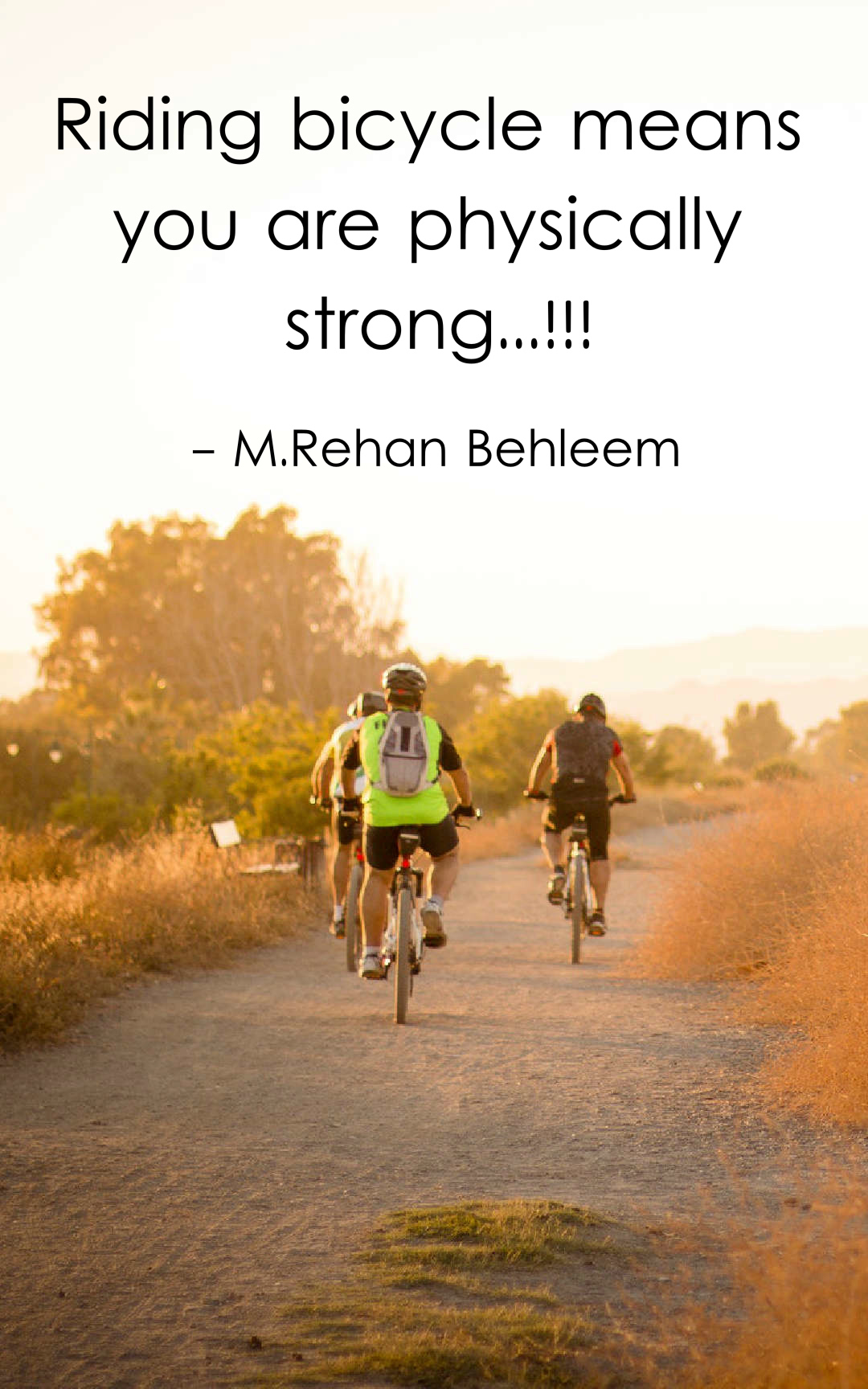 ---
"Don't buy upgrades, ride up grades" — Eddy Merckx
---
"When the spirits are low, when the day appears dark, when work becomes monotonous, when hope hardly seems worth having, just mount a bicycle and go out for a spin down the road, without thought on anything but the ride you are taking." — Arthur Conan Doyle
---
---
When your legs scream stop and your lungs are bursting, that's when it starts. That's the hurt locker. Winners love it in there." — Chris McCormack
---
"As long as I breathe, I attack." — Bernard Hinault
---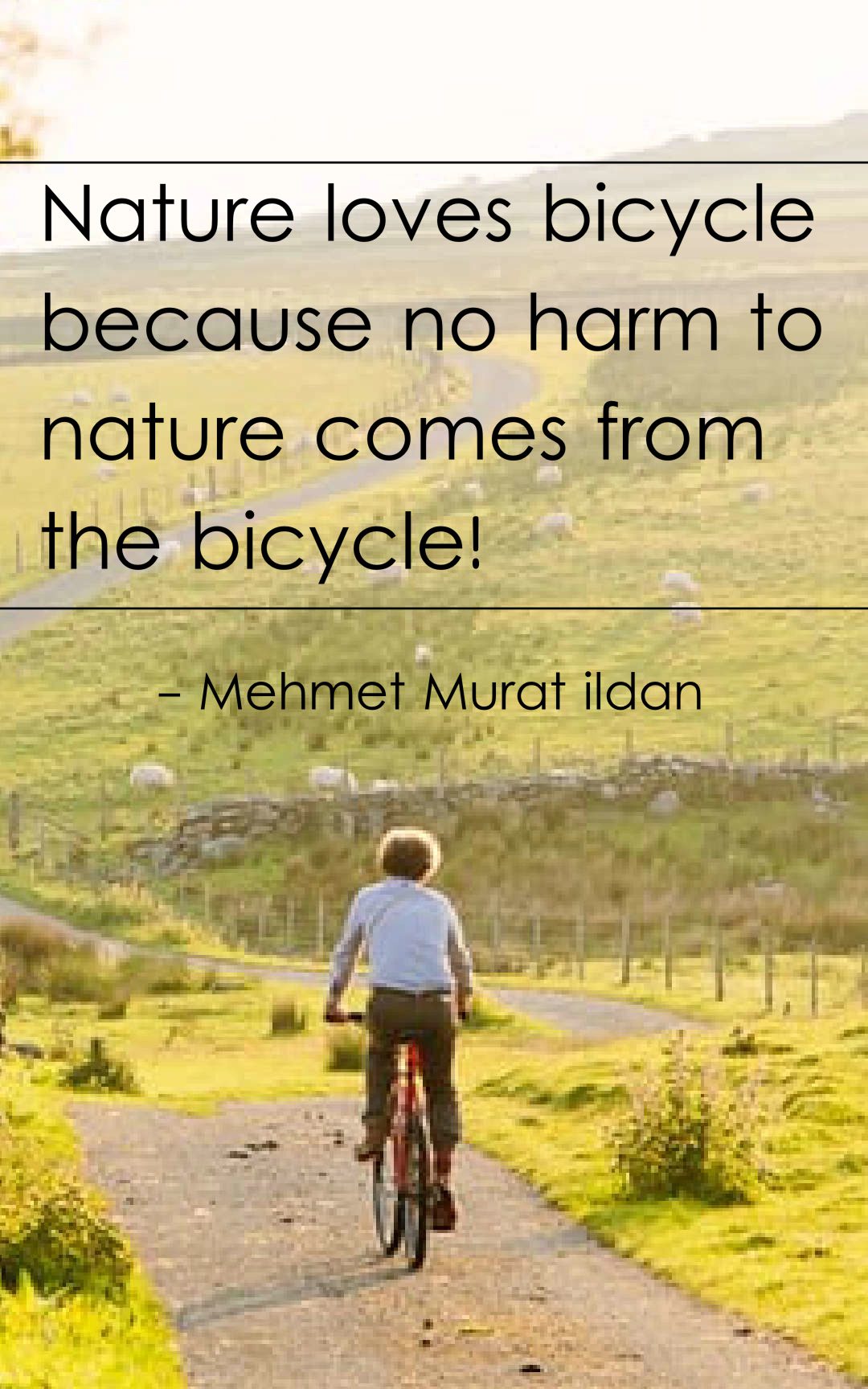 ---
"The race is won by the rider who can suffer the most" — Eddy Merckx
---
"Bicycling is a big part of the future. It has to be. There's something wrong with a society that drives a car to workout in a gym." — Bill Nye
---
---
"Bicycles are the most efficient vehicles on the planet, 50 times more efficient than cars, and twice as efficient as walking." — Godo Stoyke
---
"Life is like riding a bicycle. To keep your balance, you must keep moving." — Albert Einstein
---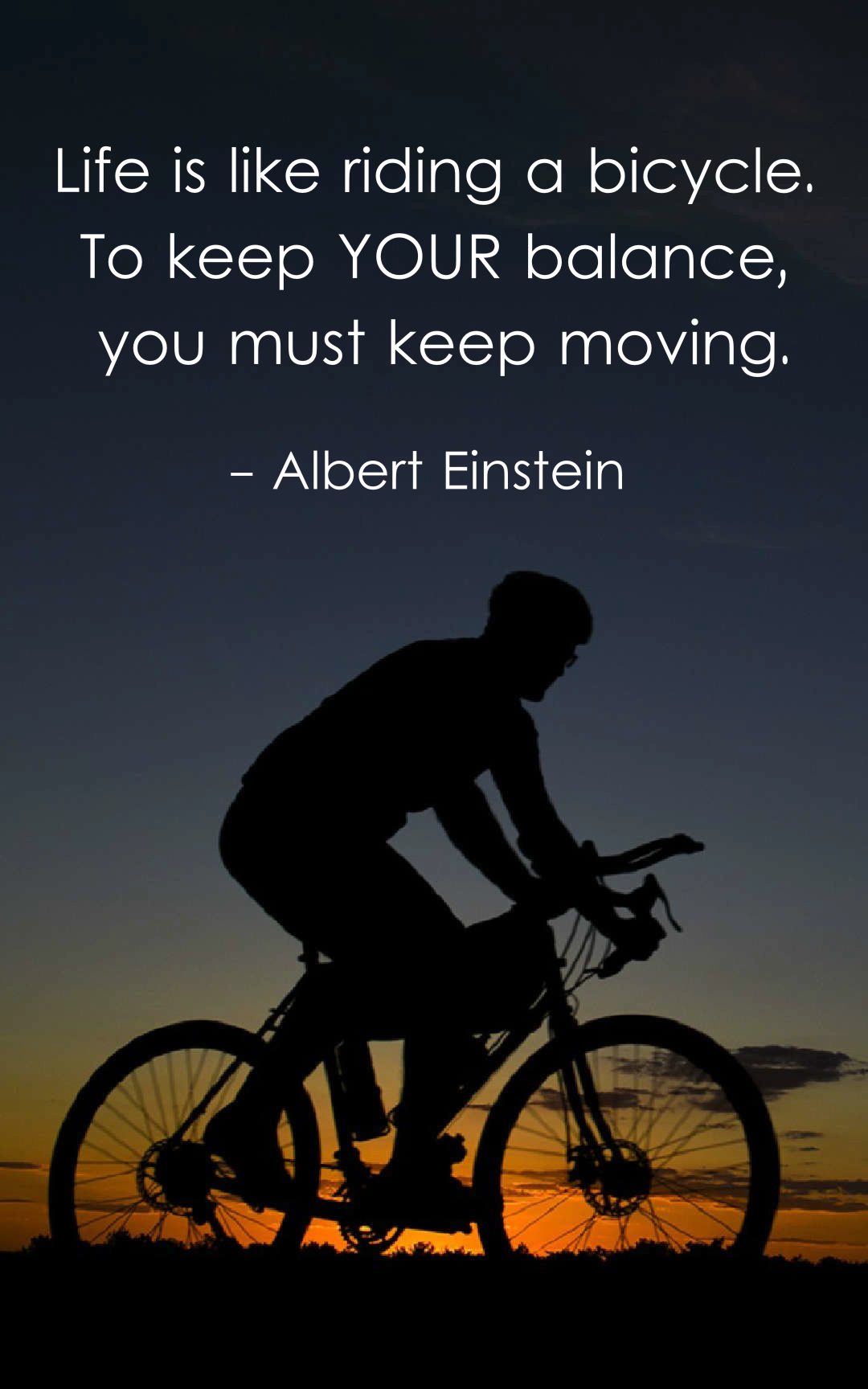 ---
"Your bike is discovery; your bike is freedom. It doesn't matter where you are, when you're on the saddle, you're taken away." — Doug Donaldson
---
"I know the freedom that cycling gives you in terms of being able to just jump on and go." — Bradley Wiggins
---
50 Inspirational and Motivational Quotes
---
"Road turns to dirt… and it's a long way to go. But I knew everyone was terrified… I was scared… So I attacked." — Andy Hampsten
---
"Life is like a ten speed bicycle. Most of us have gears we never use." — Charles M. Schulz
---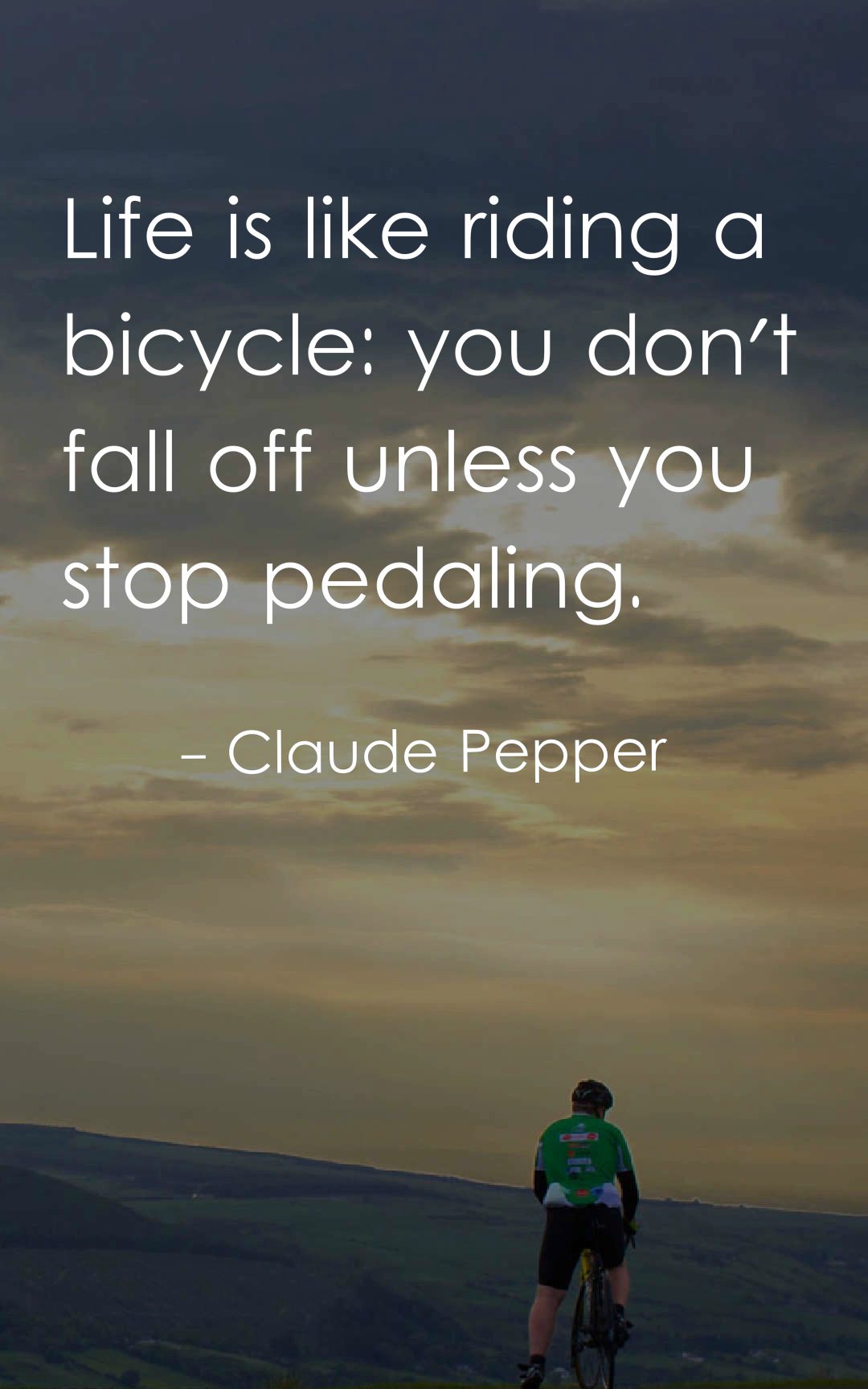 ---
"People do not 'drive' cars, they steer them; People do not 'ride' bicycles, they drive them." — A. N. Mouse
---
"The bicycle is the most efficient machine ever created. Converting calories into gas, a bicycle gets the equivalent of three thousand miles per gallon." — Bill Strickland
---
---
A bicycle is "not so much a way of getting somewhere as a setting for randomness; every journey is an unorganized tour." — Daniel Behrman
---
"Nothing compares to the simple pleasure of riding a bike." — John F. Kennedy
---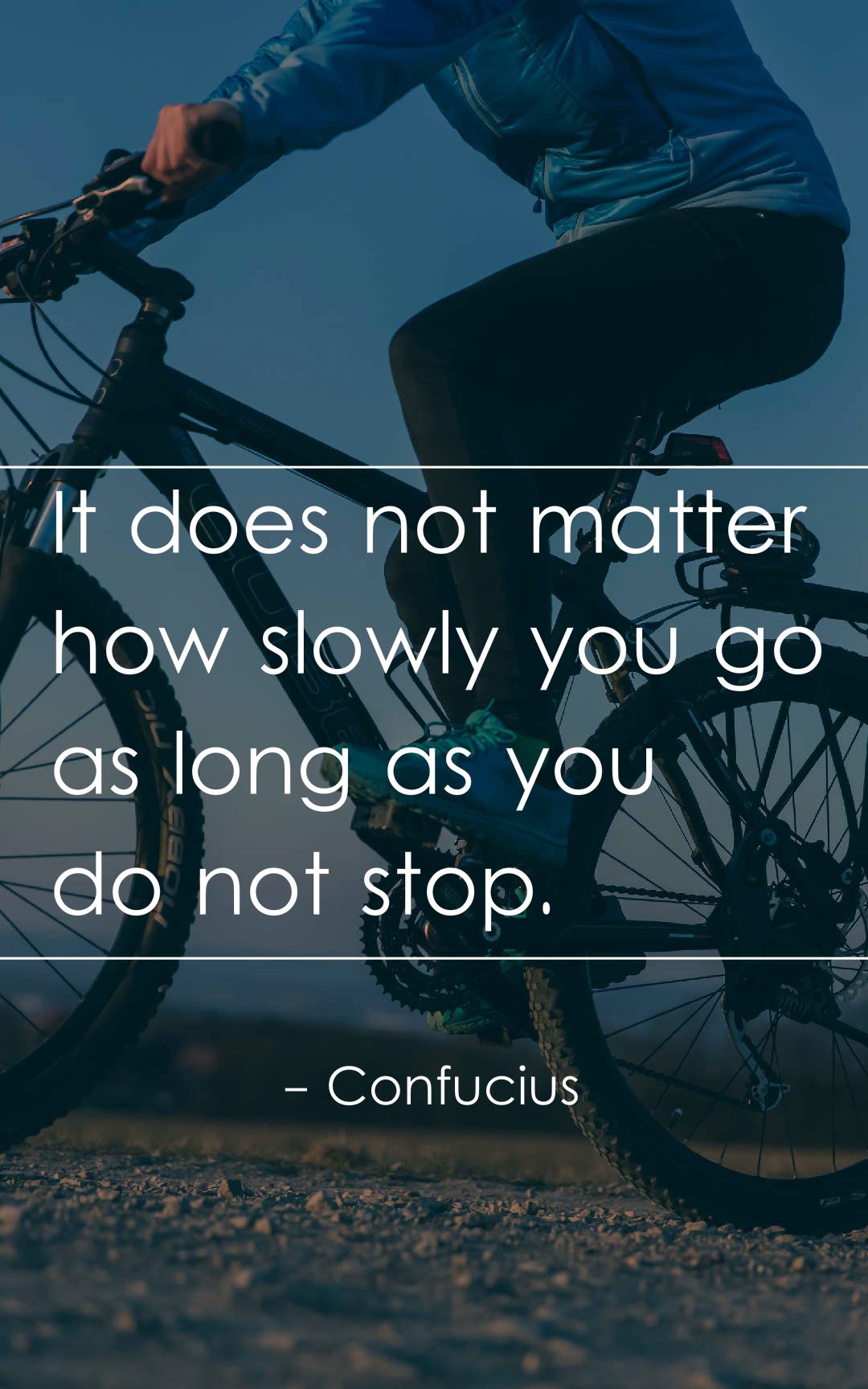 ---
"Let's have a moment of silence for all those who are stuck in traffic on their way to the gym to ride stationary bicycles." — Unknown
---
"Life is like riding a bicycle: you don't fall off unless you stop pedaling." — Claude Pepper
---
---
"The happiest people don't have the best of everything, they make the best of everything." — Unknown
---
"It never gets easier, you just go faster." — Greg LeMond
---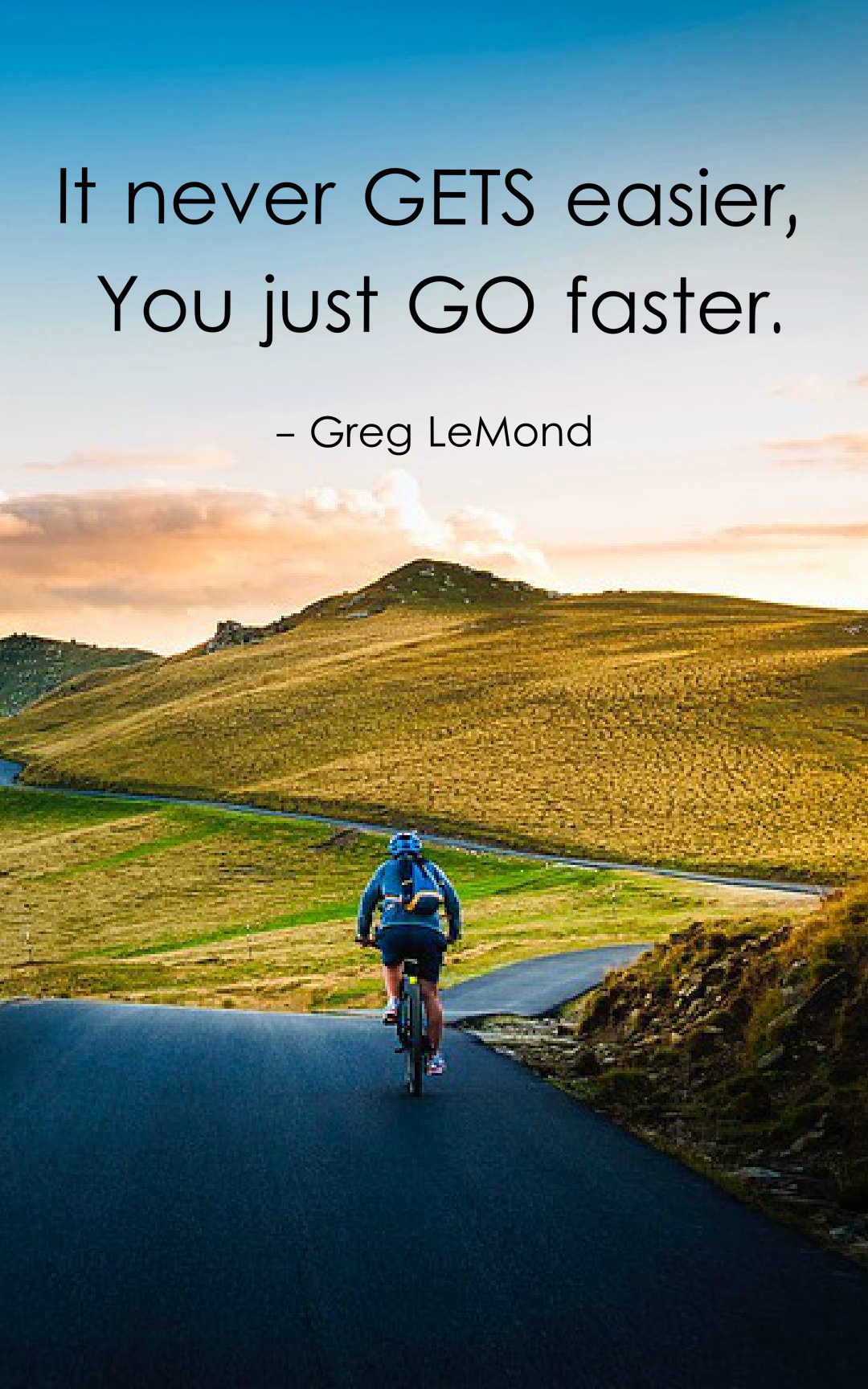 ---
"The bicycle is a simple solution to some of the world's most complicated problems." — Unknown
---
"Every time I see an adult on a bicycle, I no longer despair for the future of the human race." — H. G. Wells
---
"It does not matter how slowly you go as long as you do not stop." — Confucius
---
"You can't be sad while riding a bicycle." — Unknown
---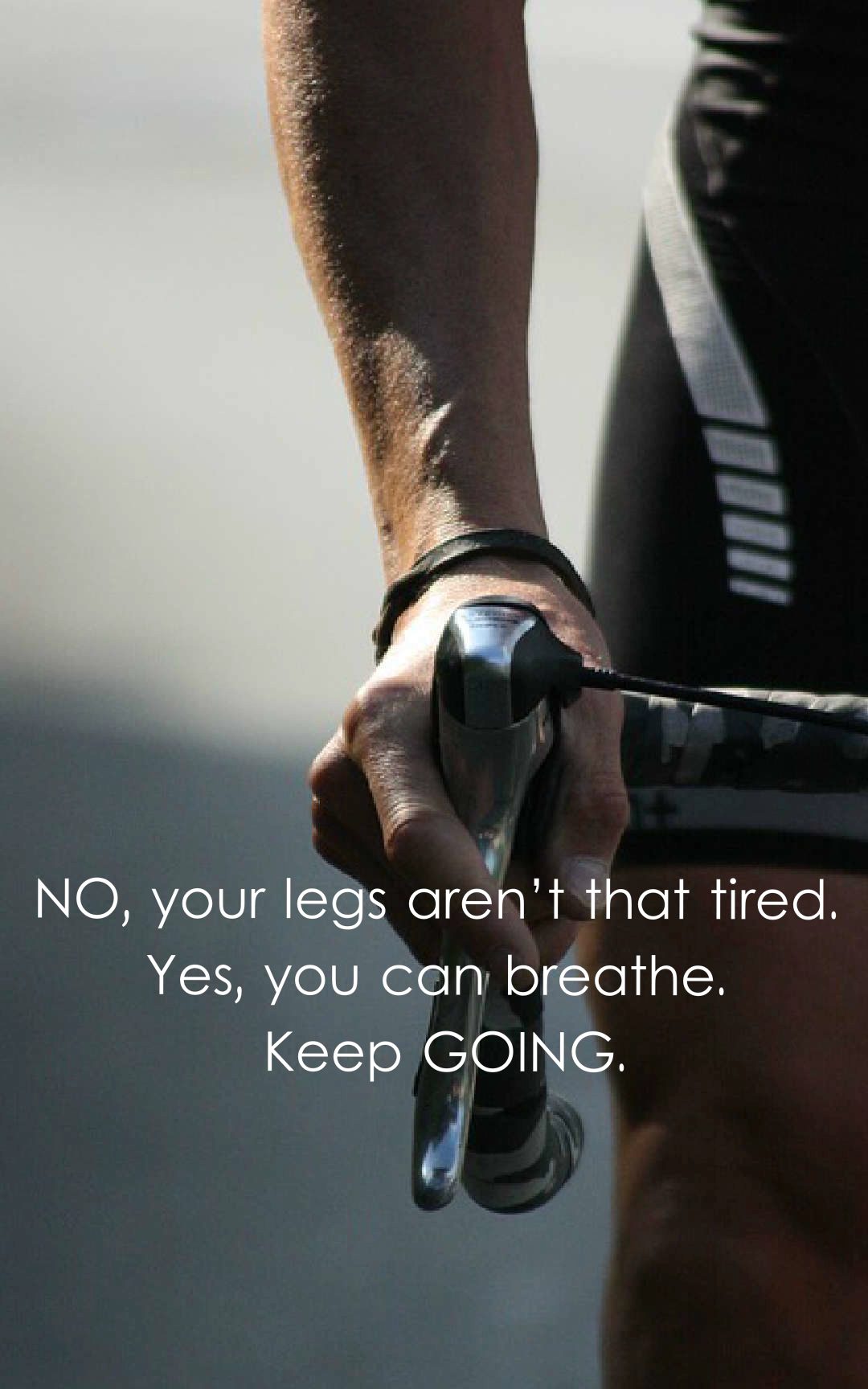 ---
"A mountain bike is like your buddy. A road bike is your lover." — Sean Coffey
---
"The journey of life is like a man riding a bicycle. We know he got on the bicycle and started to move. We know that at some point he will stop and get off. We know that if he stops moving and does not get off he will fall off." — William Golding
---
"There are three ways to pedal a bike. With the legs, with the lungs, or with the heart." — Mandible Jones
---
"In cycling, you just race. When you get to the finish, you see the result." — Pauline Ferrand-Prevot
---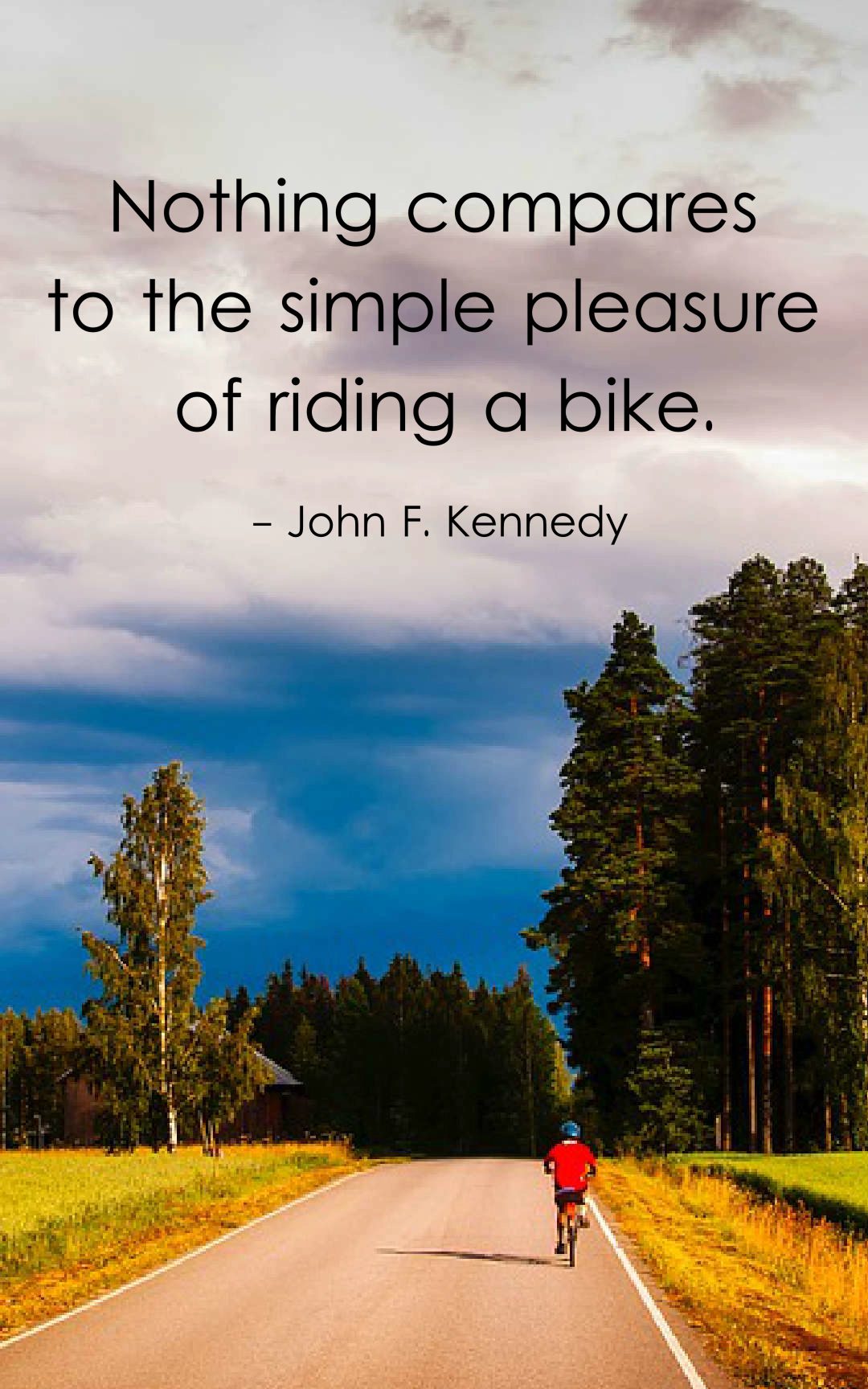 ---
"Ride as much or as little, or as long or as short as you feel. But ride." — Eddy Merckx
---
"My two favourite things in life are libraries and bicycles. They both move people forward without wasting anything. The perfect day: riding a bike to the library." — Peter Golkin
---
"No, your legs aren't that tired. Yes, you can breathe. Keep going." — Unknown
---
"It is by riding a bicycle that you learn the contours of a country best, since you have to sweat up the hills and coast down them." — Ernest Hemingway
---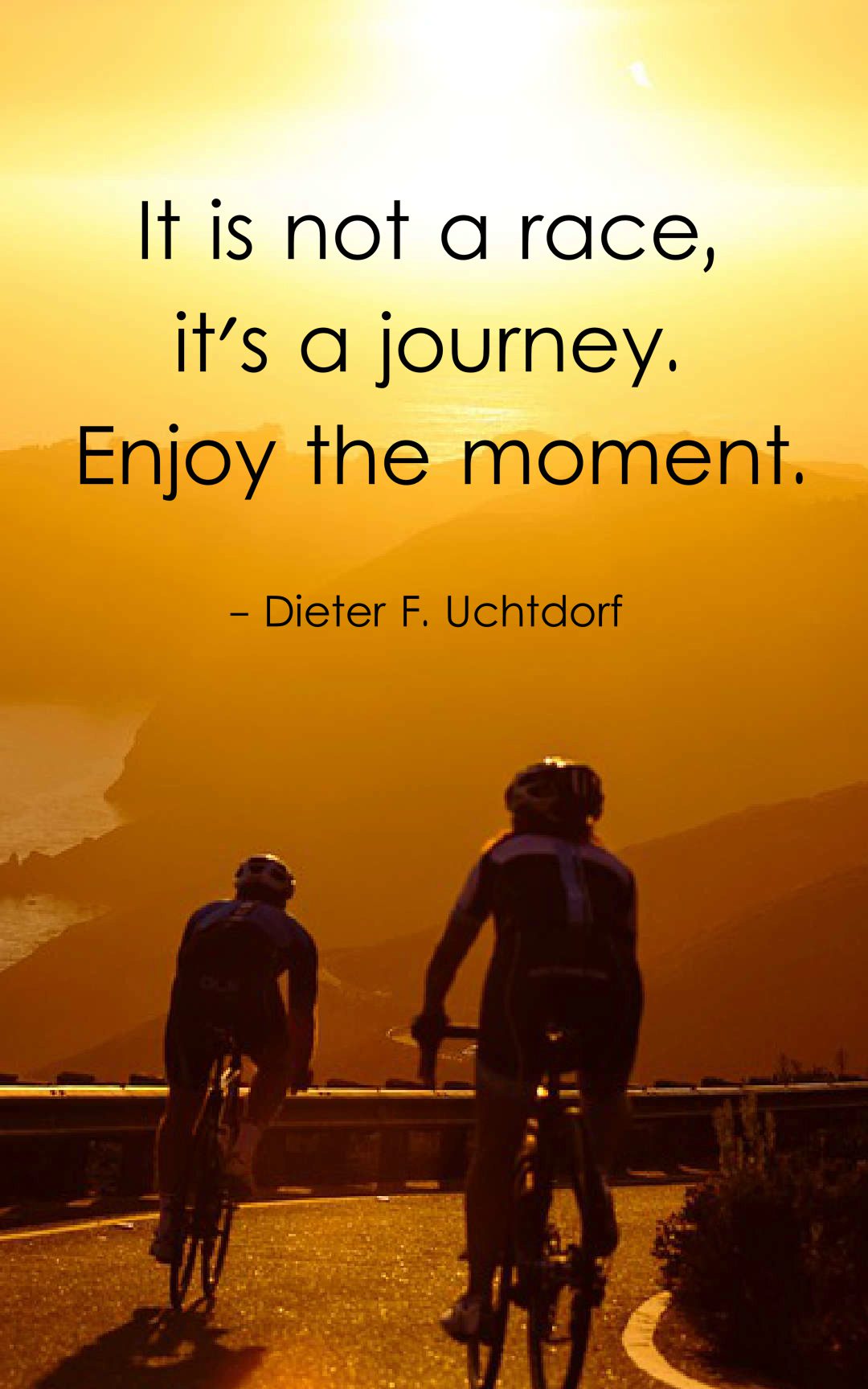 ---
"The bicycle is a curious vehicle. Its passenger is its engine." — John Howard
---
"You know, bicycling isn't just a matter of balance," I said. "it's a matter of faith. You can keep upright only by moving forward. You have to have your eyes on the goal, not the ground. I'm going to call that the Bicyclist's Philosophy of Life." — Susan Vreeland
---
"Allow yourself to be a beginner. No one starts off being excellent." — Wendy Flynn
---
"Bicycle means simplicity and simplicity means happiness!" — Mehmet Murat ildan
---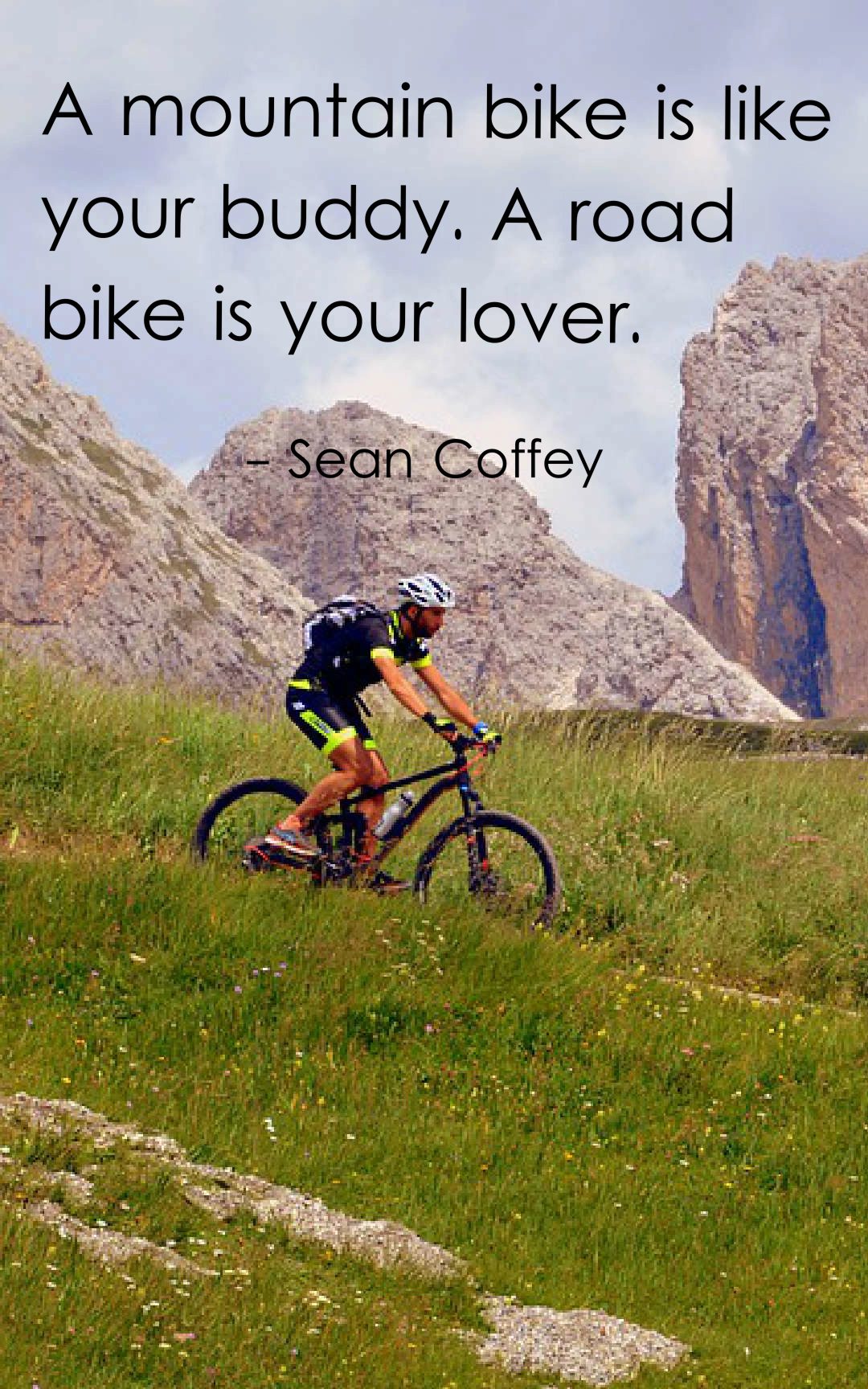 ---
"I'm 100 per cent motivated. I haven't done enough yet in cycling to be satisfied." — Lizzie Armitstead
---
"There is beauty in silence and there is silence in beauty and you can find both in a bicycle!" — Mehmet Murat ildan
---
"Don't limit your challenges; challenge your limits." — Jerry Dunn
---
"You are likely to fall when you stop paddling your bicycle. Such is life. As long as you don't give up, you will never end up failing!" ― Israelmore Ayivor
---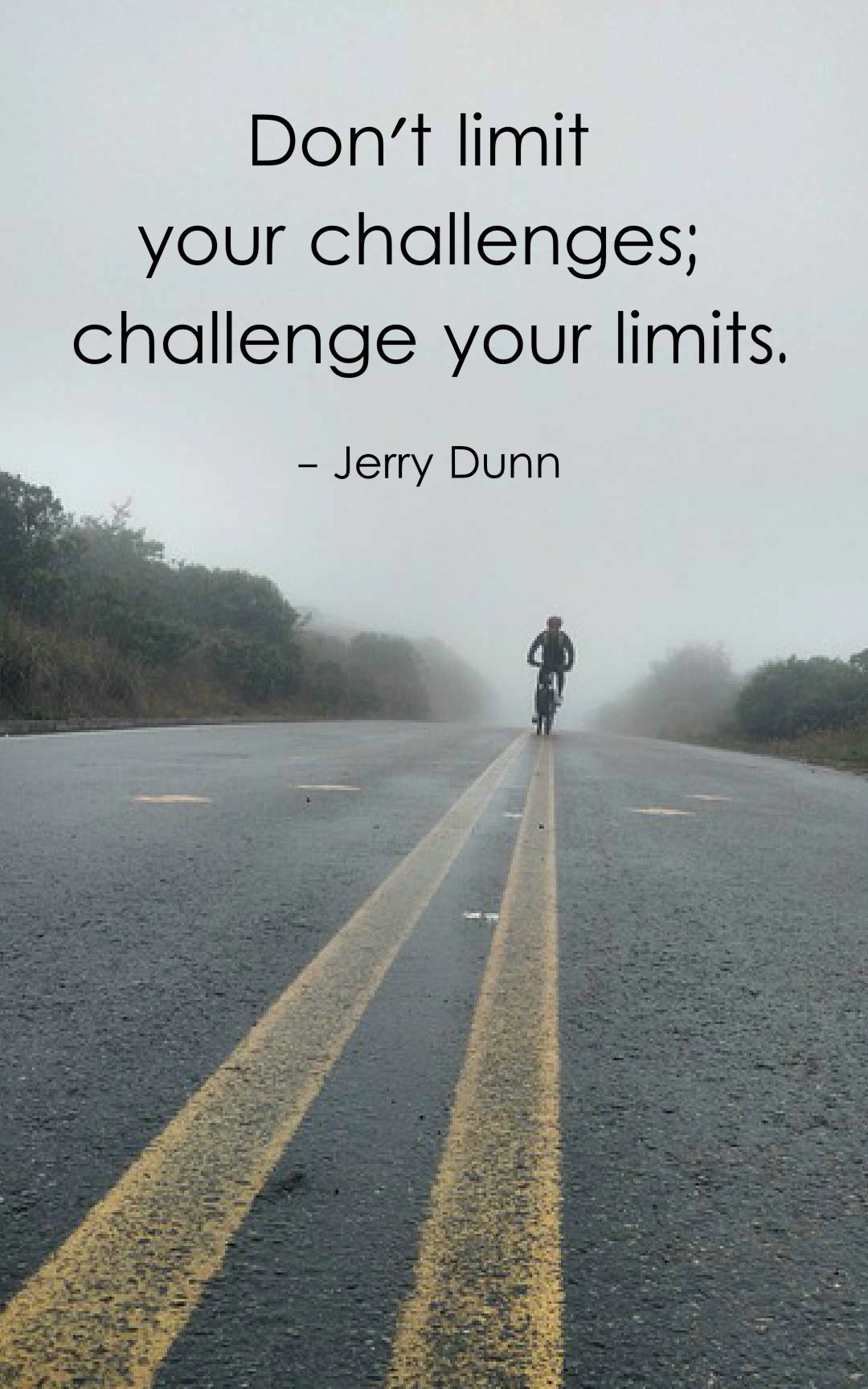 ---
"Crashing is part of cycling as crying is part of love." — Johan Museeuw
---
"Nature loves bicycle because no harm to nature comes from the bicycle!" — Mehmet Murat ildan
---
"Think of bicycles as rideable art that can just about save the world." — Grant Petersen
---
"Melancholy is incompatible with bicycling." — James E. Starrs
---
"I've lost all my money on these films. They are not commercial. But I'm glad to lose it this way. To have for a souvenir of my life pictures like Umberto D. and The Bicycle Thief." — Vittorio De Sica
---
"Toleration is the greatest gift of the mind; it requires the same effort of the brain that it takes to balance oneself on a bicycle." — Helen Keller
---
"The bicycle, the bicycle surely, should always be the vehicle of novelists and poets." — Christopher Morley
---
"This morning I lay in the bathtub thinking how wonderful it would be if I had a dog like Rin Tin Tin. I'd call him Rin Tin Tin too, and I'd take him to school with me, where he could stay in the janitor's room or by the bicycle racks when the weather was good." — Anne Frank
---
"Communication is a skill that you can learn. It's like riding a bicycle or typing. If you're willing to work at it, you can rapidly improve the quality of evry part of your life." — Brian Tracy
---
"She who succeeds in gaining the mastery of the bicycle will gain the mastery of life." — Susan B. Anthony
---
"The bicycle kick is not easy to do. I scored 1,283 goals, and only two or three were bicycle kicks." — Pele
---
"Fantasy is an exercise bicycle for the mind. It might not take you anywhere, but it tones up the muscles that can. Of course, I could be wrong." — Terry Pratchett
---
"The woods that I loved as a child are entirely gone. The woods that I loved as a young adult are gone. The woods that most recently I walked in are not gone, but they're full of bicycle trails." — Mary Oliver
---
"A few years ago, I bought an old red bicycle with the words Free Spirit written across its side – which is exactly what I felt like when I rode it down the street in a tie-dyed dress." — Drew Barrymore
---
"An increase in bicycle ridership brings an increased need for measures to ensure the safety of cyclists." — Ayanna Pressley
---
"A healthy body means a healthy mind. You get your heart rate up, and you get the blood flowing through your body to your brain. Look at Albert Einstein. He rode a bicycle. He was also an early student of Jazzercise. You never saw Einstein lift his shirt, but he had a six-pack under there." — Steve Carell
---
"I simply haven't the nerve to imagine a being, a force, a cause which keeps the planets revolving in their orbits and then suddenly stops in order to give me a bicycle with three speeds." — Quentin Crisp
---
"My older brother and I read all the time. My father read, but only things related to religion. One year, he did read a set of stories that was called something like '365 Stories' out loud to us. They followed a family for the year, a page a day. They were about kids with simple problems – like a wheel coming off their bicycle." — Amy Tan
---
"I've never been particularly aware of my age. It's like being on a bicycle – I just put my foot down and keep going." — Angela Lansbury
---
"If you think about computing, there isn't just one way to compute, just like there's not just one way to move around. You can have shoes, you can have a car, you can have a bicycle, submarine, rocket, plane, train, glider, whatever. Because you have one doesn't mean you get rid of another one… But PCs continue to be important." — Michael Dell
---
"It's almost embarrassing, but I do have one trick for taking portraits on commission. I carry one of these little bicycle horns in my pocket, and once in a while, when someone is sour-faced or stiff, I blow my horn. It sort of shatters the barriers. It's silly, but it works." — Elliott Erwitt
---
Hopefully you will enjoy these inspiring and motivating collection of bicycle quotes and sayings. please don't forget to share these quotes.