Following are the inspirational and handpicked imagination quotes collection.
Inspirational Imagination Quotes
---
"The power of imagination makes us infinite." — John Muir
---
"The man who has no imagination has no wings." — Muhammad Ali
---
"Laughter is timeless. Imagination has no age. And dreams are forever." — Walt Disney
---
"Anyone who lives within their means suffers from a lack of imagination." — Oscar Wilde
---
"Anything you may hold firmly in your imagination can be yours" — William James
---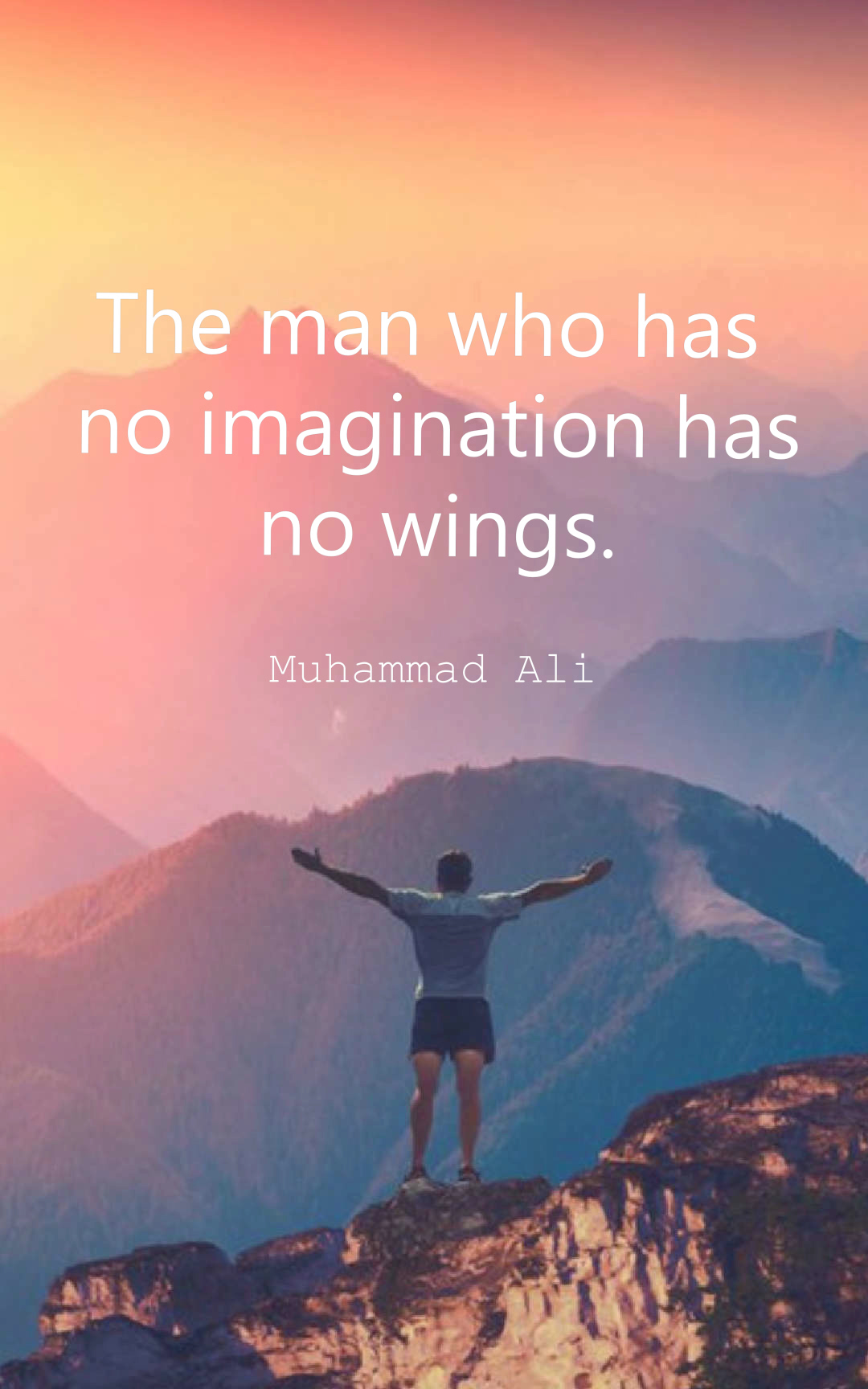 ---
"If you don't imagine, nothing ever happens at all." — John Green
---
"If you're not prepared to be wrong, you'll never come up with anything original." — Ken Robinson
---
"Imagination is more important than knowledge." — Albert Einstein
---
60 Inspirational Future Quotes and Sayings
---
"Art enables us to find ourselves and lose ourselves at the same time." — Thomas Merton
---
"A mind is like a parachute. It doesn't work if it isn't open." — Frank Zappa
---
"Reality leaves a lot to the imagination." — John Lennon
---
"Somewhere, something incredible is waiting to be known." — Carl Sagan
---
"The only limitation to your success is your vision and imagination power." — Unknown
---
"Your imagination has much to do with your life. It is for you to decide how you want your imagination to serve you." — Philip Conley
---
"The world of reality has its limits; the world of imagination is boundless." — Jean Jacques Rousseau
---
"Imagination will often carry us to Worlds that never were, but without it we go nowhere" — Carl Sagan
---
"Logic will get you from A to B. Imagination will take you everywhere." — Albert Einstein
---
"Your Limitation- It's only your Imagination." — Unknown
---
"Science may set limits to knowledge, but should not set limits to imagination." — Bertrand Russell
---
"The bulk of the world's knowledge is an imaginary construction." — Helen Keller
---
"Imagination is the beginning of creation. You imagine what you desire, you will what you imagine and at last you create what you will." — George Bernard Shaw
---
"Live out of your imagination, not your history." — Stephen Covey
---
"Curiosity is the most powerful thing you own. Imagination is a force that can actually manifest a reality." — James Cameron
---
"Every great advance in science has issued from a new audacity of imagination." — John Dewey
---
"Imagination is what you do with your inspiration." — Violet Haberdasher
---
"Every single thing we made on this planet started with imagination. Begin to imagine your new life." — Bryant McGill
---
"Don't take for granted your imagination. The more you imagine the more expanded your life becomes." — Roxana Jones
---
"The true sign of intelligence is not knowledge but imagination." — Albert Einstein
---
"Limitations live only in our minds. But if we use our imaginations, our possibilities become limitless." — Jamie Paolinetti
---
"Hope lies in dreams, in imagination, and in the courage of those who dare to make dreams into reality." — Jonas Salk
---
"Art is the only way to run away without leaving home." — Twyla Tharp
---
"Imagination is just reinventing the ordinary to create the extraordinary." — Anne Scottlin
---
"A young idea needs time to take root and emerge in it's full brilliance; nurture your creative inventions with patience." — Anne Scottlin
---
"Imagination does not become great until human beings, given the courage and the strength, use it to create." — Maria Montessori
---
"Your imagination is your preview of life's coming attractions." — Albert Einstein
---
"We are all in the gutter, but some of us are looking at the stars." — Oscar Wilde
---
"Everything you can imagine is real." — Pablo Picasso
---
"Human capability has finally caught up with our imagination making the impossible possible." — Nic Smith
---
"Never limit yourself because of others' limited imagination; never limit others because of your own limited imagination." — Mae Jemison
---
"There are no limits in the universe of imagination." — Steven Magee
---
"Vision is the art of seeing things invisible." — Jonathan Swift
---
"Knowledge is limited. Imagination encircles the world." — Albert Einstein
---
"The synergy of wisdom and imagination transform our energy into our most creative force." — Anne Scottlin
---
"The power is within each and every one of us, to use our imagination to create our future" — Susan McCann
---
"The art of imagination extends to your power to choose living in one feeling versus another. You create your world." — Anne Scottlin
---
"We suffer more often in imagination than in reality" — Seneca
---
"You can't depend on your eyes when your imagination is out of focus." — Mark Twain
---
"Create your vision. Fiction is only fiction until imagination and ingenuity give it form." — Anne Scottlin
---
Hopefully you will enjoy this inspiring collection of imagination quotes.