Following are the 50 Famous quotes about darkness and light with images…
Famous Quotes About Darkness and Light
---
"Darkness cannot drive out darkness; only light can do that. Hate cannot drive out hate; only love can do that." — Martin Luther King, Jr.
---
"Hope is being able to see that there is light despite all of the darkness." — Desmond Tutu
---
"Pain and pleasure, like light and darkness, succeed each other." — Laurence Sterne
---
"In order for the light to shine so brightly, the darkness must be present." — Francis Bacon
---
"Maybe you have to know the darkness before you can appreciate the light." — Madeleine L'Engle
---
"I will love the light for it shows me the way, yet I will endure the darkness because it shows me the stars." — Og Mandino
---
"Faith is seeing light with your heart when all your eyes see is darkness." — Barbara Johnson
---
"We are not here to curse the darkness, but to light the candle that can guide us thru that darkness to a safe and sane future." — John F. Kennedy
---
"Normal people have no idea how beautiful the darkness is." — Unknown
---
"Education is the movement from darkness to light." — Allan Bloom
---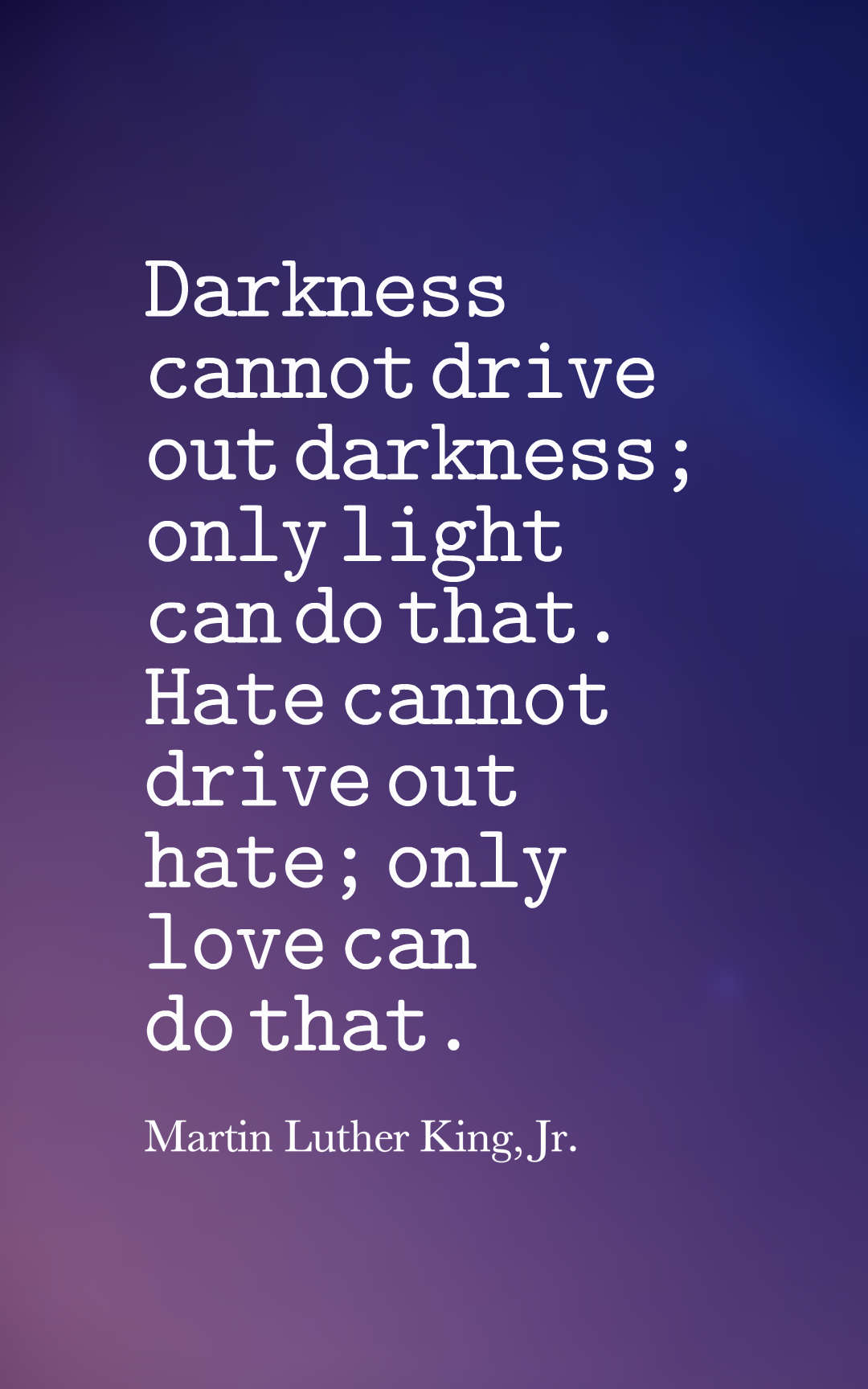 ---
"The darkness around us might somewhat light up if we would first practice using the light we have on the place we are." — Henry S. Haskins
---
"Give light, and the darkness will disappear of itself." — Desiderius Erasmus
---
"There is no darkness but ignorance better to light one candle than to curse the darkness." — Unknown
---
"So the darkness shall be the light, and the stillness the dancing." — T. S. Eliot
---
"There are darknesses in life and there are lights, and you are one of the lights, the light of all lights." — Bram Stoker
---
"When the darkness comes, keep an eye on the light – whatever that is for you – no matter how far away it seems." — Jan Berry
---
"Deep into that darkness peering, long I stood there, wondering, fearing, doubting, dreaming dreams no mortal ever dared to dream before." — Edgar Allan Poe
---
"Every moment of light and dark is a miracle." — Walt Whitman
---
"Without the dark, we'd never see the stars." — Stephenie Meyer
---
"I walk in the darkness so that others may see the light!" — Unknown
---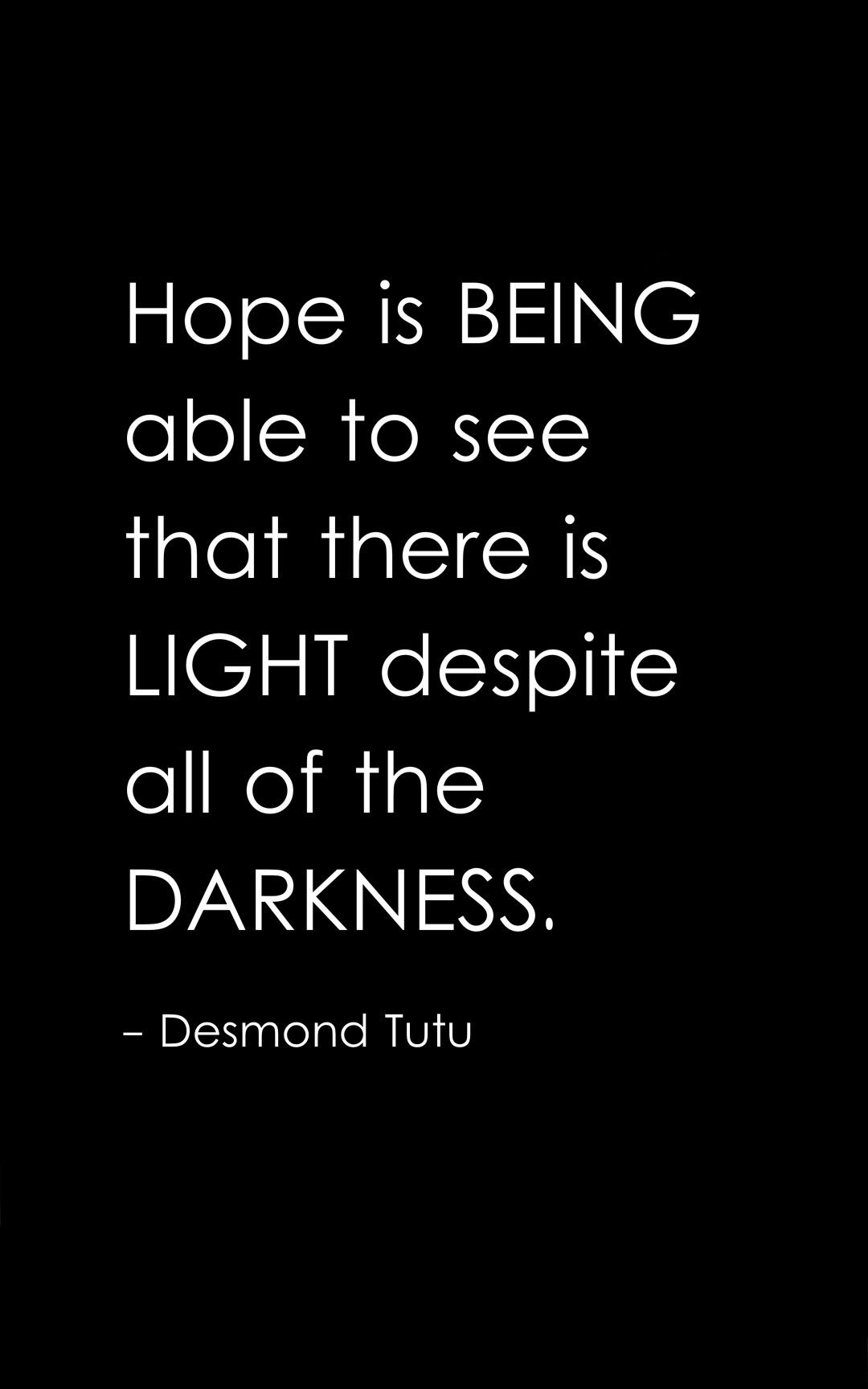 ---
"The dance between darkness and light will always remain — the stars and the moon will always need the darkness to be seen, the darkness will just not be worth having without the moon and the stars." — C. JoyBell C.
---
"Stars can't shine without darkness" — D.H. Sidebottom
---
"There is no denying that there is evil in this world but the light will always conquer the darkness." ― Idowu Koyenikan
---
"There is no darkness but ignorance." — William Shakespeare
---
"It matters not how fast light may travel, darkness shall always be there awaiting its arrival." — Mark W. Boyer
---
"Even though it's dark and cold there is always a shade of light." — Angela Bernabe
---
"Those who fear the darkness have no idea what the light can do." — Unknown
---
"A man who refuses light will remain in the darkness even by the side of light!" ― Mehmet Murat ildan
---
"The light shines in the darkness, and the darkness can never extinguish it." — Unknown
---
"You are my light in the darkness." — Tina Carreiro
---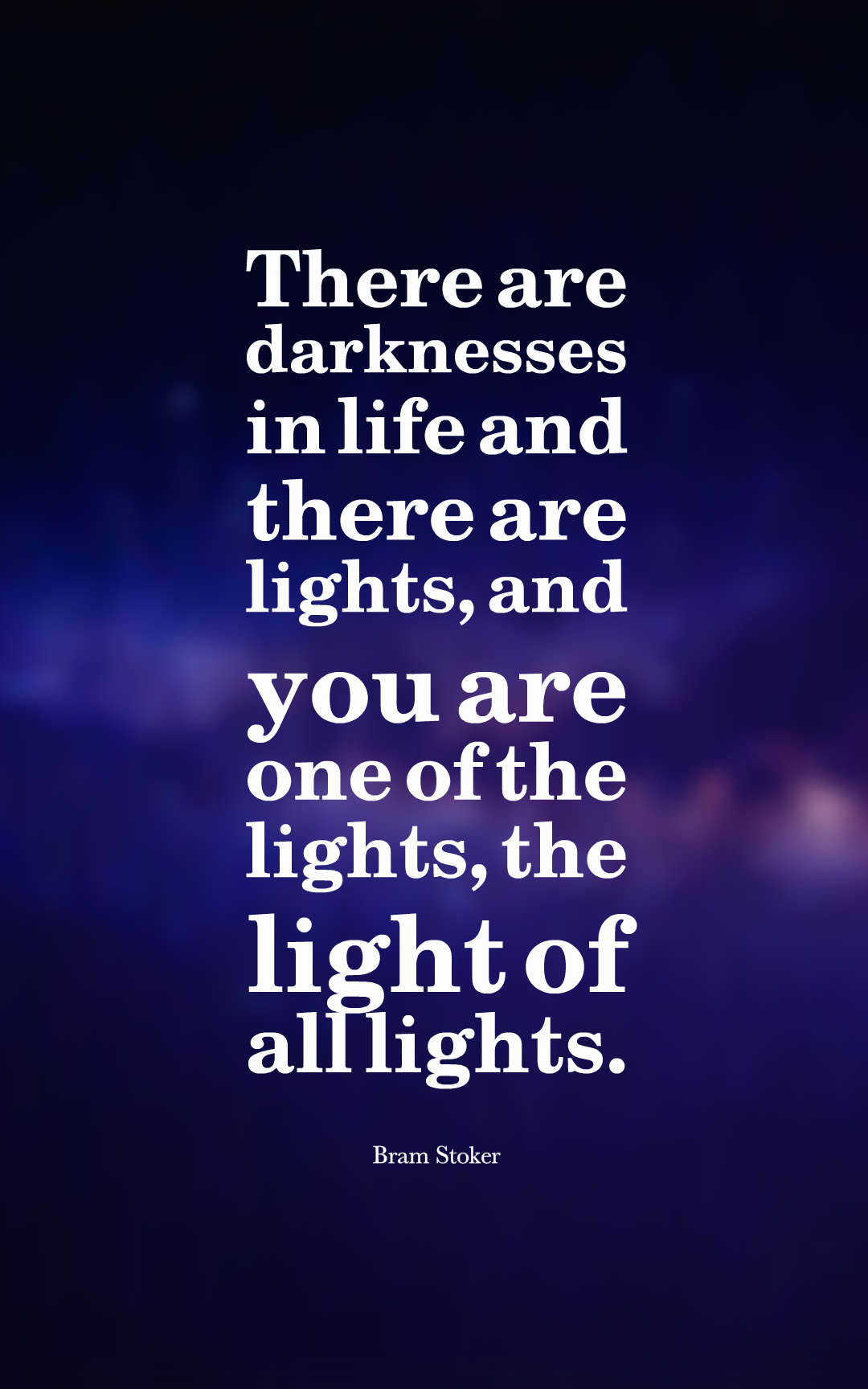 ---
"Character, like a photograph, develops in darkness." — Yousuf Karsh
---
"The issue is now clear. It is between light and darkness and everyone must choose his side." — G.K. Chesterton
---
"Knowing your own darkness is the best method for dealing with the darknesses of other people." — Carl Jung
---
"Every human being is a mixture of light and darkness, trust and fear, love and hate." — Jean Vanier
---
"The darkness that surrounds us cannot hurt us. It is the darkness in your own heart you should fear." — Silvertris
---
"I think we all have light and dark inside us." — Sean Penn
---
"All stars are born in the dark and all darkness dies in the light." — Unknown
---
"Life isn't just about darkness or light, rather it's about finding light within the darkness." — Landon Parham
---
"Don't underestimate the allure of darkness. Even the purest hearts are drawn to it." — Klaus Mikaelson
---
"There's light and joy, but there's also darkness all around and we can be lost in it." — David Almond
---
"As far as we can discern, the sole purpose of human existence is to kindle a light in the darkness of mere being." — Carl Jung
---
"Everything has its wonders, even darkness and silence, and I learn, whatever state I may be in, therein to be content." — Helen Keller
---
"Once I knew only darkness and stillness… my life was without past or future… but a little word from the fingers of another fell into my hand that clutched at emptiness, and my heart leaped to the rapture of living." — Helen Keller
---
"Unless we form the habit of going to the Bible in bright moments as well as in trouble, we cannot fully respond to its consolations because we lack equilibrium between light and darkness." — Helen Keller
---
"A man can no more diminish God's glory by refusing to worship Him than a lunatic can put out the sun by scribbling the word, 'darkness' on the walls of his cell." — C. S. Lewis
---
"Even a happy life cannot be without a measure of darkness, and the word happy would lose its meaning if it were not balanced by sadness. It is far better take things as they come along with patience and equanimity." — Carl Jung
---
"Painting is concerned with all the 10 attributes of sight; which are: Darkness, Light, Solidity and Colour, Form and Position, Distance and Propinquity, Motion and Rest." — Leonardo da Vinci
---
"There is a wide, yawning black infinity. In every direction, the extension is endless; the sensation of depth is overwhelming. And the darkness is immortal. Where light exists, it is pure, blazing, fierce; but light exists almost nowhere, and the blackness itself is also pure and blazing and fierce." — Carl Sagan
---
"Every time I stray away from the Lord's word, I find emptiness and darkness." — Tyson Fury
---
"Everywhere the human soul stands between a hemisphere of light and another of darkness; on the confines of the two everlasting empires, necessity and free will." — Thomas Carlyle
---
"We have a choice about how we take what happens to us in our life and whether or not we allow it to turn us. We can become consumed by hate and darkness, or we're able to regain our humanity somehow, or come to terms with things and learn something about ourselves." — Angelina Jolie
---
"Great and glorious God, and Thou Lord Jesus, I pray you shed abroad your light in the darkness of my mind. Be found of me, Lord, so that in all things I may act only in accordance with Thy holy will." — Francis of Assisi
---
"Light thinks it travels faster than anything but it is wrong. No matter how fast light travels, it finds the darkness has always got there first, and is waiting for it." — Terry Pratchett
---
"Our deepest fear is not that we are inadequate. Our deepest fear is that we are powerful beyond measure. It is our Light, not our Darkness, that most frightens us." — Marianne Williamson
---
"There's too much darkness in the world. Everywhere you turn, someone is tryin' to tear someone down in some way; everywhere you go, there's a feeling of inadequacy, or a feeling that you're not good enough. I want to bring a certain light to the world." — Alicia Keys
---
"He's meant to be that classic Homer, Ulysses, Hercules – a character who goes out or has some gift of some kind. He goes on a journey of discovery and part of that is falling into darkness – the temptations of life." — Robert Redford
---
"I really believe that all of us have a lot of darkness in our souls. Anger, rage, fear, sadness. I don't think that's only reserved for people who have horrible upbringings. I think it really exists and is part of the human condition. I think in the course of your life you figure out ways to deal with that." — Kevin Bacon
---
"'Frankenstein' was all about the idea that, through electricity and the destruction of night, man creating light and darkness, we took on god-like powers and then abused them like gods, and we are only men. That's a story about man making a man in his own image. The inversion of natural order." — Benedict Cumberbatch
---
"If we got into a situation where people start burning our records, then bring it on. That's the whole point. The gloaming has begun. We're in the darkness. This has happened before. Go read some history." — Thom Yorke
---
"I read and walked for miles at night along the beach, writing bad blank verse and searching endlessly for someone wonderful who would step out of the darkness and change my life. It never crossed my mind that that person could be me." — Anna Quindlen
---
Hopefully you will enjoy these Famous and inspiring collection of Darkness and Light quotes and sayings. please don't forget to share these quotes.