Following are the commitment quotes and sayings with images.
Inspirational Commitment Quotes
---
"No matter how smart we may think we are, no matter how committed we are to our truth, we can lose our way." — Kamal Ravikant
---
"At the moment of commitment the entire universe conspires to assist you." — Johann Wolfgang von Goethe
---
"Commitment is the enemy of resistance, for it is the serious promise to press on, to get up, no matter how many times you are knocked down." — David McNally
---
"Realize that the hardest step in achieving anything is making a true commitment." — Tony Robbins
---
"Desire is the key to motivation, but it's determination and commitment to an unrelenting pursuit of your goal – a commitment to excellence – that will enable you to attain the success you seek." — Mario Andretti
---
"He who has done his best for his own time has lived for all times." — Johann Von Schiller
---
"If you truly believe something you will attempt to live it. Otherwise you don't really believe it." ― Toni Sorenson
---
"Nothing is easier than saying words. Nothing is harder than living them day after day." — Arthur Gordon
---
"We have to recognise that there cannot be relationships unless there is commitment, unless there is loyalty, unless there is love, patience, persistence." — Cornel West
---
"Trust only movement. Life happens at the level of events, not of words. Trust movement." — Alfred Adler
---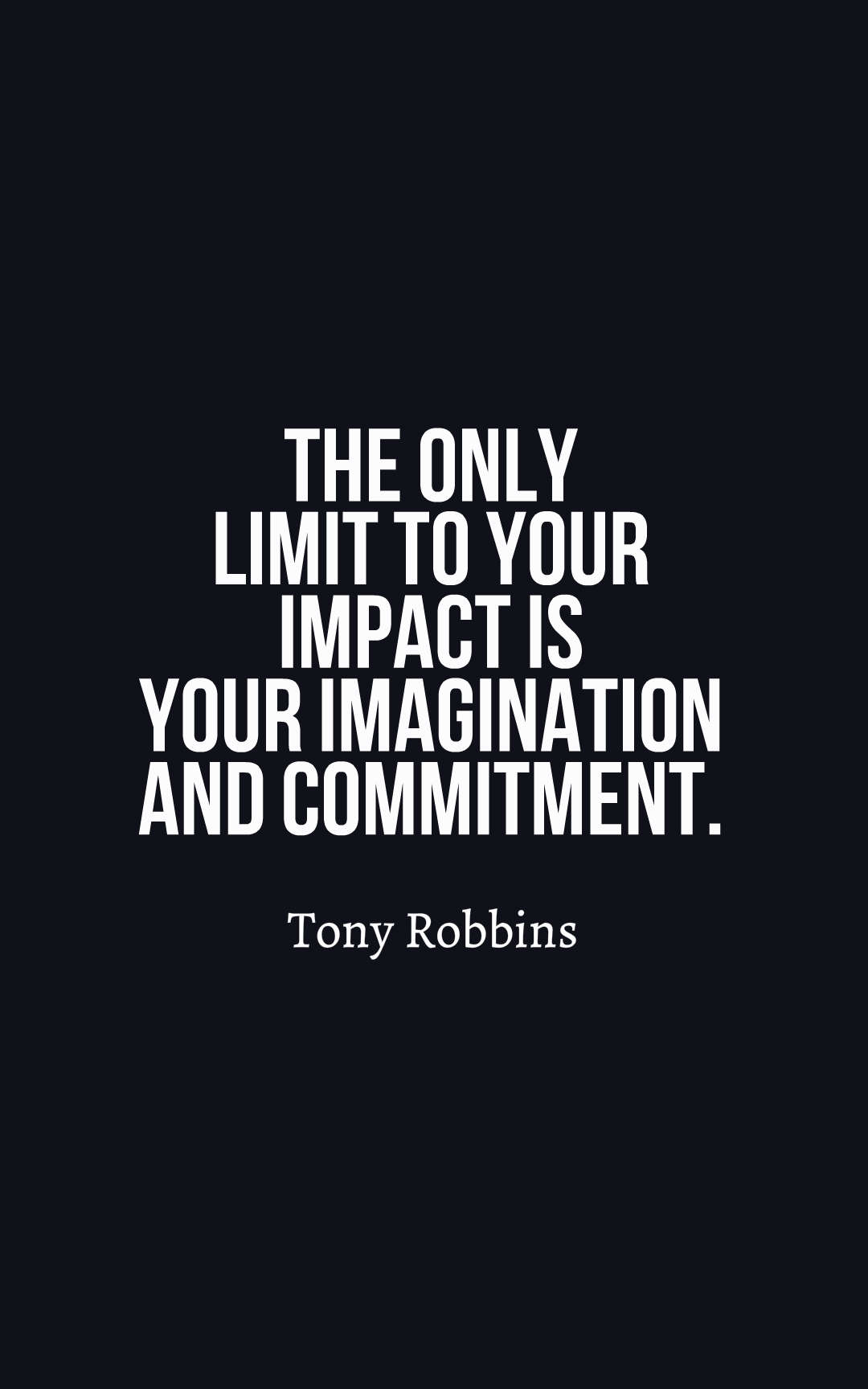 ---
"Whatever you do, be sure to do it well." — Andrena Sawyer
---
"Do the thing and you will be given the power." — Ralph Waldo Emerson
---
"Once you have commitment, you need the discipline and hard work to get you there." — Haile Gebrselassie
---
"When you make a commitment, you build hope. When you keep it, you build trust." — Unknown
---
"It's hard to stay committed when our heart isn't in it." — Deborah Day
---
"There are only two options regarding commitment; you're either in or you're out. There's no such thing as life in-between." — Pat Riley
---
"The truest form of love is how you behave toward someone, not how you feel about them." — Steve Hall
---
"It's not about having the skill to do something. It's about having the will, desire & commitment to be your best." — Robert Hernandez
---
"Life's Too Short. Dream Big And Commit Big Because You Deserve To Live the Life You Dream." ― Wesam Fawzi
---
"Commitment means staying loyal to what you said you were going to do, long after the mood you said it in has left you." — Unknown
---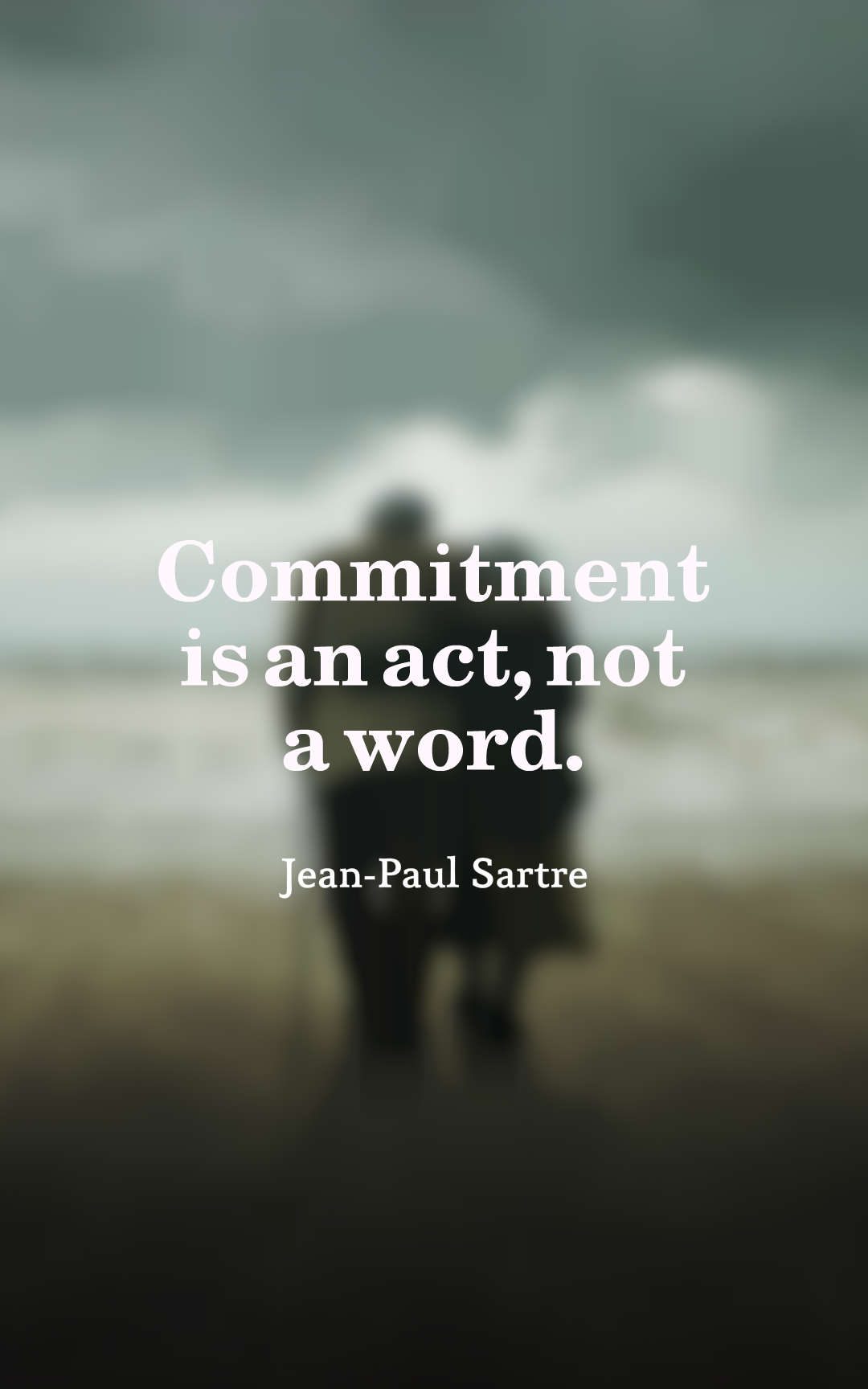 ---
"Individual commitment to a group effort – that is what makes a team work, a company work, a society work, a civilization work." — Vince Lombardi
---
"Dreams Come True When You're Committed To Make Them So!" — Wesam Fawzi
---
"You need to make a commitment, and once you make it, then life will give you some answers." — Les Brown
---
"We cannot be sure of having something to live for unless we are willing to die for it." — Ernesto Che Guevara
---
"A commitment to WINNING means a commitment to THE WORK that WINNING requires." — Unknown
---
"You don't have to stay committed to something just because you're good at it." — Brittany Burgunder
---
"The quality of each man's life is the full measure of that man's personal commitment to excellence and to victory." — Vince Lombardi
---
"As a leader you have to recognize that it all starts with you: your attitude, your commitment, your caring, your passion." — Pat Williams
---
"The only limit to your impact is your imagination and commitment." — Tony Robbins
---
"Don't have your commitment bow to your emotions, have your emotions bow to your commitment." — Malachi J. Turner
---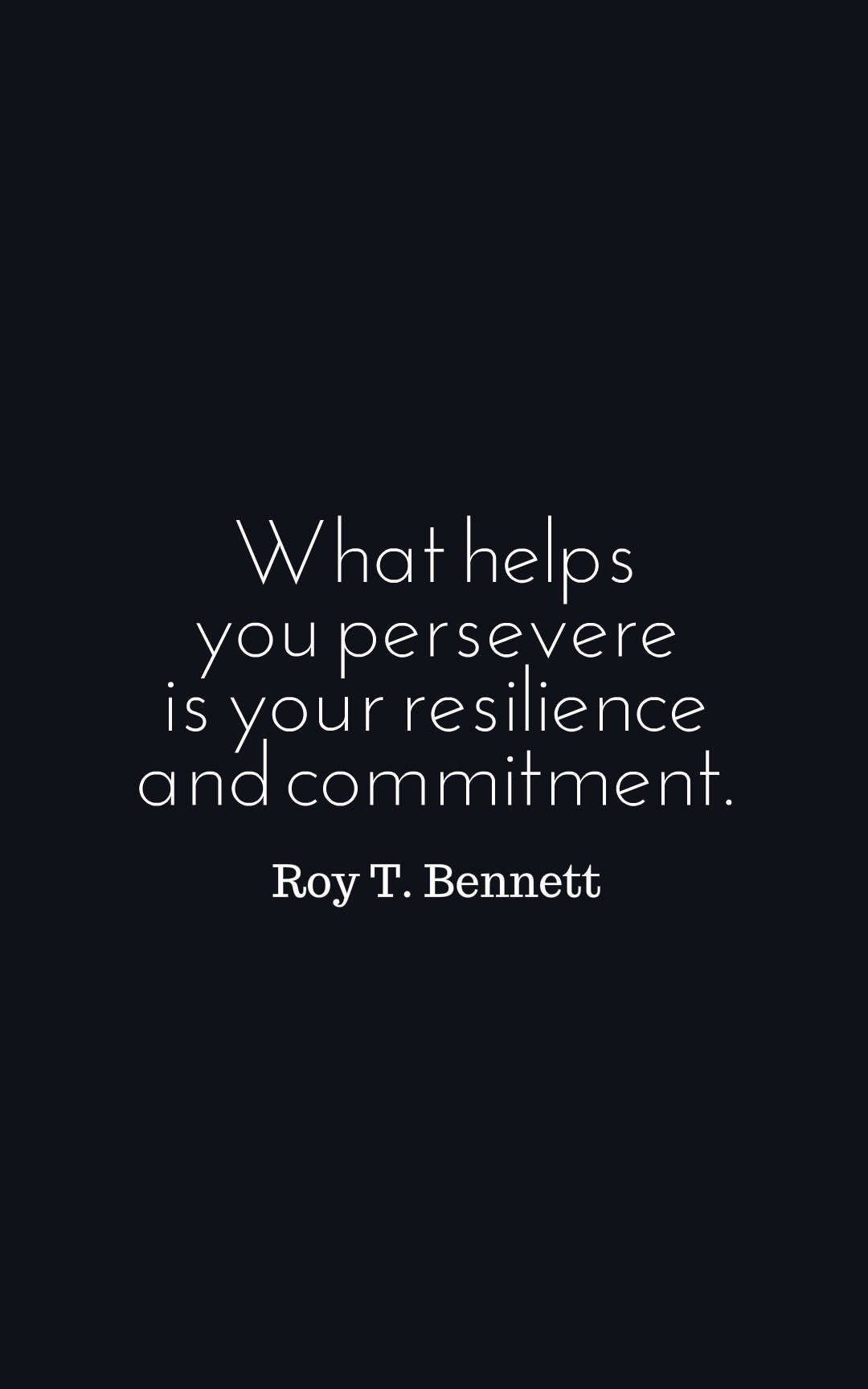 ---
"Freedom is not the absence of commitments, but the ability to choose – and commit myself to – what is best for me." ― Paulo Coelho
---
"Set the standard! Stop expecting others to show you love, acceptance, commitment, & respect when you don't even show that to yourself." — Steve Maraboli
---
"Being deeply committed gives you the power to win in any endeavor." ― Debasish Mridha
---
"I'm not afraid of commitment. I'm afraid of committing to the wrong person." — Unknown
---
"Productivity is never an accident. It is always the result of a commitment to excellence, intelligent planning, and focused effort." — Paul J. Meyer
---
"It is not the decision you make that is most important; it is the degree of commitment with which you make the decision." — Bo Bartlett
---
"The level of success you achieve will be in direct proportion to the depth of your commitment." ― Roy T. Bennett
---
"You don't need a new plan for next year. You need a commitment." — Seth Godin
---
"Commitment is an act, not a word." — Jean-Paul Sartre
---
"Without commitment you'll never start, and without consistency you'll never finish" — Denzel Washington
---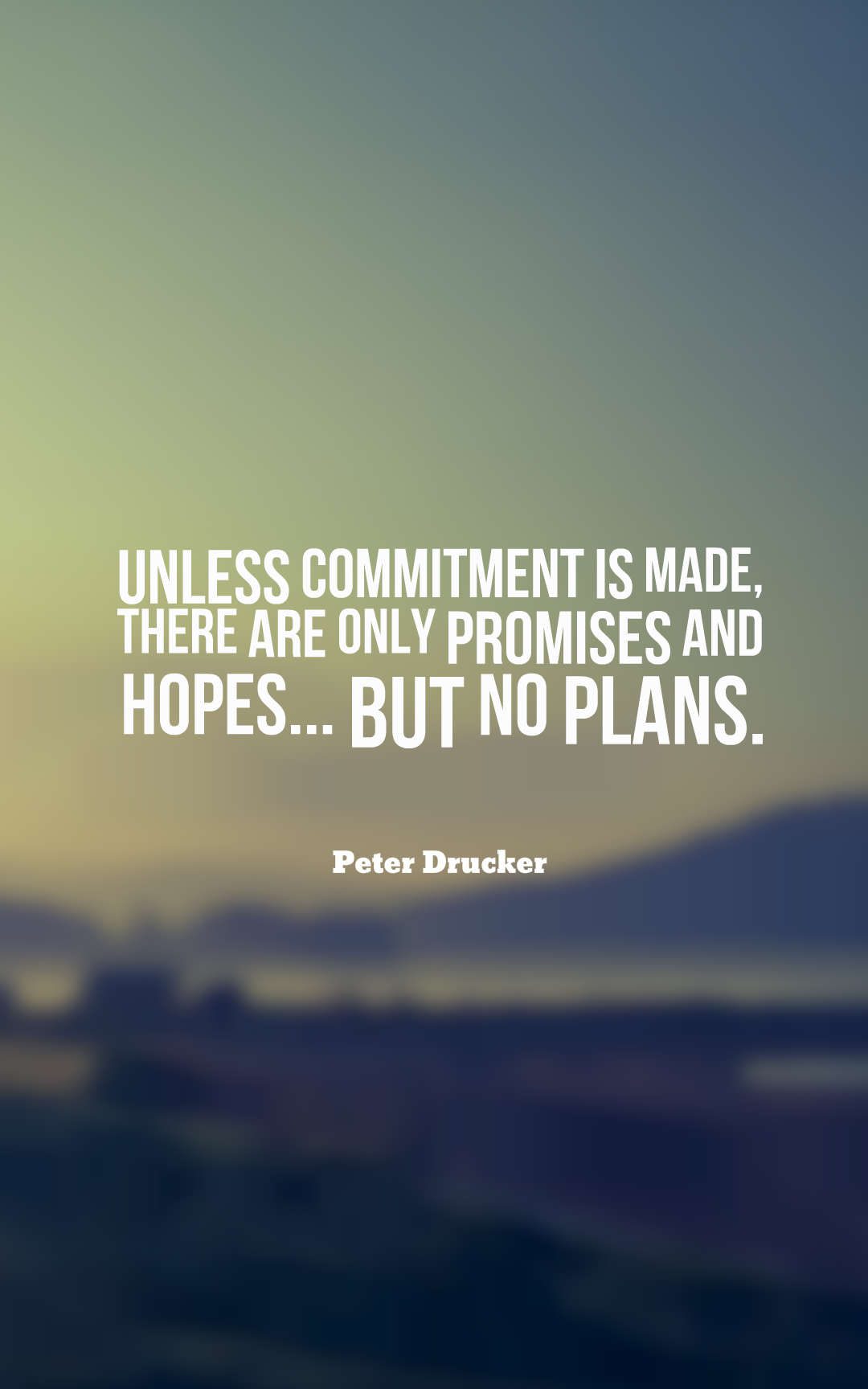 ---
"Without commitment, you cannot have depth in anything, whether it's a relationship, a business or a hobby." — Neil Strauss
---
"Love, above all things, is a commitment to your choice." — Rob Liano
---
"Unless commitment is made, there are only promises and hopes… but no plans." — Peter Drucker
---
"Until one is committed, there is hesitancy, the chance to draw back, always ineffectiveness." — William Hutchison Murray
---
"There's no scarcity of opportunity to make a living at what you love. There is only a scarcity of resolve to make it happen." — Wayne W. Dyer
---
"The road to success is through commitment." — Will Smit
---
"When you encourage others, you in the process are encouraged because you're making a commitment and difference in that person's life. Encouragement really does make a difference." — Zig Ziglar
---
"Most people fail, not because of lack of desire, but, because of lack of commitment." — Vince Lombardi
---
"One person with commitment accomplishes more than a thousand with an opinion." — Orrin Woodward
---
"The greatest things in life all require commitment, sacrifice, some struggle and hardship. It's not easy. But absolutely worth it." — Robin S. Sharma
---
"You start to live when you commit your life to cause higher than yourself. You must learn to depend on divine power for the fulfillment of a higher calling."  ― Lailah GiftyAkita
---
"What kind of footsteps will you leave for those who follow you?"  ― Kathy Bee
---
"Commitment mixed with drive and sprinkled with imagination creates sustained results. Stay focused and you will make your mark!"  ― Amy Leigh Mercree
---
"A great sense of commitment builds a hardworking spirit."  ― Wayne Chirisa
---
"What attachments can you let go of to thrive more and stress less? What commitments can you make that will help you to fly higher in an endeavor that matters?" ― Scott Perry
---
"In this case the time is not so important for me, the person asking for commitment is." ― Swati Kumar
---
"Courage is the commitment to begin without any guarantee of success" ― Johann Wolfgang von Goethe
---
"It is said that there is never a girl born who ever grew older than eighteen in her heart. The shroud that covers this free spirit is woven by the complex threads of society." ― Swati Kumar
---
"To succeed we need commitment, discipline, dedication, and determination. And if you can amalgamate all of the above qualities with your passion and energy then no one can stop you from achieving the uncommon!" ― Avijeet Das
---
"When we ask Jesus for help and choose 'flight' over 'grounded,' He builds within us a loyalty to God that overcomes all opposing forces." ― Katy Kauffman
---
"Sometimes, commitment isn't about what you stand to gain but, what you are prepared to loose." ― Muhammed Muazu Mukaddas
---
Hopefully you will enjoy these inspiring collection of Commitment quotes and sayings. please don't forget to share these quotes.
Read: 60 Inspirational Keep Going Quotes With Images