Following are the best collection of inspirational Blessings quotes and sayings.
Blessings Quotes
---
"It is one of the blessings of old friends that you can afford to be stupid with them." — Ralph Waldo Emerson
---
"Focus on your strengths, not your weaknesses. Focus on your character, not your reputation. Focus on your blessings, not your misfortunes." — Roy T. Bennett
---
"It's good to be blessed. It's better to be a blessing." — Unknown
---
"Concentrate on counting your blessings and you'll have little time to count anything else." — Woodrow M. Kroll
---
"Live your truth. Express your love. Share your enthusiasm. Take action towards your dreams. Walk your talk. Dance and sing to your music. Embrace your blessings. Make today worth remembering." — Steve Maraboli
---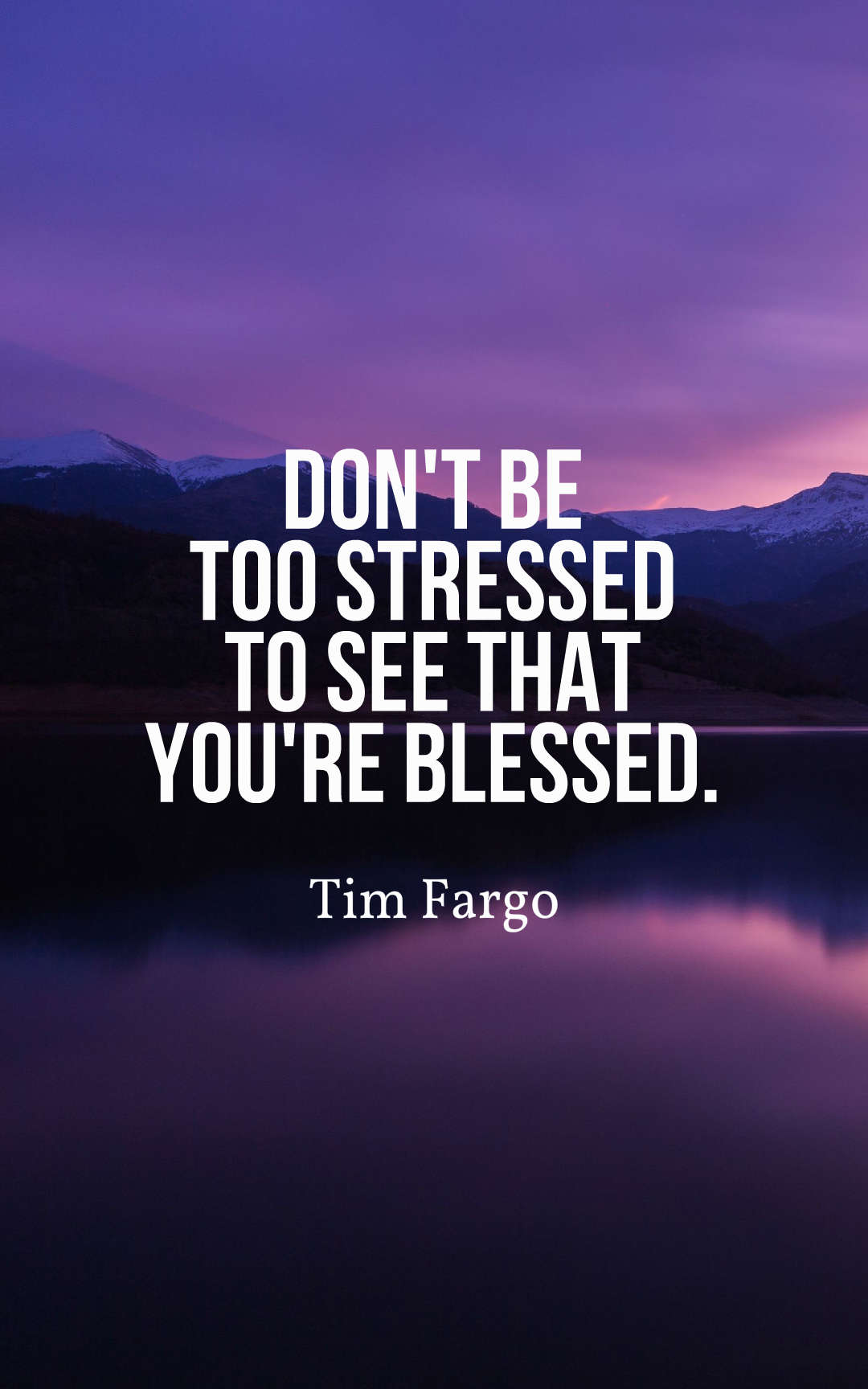 ---
"The greatest blessing in the whole world is being a blessing." — Jack Hyles
---
"A day without God is like a mind with no thoughts, empty. Thank God for this blessing we call life." — Unknown
---
"When we lose one blessing, another is often most unexpectedly given in its place." — C.S. Lewis
---
"Turn your attention for a while away from the worries and anxieties. Remind yourself of all your many blessings." — Ralph Marston
---
"When you wish someone joy, you wish them peace, love, prosperity, happiness… all the good things." — Maya Angelou
---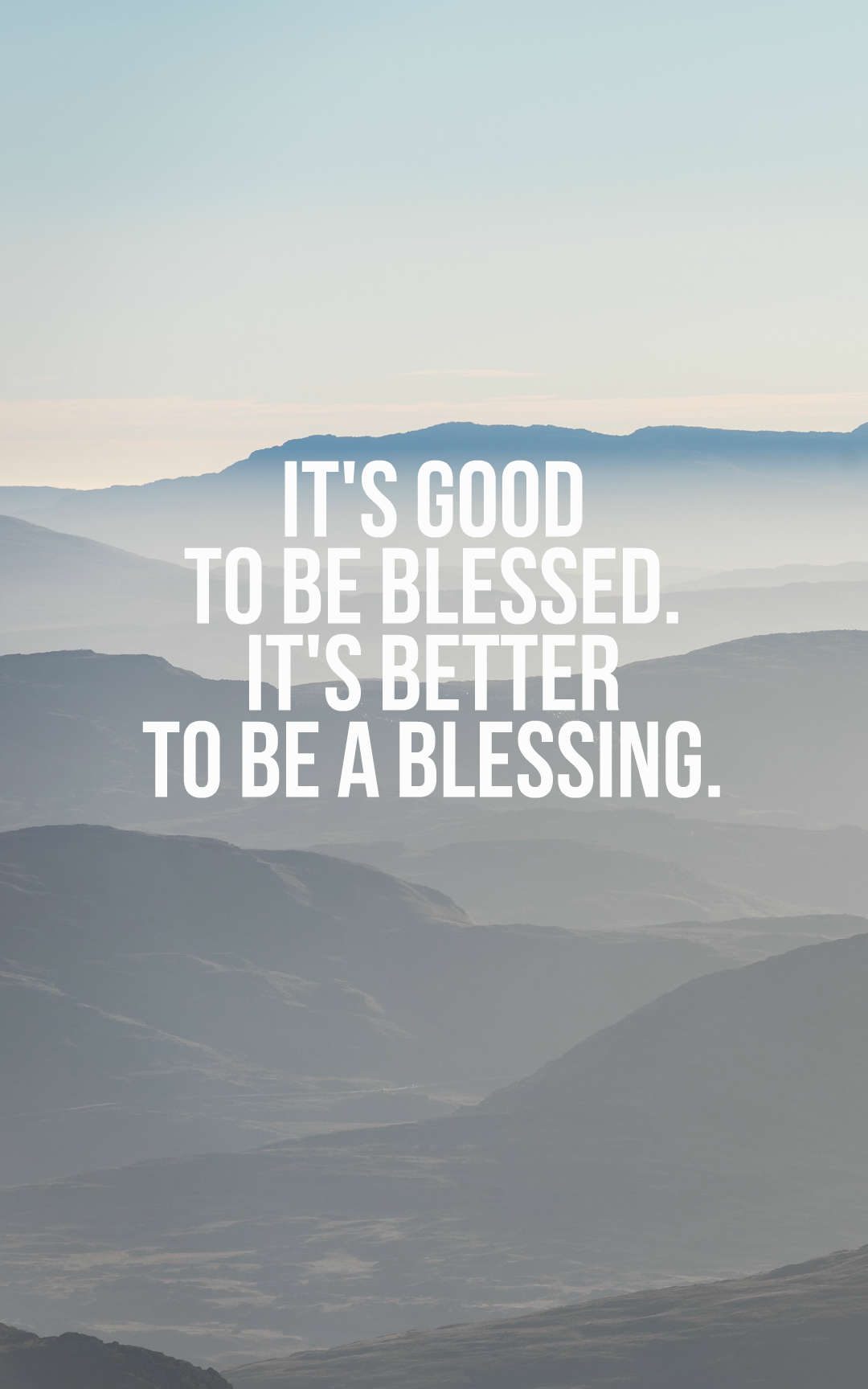 ---
"the secret to happiness is counting your blessings while others are adding up their troubles." — T. Greenwood
---
"Those blessings are sweetest that are won with prayer and worn with thanks." — Thomas Goodwin
---
"When you choose to see the bad as a blessing, you will never stop growing." — Unknown
---
"Sometimes we focus so much on what we don't have that we fail to see, appreciate, and use what we do have!" — Jeff Dixon
---
"Good health and good sense are two of life's greatest blessings." — Publilius Syrus
---
"God bless us, every one!" — Charles Dickens
---
"Always stay true to your purpose in life. Be humble and always count your blessings." — Unknown
---
"Blessings sometimes show up in unrecognizable disguises." — Janette Oke
---
"Not what we say about our blessings, but how we use them, is the true measure of our thanksgiving." — Purkiser
---
"Some people come in our life as blessings. Some come in your life as lessons." — Mother Teresa
---
"A cloudy day or a little sunshine have as great an influence on many constitutions as the most recent blessings or misfortunes." — Joseph Addison
---
"Life is about creating your own happiness and before you know it, blessings of love will find their way into your heart." — Unknown
---
40 Compassion Quotes and Sayings
---
"Don't count your blessings, let your blessings count! Enjoy Life!" — Bernard Kelvin Clive
---
"Those who expect to reap the blessings of freedom must, like men, undergo the fatigue of supporting it." — Thomas Paine
---
"Every new day is a sacred gift with new sacred grace." — Lailah Gifty Akita
---
"A true friend is the greatest of all blessings and that which we take the least care of all to acquire." — Francois de La Rochefoucauld
---
"Feel the blessings of the moment, this will bring success in all matters." — Amit Ray
---
"Never stop dreaming… but make sure you appreciate and savor today's blessings, too." — Unknown
---
"We should certainly count our blessings, but we should also make our blessings count." — Neal A. Maxwell
---
"Of the blessings set before you make your choice, and be content." — Samuel Johnson
41 Be Thankful Quotes And Sayings
---
"Some wish blessings, others pray for them. Some send blessings and they become one." — Joyce C. Lock
---
"Do you want to be rich? Count your blessings." — Unknown
---
"Some of your greatest blessings come with patience." — Warren Wiersbe
---
"When I started counting my blessings, my whole life turned around." — Willie Nelson
---
65 Inspirational God Quotes And Sayings
---
"Our greatest blessing is the fortune of good friends, being loved, and loving others." — Alan Robert Neal
---
"Always keep your head up, because if it's down you won't be able to see the blessings that have been placed in your life." — Unknown
---
"If you want blessing, make a room for it." — James Hudson Taylor
---
"Count your blessings. You are one of a kind. There's no one in the world like you. You are amazing." — Richard Simmons
---
"Quit being sad. Hear blessings dropping their blossoms around you." — Rumi
---
"Don't be too stressed to see that you're blessed." — Tim Fargo
---
"God will either give you what you ask, or something far better." — Robert Murray McCheyne
---
"Be true to yourself, help others, make each day your masterpiece, make friendship a fine art, drink deeply from good books – especially the Bible, build a shelter against a rainy day, give thanks for your blessings and pray for guidance every day." — John Wooden
---
"It was we, the people; not we, the white male citizens; nor yet we, the male citizens; but we, the whole people, who formed the Union. And we formed it, not to give the blessings of liberty, but to secure them; not to the half of ourselves and the half of our posterity, but to the whole people – women as well as men." — Susan B. Anthony
---
"Our prayers should be for blessings in general, for God knows best what is good for us." — Socrates
---
"Death may be the greatest of all human blessings." — Socrates
---
"Gratitude can transform common days into thanksgivings, turn routine jobs into joy, and change ordinary opportunities into blessings." — William Arthur Ward
---
"With pride, there are many curses. With humility, there come many blessings." — Ezra Taft Benson
---
"We are all different, but when we ask for the Lord's blessings, we must not forget that God created us equal." — Vladimir Putin
---
"We look forward to the time when the Power of Love will replace the Love of Power. Then will our world know the blessings of peace." — William E. Gladstone
---
"The inherent vice of capitalism is the unequal sharing of blessings; the inherent virtue of socialism is the equal sharing of miseries." — Winston Churchill
---
"I hate the noise and hurry inseparable from great Estates and Titles, and look upon both as blessings that ought only to be given to fools, for 'Tis only to them that they are blessings." — Mary Wortley Montagu
---
"Once you appreciate one of your blessings, one of your senses, your sense of hearing, then you begin to respect the sense of seeing and touching and tasting, you learn to respect all the senses." — Maya Angelou
---
"There is nothing your highest self wants more than peace. This peace makes you feel worthy of all of the richest blessings of the universe, and when you radiate this out into the world, it is returned to you without fail." — Wayne Dyer
---
"God can cause opportunity to find you. He has unexpected blessings where you suddenly meet the right person, or suddenly your health improves, or suddenly you're able to pay off your house. That's God shifting things in your favor." — Joel Osteen
---
"If you want to reap financial blessings, you have to sow financially." — Joel Osteen
---
"It is downright mockery to talk to women of their enjoyment of the blessings of liberty while they are denied the use of the only means of securing them provided by this democratic-republican government: the ballot." — Susan B. Anthony
---
"I think that God gives you your own will and choices. I don't believe that we're supposed to drag ourselves through life defeated and not see God's blessings. But you have to make the right choices and follow that still, small voice within you. Because I think that's how God leads us." — Joel Osteen
---
"The Bible is one of the greatest blessings bestowed by God on the children of men. It has God for its author; salvation for its end, and truth without any mixture for its matter. It is all pure." — John Locke
---
"Each time we cooperate with God, we take one more giant step forward. Because when God asks us to change, it means that He always has something better to give us – more freedom, greater joy, and greater blessings." — Joyce Meyer
---
"Reflect upon your present blessings of which every man has many – not on your past misfortunes, of which all men have some." — Charles Dickens
---
Hopefully you will enjoy this inspiring collection of blessings quotes and sayings. please don't forget to share these quotes.