Quotes and sayings of love and passion from famous people, great for Valentine's cards and love letters.

Romantic quotes of love and passion flow with intense affection on Valentine's Day, the special day of lovers. The best expression is shown in Valentine's cards, beautiful flowers, and chocolates. Here are best romantic love quotes and sayings for Valentine's Day that can be used both in cards and love letters.

1. Romantic Quotes for Her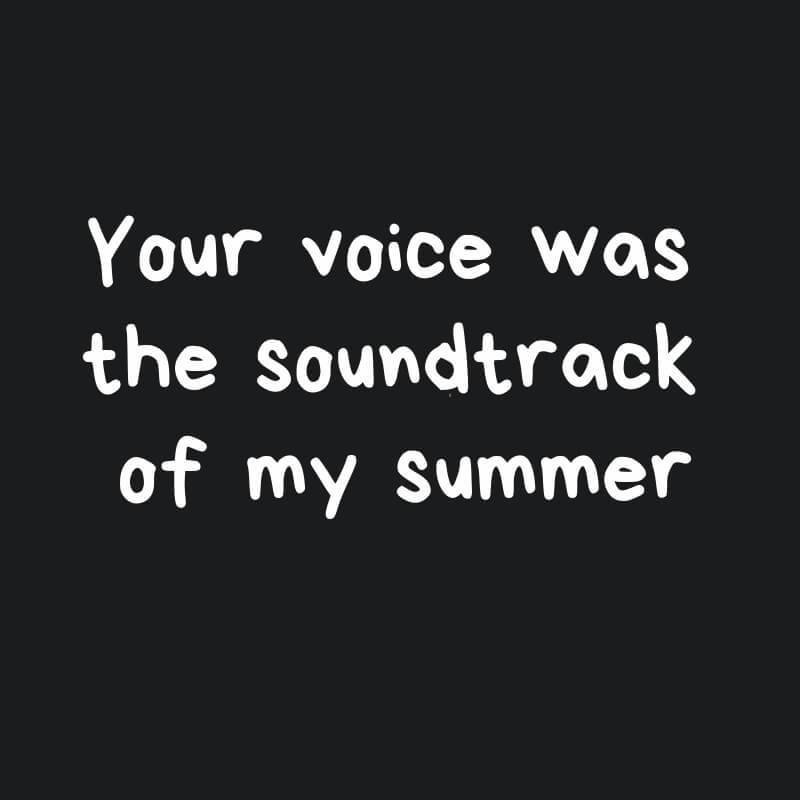 Your voice was the soundtrack of my summer

As long as we're under the same moon, I'll feel…

I think our love can do anything we want it to.

You are my world. 

I just can't get you off my mind, and why would I even try?

You make my heart smile. 

Every night, I think of you before bed with the hopes of having you…
When you touch someone with your spirit, and in turn they touch your… 
In you, I've found the love of my life and my closest, truest friend.

I don't care if you're sick, I'll kiss you because you're worth catching…

One day, I caught myself smiling for no reason, then I realized I was…

If I stole your heart and you stole mine, wouldn't that be the perfect crime?

I loved you yesterday, I love you still, I always have…

I really want you to really want me.

You need not worry about me, I am already in your heart.

One day, someone will walk into your life and make you see why it never…

Being in love with you makes every morning worth getting up for.

There is no difference between a wise man and a fool when they fall in love.

I love you for all that you are, all that you have been, and all you're yet to be.

Every love story is beautiful, but ours is my favorite.

Love is what makes two people sit in the middle of a bench, even if there is…

I keep myself busy with things to do but everytime I pause, I still think of you.

You are my sun, my moon, and my stars.

I love you more than words can show, I think about you more than you could…

I love you more today than yesterday, but not as much as tomorrow.

Love is like a lost object. If you search too hard, you won't find it. But if you…

Every moment spent with you is like a beautiful dream come true…

When you truly love someone… you give everything you can and never…

I want to sleep with you. I don't mean have sex. I mean sleep together under…

Your words are my food, your breath, my wine. You are everything…

Real love is not based upon romance, candle light dinner, and a walk along…

In the middle of life, love enters and makes it a fairy tale. Especially with these romantic quotes.

I'm not a perfect person, I make a lot of mistakes. But I really appreciate those…

If I could have just one wish, I would wish to wake up everyday to the sound…

Thinking of you keeps me awake, dreaming of you keeps me asleep, being with…

I know you love me because you put up with me even when I'm moody.

Love is a promise; love is a souvenir, once given never forgotten, never…

One word frees us of all the weight and pain in life. that word is love.

You have no idea how fast my heart beats when I see you!

Sweetheart… You make my life beautiful! I love you!

If these roses could speak language of my heart… They'd say

May the love that you share lasts a lifetime and may you accomplish all the…

I want you for always – days, years, eternities.

I am permanently in love with you, always and forever.

We came together underneath the stars above. What started out as liking…

When my heart beats, it takes your name, but alas! It beats because…

Come what may, I will love you until my dying day

I am not the best, but I promise I will love you with all my heart

The one thing we can never get enough of is love. And the one thing we never…

I wasn't planning on loving you, but I'm happy that I did

I find the best way to love someone is not to change them, but instead, reveal…
2. Romantic Quotes for Him

Because of you, I laugh a little harder, cry a little less, and smile a lot more.

You're mine and only mine, all rights reserved.

I don't want anyone else to have your heart, kiss your lips, or be in your arms because that's only my place.

He stole my heart so I am planning a revenge… I am going to take his last name.

I know I'm a handful but that's why you got two hands

You make me smile so effortlessly.

Before I met you, I never knew what it was like to be able to look at someone and smile for no reason.

I fell in love with the way you touched me without using your hands.

You make me happy in a way no one else can.

Only you can give me that feeling.

Before you came into my life, I never knew what true love felt like

I don't care if we talk about absolutely nothing, I just want to talk to you.

Only you can make me smile after having a bad day.

I want to wake up to you kissing me in the middle of the night.

You give me feeling I can't put into words.

You're the reason why I'm smiling again.

I love it when you send me those texts that make me smile no matter how many times I read them.

You're my happy place

Wherever you are is my home, my only home.

Every girl wants a bad boy who will be good just for her.

I want to stay forever with you.

Some people search their whole lives to find what I found in you

Calling me cute is nice, calling me hot is great, but calling me yours is all I want.

Your smile is literally the cutest thing I have ever seen in my life.

I get jealous and I get worried, but that's only because I love you and don't want to lose you.

You're my favorite place to go to when my mind searches for peace

I'd rather have a beast who treats me like a princess, than a prince who doesn't.

I wanna live, sleep, and wake up by your side.

Since you've been around I smile a lot more than I use to.

I never thought anyone would ever make me smile, laugh, and capture my heart as fast as you have.

I never craved attention, until I tasted yours.

I want all of my lasts to be with you.

And then you came along, and my life became beautiful.

I've waited all my life to find someone like you.

When you can't look on the bright side, I will sit with you in the dark.

You have my whole heart for my whole life.

Loving you is the most beautiful and wonderful thing to do in this world.

Even when we fight and I put up a wall, I want you to climb over it and show me that you still care.

I want someone who will stay with me no matter how hard I am to be with.

If she doesn't scare the hell out of you a little, she's not the one.

If her smile takes all your stress away. Believe me, she is the one

I keep reading dictionaries, but I have yet to find a singular word that can accurately describe what it is you do to me. – Jessica Katoff

I wish I could explain your eyes, and how the sound of your voice gives me butterflies. How your smile makes my heart skip a beat and how every time I'm with you, I feel so complete.

When people ask what I see in you, I just smile and look away because I'm afraid if they knew they'd fall in love with you too.

Why can't you just magically pop into my room with me and just cuddle for the rest of the night and kiss my head when I start to fall asleep?

I just want you, that's all. All your flaws, mistakes, smiles, giggles, jokes, sarcasm everything. I just want you.

I'd rather have bad times with you, than good times with someone else. I'd rather be beside you in a storm, than safe and warm by myself. I'd rather have hard times together, than to have it easy apart. I'd rather have the one who holds my heart.
3. Romantic Quotes for Husband

My husband is my best friend, my greatest support, my biggest comfort, my strongest motivation, my truest smile, my deepest love, my favorite, my forever. He has me. Entirely.

My husband has made me laugh. Wiped my tears. Hugged me tight. Watched me succeed. Seen me fail. Kept me strong. My husband is a promise that I will have a friend forever.

God gave me my husband so we could weather the storms of life together.

Baby I'm yours and I'll be yours until the stars fall from the sky, until the rivers all run dry. In other words, until I die.

I cannot promise you an easy life, or that I will not disappoint you. I cannot promise that I will be the perfect wife. But I can promise you that I will choose to love you every day.
I trust you, but not because you are my husband. The reason I trust you is because you are the epitome of everything that a man should be.

Your love is the strength that drives me to do everything for this family. You are the armor that shields me from tears. I love you so much!